April is a Banner Month for Roses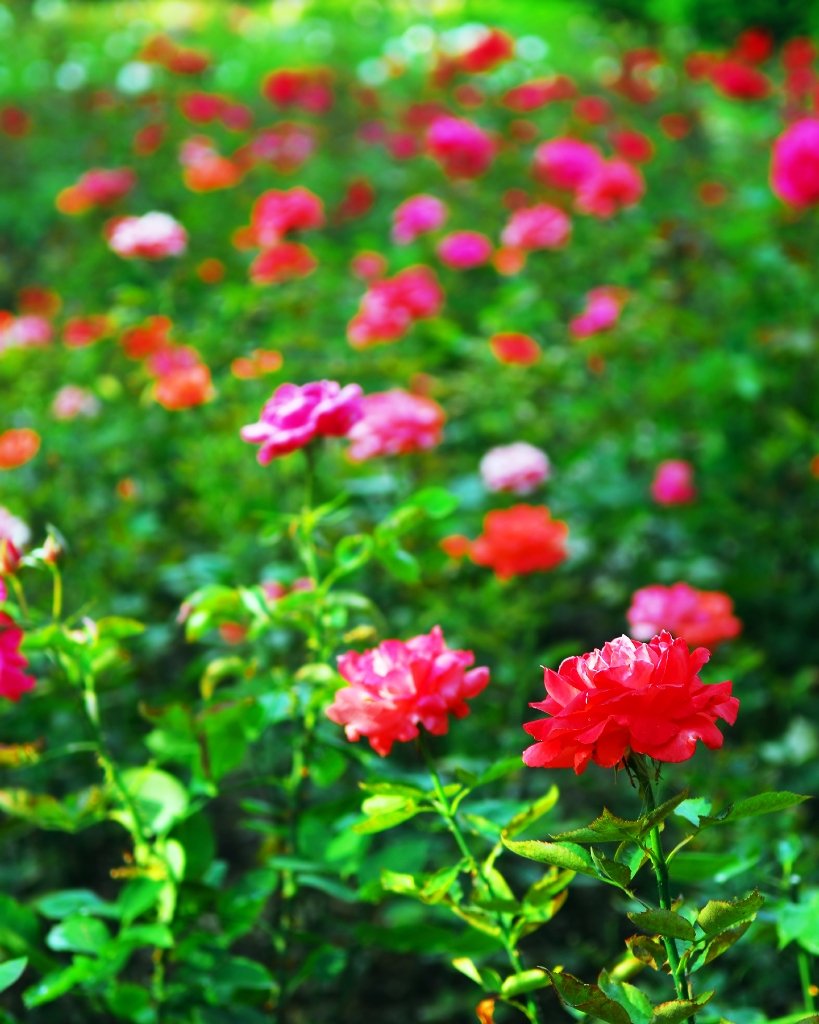 April is a banner month for rosarians everywhere. In warm climates, it's time for first bloom, that glorious moment when all the roses bloom at the same time, for an incredible display. To promote a fast repeat and encourage flowers that are bigger and have sturdier stems, remove the spent blooms promptly, and cut them off with long stems. Roses love to be pruned, and pruning includes deadheading and cutting flowers. Don't be a pruning wimp! Harsh deadheading will keep your plants strong and healthy and within the boundaries you've allowed for them.
Modern roses grow and bloom all season long, and they use a lot of photosynthetic energy to do so. This means that they need a steady supply of nutrients, so be sure to feed them frequently. Use organic fertilizers, which are vital to keeping the soil healthy but provide little in the way of nutritional value for the plants, as well as chemical fertilizers, which deliver the large quantities of the nutrients roses consume. Buy a fertilizer that's formulated specifically for roses. It will contain the macro-nutrients, nitrogen, phosphorus, and potash (N-P-K) as well as the micro-nutrients, or trace elements, that roses need to achieve the rapid cell division that keeps them growing and blooming.
For rosarians who live where roses need protection from winter, April is our busiest time. It's a lot of work, especially if you have a large rose garden, but it's always a great feeling to get out into the garden after a long, non-green winter and see the beginnings of new growth as the budeyes begin to wake up after a long dormancy. All of our spring chores have to be done at the same time: removing the winter protection materials, spring pruning, planting the new roses, and doing the first-of-the-season applications that begin our regular fertilizer and pesticide regimens.
Pruning encourages roses to grow, so northern rosarians don't prune their roses in the fall as they don't want to stimulate new growth. They do it instead in the spring. The first thing to do is remove the winter protection materials. If you used soil or compost, you can leave it in the bed to add organic material to the soil. Remove leaves that haven't broken down and other materials that make a good place for disease spores to hide. Gently pull the bulk of the soil mound away, but when you get close to the canes, it's a good idea to use a gentle stream from the hose to wash the last of the soil away. New shoots will have started to grow under the soil mounds, so you want to be sure not to knock them off with your hands. I can't tell you how many times I've done it, and it's a horrible feeling!
After a cold, hard winter, there will be a lot of cane necrosis. The canes may, in fact, be dead right down to the point where the winter protection material covered the lower part of the canes, perhaps right down to the ground. Prune off all the dead parts, even if you have to carefully dig into the soil to find live, green cane. Don't worry! Those stubby little green canes will soon grow into tall healthy rosebushes.
You may see canes that are spotted with canker or dieback between the nodules of new growth. Don't be fooled into thinking that the diseased cane is healthy even if it is putting out new growth. It's not healthy and will continue to die back, so grit your teeth and prune down to clean green cane.
After pruning, spray all your plants with a good, all-purpose fungicide to disable any spores that may have settled on your roses over the winter.
Roses will grow fast from now on, so give them the fertilizer they need to make strong photosynthesis possible. Once every week or two, all season long, is not too often to feed modern everblooming roses.
Ann Hooper is a certified American Rose Society Consulting Rosarian, who grows nearly 400 rosebushes at her home near Boston.

A Dream: Retiring in Canada
Introduction
The prime of a person's life is represented by the golden years. If you've put in a lifetime of hard work, responsibility, and adhering to a strict work schedule, you can finally retire to your "cape" and relax in your own home, which need not be in the city where you currently reside. If you have made the decision to relocate for your retirement, you may be looking for the best Canadian city to retire to spend your time in.
Even if you already have a list of preferences for where you want to retire, this list can be a great resource. The adoption of a pragmatic and practical approach when selecting a retirement city can help you enjoy a happy and financially secure retirement.
Everyone has their own set of preferences, priorities, likes, and dislikes when it comes to just about anything and everything. This includes everything from minor details such as a favorite cup of coffee to major decisions such as choosing the right career path. As a result, it is understandable that each individual would have their own ideas about how and where to spend their retirement years.
Fredericton, NB
The city of Fredericton serves as the provincial capital of the province of New Brunswick. Although it is a small city in terms of population for a capital, it is a fortunate mix for retirees. In spite of the fact that the city is not particularly crowded, its status as the regional capital means that it has many amenities that a city of its size does not typically have (though public transportation is not available on Sundays). Real estate prices are low enough that you can afford a home if you have enough savings, which is especially true if you are looking to purchase a condominium.
In addition, the rent is significantly less expensive. It has a humid continental climate and is located on the banks of the river. So, if you like to fish, it could be a fantastic place to settle down in. For a city of its size, the city has a large number of historical buildings and museums, as well as parks and gardens. It also hosts a large number of festivals. The city's largest hospital, which has more than 300 beds and several specialists, as well as a level 3 trauma center.
It's possible that Fredericton will be the perfect place for you if you're looking for a nice, affordable blend of nature and a moderately large city.
Kingston, Ontario
When it comes to living in a city where half of the population is made up of young students rather than old retirees like yourself, Kingston might be the best Canadian city to retire to. Because of its strategic location, it has a long and illustrious history, particularly in the military sphere.
As a retiree, you'd appreciate Kingston's laid-back atmosphere and easygoing pace of life. Almost half of the year, the city is bathed in sunshine. Transport in the local area is efficient, quick, and reasonably priced. One of Kingston's most significant assets, however, may be its world-class medical facilities. Kingston General Hospital is one of the largest hospitals in the province of Ontario and is located in Kingston. Many wonderful places to visit or spend your retirement time in the city, such as Lake Ontario Park and the Museum of Healthcare, which is the only museum of its kind in the country, are available to you. Many outdoor activities are available to you in the city as well, including sailing, fishing, golf, and hiking, among many others.
Burlington, Ontario
There are 115 parks in the small community of Burlington, so getting some exercise and fresh air will not be a problem. Given that it's only about 40 minutes away from Toronto, it's possible that you'll enjoy living in this charming little town if you have family in the city. It has a vibrant creative community as well as a sufficient number of art venues, especially given the size of the city. In addition, the city is very bicycle-friendly.
Even though there is a major hospital in the town, you may need to travel to Hamilton, which is not far away, if you have a serious medical problem. The high cost of living in Burlington is a chink in the city's armor. Even if you decide to rent a place in the city, you may find it to be an expensive place to live. However, if you can find a way to avoid this expense (by living in a co-op or a small house, for example), the city will appear to be quite affordable. Alternatively, you can choose one of the city's retirement homes. In addition, the city offers a diverse range of retirement living options, including active retirement living, assisted living, and home care.
Kelowna, BC
When it happens to come to retirement homes, Kelowna is a bit of a cliche, to say the least. Until the most recent census, retirees accounted for more than 18 percent of the population, which is significantly higher than the national average. This city experiences all four seasons, although housing can be expensive (especially if you try to live near the lake). If you are an oenophile (a fancy way of saying wine enthusiast), Kelowna is the place to be. It's the perfect combination of nature, peace, and the big-city hustle and bustle (especially in tourist season).
If you don't mind living a little outside of the city for cheaper housing, if you enjoy driving and taking part in outdoor recreational activities such as picnics by the lake, you might find Kelowna to be a reasonable price. The primary medical facility, for example, is quite large, with over 700 beds, and the number of doctors per capita is sufficient given the city's population density. The dry weather is a major draw for many retirees who come to this city to enjoy their golden years.