How to Select Locally Available Plants that will Dye Clothes & More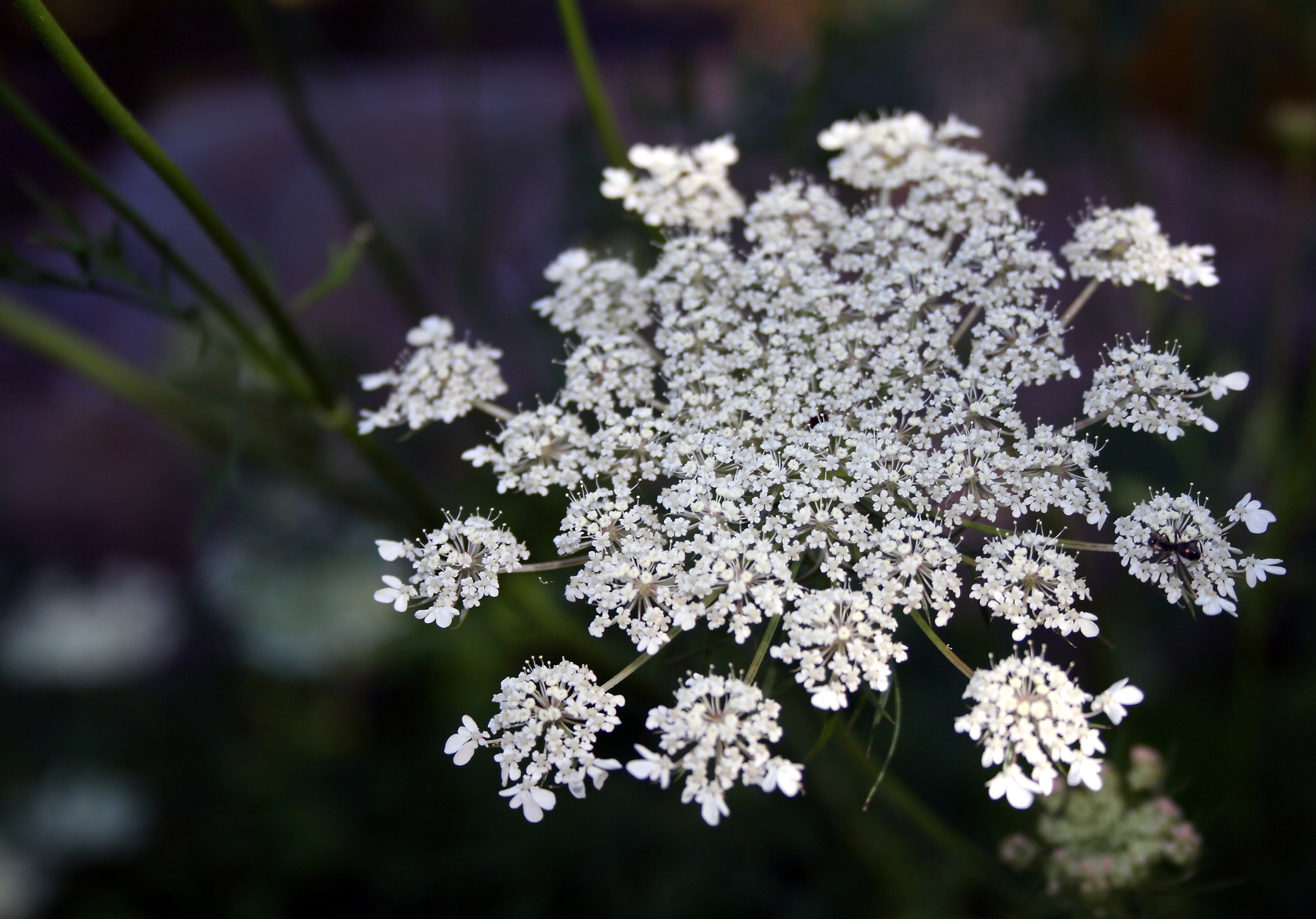 Have you ever taken a walk on a beautiful, sunny day and noticed not just the flowers but "weeds" as well and then wondered if they had any uses other than creating yard work? In summer along the road there is always an abundance of Queen Anne's Lace, (parent plant of the domestic carrot, by the way) Dandelions and others. Being a curious hiker, the road that I traveled led to the local library to research natural dyes. Guess what? Queen Anne's Lace, now classed by the USDA as a noxious weed, was brought to North America by colonists for a source of food, medicine and Dye Plants! It will yield a lovely chartreuse lime green dye on wool and silk.
A hobby of mine is to go to resale shops and purchase light colored, natural fabric clothing and dye them using natural plant materials from the yard and kitchen. Everyone has had tea and coffee stains on a shirt or table cloth s why not take advantage of that fact?
Many of the materials needed to dye natural fibers are also available in your kitchen cabinets: dyes stuff, mixing bowls and cooking pot. I do have a separate set for dye pots, however, because some of the plants may be toxic and you wouldn't want a residue of something bitter or toxic in your oatmeal later.
This is a list of the basic materials needed to dye fiber:
Used enamel or stainless steel pots; old bath canners are best
Glass or plastic measures
Enamel colanders or cheese cloth to strain out plant material
Old wooden spoons, dowel rods or sticks
Rubber gloves
Crafters and artists are always looking for different ideas to make and produce new projects that make a statement. Many "fiber" people dye their own wool in custom colors for sweaters, hats or felting projects. There are some time tested things to know about fabrics and fibers.
Dye wool, linen, silk, cotton, wood and hemp fiber, all natural (not man made) fibers are suitable to home dye. Synthetic fabrics will not work as the dyes won't "stick" to the fabric. In fact, natural non-oil based dye just runs off of polyester and nylon. Rayon is the exception as it is a cellulose by-product but the fabric must have a pre-mordant soak. New fibers like bamboo and banana,  etc., that are natural in origin will work as well but also need the pre-mordant bath and lots of experimentation..
Natural dyes need to be "set" into the fibers using something called a "mordant". In the old days fiber was dyed and fixed with mordents like copper sulfate that were toxic. The "go-to" mordents considered safe to use are alum (potassium aluminum sulfate), table salt (sodium chloride) or vinegar (acetic acid) to "set" the dye. Alum is best and the least toxic of the mordents that have traditionally been used in dyeing fibers. Vinegar and salt can also be used according to the recipes. Tea, coffee, and other dye materials that contain tannic acid do not require a mordant as they dye and set in the fabric with the tannic acid only. The colors range from light tans to dark browns. A crafters trick is to boil lace in tea or coffee (or both together) that will give it the "old lace" look; this can also save a white silk blouse or sweater with a stain sometimes.
An interesting side note, iron nails, rusted in vinegar, can also be uses as a mordant too. The problem with using iron oxide is that if you want a fabric to be around in 100 years or so, iron molecules will "rust" the fabrics, rendering them brittle. Just ask the folks at a museum trying to save an historic quilt.
You will need a large amount of Queen Ann's Lace to get started. I start with a half gallon of flower heads,
roots, whatever you are using as the pigment source. Dying fiber is a chemistry adventure. Different dyes will yield different colors when different mordents are used and the plants themselves have unexpected pigment colors reacting to different mordents. For example, dandelion root will produce a magenta color with alum mordant and yellow with vinegar. That is the fun part of experimenting with plants and mordents as the unexpected always happens.
Any plant material that is used for a natural dye project will have to be in the 1/2 to 4 gallon quantity. A five gallon enamel bath canner pot is an ideal size to use when working with natural dyes. All the materials need to be boiled for 20 minutes to an hour to extract the pigments. Some people work outside over camp fires and propane camp stoves. This is a good idea in summer or fall because of the heat generated.
In a separate pot, place the fabrics and or fibers into a pre-mordant warm bath. The fibers that you want to dye need to be cleaned and soaked in washing soda, rinsed and placed in an alum mordent solution bath before the dye bath.
This process will require 3 pots, one for the dye, one for the wash bath, and one to pre mordant. To dye a fabric or fiber, place it in the dye pot after washing and mordant baths. Boil the dye bath (with the materials) for an hour. Deeper shades require more boiling or after the initial boil, remove the pot from the stove then let it cool and soak over night. As you can see this process requires some patience.
Vegetable and Weed Dye Plants List
| | |
| --- | --- |
| Item | Color Produced |
| Purple Cabbage | Blues and Purples |
| Onion Skins | Yellows and Browns |
| Coffee & Tea | Browns and Tans |
| Turmeric | Yellows |
| Indigo | Blue |
| Madder | Reds |
| Rag Weed | Yellow/Green |
| Queen Anne's Lace | Chartreuse |
| Dandelion Leaves, Flowers & Roots | Gold, Yellow, Green & Magenta |
 Oak Trees, Zinnias, Solomon's Seal and Black-Eyed Susan, nuts, barks, berries, mushrooms, lichens, roots and fruits are just some of the other materials that can be used to dye fibers.
A Discussion of Dyes
Plant dyes or any other dye materials have molecules that reflect light in certain color ranges. As an example, a blue dye over a yellow dye will yield green in the finished fabric. Dying fabrics and other natural materials is acid/base chemistry. Think back to high school chemistry as well. Vinegar is pretty safe however.
Dye plants are not always non-toxic. I always use a good plant field guide when harvesting plants. Poison Ivy and Deadly Nightshade are not good dye plants. Plants in the Queen Ann's Lace family (Carrot family) have plant chemicals that can burn the skin just like lye or an acid. I always harvest with gloves and ware rubber gloves when handling fabrics covered with dyes. So have fun but be careful.
Caron Wenzel is the owner of Blazing Star Inc., a native plant nursery in Northern Illinois that sells seed, and soil amendments and is an environmental educator, consultant and writer. For more information visit Blazing-Star.com.
Want more information? Read these articles:
Common Facts that Help Win the Battle of the Weeds
The Genius of the Genus Monarda or Bee Balm
Those Who Wander and Eat Weeds
References
American Household Botany A History of Useful Plans 1620-1900, Timber Press, 2004 Portland, Oregon   Judith Sumner
The Handbook of Natural Plant Dyes, Personalize your craft with organic colors. Timber Press, 2010, Portland OregonSusan Duerr

Which Are the Еasiest Vegetables to Grow (and How to Grow Them)
Have you ever considered taking up gardening? It is a wonderful activity and hobby for many. It beautifies your surroundings and provides a vast plateau of health benefits. It's a great way to get some exercise, reduce stress and even boost your vitamin D intake.
In this article, we will show you the many benefits of gardening, what you need to get started and which are the easiest vegetables to grow as a beginner.
The Many Benefits of Gardening and Why It's Great
Gardening is a fantastic way to get outside, enjoy the fresh air and soak up some sunshine. It is also an excellent form of exercise that can help you burn calories, build strength, increase flexibility and improve cardiovascular health. Not to mention that it can also be a great way to spend time with family and friends or just to enjoy some peaceful time alone.
In addition to the physical health benefits, it has been proven to impact your mental health positively. Numerous studies have shown that spending more time with nature helps you avoid stress and anxiety. It also improves mood and even reduces the risk of dementia.
Taking up gardening indirectly boosts your vitamin D intake. You can bask in the sun's rays by spending time outside in your garden. Of course, always make sure to wear sun-safe gear, such as a hat and sunglasses. Needless to say, during the more extreme heat, you should also apply sunscreen to avoid burns.
What You Need to Get Started on Your Gardening Journey
If you're looking to get started in the wonderful world of gardening, there are a few things you'll need to get yourself in advance:
Gardening gloves – A good pair of gloves will help protect your hands from cuts, scratches, and dirt. Moreover, nowadays, you can find some pretty fancy in stores that will add some more fun to your hobby.
Watering can or hose – Water is essential for plants to thrive, so having a watering can or hose to keep them hydrated is a must. You need to consider the size of your garden and the type of plants you want to add before choosing the best option.
Soil – Good soil is crucial for healthy plants. You can buy it at a gardening store, or you can make your own by using compost. Remember that you need to have healthy soil, so your plants can be healthy too. Additionally, you should check what type of soil the plants you want prefer before buying any.
Seeds or seedlings – Whether you get them online or from the gardening store, it's best to start with plants that are easy to grow. A fantastic way is to collect seeds from plants you already have access to, like tomatoes. You can also ask friends and family to give you some of theirs.
The perfect place – Finally, you'll need to choose a spot for your garden. The ideal location in your garden has a lot of sunlight. You'll also need to ensure the area is well-drained so your plants don't get too wet.
Once you have the essentials, you must decide what type of beds you want for your garden. You need to decide this before the planting process. Of course, there are a few options to consider:
Pots – if you have limited space in your garden, pots are the ideal solution for you. They come in all shapes and sizes, providing much-needed flexibility for your crops. Many common plants grow well in pots, such as tomatoes, lettuce, beans, peppers and radishes.
Raised beds – If you have a more spacious garden, then raised beds are ideal for you. They are a very cheap option that makes for a great weed barrier. The downside to raised beds is that they are not easily movable, unlike pots.
Directly in the soil – This is the traditional method of growing vegetables, which has been used for centuries. To make this method work, you must first till and amend the soil.
Tilling – Tilling is relatively straightforward nowadays as you can borrow or rent a tiller, making the work much easier. Before you add any soil amendments, consider testing your soil to check what it needs. An advantage of sowing directly in the soil is that it's ideal for companion planting.
The Easiest Vegetables to Grow
Gardening is supposed to be fun. Yes, we can grow our food, which is part of our survival skills, but it must be fun. Along with that, growing vegetables is not that hard to do. Many vegetables are pretty easy to be grown and require little gardening maintenance. Some of these are:
Tomatoes – They are an excellent choice for beginners as they are easy to grow and produce a lot of fruit. They thrive in warm weather and look beautiful in your garden. Moreover, there are a lot of different kinds in different colours and flavours you can try to grow.
Leafy Salad Greens – The easiest varieties to look after indoors are spinach, kale, and arugula. It takes them about 30 days to grow, and they do not require special attention. They prefer warm weather and grow best at 15.5°C. In no time, you will be able to create the perfect salad for your healthy diet.
Zucchini – This is a fast-growing vegetable that is easy to grow and produces a lot of fruit. They need 6 hours of direct sunlight each day, so choosing a sunny spot is vital.
Carrots – Carrots are very space-efficient as they don't require much room to grow. They do, however, require deeper soil than other veggies. Like salad greens, they are
cool-tolerant and thrive at around 60° F(15.5°C).
Radishes – They are one of the easiest vegetables to grow and can be harvested in as little as four weeks. They do not require much sunlight. What you need to take into consideration if you decide to grow radishes is that you need to leave enough space for their bulbs to grow.
Conclusion
In conclusion, gardening is a great way to get out into the sun, exercise, and improve your overall health and well-being. It doesn't require a lot of equipment, and you can start with easy-to-grow vegetables. So, grab your gloves, trowel, watering can, soil and seeds, and start your gardening journey today!