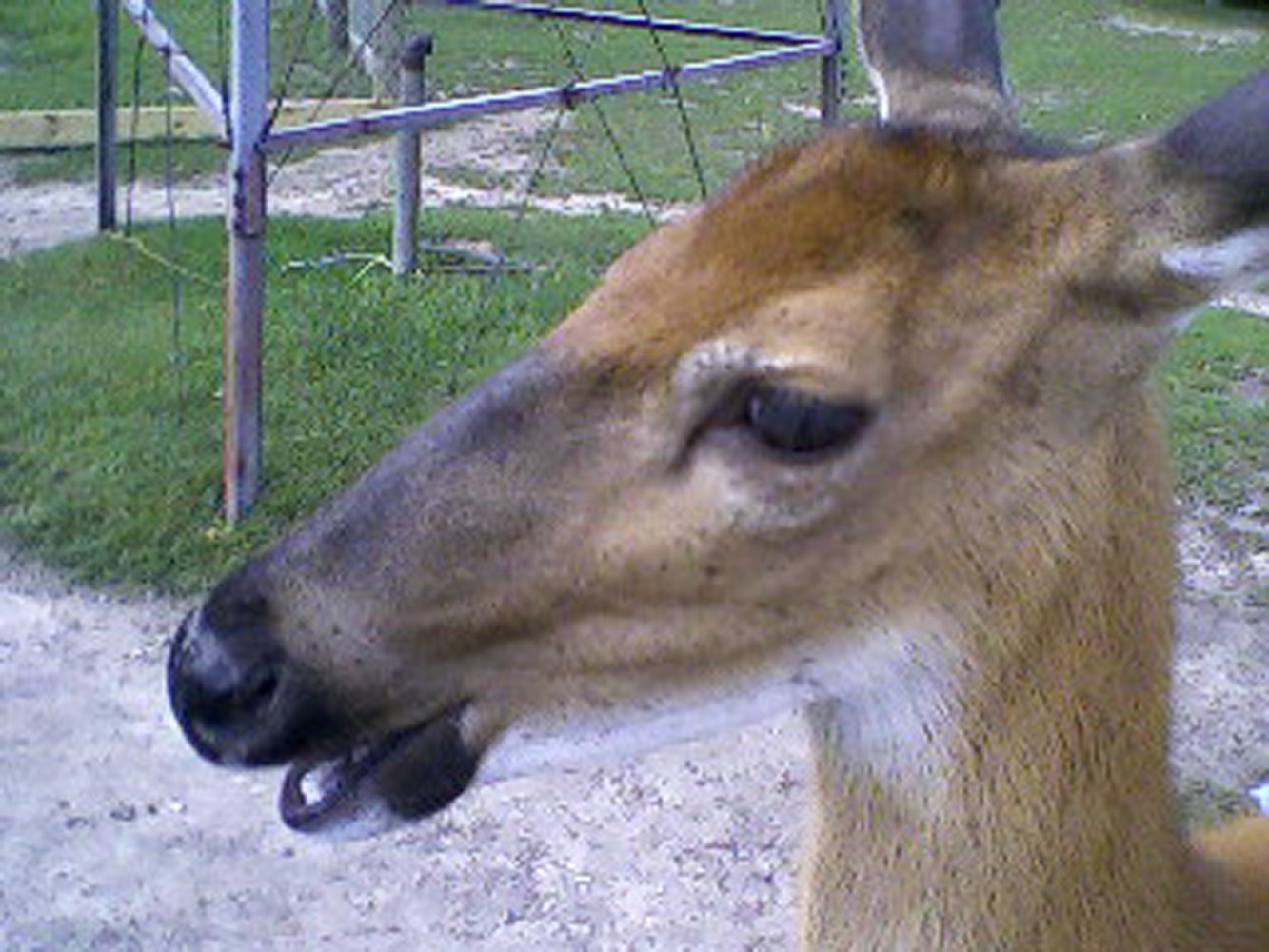 My small strawberry patch only produces a handful of strawberries each spring but they may be the sweetest strawberries on the planet. Waiting patiently for each berry to ripen to perfection makes it that much more frustrating to imagine them being destroyed in the night. Spring is an especially vulnerable time for gardens to become a buffet to hungry deer making up for a long winter. To make matters worse, if they like what your garden has to offer- they'll become regular visitors.
There are an estimated 18-24 deer per square mile and each eats over 2,000 pounds a year. Deer will eat anything if they're hungry enough. These herbivores have no incisors, so feeding means devastation. They'll tear off pieces of plants or sometimes uproot the whole thing. The bottom six feet of any tree is fair game and perennials that green up early in the spring are especially attractive. The only sure-fire way to keep plants safe from deer is to completely surround the area with an 8 to 10 foot fence. For me, this isn't a practical option so I'm left to skip the only certain solution and opt for an ongoing battle with the deer.
A preemptive approach is to avoid planting deer favorites, or at least taking extra measures to make them less appealing. A few popular plants that deer love are Rhododendrons, berries, dogwood, fruit trees, Chrysanthemums, clematis, daylilies, hyacinths, roses, tulips, beans, broccoli, hostas, lettuce, peas, sweet corn, laurel, crocus, pansies, daisies, yarrow, geraniums, and dahlias. Like I mentioned earlier, they'll eat about anything so avoiding plants they like is going to be pretty limiting. Deer do prefer smooth to fuzzy so it may make them wander on if you surround especially attractive plants with plants like lamb's ear, barberries, or cleome.
Their powerful sense of smell can detect predators from a long distance. One of the most effective deterrents is using this sense of smell to scare them away by providing a strong Eau de predator. In theory, it sends a message that a meat-eater is roaming the garden. Commercial powders and sprays with sulfurous smells such as "Not Tonight Deer" (powdered eggs and white pepper), "Liquid Fence" (eggs and garlic), "Deer Off" (eggs, garlic and capsaicin), or the ever glamorous carnivore urine (cheaply supplied by meat eaters in your family) are all ways to make deer think twice about stopping for lunch in your yard.
The smell can stick to a person too so taking the extra precaution of gloves and a respirator is worthwhile. Eau de predator may keep you from your own garden for a few days but the deer's sense of smell is much more sensitive than ours. These treatments could discourage them for weeks or even months if there isn't too much rain. The hope is that they may find another feeding ground between treatments. A less offensive but also less effective strategy which plays on deer's highly perceptive senses is to plant strongly scented herbs such as lavender or mint as a border or where deer might find entrance to your garden. Without a physical barrier (back to the 8 foot fence) the best to hope for is that your garden will be the least appealing buffet in the neighborhood.
Angela Lundmark is the CEO of LED Grow Master Global and editor of the LED Gardener.
Caring for New Landscape Plants
Educating Your Customers Leads to Increased Sales
Growing the Next Generation of Gardeners
Designing an All Season Perennial Flower Garden for Fall

A Dream: Retiring in Canada
Introduction
The prime of a person's life is represented by the golden years. If you've put in a lifetime of hard work, responsibility, and adhering to a strict work schedule, you can finally retire to your "cape" and relax in your own home, which need not be in the city where you currently reside. If you have made the decision to relocate for your retirement, you may be looking for the best Canadian city to retire to spend your time in.
Even if you already have a list of preferences for where you want to retire, this list can be a great resource. The adoption of a pragmatic and practical approach when selecting a retirement city can help you enjoy a happy and financially secure retirement.
Everyone has their own set of preferences, priorities, likes, and dislikes when it comes to just about anything and everything. This includes everything from minor details such as a favorite cup of coffee to major decisions such as choosing the right career path. As a result, it is understandable that each individual would have their own ideas about how and where to spend their retirement years.
Fredericton, NB
The city of Fredericton serves as the provincial capital of the province of New Brunswick. Although it is a small city in terms of population for a capital, it is a fortunate mix for retirees. In spite of the fact that the city is not particularly crowded, its status as the regional capital means that it has many amenities that a city of its size does not typically have (though public transportation is not available on Sundays). Real estate prices are low enough that you can afford a home if you have enough savings, which is especially true if you are looking to purchase a condominium.
In addition, the rent is significantly less expensive. It has a humid continental climate and is located on the banks of the river. So, if you like to fish, it could be a fantastic place to settle down in. For a city of its size, the city has a large number of historical buildings and museums, as well as parks and gardens. It also hosts a large number of festivals. The city's largest hospital, which has more than 300 beds and several specialists, as well as a level 3 trauma center.
It's possible that Fredericton will be the perfect place for you if you're looking for a nice, affordable blend of nature and a moderately large city.
Kingston, Ontario
When it comes to living in a city where half of the population is made up of young students rather than old retirees like yourself, Kingston might be the best Canadian city to retire to. Because of its strategic location, it has a long and illustrious history, particularly in the military sphere.
As a retiree, you'd appreciate Kingston's laid-back atmosphere and easygoing pace of life. Almost half of the year, the city is bathed in sunshine. Transport in the local area is efficient, quick, and reasonably priced. One of Kingston's most significant assets, however, may be its world-class medical facilities. Kingston General Hospital is one of the largest hospitals in the province of Ontario and is located in Kingston. Many wonderful places to visit or spend your retirement time in the city, such as Lake Ontario Park and the Museum of Healthcare, which is the only museum of its kind in the country, are available to you. Many outdoor activities are available to you in the city as well, including sailing, fishing, golf, and hiking, among many others.
Burlington, Ontario
There are 115 parks in the small community of Burlington, so getting some exercise and fresh air will not be a problem. Given that it's only about 40 minutes away from Toronto, it's possible that you'll enjoy living in this charming little town if you have family in the city. It has a vibrant creative community as well as a sufficient number of art venues, especially given the size of the city. In addition, the city is very bicycle-friendly.
Even though there is a major hospital in the town, you may need to travel to Hamilton, which is not far away, if you have a serious medical problem. The high cost of living in Burlington is a chink in the city's armor. Even if you decide to rent a place in the city, you may find it to be an expensive place to live. However, if you can find a way to avoid this expense (by living in a co-op or a small house, for example), the city will appear to be quite affordable. Alternatively, you can choose one of the city's retirement homes. In addition, the city offers a diverse range of retirement living options, including active retirement living, assisted living, and home care.
Kelowna, BC
When it happens to come to retirement homes, Kelowna is a bit of a cliche, to say the least. Until the most recent census, retirees accounted for more than 18 percent of the population, which is significantly higher than the national average. This city experiences all four seasons, although housing can be expensive (especially if you try to live near the lake). If you are an oenophile (a fancy way of saying wine enthusiast), Kelowna is the place to be. It's the perfect combination of nature, peace, and the big-city hustle and bustle (especially in tourist season).
If you don't mind living a little outside of the city for cheaper housing, if you enjoy driving and taking part in outdoor recreational activities such as picnics by the lake, you might find Kelowna to be a reasonable price. The primary medical facility, for example, is quite large, with over 700 beds, and the number of doctors per capita is sufficient given the city's population density. The dry weather is a major draw for many retirees who come to this city to enjoy their golden years.