Stop Torturing Your Taste Buds – Growing Lettuce and Herbs Hydroponically!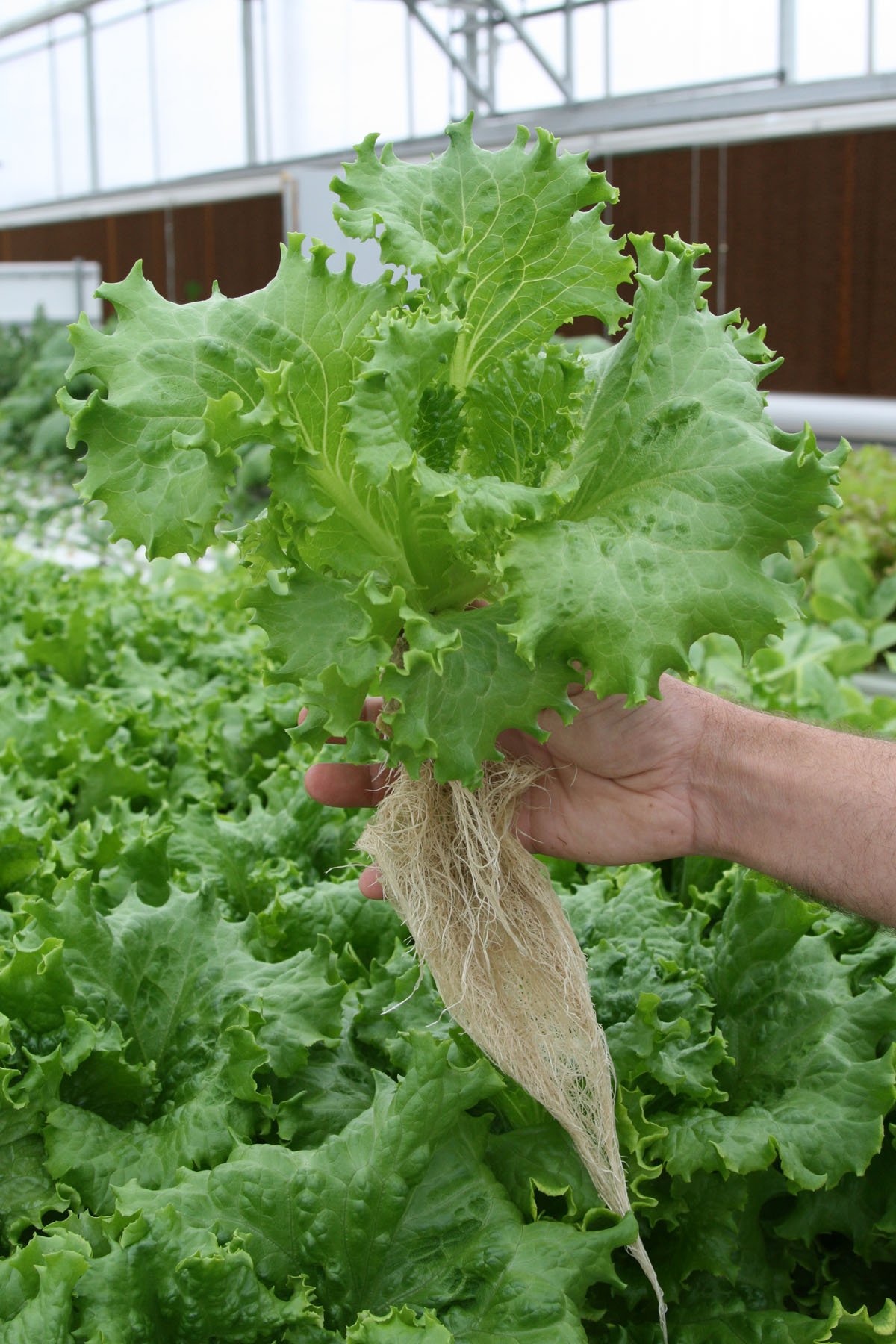 Have you walked down the produce aisle? Pretty bleak, isn't it? Chances are that the "fresh" vegetables that you see this time of year have traveled thousands of miles to your local store. Often harvested prematurely and leaving behind most of the flavor and nutrients, "truck-ripened" produce is unfortunately the status quo for the season. The fact of the matter is that the flavorless, colorless veggies available this time of year never stood a chance against hydroponically grown produce.
Just smell the tomatoes. You can tell without even tasting them that they will be flavorless. Not only are they harvested before they are at peak ripeness, but the varieties that are planted are not chosen for flavor! These forlorn fruit were chosen for uniformity and shipability only. Flavor is an afterthought. The farmer's only concern is that his crop "matures" at the same time and can withstand traveling in a crate across the continent.
The same goes for the lettuce, peppers and cucumbers. I will bet that the plastic vegetables your kids or grandkids have in their play kitchen taste just as good. It does not have to be this way. You can take charge of your own food destiny and learn how easy it can be to have fresh vegetables in your home no matter the
season. Do you have a corner of the basement available? How about a spare closet? If so, you are only a few steps away from enhancing your quality of life by growing your own local, healthy vegetables year round. Your produce shouldn't need a passport to get to your supermarket!
Recently, I wrote about some misconceptions that are often associated with hydroponic vegetable cultivation. I also touched on my favorite style of hydroponic growing, the nutrient film technique, or NFT method. This article dives a bit deeper into NFT growing and will focus on lettuce and herb production from seed to harvest. I want to convey just how easy it can be to grow hydroponic vegetables year round no matter your climate. A prudent grower starts by choosing varieties and cultivars of seeds that are proven successful. You will be way ahead of the game and have fewer problems throughout the growing process if you choose disease-resistant seeds. Whether you are a master gardener or a novice, learning the pros and cons of the various seeds available will make you a more successful grower.
Heirloom seed is becoming quite popular. There is something nostalgic about growing seeds handed down for generations. However, these seeds often do not have a natural resistance to diseases and pests. Harvests may be less consistent, but heirlooms are so flavorful! I love heirlooms but the majority of my seeds are chosen based on disease resistance and temperature tolerance.
Once you have your seeds chosen, it is time to plant. NFT lettuce production generally starts with sowing the seed into a propagation mat. This mat consists of small rockwool cubes that are preformed to fit into a standard 1020 flat. The cubes break apart individually when you are ready to transplant the seedling into your system. Rockwool cubes have great moisture holding capacity, good aeration, are clean and easy to use.
To germinate, lettuce seeds need light and cool temperatures of about 53° to 68°F. The rockwool should stay moist but not become overly saturated. Your seeds will germinate in 3 to 7 days and be ready to transplant into your NFT system after about three weeks. It is time to transplant when the roots start to emerge from the bottom of the rockwool and are approximately an inch in length.
Once transplanted into the NFT system, young plants need a good quality, well-formulated nutrient solution. I use a complete fertilizer blend called CNS17. This fertilizer is made up of all of the essential nutrients necessary for plant growth and is considered "complete." Nutrient solutions can be heated in cooler climates or chilled in warmer climates to maintain proper temperature for growth. The ideal solution temperature is between 60° to 68°F. Most varieties of lettuce will produce about 10 to 12 crops per year in an NFT system. The average time in the NFT system is 4 to 6 weeks, but this is dependent on the season and variety grown. This timeframe does not include the 3 weeks seedlings spend in the propagation area before being transplanted into the NFT system.
If you have never tried hydroponic lettuce, you should. The shelf life, flavor, juiciness and crunch are amazing. My kids will actually have lettuce salad for an after school snack plus is it very healthy and delicious. We grow and market ours as "locally grown" and "pesticide free." One of the latest trends in hydroponic lettuce marketing is selling what is called "living lettuce." This lettuce is actually harvested with the roots still intact. The roots are neatly trimmed and put in a specially designed clam shell or sleeve with a little "nest" for the roots. This lettuce can stay fresh for up to a month!
Another easy way to get your feet wet with hydroponics is by growing NFT herbs. Herbs fall into two categories: warm season and cool season. Warm season herbs include basil, coriander(cilantro), rosemary, sage, oregano, marjoram and Italian parsley. The cool season herbs include mint, chives, garlic chives, lemon balm and arugula. Herbs have similar nutritional requirements to lettuce and can be grown right in the same system.
NFT herbs may be grown as a cut and re-grow crop. This is where approximately one third of the plant is harvested at any time and the crop grows new foliage for future cuttings. Most herb crops give several cuts before the plants need replacement. I have some of the most beautiful rosemary growing here in our hydroponic greenhouse. It has been thriving now for over 18 months and, like a fine wine, it seems to be getting better with age. Ask any good chef and they will tell you that fresh ingredients are the absolute best to work with. Why torture your taste buds any longer? Start growing your own delicious and nutritious hydroponic vegetables today.
Hydroponic growing is easy, clean and green. Almost any plant that can be grown conventionally can also be grown hydroponically. Hydroponic gardening takes up less space because you can grow right in your house, it uses up to 90% less water than soil growing due to the nutrient solution being constantly recycled, your plants are less susceptible to disease and best of all, getting started is surprisingly simple.
Sam Shroyer is has a bachelor's degree in horticulture from South Dakota State University and 20 years of horticultural experience, it is his goal to "re-teach" the public that sustainability and self-sufficiency is well within everyone's reach.

Preventing Pest Infestations in a Greenhouse
The spring season brings new beginnings for plant growth. The landscape becomes green again and multitudes of colors and fragrances fill the air as flowers break through the ground's surface. The new life brought on by spring is rejuvenating for horticulturists. It is not just plants and flowers that "come alive" during this time of year. Just as new plant life emerges all around us in spring, new life for pest insects is also resurrected. As temperatures rise and the summer months approach, more and more insects leave dormancy and begin new life cycles. This is why it is so important for greenhouse gardeners to be aware of and take counter measures against pest insects during the spring and early summer seasons. In many cases, a few simple preventative steps can reduce the likelihood of a devastating pest insect attack.
Sanitation
Sanitation is the number one defense against pest insect infestations. Keeping the greenhouse and the plants clean and tidy can do wonders in preventing pest insects and pathogens. Periodically wiping down the surface of the greenhouse and removing dead or dying vegetation will greatly reduce the possibility of pest insects. Plants should be closely monitored for pest insects on a weekly basis (at the very least).
It is a good idea to set up a quarantine area in the greenhouse. Whenever a new plant is purchased or gifted, it should be quarantined immediately for a week or two to ensure it does not harbor pest insects. After the quarantine period is over and the plant has received a clean bill of health, it may join the other plants in the greenhouse. Bringing new plants into a greenhouse is the most common way a greenhouse gardener will introduce pest insects into his or her own garden. If pest insects are observed on any new plant, it should be thoroughly treated before being introduced to the other plants in the greenhouse.
Monitoring for Pests
As previously mentioned, it is important for greenhouse growers to monitor their gardens for any signs of pest insects. Yellow sticky traps are great tools for monitoring a greenhouse. Yellow sticky traps are similar to fly paper in that they "catch" flying insects in a glue-like substance. By closely examining the yellow sticky trap, a gardener can see if and what types of pest insects are present in the garden. Yellow sticky traps allow a horticulturist to identify potential problems before they get out of hand.
Identifying the Pest Insect
Identifying the pest insect early and accurately is vital to stopping a few pest insects from becoming an infestation. When monitoring the plants, there are some tell-tale signs that will indicate which pest insect a gardener may be dealing with.
Spider Mites
The first sign of a spider mite problem usually shows up in the form of yellow speckling on the surface of the leaves, which is caused by the insects sucking nutrients from the underside of the plant leaves. The speckling from spider mite damage will resemble light yellow spray paint misted on the leaves. Closer examination of the bottom of the leaves will reveal clusters of very tiny red mites and their eggs. A magnifying glass may be necessary to see them. In more extreme infestations, webbing may be found in-between or on the tips of branches and leaves. This webbing looks very much like a spider web and is how these nasty bugs received their name. Spider mites are difficult to get rid of and require a miticide for treatment.
Mealybugs
The first sign of mealybugs is normally cotton-like, fluffy masses found in the crotches or joints of the plant, typically near young tender growth. These tiny "cotton balls" are actually clusters of the slow moving mealybugs. These bugs can reproduce and lay eggs every seven days, so they should be treated immediately to reduce any possible contaminations. It's difficult to kill the eggs, often in the soil, so it's important to treat for live mealy bugs every five to seven days for three to four weeks to terminate all adults before they become mature enough to lay eggs.
Fungus Gnats
The first sign of a fungus gnat problem is typically the small, mosquito-like, black or gray insects that fly around aimlessly. They are most prevalent right after a watering or when the soil is disturbed. Fungus gnat larvae look like tiny, light-colored worms that wiggle around in the top layer of soil. They can sometimes be seen "dancing" in standing water after a feeding.
Thrips
The first sign of a thrip issue is usually "shiny streaks" that show up on the surface of the leaves. The shiny trails are actually the areas of the leaf where the thrip larvae have been feeding. Gardeners may also notice tiny black specs on the leaf surface; this is actually the larvae's fecal matter. To the naked eye, thrip larvae resemble fast moving grains of rice. The larvae can be many different colors, but are usually yellowish-green.
Scale
The first sign of scale is usually a protective covering or bumps on the stems and stalks of the plants. The females lay eggs underneath the protective covering, which will hatch in one to three weeks. The newly hatched nymphs leave the protective covering as tiny white specs and move around the plant to feed. Nymphs insert their piercing mouthparts into the plant and begin to feed, gradually developing their own protective covering as they turn into immobile adults. Scale do not pupate and may have several overlapping generations in one season. A scale infestation is difficult to eliminate and requires a systemic insecticide.
Treatment and Control
Early detection and treatment diligence are the keys to eradicating pest insects. A gardener can start treatment with an organic or all-natural insecticide that is designed for the particular pest insect he or she is battling. Yellow sticky traps are effective in capturing most flying insects, such as fungus gnats and white flies. Denatured alcohol is highly effective as a combatant against mealy bugs and scale by wiping it on the infected areas with a cotton swab or small paint brush. Pyrethrum is an organic derivative of the chrysanthemum plant and is extremely effective against many greenhouse pest insects. Pyrethrum is the primary ingredient in several commercial spray products commonly available at most garden centers. In some cases, a pest insect (scale and mites), cannot be controlled with an organic or all-natural approach.
When this occurs, the gardener may need to implement a systemic chemical control. Systemic pesticides, such as Orthene, are effective against pest insects because they enter the plant's tissue and kill the bugs as they feed on the plant tissue. Regardless of the treatment program, horticulturists should always use caution and be sure to read the manufacturer's directions for application.
For more information visit ArcadiaGlasshouse.com