5 Factors in Choosing Garden Furniture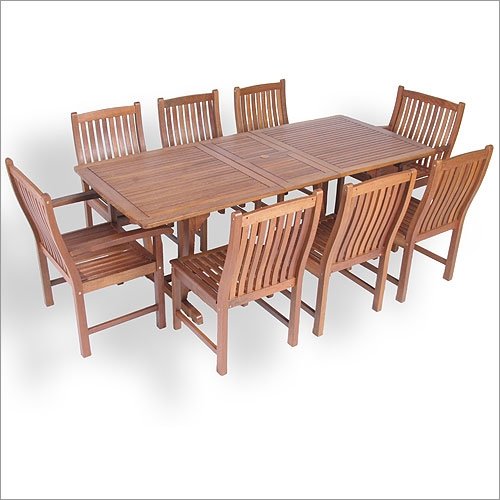 Before you buy outdoor garden furniture, there are certain factors you need to check first to ensure your money is spent on furniture that truly answer your needs. Budget is one factor, but there other factors that need to be considered including the furniture material, style, size versus available space, comfort, and maintenance requirements.
Material
Outdoor furniture is typically made of materials that can resist the elements, such as rattan, timber, wrought-iron, aluminium, and stainless steel. Choose natural plant materials for an easy outdoorsy feel, or more modern metal materials for added character and spunk.
Style
Furniture style largely depends on material. Small wrought-iron chairs, for instance, usually have intricate designs that reflect the French style with an antique touch. Chunky timber benches inspire a more rustic ambience, while sleek stainless steel chairs offer sophisticated elegance.
Space
Take out that measuring tape and discover how much space you actually have for your garden furniture. Take care to leave ample additional space for walkways and enough room for other movement; you don't want your furniture to look like they've been crammed in too tightly without enough elbow room left over. Write down the measurements and refer to them while shopping for your outdoor furniture, whether you're just looking at online catalogs or visiting physical furniture showrooms.
Do not purchase any furniture without checking whether its dimensions will comfortably fit your available space. No matter how elegant the design or high-quality the material, if the piece doesn't actually fit the area, it will be of no practical use and you'll end up wasting time, money, and effort.
Comfort
Your garden furniture will not be there for mere display; they need to be functional pieces you can not only use, but actually enjoy using. The key to this is checking for comfort before purchasing furniture pieces such as sofa sets, chairs, sun loungers, daybeds, and deck chairs. If you're buying a rattan chair, for instance, sit in it and get a feel for fit and comfort. Is the chair seat roomy enough to fit you front to back and side to side, but without having you feel dwarfed by its size? If it comes with a cushion—which is recommended, to prevent sagging over time—does it have ample padding? If you're shopping for a rattan dining set, check that the seat heights are appropriate for the table height, and that the table's legs give the sitters plenty of clearance.
Maintenance
Maintenance needs are determined by furniture material. All-weather wicker rattan furniture will need a simple routine cleaning using a soapy but not wet wiping using a soft cloth, and air-drying it afterwards. A small toothbrush dipped in soapsuds can be used to reach the small crevices in woven furniture, but you would need to be careful not to soak rattan furniture. As for aluminium, stainless steel, or plastic furniture, you can hose them down with warm water to clear away airborne dust and dirt. With wrought-iron metal chairs made of more traditional heavy cast iron, you will need to protect them from rust by protecting them from rain and performing routine repainting.
Read More Articles
A Homeowner's Guide To Shed Organization: The Do's And Don'ts
Care & Maintenance for Outdoor Furniture
How to Accessorize your Home and Glass House
Understanding Containers for Houseplants

Preventing Pest Infestations in a Greenhouse
The spring season brings new beginnings for plant growth. The landscape becomes green again and multitudes of colors and fragrances fill the air as flowers break through the ground's surface. The new life brought on by spring is rejuvenating for horticulturists. It is not just plants and flowers that "come alive" during this time of year. Just as new plant life emerges all around us in spring, new life for pest insects is also resurrected. As temperatures rise and the summer months approach, more and more insects leave dormancy and begin new life cycles. This is why it is so important for greenhouse gardeners to be aware of and take counter measures against pest insects during the spring and early summer seasons. In many cases, a few simple preventative steps can reduce the likelihood of a devastating pest insect attack.
Sanitation
Sanitation is the number one defense against pest insect infestations. Keeping the greenhouse and the plants clean and tidy can do wonders in preventing pest insects and pathogens. Periodically wiping down the surface of the greenhouse and removing dead or dying vegetation will greatly reduce the possibility of pest insects. Plants should be closely monitored for pest insects on a weekly basis (at the very least).
It is a good idea to set up a quarantine area in the greenhouse. Whenever a new plant is purchased or gifted, it should be quarantined immediately for a week or two to ensure it does not harbor pest insects. After the quarantine period is over and the plant has received a clean bill of health, it may join the other plants in the greenhouse. Bringing new plants into a greenhouse is the most common way a greenhouse gardener will introduce pest insects into his or her own garden. If pest insects are observed on any new plant, it should be thoroughly treated before being introduced to the other plants in the greenhouse.
Monitoring for Pests
As previously mentioned, it is important for greenhouse growers to monitor their gardens for any signs of pest insects. Yellow sticky traps are great tools for monitoring a greenhouse. Yellow sticky traps are similar to fly paper in that they "catch" flying insects in a glue-like substance. By closely examining the yellow sticky trap, a gardener can see if and what types of pest insects are present in the garden. Yellow sticky traps allow a horticulturist to identify potential problems before they get out of hand.
Identifying the Pest Insect
Identifying the pest insect early and accurately is vital to stopping a few pest insects from becoming an infestation. When monitoring the plants, there are some tell-tale signs that will indicate which pest insect a gardener may be dealing with.
Spider Mites
The first sign of a spider mite problem usually shows up in the form of yellow speckling on the surface of the leaves, which is caused by the insects sucking nutrients from the underside of the plant leaves. The speckling from spider mite damage will resemble light yellow spray paint misted on the leaves. Closer examination of the bottom of the leaves will reveal clusters of very tiny red mites and their eggs. A magnifying glass may be necessary to see them. In more extreme infestations, webbing may be found in-between or on the tips of branches and leaves. This webbing looks very much like a spider web and is how these nasty bugs received their name. Spider mites are difficult to get rid of and require a miticide for treatment.
Mealybugs
The first sign of mealybugs is normally cotton-like, fluffy masses found in the crotches or joints of the plant, typically near young tender growth. These tiny "cotton balls" are actually clusters of the slow moving mealybugs. These bugs can reproduce and lay eggs every seven days, so they should be treated immediately to reduce any possible contaminations. It's difficult to kill the eggs, often in the soil, so it's important to treat for live mealy bugs every five to seven days for three to four weeks to terminate all adults before they become mature enough to lay eggs.
Fungus Gnats
The first sign of a fungus gnat problem is typically the small, mosquito-like, black or gray insects that fly around aimlessly. They are most prevalent right after a watering or when the soil is disturbed. Fungus gnat larvae look like tiny, light-colored worms that wiggle around in the top layer of soil. They can sometimes be seen "dancing" in standing water after a feeding.
Thrips
The first sign of a thrip issue is usually "shiny streaks" that show up on the surface of the leaves. The shiny trails are actually the areas of the leaf where the thrip larvae have been feeding. Gardeners may also notice tiny black specs on the leaf surface; this is actually the larvae's fecal matter. To the naked eye, thrip larvae resemble fast moving grains of rice. The larvae can be many different colors, but are usually yellowish-green.
Scale
The first sign of scale is usually a protective covering or bumps on the stems and stalks of the plants. The females lay eggs underneath the protective covering, which will hatch in one to three weeks. The newly hatched nymphs leave the protective covering as tiny white specs and move around the plant to feed. Nymphs insert their piercing mouthparts into the plant and begin to feed, gradually developing their own protective covering as they turn into immobile adults. Scale do not pupate and may have several overlapping generations in one season. A scale infestation is difficult to eliminate and requires a systemic insecticide.
Treatment and Control
Early detection and treatment diligence are the keys to eradicating pest insects. A gardener can start treatment with an organic or all-natural insecticide that is designed for the particular pest insect he or she is battling. Yellow sticky traps are effective in capturing most flying insects, such as fungus gnats and white flies. Denatured alcohol is highly effective as a combatant against mealy bugs and scale by wiping it on the infected areas with a cotton swab or small paint brush. Pyrethrum is an organic derivative of the chrysanthemum plant and is extremely effective against many greenhouse pest insects. Pyrethrum is the primary ingredient in several commercial spray products commonly available at most garden centers. In some cases, a pest insect (scale and mites), cannot be controlled with an organic or all-natural approach.
When this occurs, the gardener may need to implement a systemic chemical control. Systemic pesticides, such as Orthene, are effective against pest insects because they enter the plant's tissue and kill the bugs as they feed on the plant tissue. Regardless of the treatment program, horticulturists should always use caution and be sure to read the manufacturer's directions for application.
For more information visit ArcadiaGlasshouse.com