Eliminating Aphids from Orchids
Most plant pests are shy creatures who prefer to lurk in dim crannies where they can't be easily detected, but not aphids. These bold, gregarious insects work right out in the open. On infested plants you can find entire colonies of them cavorting on new growth, at the base of buds and on the undersides of leaves.
Usually less than 1/8 inch long, commonly greenish white or black, aphids have soft, pear-shaped bodies, long legs and antennae. Most are wingless, but winged versions appear when a colony gets too crowded and decides to migrate to another plant.
Symptoms
Aphid feeding causes poor growth, stunted plants or curled and distorted leaves. Developing aphids shed white skins. A pile of them on upper leaf surfaces may be your first sign that these destructive insects have arrived.
In the process of sucking out plant juices, aphids – like mealybugs and scale – excrete sweetish, sticky "honeydew" that often turns a moldy black and may lure ants. Aphids also carry viral diseases to plants.
Life Cycle
Females seem to like enormous families. A single aphid typically gives birth to between 60 and 100 young ones every day for a period of 20 to 30 days. And each of her daughters is able to reproduce within seven to 10 days. Their high birth rate, coupled with aphids' ability to sprout wings and migrate, means you should take action as soon as you spot them. Immediately isolate the infested plant, or any other plants in your house might be settled by a new colony.
Controls
Fortunately, new aphid populations aren't difficult to eliminate. Wash the foliage in soapy water, rinsing with a sink sprayer if possible, and they'll usually leave in a hurry. Don't be deceived, though; new generations may crop up, so check and treat the plant again after seven days. For best results, repeat this process a third time. If a plant has only a few aphids, you may be able to control them by dabbing with a cotton swab soaked in rubbing alcohol.
Ray Barkalow has been growing orchids for over 45 years, and owns First Rays, which offers horticultural products to the hobby grower. He may be contacted at [email protected] and you can visit his website at FirstRays.com.
Read More Articles
Magnesium Supplementation for Orchids
Measuring Powders & Liquids to Fertilize Orchids
Pesticide Use Guidelines for Orchids

Why Should You Consider Planting Spring-Planted Bulbs in Your Garden?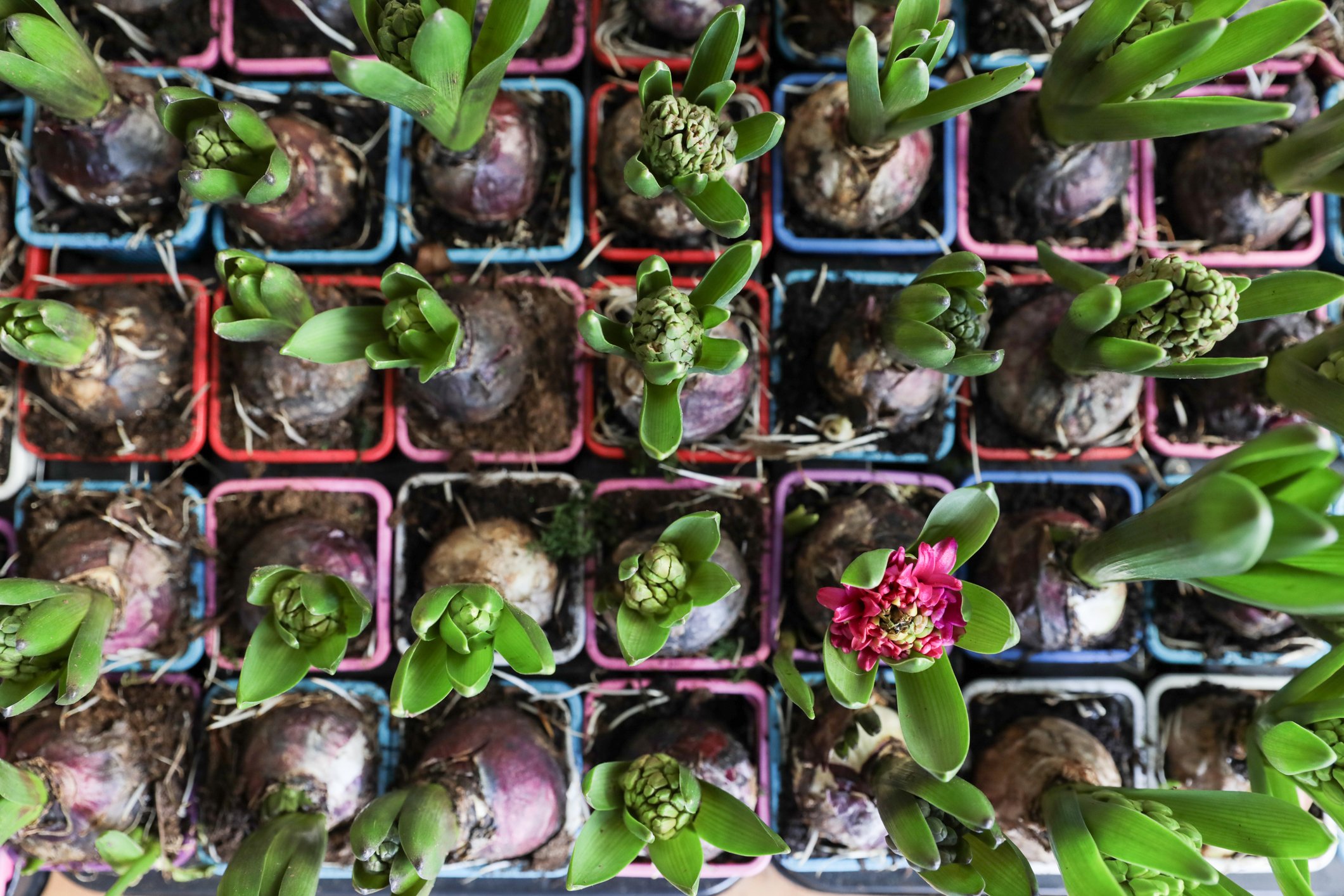 Spring is a great time to plant bulbs in your garden! Not only do they add a pop of color, but they also provide a number of benefits. In this blog post, we'll outline the benefits of planting spring planted bulbs in your garden. We'll discuss what bulbs are, what flowers come from bulbs, how to plant them, when to plant them, and how to care for them. So, go ahead and plant some spring-planted bulbs in your garden this spring!
What Are Spring Bulbs?
Do you love the beauty and colors of springtime? If so, then you should consider planting spring bulbs in your garden. Spring bulbs are a popular type of flower that is planted in the springtime. They come in many different colors and are known for their beautiful blooms. Not only do they add beauty to your garden, but they are also easy to care for.
When selecting spring bulbs for your garden, it's important to choose ones that look good together and have a variety of colors. Some of the most popular types of spring bulbs include tulips (a yellow bulb), daffodils (a blue or purple bulb), crocuses (a white or multicolored bulb), and hyacinths (an orange or yellow flower). When selecting which ones to plant, it's best to choose a mixture so that your garden looks colorful throughout the year.
What Flowers Come from Spring-Planted Bulbs?
There's no better way to add color and brightness to your garden than by planting bulbs. Not only are they easy to care for, but they also come back year after year. When choosing which bulbs to plant in your garden, it's important to consider what flowers you want them to produce. Some common bulbs you can plant include tulips, daffodils, hyacinths, and crocuses. All these bulbs will produce beautiful flowers that will add a touch of color and brightness to your garden. You can also choose to plant other types of bulbs, such as grape hyacinths or lily-of-the-valley bulbs. These plants produce smaller flowers but are very fragrant.
The Advantages of Planting Spring-Planted Bulbs
Do you love the look of brightly colored flowers in your garden, but you don't have the time or energy to tend to them? Planting spring-planted bulbs is a great way to add color and interest to your garden without any of the work. Bulbs are easy to care for and require very little maintenance—all you need is some water and sunshine. Plus, bulbs can be planted in a wide variety of locations, including in pots and containers. This makes them perfect for adding interest to any area of your garden.
Another advantage of planting bulbs is that they are relatively inexpensive. You can buy a large container of bulbs for just a few dollars, and they will last for many years with proper care. Plus, bulb plants are relatively easy to transplant if you ever want to move them somewhere else in your garden. Last but not least, planting bulbs is a great way to add color and brightness to your garden all year long!
How to Plant Spring Bulbs?
Color is one of the most important factors when it comes to garden design, and spring-planted bulbs are a great way to add some extra color to your landscape. Not only are they beautiful on their own, but they also provide a wonderful contrast against the cooler colors that will be in season during the summer. Spring-planted bulbs are easy to plant and care for, and there are a variety of different varieties available that will perfectly complement your garden.
When Should You Plant Spring Bulbs?
With the arrival of spring, it's time to start thinking about planting bulbs in your garden. There are a variety of beautiful bulbs that can be planted in the spring, and they're easy to care for, making them a great choice for someone who wants to add color and interest to their yard without much effort.
Consider the season when deciding which bulb to plant in your garden. Spring-planted bulbs will typically bloom earlier than bulbs planted in the fall, so make sure you choose the right one for your garden. There are a variety of different types of spring-planted bulbs to choose from, so find one that will fit well into your landscaping. With a little planning and effort, you can have a beautiful garden that blooms all year.
How to Care for Spring-Planted Bulbs?
Spring is a wonderful time to plant bulbs in your garden. Here are a few tips on how to get started:
First, be sure to research which types of bulbs work best for your garden and climate. Some popular choices include tulips, daffodils, hyacinths, and crocuses. Once you've selected the bulbs you want to buy, purchase them in advance so that you have plenty of time to plant them in the ground or in pots.
Once you have your bulbs home, it's time to take care of them! Make sure that their soil is moist but not soggy – this is crucial for bulb growth. Water them regularly during dry weather, and be sure not to overwater them, as this can damage their roots. When the flowers start blooming, cut the stems close to the ground so that the bulb will continue flowering indoors. After the flowers fade away (usually around mid-March), allow the foliage (orchids tend not to shed their leaves) to die back naturally. Enjoy your beautiful spring-planted bulbs!
In Short
Spring bulbs are a great way to add color and life to your garden. Planting these bulbs will provide you with beautiful flowers throughout the spring and summer. Bulbs are easy to care for and can be planted in almost any type of soil. Be sure to plant your bulbs in the fall so that they have time to establish themselves before the first frost. With a little love and care, your spring bulbs will thrive and bring you enjoyment for years to come.