Medicinal Uses for Jewel Weed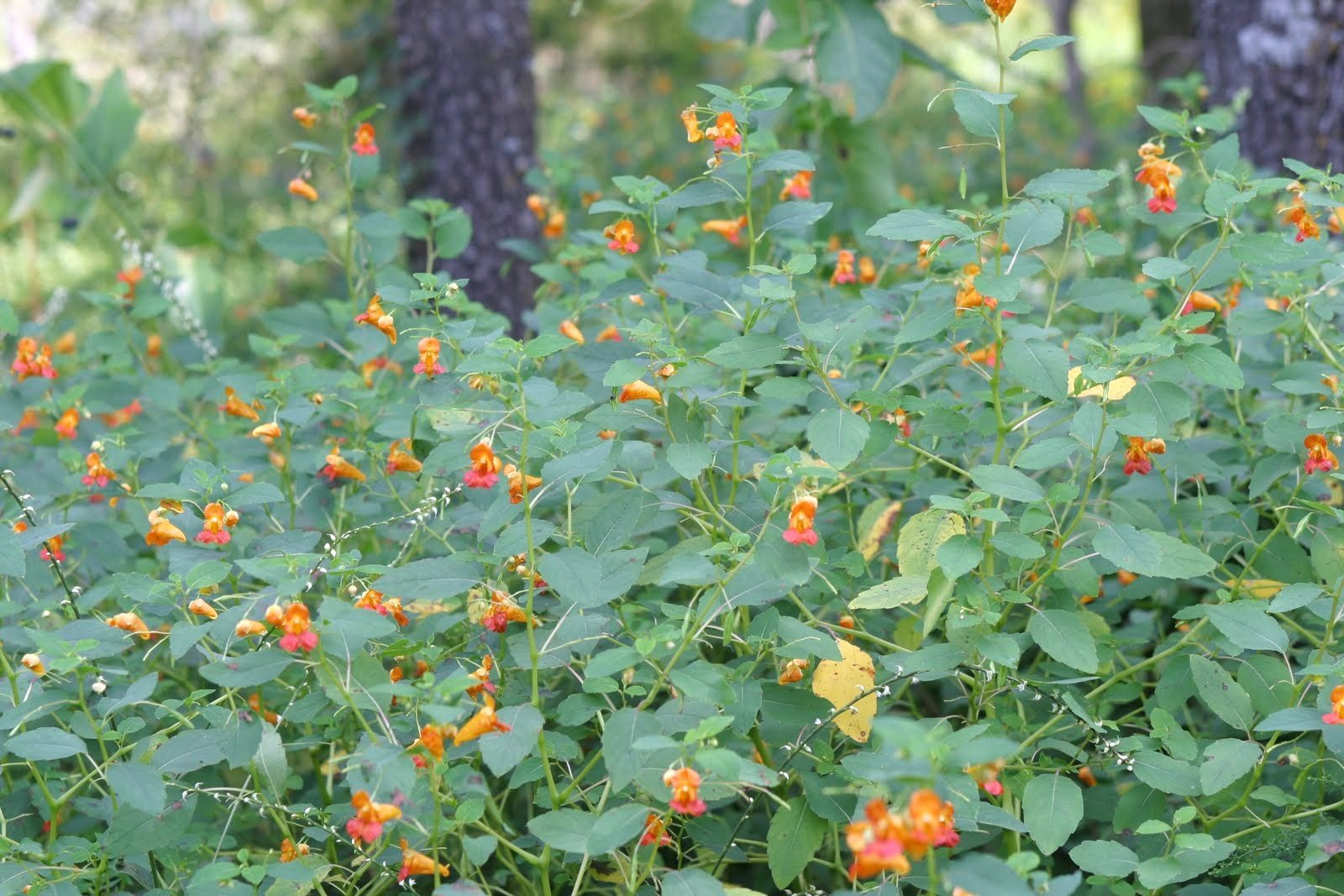 Jewel Weed is the Nearatic species of genus impatiens. The parts that grow above the ground are used to make medicine. Be careful not to confuse jewel weed with potentilla, since both are known as silverweed. Jewel weed is a smooth annual that grows three to five feet tall with trumpet shaped flowers that hang from the plant like a jewel from a necklace.
Jewel weed blooms from May until October in eastern North America from southern Canada to northern Florida. It is found in moist woods and creek banks frequently near poison ivy and stinging nettle. However, just because there is poison ivy or stinging nettle, you won't necessarily find jewel weed. It will not grow in dry places or thrive in direct sunlight where other two plants will. If you do not have access to wild jewel weed, there are garden varieties of impatiens that have the same properties (but not as concentrated as the wild varieties).
Medicinal Uses
People ingest jewel weed to treat mild digestive problems. It is said to aid digestion and increase the loss of body water through the urine (diuretic effect), but there isn't scientific information to back these claims. Some people apply juices of jewel weed directly to the skin for the treatment of poison ivy and its juice helps relieve bee and wasp stings. However it does not always cure them completely. In addition, it helps sooth the irritations of nettle stings, minor burns, cuts, eczema, acne, sores and other skin irritations. It is also good to for warts, bruises, and fungal skin infections such as athlete's food and ringworm.
The best known medicinal use for jewel weed is in the treatment of poison ivy. Apply jewel weed juice to an area on the body that has been in contact with poison ivy to prevent rashes from the poison ivy from appearing. It not only works to help prevent a rash, but also works in the treatment of an existing poison ivy rash.
Poison Ivy Rash Symptoms
Itchy skin where the plant touched your skin
Red streaks or general redness where the plant brushed against the skin
Small bumps or larger raised areas
Blisters filled with fluid that may leak out
Poison Ivy Rash Treatment
In 1958, a study in 1958 found that impatien biflora was effective alternative medication for skin irritation caused by contact with sumac. Later studies, however, did not give the same antipruritic affects after the rash appeared. These conflicting studies were reviewed and it was discovered that the method used to prepare and the typing of application determined the effects of the jewel weed against the poison ivy. According to a subsequent study done in 2012, an extract made from the orange jewel weed was not as effective as topical application of the crushed stems and leaves to the affected area.
If you have already developed the rash, break the stem of the jewel weed and rub it on the rash until you draw some blood. The rash will dry out, a scab will form and healing will take place often within a couple of days.
Jewel Weed Tincture
Although jewel weed often grows where poison ivy grows, it is not always found where poison ivy is found. If you find a source for jewel weed pick the fresh plants and store them in a sealed container in the refrigerator. They will last up to one week.
Prepare a tincture by soaking fresh jewel weed in commercial witch hazel for a few weeks. The extract of the two herbs preserves well and it will last for several months. If witch hazel is used in the preparation, this tincture should only be used externally.
Jewel Weed Ointment
Ointment can be made by simmering a small amount of jewel weed in light vegetable oil (but not olive oil because olive oil will burn) for 10-15 minutes. Use only a small handful of the stems per quart of oil; if too much is used juice will form on the surface of the ointment and in a few days will turn moldy. To thicken the oil, strain the herb from the oil and add beeswax. Heat it until the beeswax has melted and remove a spoonful at a time to cool and test thickness. Add more oil or beeswax if needed. Add one capsule of oil soluble vitamin E (as a natural preservative). Let the mixture cool and refrigerate it where it will last for several months.
Donna Brown is the author of the gardening book Simply Vegetable Gardening which is available on her website: Cygnetbrow.com. She can be contacted at cygnetbrown@gmail.com.
Want more information? Read these articles:
The Genius of the Genus Monarda or Bee Balm

A Dream: Retiring in Canada
Introduction
The prime of a person's life is represented by the golden years. If you've put in a lifetime of hard work, responsibility, and adhering to a strict work schedule, you can finally retire to your "cape" and relax in your own home, which need not be in the city where you currently reside. If you have made the decision to relocate for your retirement, you may be looking for the best Canadian city to retire to spend your time in.
Even if you already have a list of preferences for where you want to retire, this list can be a great resource. The adoption of a pragmatic and practical approach when selecting a retirement city can help you enjoy a happy and financially secure retirement.
Everyone has their own set of preferences, priorities, likes, and dislikes when it comes to just about anything and everything. This includes everything from minor details such as a favorite cup of coffee to major decisions such as choosing the right career path. As a result, it is understandable that each individual would have their own ideas about how and where to spend their retirement years.
Fredericton, NB
The city of Fredericton serves as the provincial capital of the province of New Brunswick. Although it is a small city in terms of population for a capital, it is a fortunate mix for retirees. In spite of the fact that the city is not particularly crowded, its status as the regional capital means that it has many amenities that a city of its size does not typically have (though public transportation is not available on Sundays). Real estate prices are low enough that you can afford a home if you have enough savings, which is especially true if you are looking to purchase a condominium.
In addition, the rent is significantly less expensive. It has a humid continental climate and is located on the banks of the river. So, if you like to fish, it could be a fantastic place to settle down in. For a city of its size, the city has a large number of historical buildings and museums, as well as parks and gardens. It also hosts a large number of festivals. The city's largest hospital, which has more than 300 beds and several specialists, as well as a level 3 trauma center.
It's possible that Fredericton will be the perfect place for you if you're looking for a nice, affordable blend of nature and a moderately large city.
Kingston, Ontario
When it comes to living in a city where half of the population is made up of young students rather than old retirees like yourself, Kingston might be the best Canadian city to retire to. Because of its strategic location, it has a long and illustrious history, particularly in the military sphere.
As a retiree, you'd appreciate Kingston's laid-back atmosphere and easygoing pace of life. Almost half of the year, the city is bathed in sunshine. Transport in the local area is efficient, quick, and reasonably priced. One of Kingston's most significant assets, however, may be its world-class medical facilities. Kingston General Hospital is one of the largest hospitals in the province of Ontario and is located in Kingston. Many wonderful places to visit or spend your retirement time in the city, such as Lake Ontario Park and the Museum of Healthcare, which is the only museum of its kind in the country, are available to you. Many outdoor activities are available to you in the city as well, including sailing, fishing, golf, and hiking, among many others.
Burlington, Ontario
There are 115 parks in the small community of Burlington, so getting some exercise and fresh air will not be a problem. Given that it's only about 40 minutes away from Toronto, it's possible that you'll enjoy living in this charming little town if you have family in the city. It has a vibrant creative community as well as a sufficient number of art venues, especially given the size of the city. In addition, the city is very bicycle-friendly.
Even though there is a major hospital in the town, you may need to travel to Hamilton, which is not far away, if you have a serious medical problem. The high cost of living in Burlington is a chink in the city's armor. Even if you decide to rent a place in the city, you may find it to be an expensive place to live. However, if you can find a way to avoid this expense (by living in a co-op or a small house, for example), the city will appear to be quite affordable. Alternatively, you can choose one of the city's retirement homes. In addition, the city offers a diverse range of retirement living options, including active retirement living, assisted living, and home care.
Kelowna, BC
When it happens to come to retirement homes, Kelowna is a bit of a cliche, to say the least. Until the most recent census, retirees accounted for more than 18 percent of the population, which is significantly higher than the national average. This city experiences all four seasons, although housing can be expensive (especially if you try to live near the lake). If you are an oenophile (a fancy way of saying wine enthusiast), Kelowna is the place to be. It's the perfect combination of nature, peace, and the big-city hustle and bustle (especially in tourist season).
If you don't mind living a little outside of the city for cheaper housing, if you enjoy driving and taking part in outdoor recreational activities such as picnics by the lake, you might find Kelowna to be a reasonable price. The primary medical facility, for example, is quite large, with over 700 beds, and the number of doctors per capita is sufficient given the city's population density. The dry weather is a major draw for many retirees who come to this city to enjoy their golden years.