A Complete Guide to Selecting and Growing Sunflowers
The sunflower is one of the most widely recognized flowers of all time. This large flower blooms in a wide variety of yellows, pinks and even reds. With a little care you will be rewarded by the most noble of garden beauties. The many varieties have something to offer gardeners of any age regardless of space limitations.
Selecting a Growing Location
The following items need to be considered while choosing where to grow sunflowers.
Sun and Wind Exposure
As the name implies, sunflowers like the sun and do best when they are located in a sunny location. A general guideline is to pick a spot that receives at least 6 hours of sunlight daily. If they are planted in a shady area, sunflowers may stretch to reach sun and will require additional staking support. This will also be true if they are planted in a windy area. Consider planting tall varieties on a fence line to help with support.
Orientation to Other Plants
Tall varieties block sun and wind from your other garden plants. This can be a good thing if you are trying to shelter particular plants from too much sun or wind, but you must also consider if the sunflowers are going to negatively impact other sun loving plants. Sunflowers will face east at maturity and this should be considered in their placement as well.
Days to Maturity
Most sunflower varieties have a maturity between 75 and 110 days. The nice thing is that you can grow them from the last freeze until winter sets in again. Consider planting a few each week to insure staggered blooms and enjoyment throughout the growing season. Stop planting 75-100 days before the first winter freeze is expected in your location.
Annual or Perennial Varieties
Most people plant annual sunflowers, but if you only plant annuals you are missing out on some beautiful long term varieties. Perennials may take one to three seasons to begin producing blooms, but they are well worth the wait and can be great producers of flowers for years to come.
Color Coordination for the Garden
Most people are familiar with the classic giant sunflower that has one large yellow flower with a dark center. Fortunately for sunflower lovers, there are many different colors and varieties to choose from. Vincent Van Gogh loved sunflowers for this reason. Take the time to select and place different size and color varieties in the landscape. Some gardeners like to use larger varieties as the backdrop and progress to mid sized and then small varieties as they get closer to the house or other public sitting areas.
Plant Size and Spacing
Following the recommendations for spacing typically leads to the healthiest and most successful plants and should dictate how many plants are located a given area. Pay close attention to the spaces you intend to fill when you are selecting which varieties to plant.
Containers, Planter Beds or Open Space
With the increasing popularity and development of dwarf varieties more sunflowers are being planted in containers than ever before. Using containers smaller than six inches is not recommended, because even if the plants can tolerate them, they dry out too quickly. If you are planting in medium or large pots that are eight inches and larger, you can slightly bend the rules for suggested spacing for the variety and plant three individual plants in each pot. It is still better to stick with small varieties (less than three feet) for medium pots and small or medium (three to five foot) varieties for large pots. It is absolutely critical that your containers have drainage holes. Sunflowers need well drained soil.
The Pollen Factor
Most people do not have problems with the pollen from sunflower gardens.  If you or someone you know is particularly sensitive to pollen you are in luck. Many varieties of sunflower are pollen free.
Intended Use
Consider if you would like to have a steady supply of cut flowers from your plants. Some varieties are particularly good for long lasting cut flowers. With flower preservatives in the water and weekly water changes some varieties can last for several weeks. Birds are particularly fond of the seeds produced by some varieties and butterflies are attracted by others. Sunflowers have myriad of uses; in the garden the stocks of large varieties can be dried and tied together to form rustic trellises for other plants and make good poles to help support plants including future generations of sunflowers.
Soil and Weather Conditions
Most sunflowers do best when they are transplanted in adequately prepared soil, but some varieties of are particularly good in poor soil conditions. Other varieties are particularly strong for extra hot conditions and periods of dry soil.  If your plants will be in a windy area, consider bushy, branching varieties and/or be prepared to stake them.
Starting From Seed
If you decide to start your sunflowers from seed which is the most common way you will have several methods to consider each of which has advantages and disadvantages.
Direct Seed Method
Sunflower seeds can be sowed directly in the garden or containers, and in some instances this may be a viable choice. One problem is that seeds and small plants are much more susceptible to falling victim to pests and predators than even two or three week old transplants. In many areas the birds or rodents will dig up the seeds before they even get a chance to sprout. Care can be more difficult because seeds and sprouts must be kept moist and not be allowed to dry out. One other possible disadvantage is there are always have some seeds that never become viable sunflower plants. Establishing a uniform can be easier using transplants that have already been selected as strong prospects. It is normally easier to germinate the seeds before transplanting them into the garden or containers.
Using Professional Seed Starting Trays
Some people prefer to start many seeds at the same time in professional seed starting trays which are a plastic tray with separate compartments for each plant and a drip pan. This method allows you the grower to start as many as three dozen seeds at one time. It also allows for removing any weak plants and healthier sprouts that can be transplanted to the garden where they will face harsher elements and predators. With this method you will want to use a potting mix that is specifically designed for starting seeds. These mixes are finer than even premium potting mixes and contain all the nutrition that sprouts need to make it through the first two or three weeks. This method is certainly acceptable, but it too has some draw backs. There is a chance even if you are careful when transplanting the plants from the container that you will damage the root system and stress the young transplant.
Starting with Peat Pots or Pellets
Peat pots are small pots made of pressed peat moss. They can be filled with seed starting mix and planted in the garden when the transplants are ready, but there is an even easier alternative. Peat pellets are an ingenious innovation that consists of a compressed peat wafer inside a biodegradable mesh case. When the pellet is soaked in water it swells to five times its size and makes the ideal starting medium for the seeds. Simply push a seed or two in the top of each soaked pellet, place them near a sunny window and keep them moist. You can even buy these with plastic trays that have clear lids on them and act as mini-greenhouses for sprouting seeds. The lids reduce or even eliminate the need to add additional water to the pellets until after the seeds sprout. Once the seeds sprout just remove the lid and continue to water the sprouts until they form their second set of real leaves, generally two to three weeks. The bags can then be transplanted to the growing area.
Transplanting to the Garden or Containers
Transplanting is an exciting time. It is when the young plants that have germinated from seed are placed into the garden or a container. There are a few important considerations as you begin this phase of your sunflower adventure.
Spacing Considerations
New gardeners seem to be particularly prone to overcrowding their plants. Whether this is caused by a desire to not sacrifice any weak stragglers, or a desire to get as many plants in a given area as possible it is a serious mistake that will hamper growing quality plants. Select only the strongest young plants to include in the garden. As a general rule the seeds that germinate first tend to grow faster and produce stronger plants. By being picky and selecting only the top 50% of sprouts to transplant you will be helping ensure a strong crop. It is also extremely important to follow spacing guidelines that are specified on seed packets for each variety of plant. Failure to do so will result in less healthy, rangy plants that are struggling to compete with one another for food, water, sun, and root and air space.
Preparing Soil
Sunflowers can be grown in a wide variety of soil types and conditions. Regardless of the type or condition of the soil they are being transplanted into, it is a good idea to specially prepare the immediate area where each plant will be placed. A good recommendation is to dig a small six inch by six inch hole for each plant. Fill this hole with specially prepared soil for each transplant, consisting of premium potting soil with time release fertilizer mixed in.  Premium potting soil will either be labeled as such or will be one of the more expensive mixtures. With potting soil you generally get what you pay for. Do not use soil labeled as top soil or garden soil; these blends compact too easily. The premium potting soil holds moisture and allows young plant root systems to develop quickly. The time release fertilizer will help feed the plants for up to four months and add extra insurance to the regular fertilizing schedule. If you prefer to grow plants organically, crab shell meal or fish pellets can be added to the soil instead of the time release fertilizer.
Caring for your Growing Plants
If the sunflowers have been started correctly, they will have a good foundation for growth, but they still need a regular feeding program. Plants require three main nutrients to be healthy: nitrogen which promotes healthy foliage, phosphorus which promotes flowers and potassium which is for strong roots and overall vigor. All fertilizer products list the ratios of these three components in the order given above. A label that reads 10-15-10 signifies that 10% of the contents is nitrogen, 15% is phosphorus and 10% is potassium. When the plants are in the growth stage, before their flowers start to form you can promote healthy foliage growth by fertilizing every two weeks with a chemical or organic fertilizer that has a nutrient sequence of 20-10-10. Once the plants begin to form flowers switch to a bi-weekly fertilization product with a 10-20-10 ratio.
One Last Tip
Sunflowers are generally hardy plants, but pest problems can be reduced by spraying them with a mixture of ½ table spoon of liquid dish detergent to one quart of water each week.
Dr. Christopher Kline is a Garden & Greenhouse contributing editor.
Read More Articles
Canadian Hemlock for Landscapes
When and How to Prune Hydrangeas
Why Fabric Weed Barriers Do Not Work

The Ultimate Indoor Cleaning Manual: From Clutter to Comfort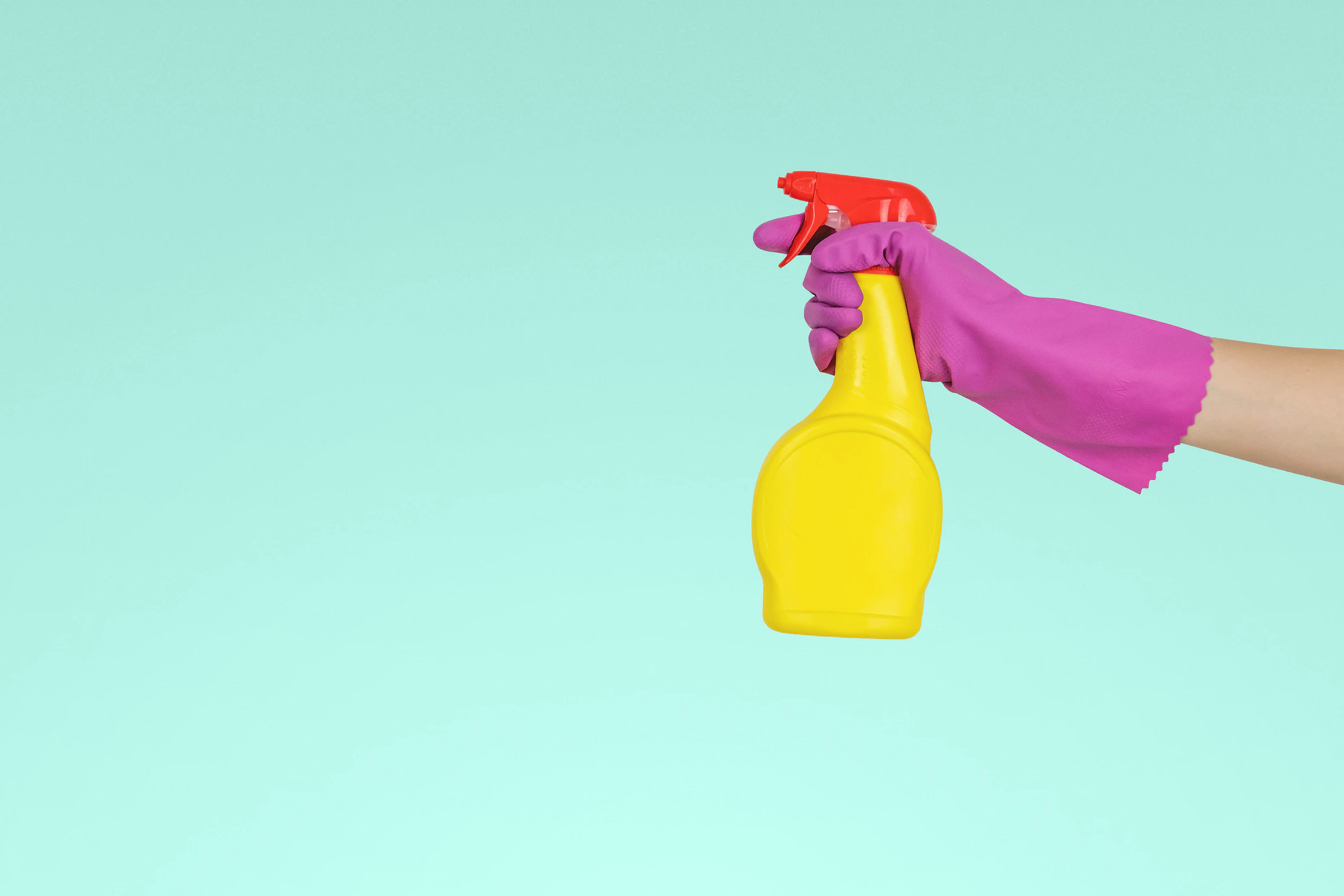 You're drowning in mess and don't know where to start? Dive into our ultimate indoor cleaning guide.
It's all about transforming your chaotic space into a cozy haven. We'll walk you through essential supplies, cleaning frequencies, and room-by-room strategies.
Plus, we'll tackle stubborn stains and give you expert tips to keep your home sparkling.
Ready to roll up your sleeves? Let's turn your home into the sanctuary you deserve.
Understanding Cleaning Frequencies
In light of maintaining a clean home, it's crucial to understand that cleaning tasks fall into five main categories: daily, weekly, monthly, seasonal, and yearly.
Your daily tasks, such as dishwashing and tidying, keep your home running smoothly.
Weekly and monthly chores, like vacuuming and deep-cleaning the bathroom, prevent buildup and save you time in the long run.
Seasonal tasks might include washing windows or deep-cleaning carpets, typically undertaken in spring or fall.
Yearly tasks might be those big projects like cleaning out the garage or washing the exterior of your house.
Essential Cleaning Supplies
You will need these basic cleaning supplies to effectively maintain your home:
a broom
a vacuum, a mop and bucket, or a steam mop or steam cleaner like Aqua Pro Vac
microfiber cloths
sponges
These tools are your household's best friends when it comes to cleaning. The broom sweeps away dust and dirt, while the vacuum tackles carpets and rugs.
The mop's wet cleaning abilities are perfect for hard floors.
Microfiber cloths are a godsend. They're reusable, eco-friendly, and excellent at grabbing dust and dirt.
Lastly, sponges are your go-to for scrubbing tasks.
Quick Cleaning Tips
Let's dive into some quick cleaning tips that can make your chores easier and more efficient.
Always have your cleaning supplies ready.
Categorize your tasks into daily, weekly, monthly, seasonal, and yearly. This ensures you're not overwhelmed and helps maintain a clean home.
For a quick clean-up, start by gathering trash from each room, collecting dishes, and starting a load of laundry. Clear clutter by putting items back in their proper places.
Remember that occasional deep cleanings, like washing your oven or windows, are just as important.
Comprehensive Cleaning Tutorials
Once you've got the right supplies and know how frequently to clean, half the battle is won. To further your skills, we'll cover some essential cleaning tutorials:
Fake a Clean House Fast
To fake a clean house, follow these quick steps:
Grab a laundry basket and walk through the main rooms. Scoop up anything that doesn't belong and stash the basket out of sight—in a closet or another room. Don't worry about sorting items now; just clear surfaces and floors.
Take a microfiber cloth and quickly wipe down any dusty spots on tables, TV stands, and other surfaces. If there's no time for a full dusting, focus on areas at eye level and spots where the light shines directly.
Align magazines, remotes, and coasters on your coffee table. Fluff and arrange couch pillows neatly, and fold throw blankets for an instantly orderly look.
Grab a damp cloth or cleaning wipe to quickly clean any conspicuous smudges or spills on countertops, mirrors, or glass surfaces that catch the eye.
Only do the most visible areas — like the living room and hallway. Don't worry about every corner; quickly remove visible dust, dirt, or crumbs.
Close the shower curtain, straighten towels, and wipe down the sink and counter. Replace the toilet roll with a full one and lower the toilet lid.
Put dishes into the dishwasher or stack them neatly in the sink. Wipe down counters, and use a cloth to quickly go over the refrigerator handle and any other high-touch areas.
Open windows to let in fresh air or light a candle for a pleasant scent. Lower the lights to create a cozy feel and hide less-clean areas, and consider turning on some background music.
Clean a Shower Curtain and Liner
To keep mold and mildew at bay, take down your shower curtain and liner and wash them in the washing machine with a couple of bath towels (to prevent wrinkling).
Use a gentle detergent and add 1/2 cup of baking soda during the wash cycle, followed by 1/2 cup of vinegar during the rinse cycle. Hang the curtain and the liner back up to air dry fully.
For extra tough mildew stains, pre-treat with a mixture of baking soda and water, or use a spray-on mildew remover before washing.
Clean a Top-loading Washing Machine
Keep your clothes smelling fresh by cleaning your top-loading washer regularly. Set the washer on the hottest, longest setting and add four cups of white vinegar to the water.
After a few minutes, pause the cycle and let the vinegar water mix sit for an hour. During this time, you can dip a scrubber in the vinegar water and clean around the top of the drum, the lid, and other parts of the washer.
After an hour, continue the cycle, then run another hot water cycle with a cup of baking soda to rinse out the vinegar and any loosened grime. Wipe down any remaining residues with a clean cloth.
Clean Your Oven
Start by removing the oven racks and soak them in hot, soapy water. Create a paste with baking soda and water and spread it throughout the inside of the oven, avoiding the heating elements.
Leave the paste on for several hours or overnight for best results. Use a plastic scraper to lift away the grime, then wipe the surfaces with a damp cloth.
Clean the glass door with a mixture of baking soda and water, and once all the residue has been removed, return the oven racks.
Clean Windows
For gleaming windows that invite sunlight into your home, mix equal parts water and vinegar in a spray bottle. Spray generously onto the glass and wipe away with a microfiber cloth, using circular motions to avoid streaks.
For any stubborn spots, rub gently with a cloth dampened in the water-vinegar solution. Don't forget to wipe the window frame and sill.
For best results, clean your windows on a cloudy day to prevent the sun from drying the solution too quickly and leaving streaks.
Room-by-Room Cleaning Guide
To tackle your home on a room-by-room basis and ensure no corner goes untouched:
Start with the most used areas like the kitchen or living room.
Equip yourself with your basic cleaning supplies and start by picking up any clutter, wiping down surfaces, vacuuming or sweeping the floor, and then mopping if necessary.
Move onto the less used rooms such as bedrooms and offices, following the same sequence.
Don't forget bathrooms – scrubbing the tub, sink, and toilet, and mopping the floor are essential here.
Remember, regular maintenance will make these tasks easier over time.
Dealing With Stubborn Stains
Stains can be pesky and really put a damper on your pristine home. Here are some simple ways to deal with obstinate stains:
Baking Soda Solution: Works wonders on most hard surfaces.
Vinegar and Water: Ideal for glass and mirrors.
Rubbing Alcohol: Perfect for removing ink and marker stains.
Hydrogen Peroxide: Great for stubborn bathroom stains.
Lemon and Salt: Natural alternative for rust and mildew.
Conclusion: Maintaining a Clean Home
A tidy environment not only brightens your mood but also reduces the time dedicated to intense cleaning sessions. So how do you maintain cleanliness consistently?
Start by creating a simple cleaning schedule that suits your routine. Divide tasks into daily, weekly, and monthly categories.
Small daily tasks like washing dishes, sweeping, and tidying up can prevent clutter accumulation.
Weekly tasks might include vacuuming and dusting, while your monthly schedule could include deeper cleaning tasks such as washing windows or cleaning the oven.