The Advantages of Home Grown Produce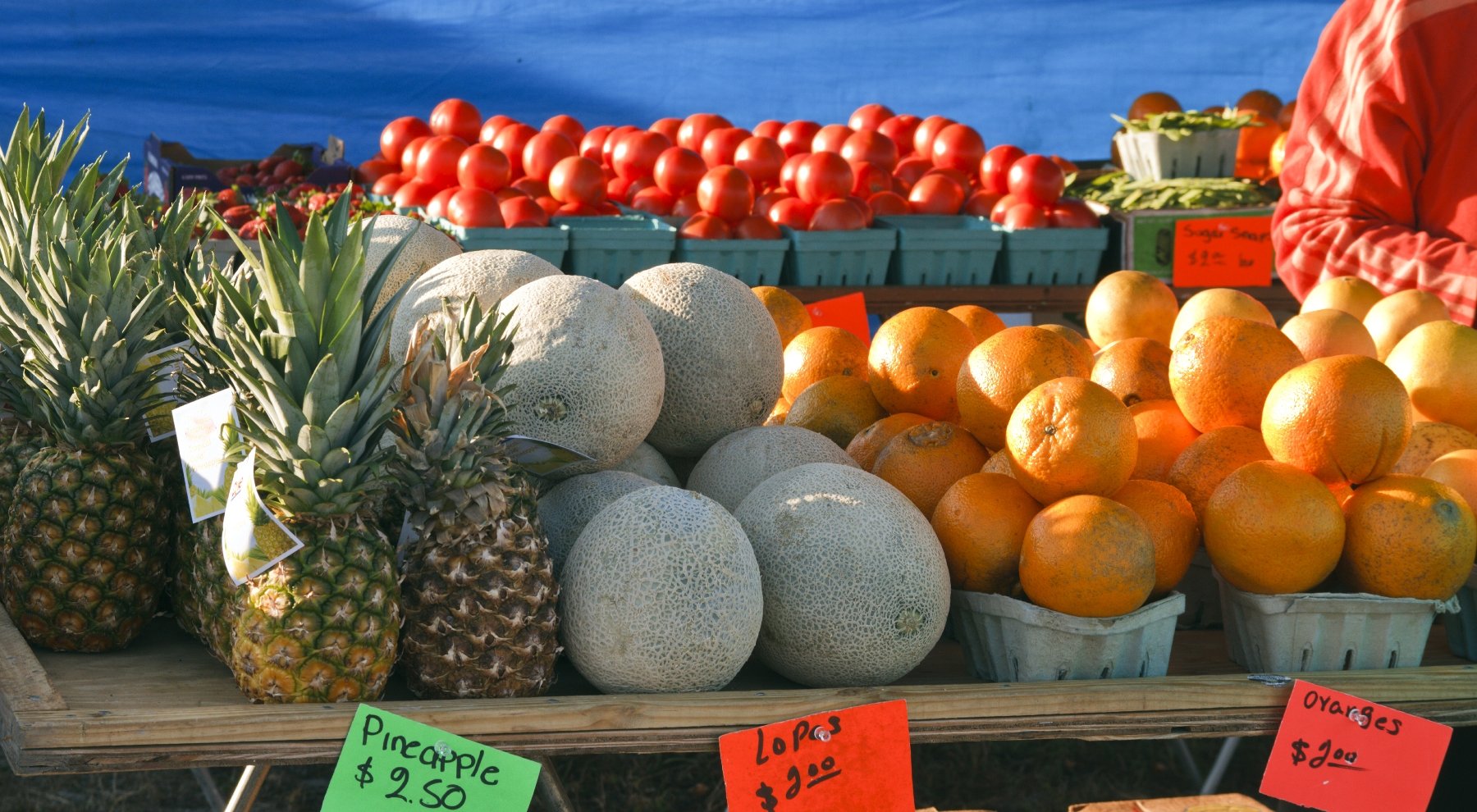 In America, we're used to quality produce in the grocery stores. It's something that consumers have demanded, and the marketplace has responded.
The question for me is simply do we have produce of a quality that's in our best interest? The term "quality" can mean different things to different people, so let's take a look at what we have in the traditional marketplace in terms of quality. Then let's look at what I think of when I speak of quality produce.
Commercial Quality
When we think of quality produce, we have to bear in mind the qualities or characteristics that have been demanded and accepted in the marketplace by consumers. It's our demands that are largely responsible for what we see in the grocery store. Consider that most chickens lay brown eggs, yet until recently, finding brown eggs in the grocery store was an odd thing. Show the average child a brown egg and they'll ask "What's wrong with the egg?" or simply "What is it?" As consumers, we asked for and got used to white eggs as the standard instead of spotted, mottled and varying shades of brown, tan and rust.
A similar story can be told about produce. We demanded large and good looking 
produce throughout the year. Sometimes we even demanded better flavor. So, here's what we now have in the grocery store:
Produce that can be picked green and shipped without bruising or spoilage.
Large produce items, regardless of flavor and nutritional value.
Tomatoes ripened "on the vine" with tell-tale green seeds that show us they're picked before they're ripe.
Bulk tomatoes that have no flavor.
Limited variety from fewer mass producers and suppliers.
Occasional "new items" that will become standard in the market if we respond favorably as consumers.
Out of season vegetables at premium prices.
Huge strawberries with perfect appearance and great flavor.
Several types of potatoes to choose from.
Bulk items like salad mix and sprouts.
Organic items at a premium price.
Many more packaged products like cut and washed salad greens, carrots and broccoli florets.
Clearly there have been improvements over the years, but for the most part we've cornered ourselves into limited selection, higher prices and lower nutritional value. We're paying these higher prices because of our expectation of year round availability and our demand for attractive produce that can withstand processing and shipping without noticeable damage.
With complete acknowledgment of my prejudices in favor of growing your own, let me give you my idea of quality produce.
Home Grown Quality
Have you ever had the pleasure of eating home grown quality produce from a roadside stand in the country?
How about some of the U-pick fruit and vegetable locations? My memories of delicious tomatoes, corn, cucumbers and apples are vivid. I can recall eating fresh, warm and delicious tomatoes right in the field as we filled our bushel bas
kets with tomatoes for canning. You can have that kind of home grown quality produce from your window sill, backyard, front yard or the vacant lot down the street. It's yours if you really want it.
Here is what I consider quality produce. As you read these descriptions, think about what you get in the grocery store as a point of comparison.
Variety
One year we grew 17 different types of tomatoes and 6 different types of lettuce. We get to select varieties to grow that we like in terms of color, shape, size, texture and flavor.
Freshness
I consider my garden to be a life size produce section of the grocery store. Fresh sweet turnips make it from the garden to my plate in 12 minutes instead of 1,200 miles.
Organic
We're talking real organic methods, not simply methods that some government bureaucracy has determined are acceptable under the organic banner.
Peak Nutritional Value
Picked when ripe, my produce offers me maximum nutrition because frequently the last of the nutrients are brought into the plant or fruit as it's ripening, not when it's immature. Processing without gas, cold storage, chemicals or contamination that we have found are commonly associated with mass production of food.
Does it require more effort to achieve quality produce? Yes, but anything worth having is worth working for. If you do it right, it really isn't so much more effort, and the results are much more pleasing than anything you might find in the store.
Clair Schwan is an avid vegetable gardener who considers his gardens to be important assets. To him, vegetables in the garden are a bit like money in the bank. It's all part of his self-reliant lifestyle. See his adventures in gardening at Frugal-Living-Freedom.com.
Want More Information? Try These Articles:
Container Gardens for Everyone
Organic Gardening in the Greenhouse
Strawberries are the Most Exciting Fruit of Summer

A Dream: Retiring in Canada
Introduction
The prime of a person's life is represented by the golden years. If you've put in a lifetime of hard work, responsibility, and adhering to a strict work schedule, you can finally retire to your "cape" and relax in your own home, which need not be in the city where you currently reside. If you have made the decision to relocate for your retirement, you may be looking for the best Canadian city to retire to spend your time in.
Even if you already have a list of preferences for where you want to retire, this list can be a great resource. The adoption of a pragmatic and practical approach when selecting a retirement city can help you enjoy a happy and financially secure retirement.
Everyone has their own set of preferences, priorities, likes, and dislikes when it comes to just about anything and everything. This includes everything from minor details such as a favorite cup of coffee to major decisions such as choosing the right career path. As a result, it is understandable that each individual would have their own ideas about how and where to spend their retirement years.
Fredericton, NB
The city of Fredericton serves as the provincial capital of the province of New Brunswick. Although it is a small city in terms of population for a capital, it is a fortunate mix for retirees. In spite of the fact that the city is not particularly crowded, its status as the regional capital means that it has many amenities that a city of its size does not typically have (though public transportation is not available on Sundays). Real estate prices are low enough that you can afford a home if you have enough savings, which is especially true if you are looking to purchase a condominium.
In addition, the rent is significantly less expensive. It has a humid continental climate and is located on the banks of the river. So, if you like to fish, it could be a fantastic place to settle down in. For a city of its size, the city has a large number of historical buildings and museums, as well as parks and gardens. It also hosts a large number of festivals. The city's largest hospital, which has more than 300 beds and several specialists, as well as a level 3 trauma center.
It's possible that Fredericton will be the perfect place for you if you're looking for a nice, affordable blend of nature and a moderately large city.
Kingston, Ontario
When it comes to living in a city where half of the population is made up of young students rather than old retirees like yourself, Kingston might be the best Canadian city to retire to. Because of its strategic location, it has a long and illustrious history, particularly in the military sphere.
As a retiree, you'd appreciate Kingston's laid-back atmosphere and easygoing pace of life. Almost half of the year, the city is bathed in sunshine. Transport in the local area is efficient, quick, and reasonably priced. One of Kingston's most significant assets, however, may be its world-class medical facilities. Kingston General Hospital is one of the largest hospitals in the province of Ontario and is located in Kingston. Many wonderful places to visit or spend your retirement time in the city, such as Lake Ontario Park and the Museum of Healthcare, which is the only museum of its kind in the country, are available to you. Many outdoor activities are available to you in the city as well, including sailing, fishing, golf, and hiking, among many others.
Burlington, Ontario
There are 115 parks in the small community of Burlington, so getting some exercise and fresh air will not be a problem. Given that it's only about 40 minutes away from Toronto, it's possible that you'll enjoy living in this charming little town if you have family in the city. It has a vibrant creative community as well as a sufficient number of art venues, especially given the size of the city. In addition, the city is very bicycle-friendly.
Even though there is a major hospital in the town, you may need to travel to Hamilton, which is not far away, if you have a serious medical problem. The high cost of living in Burlington is a chink in the city's armor. Even if you decide to rent a place in the city, you may find it to be an expensive place to live. However, if you can find a way to avoid this expense (by living in a co-op or a small house, for example), the city will appear to be quite affordable. Alternatively, you can choose one of the city's retirement homes. In addition, the city offers a diverse range of retirement living options, including active retirement living, assisted living, and home care.
Kelowna, BC
When it happens to come to retirement homes, Kelowna is a bit of a cliche, to say the least. Until the most recent census, retirees accounted for more than 18 percent of the population, which is significantly higher than the national average. This city experiences all four seasons, although housing can be expensive (especially if you try to live near the lake). If you are an oenophile (a fancy way of saying wine enthusiast), Kelowna is the place to be. It's the perfect combination of nature, peace, and the big-city hustle and bustle (especially in tourist season).
If you don't mind living a little outside of the city for cheaper housing, if you enjoy driving and taking part in outdoor recreational activities such as picnics by the lake, you might find Kelowna to be a reasonable price. The primary medical facility, for example, is quite large, with over 700 beds, and the number of doctors per capita is sufficient given the city's population density. The dry weather is a major draw for many retirees who come to this city to enjoy their golden years.