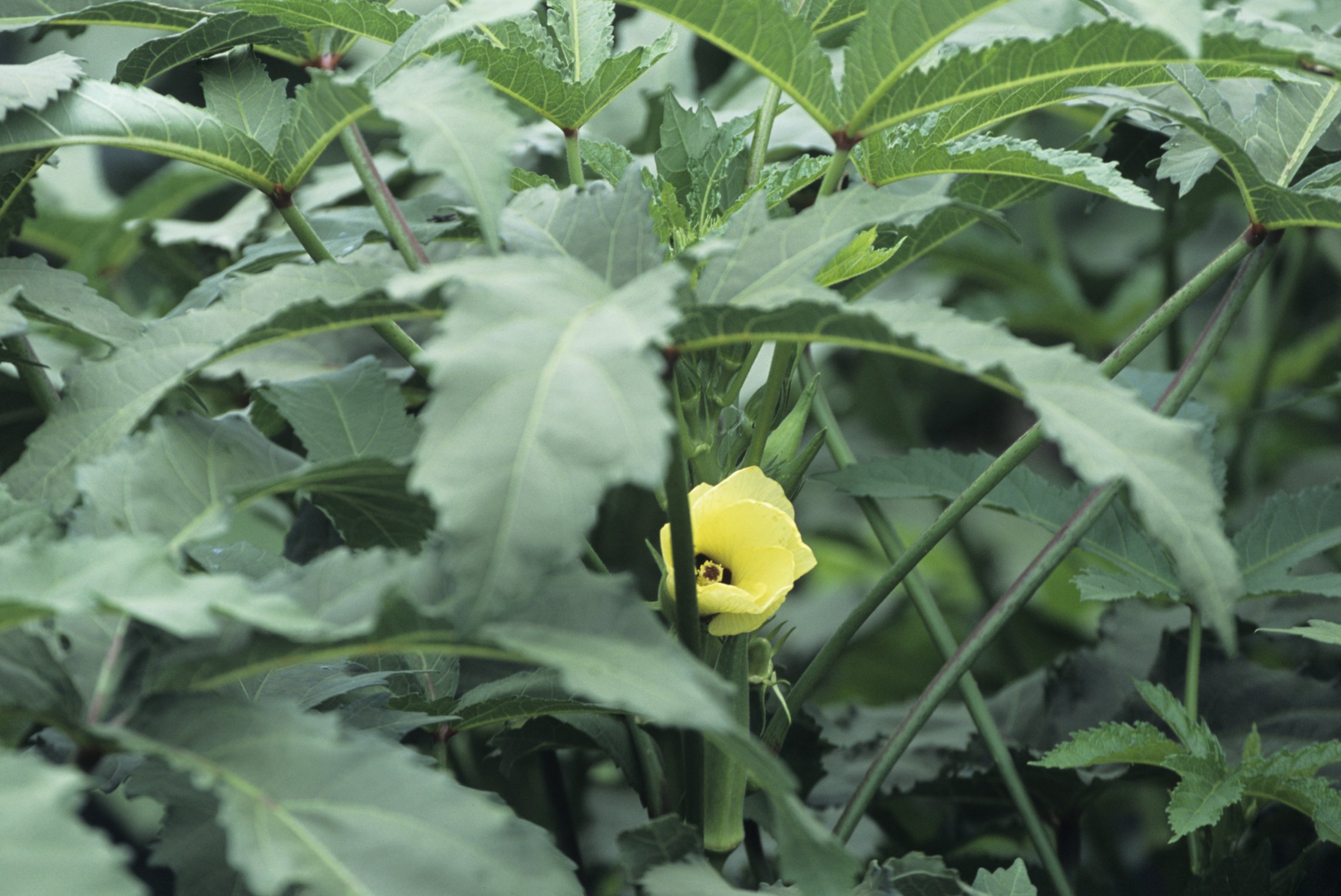 Okra is a quintessential summer crop in the South. Also known by its Swahili name, gumbo, okra is not native to the United States; it originates from northeast Africa, from where it spread to the Mediterranean and eventually to Brazil and the Americas.
Okra really multi-tasks in the garden. Related to hibiscus and hollyhock, most varieties of okra grow rather tall and feature colorful flowers. Okra does cross-pollinate, so seed savers should take that into consideration and plant only one variety, or should separate different varieties by a great deal of distance. Not only are okra pods tasty and attractive, but many gardeners use the plant to control Japanese beetles, which are attracted to the yellow flowers. The beetles chew on the leaves of the plants, which are poisonous to them, leading them to their doom. Okra seeds have also been roasted, ground and used as a coffee substitute.
The plants are prolific producers, so four to six okra plants are usually necessary to keep the average family well supplied throughout the season. This depends on the family, however, and their taste for okra. More plants can be planted, of course, for those who intend to freeze or can garden fresh okra, which is treatment that the pods handle readily. It is advisable, as well, to start more seeds than plants, and then thin weaker plants, as okra plants can be rather sensitive about transplanting.
Okra plants require warmth to successfully produce pods. Gardeners in cooler climates report success in container growing okra, using black pots or black plastic to retain heat around the base of the plant. Some creative gardeners devise racks to allow okra plants to mingle outdoors during daylight hours and roll them inside the greenhouse to protect from cold nighttime temperatures. In warmer climates, okra can be directly planted in the garden 3 to 4 weeks after the last frost; night time temperatures should average over 50 degrees Fahrenheit.
The number of varieties of okra rivals the number of cooking methods. Clemson Spineless is an old variety; it was an All-American winner in 1939 and is still very popular today. There are red types, including Burgundy, which grows to about 4-5 ft tall, with red pods, stems and leaf ribs. The pods return to the usual green color upon cooking. Annie Oakley is a petite okra variety, suited to containers. Lee Okra is another small plant for limited spaces, topping out at 2-3 feet in height.
Regardless of the variety you choose, keep an eye out for pests, including some types of cabbage worms and aphids. Harvest the pods when they are 2-3 inches long; okra is not a vegetable that improves in taste or texture with size. Cut the pods from the plants regularly, leaving just a little bit of stem and the cap intact. It's advisable to wear gloves when harvesting or handling okra pods as they are covered with tiny hairy spines which can cause skin irritation.
Due to the widespread popularity of okra, the number of preparation methods can be staggering.
This includes the ways to preserve okra – it is commonly pickled or otherwise canned, but the pods also freeze well. Pods should be clean and relatively blemish-free. Boil the pods quickly and then stop the cooking by plunging them into ice water. Drain pods, then freeze, either individually or in bags. This method helps the okra retain its color and texture and will be a happy addition to a midwinter soup or gumbo.
Speaking of gumbo, the Louisiana style stew is a preparation that takes full advantage of the mucilaginous property of gumbo. A layman might be tempted to call okra slimy, but this is what gives the stew its silky thickness. The mucilage is more noticeable the more okra is cut, so those who dislike the slippery texture may prefer okra pods whole. Small pods are delicious sautéed whole in butter until dark roasted spots and lines appear. A sprinkle of Cajun seasoning or Louisiana-style hot sauce compliments the flavor of the okra massively.
Another common preparation for okra is frying. The mucilage allows a cornmeal breading to stick fairly well to slices of okra, but they can be egg battered if necessary. Toss with cornmeal to coat and then fry in hot oil until the breading is golden. This really needs no seasoning other than a shake of salt, but children and southerners are known for dipping fried okra in a buttermilk ranch dressing or white gravy.
International preparations take the familiar flavor of okra to another level. Try okra curries, sautés, and stews, each with the characteristic flavors of their counties of origin. Okra's buttery and nutty flavor is complimented by a number of spices.
Simplicity is elegance in this favorite preparation – our family first came across roasted okra as an appetizer at a wedding. Amounts are not set in stone, as it's rather easy for okra lovers to eat a lot of okra. Simply clean and stem "enough" okra, leaving the cap intact. Blot the pods dry and place in a large bowl, turning to coat with olive oil. At this point, the okra can be spread on a pan and roasted at 400 degrees until tender, with roasted spots. Alternatively, the okra can be threaded crosswise onto two parallel skewers and grilled until tender. Either way, a grind of sea salt is most welcome.
Amy Ambrosius is  frequent Garden & Greenhouse contributor.

A Dream: Retiring in Canada
Introduction
The prime of a person's life is represented by the golden years. If you've put in a lifetime of hard work, responsibility, and adhering to a strict work schedule, you can finally retire to your "cape" and relax in your own home, which need not be in the city where you currently reside. If you have made the decision to relocate for your retirement, you may be looking for the best Canadian city to retire to spend your time in.
Even if you already have a list of preferences for where you want to retire, this list can be a great resource. The adoption of a pragmatic and practical approach when selecting a retirement city can help you enjoy a happy and financially secure retirement.
Everyone has their own set of preferences, priorities, likes, and dislikes when it comes to just about anything and everything. This includes everything from minor details such as a favorite cup of coffee to major decisions such as choosing the right career path. As a result, it is understandable that each individual would have their own ideas about how and where to spend their retirement years.
Fredericton, NB
The city of Fredericton serves as the provincial capital of the province of New Brunswick. Although it is a small city in terms of population for a capital, it is a fortunate mix for retirees. In spite of the fact that the city is not particularly crowded, its status as the regional capital means that it has many amenities that a city of its size does not typically have (though public transportation is not available on Sundays). Real estate prices are low enough that you can afford a home if you have enough savings, which is especially true if you are looking to purchase a condominium.
In addition, the rent is significantly less expensive. It has a humid continental climate and is located on the banks of the river. So, if you like to fish, it could be a fantastic place to settle down in. For a city of its size, the city has a large number of historical buildings and museums, as well as parks and gardens. It also hosts a large number of festivals. The city's largest hospital, which has more than 300 beds and several specialists, as well as a level 3 trauma center.
It's possible that Fredericton will be the perfect place for you if you're looking for a nice, affordable blend of nature and a moderately large city.
Kingston, Ontario
When it comes to living in a city where half of the population is made up of young students rather than old retirees like yourself, Kingston might be the best Canadian city to retire to. Because of its strategic location, it has a long and illustrious history, particularly in the military sphere.
As a retiree, you'd appreciate Kingston's laid-back atmosphere and easygoing pace of life. Almost half of the year, the city is bathed in sunshine. Transport in the local area is efficient, quick, and reasonably priced. One of Kingston's most significant assets, however, may be its world-class medical facilities. Kingston General Hospital is one of the largest hospitals in the province of Ontario and is located in Kingston. Many wonderful places to visit or spend your retirement time in the city, such as Lake Ontario Park and the Museum of Healthcare, which is the only museum of its kind in the country, are available to you. Many outdoor activities are available to you in the city as well, including sailing, fishing, golf, and hiking, among many others.
Burlington, Ontario
There are 115 parks in the small community of Burlington, so getting some exercise and fresh air will not be a problem. Given that it's only about 40 minutes away from Toronto, it's possible that you'll enjoy living in this charming little town if you have family in the city. It has a vibrant creative community as well as a sufficient number of art venues, especially given the size of the city. In addition, the city is very bicycle-friendly.
Even though there is a major hospital in the town, you may need to travel to Hamilton, which is not far away, if you have a serious medical problem. The high cost of living in Burlington is a chink in the city's armor. Even if you decide to rent a place in the city, you may find it to be an expensive place to live. However, if you can find a way to avoid this expense (by living in a co-op or a small house, for example), the city will appear to be quite affordable. Alternatively, you can choose one of the city's retirement homes. In addition, the city offers a diverse range of retirement living options, including active retirement living, assisted living, and home care.
Kelowna, BC
When it happens to come to retirement homes, Kelowna is a bit of a cliche, to say the least. Until the most recent census, retirees accounted for more than 18 percent of the population, which is significantly higher than the national average. This city experiences all four seasons, although housing can be expensive (especially if you try to live near the lake). If you are an oenophile (a fancy way of saying wine enthusiast), Kelowna is the place to be. It's the perfect combination of nature, peace, and the big-city hustle and bustle (especially in tourist season).
If you don't mind living a little outside of the city for cheaper housing, if you enjoy driving and taking part in outdoor recreational activities such as picnics by the lake, you might find Kelowna to be a reasonable price. The primary medical facility, for example, is quite large, with over 700 beds, and the number of doctors per capita is sufficient given the city's population density. The dry weather is a major draw for many retirees who come to this city to enjoy their golden years.