Tomato Fruit Yield and Solar Radiation Intensity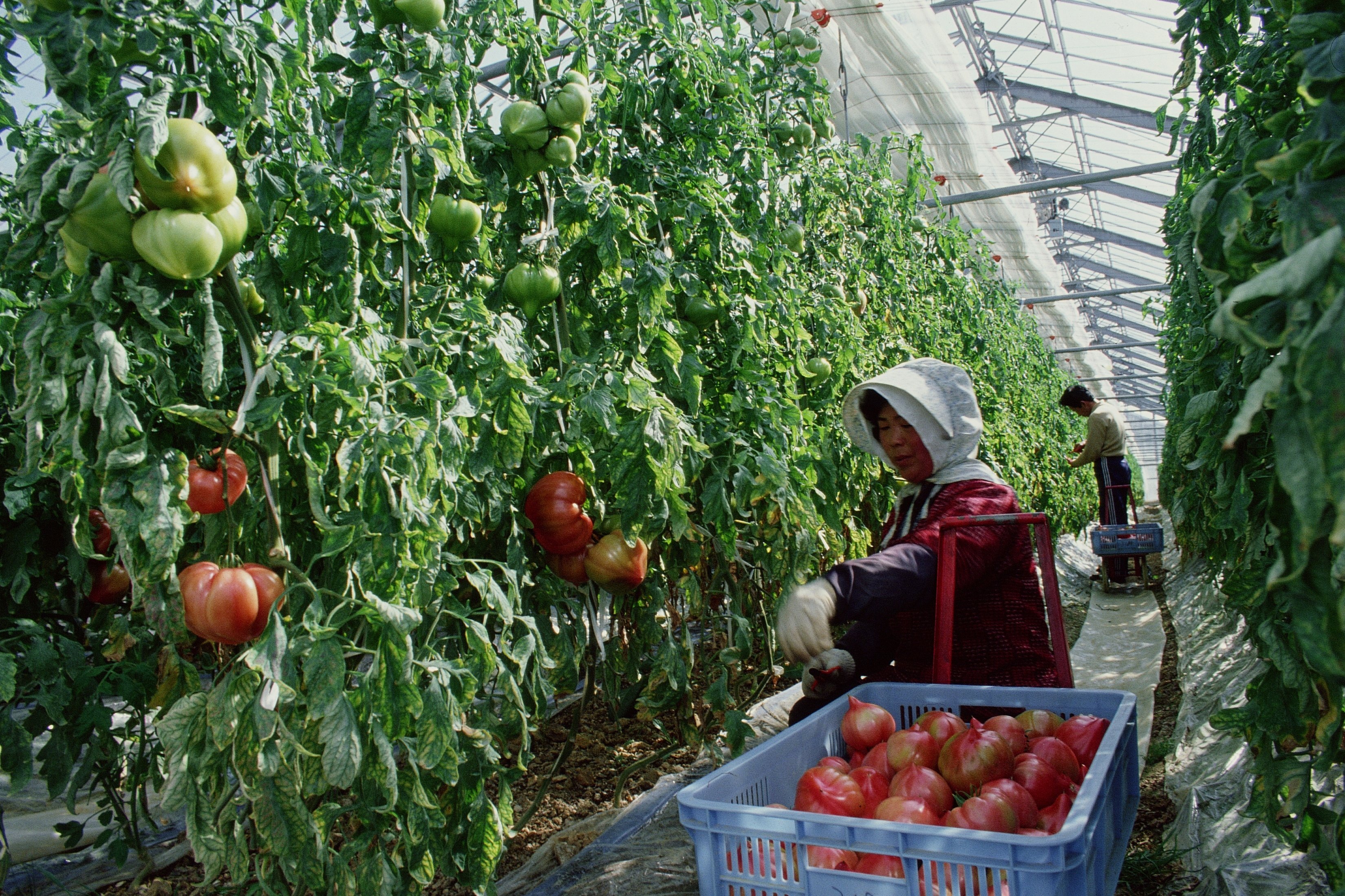 When growing greenhouse tomatoes during the winter months, particularly those located in the northern latitudes, positive correlations between tomato fruit yield and solar radiation intensity exist. But what is the correlation during the summer months when solar radiation intensity is high? Solar radiation data are difficult to obtain since most weather stations do not have radiation-recording instrumentation. For some time, most weather stations recorded minutes of sunshine, but no longer. Therefore, if a grower is to make this correlation, he must have the instrumentation to record solar radiation intensity if such data is not available from a nearby weather station.
A greenhouse tomato grower, located in the southern region of the United States, recorded weekly harvest fruit yield beginning in mid March through June. During this time period, solar radiation intensity is increasing daily, so in April, shade cloth was pulled over the greenhouse in order to reduce radiation input.
The grower obtained accumulated minutes of sunshine from a nearby weather station. I was given his fruit data so that could determine if there was a correlation between fruit yield and minutes of accumulated sunshine. There was no correlation between that week's accumulated minutes of sunshine and fruit yield, but there was a correlation 2 or 3 weeks before fruit harvest – the kicker being that the correlation was negative! This meant that the higher the accumulated minutes of sunshine 2 to 3 weeks before mature fruits were harvested, the lower the fruit yield.
Obviously, additional research is needed to substantiate this finding as well as to quantify at what level of solar radiation negatively impacts fruit yield. At some point, the tomato plant becomes "light saturated," below which there is a positive correlation between radiation intensity and fruit yield, and then above which, either there is no correlation or the correlation turns negative as suggested in these findings.
From my own experiences growing tomatoes in greenhouses located in South Carolina and Georgia in the period from March to June, ventilation method and shade does significantly affect fruit yield. Moving conditioned air up through the plant canopy rather than pulling it across the canopy, and the ability to draw shade over the plant canopy during periods of intense solar radiation, are essential for high yield production. Unfortunately, most greenhouses are not designed to provide these capabilities.
For a number of years, I have been growing tomatoes hydroponically in my vegetable garden. Impressed with how well my plants grew and yielded fruit, a neighbor asked me to place a hydroponic growing unit in his garden. At his garden site due to the presence of tall trees nearby, the tomato plants were in shade till mid morning and then in full sun the remainder of the day. At my garden site, the plants were in full morning sun, and due to tall trees nearby, in shade in the late afternoon.
The height of the support stakes in my hydroponic growing unit is 7 feet. When plants reach that height, they are dropped several feet. When again reaching the top of the stake, the plants are topped.  With topping, two things happen. Fruits on the plant quickly mature and axial suckers appear. Letting these suckers grow, another flush of fruit can be produced, their number and quality depending on the growing (weather) conditions during the weeks till frost. My neighbor did the same with his plants, but after topping, only a few suckers appeared and just a few fruit were formed. Why? I surmised that solar radiation exposure was the reason since all other factors were identical.
Most common tomato fruit disorders, such as green shoulders, sun scald, cracking, catfacing, and blossom-end-rot (BER) are either directly or indirectly related to solar radiation since radiation intensity frequently correlates with air temperature and moisture conditions, factors that contribute to plant stress. The tomato plant is stress-sensitive, so when temperature and/or moisture extreme conditions occur, both fruit yield and quality are adversely affected. Remember current weather conditions are not related to current fruit status as there is usually a delay of 2 to 3 weeks after a stress condition occurs before reflected in the current fruit yield and quality.
The intensity of solar radiation is not the only factor that impacts the tomato plant as both light duration and wave length distribution (light spectrum percentages from ultraviolet to infrared) also effect plant growth and flowering – but this is a topic for another article.
J. Benton Jones, Jr. has a PhD in Agronomy and is the author of several books including Hydroponic Handbook: How Growing Systems Work available on Amazon.com. Dr. Jones has written extensively on hydroponic growing and has been outdoor vegetable gardening employing sub-irrigation hydroponic growing systems (Hydrogrosystems.com), and using domestic water for making his nutrient solution. He also maintains a website on tomatoes at GrowTomatoes.com.
Want more information? Read these articles:
Growing Great Hydroponic Tomatoes
Growing Vegetables in a Greenhouse
How to Grow Juicy and Tasty Tomatoes
Pollination Basics for Indoor Vegetable Gardeners
Ten Planting Tips for Healthy Tomatoes

A Dream: Retiring in Canada
Introduction
The prime of a person's life is represented by the golden years. If you've put in a lifetime of hard work, responsibility, and adhering to a strict work schedule, you can finally retire to your "cape" and relax in your own home, which need not be in the city where you currently reside. If you have made the decision to relocate for your retirement, you may be looking for the best Canadian city to retire to spend your time in.
Even if you already have a list of preferences for where you want to retire, this list can be a great resource. The adoption of a pragmatic and practical approach when selecting a retirement city can help you enjoy a happy and financially secure retirement.
Everyone has their own set of preferences, priorities, likes, and dislikes when it comes to just about anything and everything. This includes everything from minor details such as a favorite cup of coffee to major decisions such as choosing the right career path. As a result, it is understandable that each individual would have their own ideas about how and where to spend their retirement years.
Fredericton, NB
The city of Fredericton serves as the provincial capital of the province of New Brunswick. Although it is a small city in terms of population for a capital, it is a fortunate mix for retirees. In spite of the fact that the city is not particularly crowded, its status as the regional capital means that it has many amenities that a city of its size does not typically have (though public transportation is not available on Sundays). Real estate prices are low enough that you can afford a home if you have enough savings, which is especially true if you are looking to purchase a condominium.
In addition, the rent is significantly less expensive. It has a humid continental climate and is located on the banks of the river. So, if you like to fish, it could be a fantastic place to settle down in. For a city of its size, the city has a large number of historical buildings and museums, as well as parks and gardens. It also hosts a large number of festivals. The city's largest hospital, which has more than 300 beds and several specialists, as well as a level 3 trauma center.
It's possible that Fredericton will be the perfect place for you if you're looking for a nice, affordable blend of nature and a moderately large city.
Kingston, Ontario
When it comes to living in a city where half of the population is made up of young students rather than old retirees like yourself, Kingston might be the best Canadian city to retire to. Because of its strategic location, it has a long and illustrious history, particularly in the military sphere.
As a retiree, you'd appreciate Kingston's laid-back atmosphere and easygoing pace of life. Almost half of the year, the city is bathed in sunshine. Transport in the local area is efficient, quick, and reasonably priced. One of Kingston's most significant assets, however, may be its world-class medical facilities. Kingston General Hospital is one of the largest hospitals in the province of Ontario and is located in Kingston. Many wonderful places to visit or spend your retirement time in the city, such as Lake Ontario Park and the Museum of Healthcare, which is the only museum of its kind in the country, are available to you. Many outdoor activities are available to you in the city as well, including sailing, fishing, golf, and hiking, among many others.
Burlington, Ontario
There are 115 parks in the small community of Burlington, so getting some exercise and fresh air will not be a problem. Given that it's only about 40 minutes away from Toronto, it's possible that you'll enjoy living in this charming little town if you have family in the city. It has a vibrant creative community as well as a sufficient number of art venues, especially given the size of the city. In addition, the city is very bicycle-friendly.
Even though there is a major hospital in the town, you may need to travel to Hamilton, which is not far away, if you have a serious medical problem. The high cost of living in Burlington is a chink in the city's armor. Even if you decide to rent a place in the city, you may find it to be an expensive place to live. However, if you can find a way to avoid this expense (by living in a co-op or a small house, for example), the city will appear to be quite affordable. Alternatively, you can choose one of the city's retirement homes. In addition, the city offers a diverse range of retirement living options, including active retirement living, assisted living, and home care.
Kelowna, BC
When it happens to come to retirement homes, Kelowna is a bit of a cliche, to say the least. Until the most recent census, retirees accounted for more than 18 percent of the population, which is significantly higher than the national average. This city experiences all four seasons, although housing can be expensive (especially if you try to live near the lake). If you are an oenophile (a fancy way of saying wine enthusiast), Kelowna is the place to be. It's the perfect combination of nature, peace, and the big-city hustle and bustle (especially in tourist season).
If you don't mind living a little outside of the city for cheaper housing, if you enjoy driving and taking part in outdoor recreational activities such as picnics by the lake, you might find Kelowna to be a reasonable price. The primary medical facility, for example, is quite large, with over 700 beds, and the number of doctors per capita is sufficient given the city's population density. The dry weather is a major draw for many retirees who come to this city to enjoy their golden years.