8 Tips for Making the Most of Your Greenhouse
A greenhouse is a valuable asset for a professional grower and can also be a good way to test the waters for gardeners who are just starting out. Following these 8 tips will make your greenhouse growing more successful rather you're a beginner or a seasoned pro.
Good Heating and Good Ventilation

Heat is critical when cultivating plants in a greenhouse. However, if the temperature rises too much in too short a space of time, it can kill tender plants, so getting a thermometer is essential. If your greenhouse doesn't have an adequate ventilation system make sure to prop open the door on hot and stuffy days to help create air flow into the room.
Control the Humidity

A humid greenhouse can be a successful greenhouse. Most plants prefer a humid environment, so by increasing the humidity within the greenhouse, you are helping to promote a nurturing greenhouse environment. Keep your greenhouse humid by placing marble or stone chips on the floor underneath your plant benches. On dry days you can dampen them with water and as the water evaporates over the course of the day, it increases the humidity within the greenhouse.
Keep your Eyes Peeled for Pests

Before you leave the greenhouse each evening, make a spot check for any slimy trails, or other evidence of slugs and snails. These nasty critters may look slow, but they can do real damage often without you noticing before it is too late. There are several methods of eliminating slugs, including the more traditional salt method or using slug pellets. If you prefer more natural methods, Nematodes; naturally occurring micro-organisms often present in your soil, can be added to the plant ecosystem. They will help infect and kill any slugs in the area, without the need for chemicals.
Water in the Evening

On hot days, you might think that it would be a good idea to water your plants throughout the day. People need lots of water on hot and sunny days in order to keep functioning, but plants don't necessarily work that way. By watering during the day, you are giving your plants access to less water as much of it will evaporate before the plant has had the time to 'drink its fill'. Watering plants in the evening helps make sure that they absorb more of the water and also helps eliminate waste.
Keeping Tabs on Your Mess

"Clean house, clear head" as the saying goes. If you make sure your greenhouse is always in good order, you'll find spending time in the greenhouse will be less stressful and more relaxing. Gardening is supposed to be a joy and unfortunately, you aren't likely to feel more relaxed by watering your plants if you spend 10 minutes trying to find the watering pail. By keeping the greenhouse clean, it looks more presentable and it becomes less of a placeholder hobby and more of a relaxing hobby or productive business area.
Covering Plants to Keep Them Warm
By insulating some of the more heat-sensitive plants at night, you can help prevent those plants from dying off. Covering them with fleece helps to keep the temperature of the plants up to 2 degrees higher than without the fleece. Bubble wrap also works fairly well as an insulator.
Tips for Every Season
Here are a few neat little tips that should give you a head start in every planting season.
Spring
Plant your seeds in trays, to help prevent them from being damaged by frost. When they get bigger they can be hardened off and transferred into larger containers.
Summer
It is better to plant summer plants outside of the greenhouse and use the greenhouse to focus on the Autumn plants.
Autumn
Get ready ahead for Christmas! If you're more of a 'prickly pear' you can start growing Christmas cacti to bloom by placing them in the greenhouse.
Winter
Why not give yourself a challenge? Some of the more tender herbs can still survive during winter if you keep the temperature at a reasonable level in the greenhouse and if you cover your plants in the evenings.
Try New Options
The environment created in a greenhouse means you can try your luck with new and different types of plants. Why not try growing something you normally couldn't, like melons or chilies? Being able to adjust the temperature of a greenhouse allows you that extra level of flexibility that just plain gardening never could, so you can try your hand at growing Mediterranean plants, or tropical fruits or even cacti just to see how well you do.
Dakota Murphey follows the latest gardening trends from various news and brands including Hortons Log Cabins HortonsGroup.com.
Read More Articles
A Great Plant for Your Greenhouse – Begonias
Sanitizing the Greenhouse and Overwintering Plants
Starting Seeds Indoors or in a Greenhouse

How Professional Housekeeping Services Transform Your Space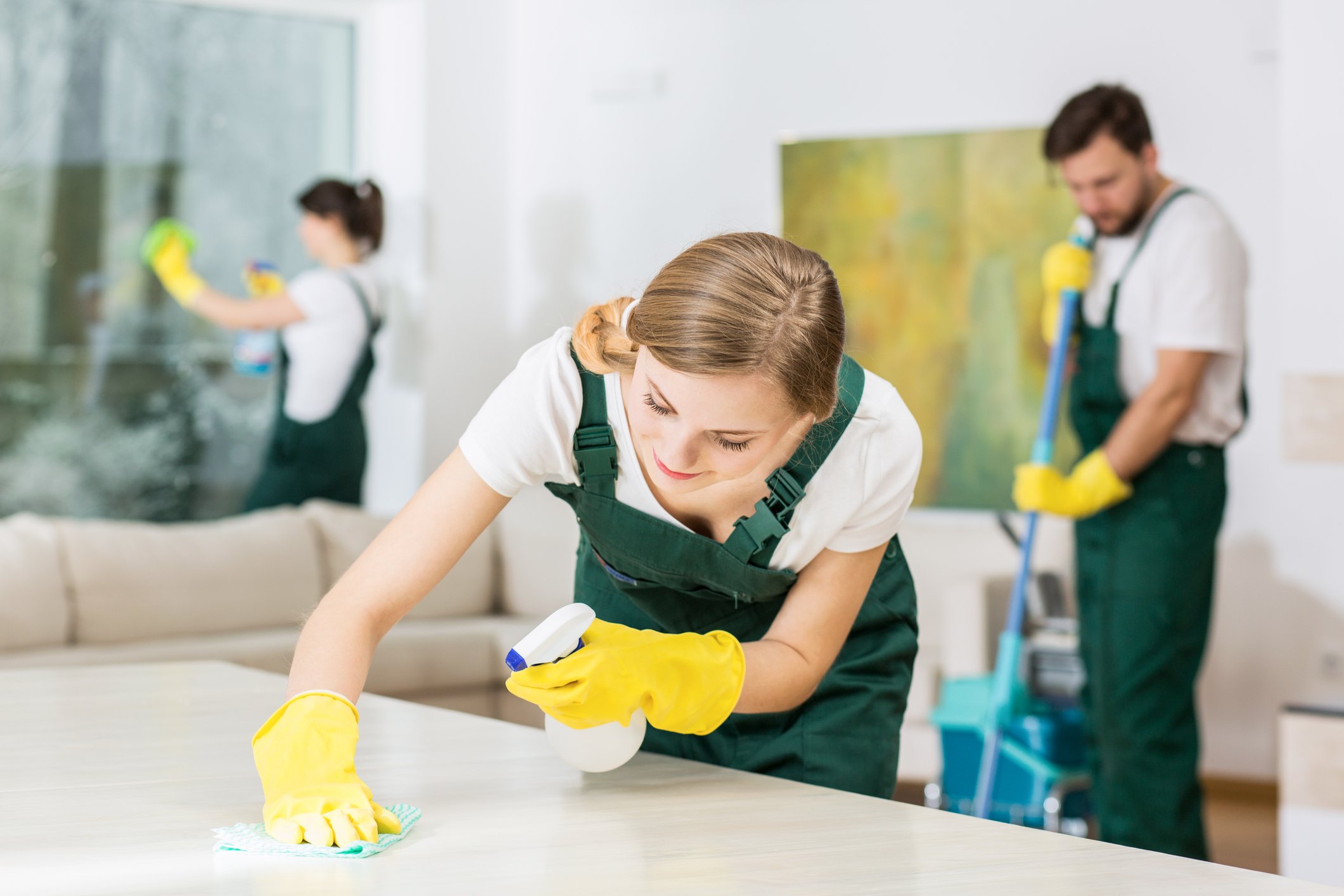 The ongoing challenge of home cleaning is a universal struggle that many of us face in our daily lives. Juggling work, family, and personal commitments leaves little time and energy to maintain a pristine living environment. However, there is a solution that can transform your home and make your life easier: professional housekeeping services.
Let's unfold how these services can revolutionize your living space, making it a cleaner, healthier, and more organized place.
Cleaning Routines: Daily, Weekly, and Monthly
Establishing a structured cleaning schedule for different areas of the home is essential for maintaining a consistently clean living environment. By breaking down your cleaning tasks into daily, weekly, and monthly routines, you can efficiently manage the upkeep of your space.
Daily tasks might include quick tidying, making beds, and wiping down kitchen surfaces.
Weekly tasks may involve vacuuming, mopping, and cleaning the bathroom.
Monthly tasks could include deep cleaning, such as washing windows, dusting ceiling fans, or scrubbing grout.
By allocating specific tasks to different timeframes, you ensure that no area of your home is neglected for an extended period. This structured approach prevents the buildup of dirt and grime and makes the cleaning process more manageable.
The benefits of maintaining regular cleaning routines extend far beyond a sparkling home. Consistent cleaning routines contribute to a healthier and more comfortable living space. Daily upkeep minimizes the need for intense cleaning sessions and helps you stay on top of clutter and mess. This not only saves you time but also reduces stress.
Furthermore, a clean home creates a more pleasant atmosphere, enhancing your overall well-being. It's easier to relax, focus, and enjoy your space when it's free of chaos and dirt. Regular cleaning also prolongs the lifespan of your furniture and appliances, ultimately saving you money on replacements and repairs.
How Does Professional Housekeeping Services Help You?
The advantages of hiring house cleaning services are numerous and can have a transformative effect on the cleanliness and organization of your home. One of the primary benefits is the time and energy you save.
Professional housekeepers are experienced and efficient, capable of tackling cleaning tasks with a level of expertise that surpasses most homeowners. They can handle a wide range of cleaning challenges, from stubborn stains to delicate surfaces, ensuring that your home looks its best.
Housekeepers are not just cleaners; they are time-savers and experts in the art of cleaning. When you hire professional housekeeping services, you free up valuable time that can be better spent on work, family, or leisure activities. The hours you would have spent on cleaning can now be used for pursuits that truly matter to you.
Moreover, housekeepers bring a level of expertise that comes from years of experience. They understand the best cleaning techniques, have in-depth knowledge of various cleaning products, and are adept at handling different surfaces and materials. This expertise ensures that your home is cleaned thoroughly and efficiently, with attention to detail that surpasses what most homeowners can achieve on their own.
The thoroughness of professional cleaning is another compelling reason to consider housekeeping services. Housekeepers are trained to pay meticulous attention to every detail, ensuring that no nook or cranny is overlooked. They have a keen eye for areas that often go unnoticed, such as baseboards, vents, and under furniture. This level of thoroughness results in a home that not only looks clean, but is genuinely clean and sanitized.
Professional housekeeping services can also tailor their cleaning to your specific needs and preferences, addressing areas that require special attention. Their commitment to thorough and customized cleaning can make a noticeable difference in the overall cleanliness and hygiene of your home, creating a more comfortable and healthier living environment.
Finding the Right Housekeeping Service
When it comes to choosing a reliable and reputable housekeeping service, guidance is essential to ensure you make the right choice. Begin your search by seeking recommendations from friends, family, or colleagues who have had positive experiences with housekeepers. Online reviews and ratings on platforms like Yelp or Angie's List can also provide valuable insights.
It is important to look for services that are licensed, bonded, and insured, as this indicates a level of professionalism and accountability. Checking if the service performs background checks on its staff can give you peace of mind. Trust and reliability are crucial when inviting someone into your home, and these considerations will help you narrow down your options to reputable candidates.
Several factors should be taken into account when selecting a housekeeping service.
Cost
Services offered
Ask for references from previous clients to get a sense of the service's quality and reliability.
Choosing the right housekeeping service involves a balance of factors such as cost, services offered, references, and a gut feeling of trust and compatibility with the service provider. By carefully considering these elements, you can make an informed decision that aligns with your home's cleaning needs and your peace of mind.