Artificial Light for the Greenhouse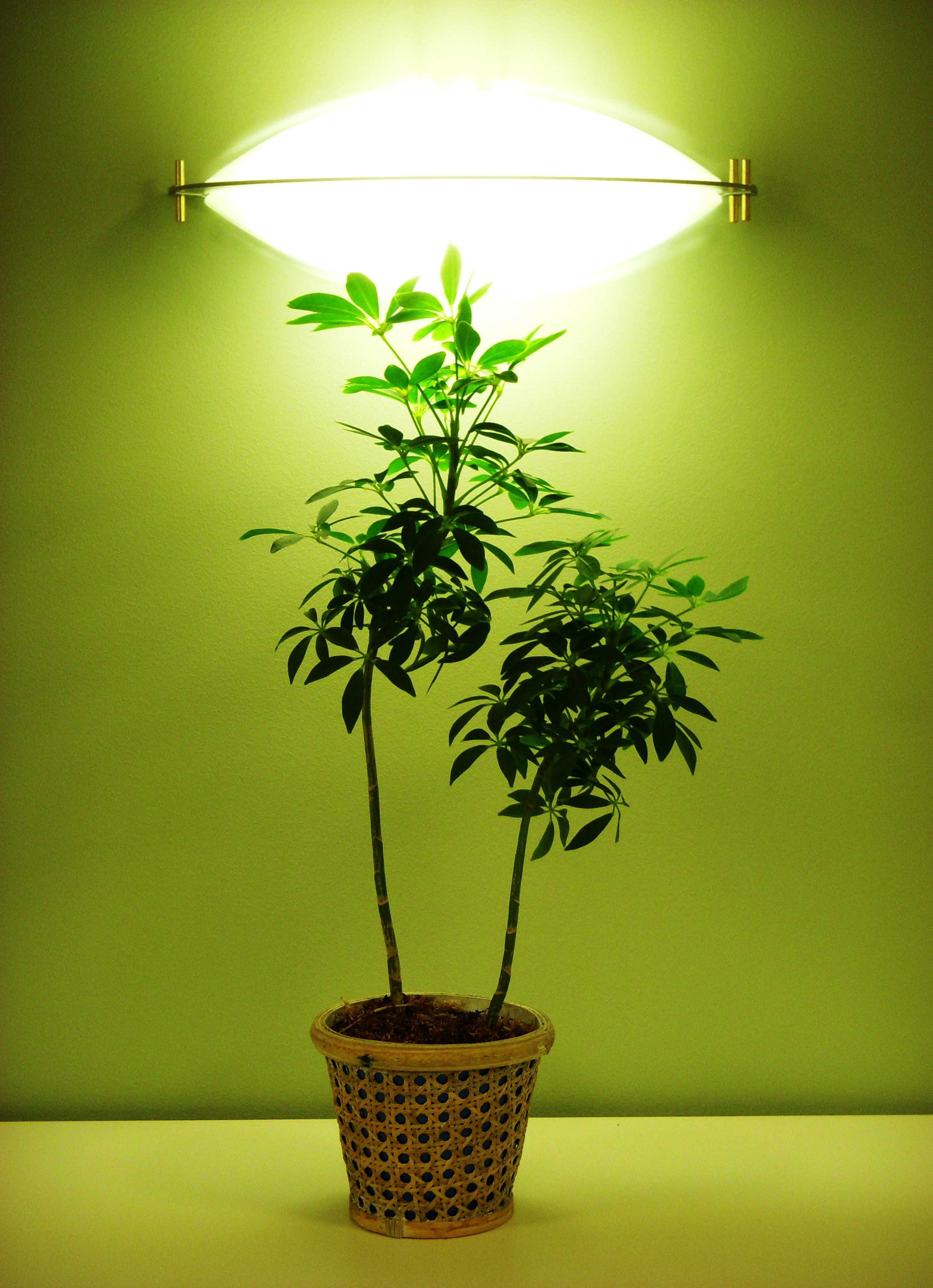 Free standing greenhouses placed away from buildings, trees and other obstructions may not require artificial light most of the time if they are in areas of the country with optimal light conditions. For the most of us, and particularly the home greenhouse enthusiast who generally has a greenhouse connected to the house on one or more sides, and thus partly shaded by it, or in a part of the country not blessed with optimal growing conditions, artificial light may not only be beneficial, but required for year round productive growing.
Artificial light is generally used in one of the following two ways or both in the greenhouse:
To provide high intensity light when the natural sunlight available is not sufficient to provide optimal plant growth.

To extend the hours of natural daylight or to provide a night interruption to maintain the plants on long-day conditions.
When light is provided at optimal levels, where it was lacking before, it can significantly increase the health, strength, growth rate and yield of your plants. Supplementing natural sunlight in a backyard greenhouse allows for the virtual elimination of seasonal and geographical restraints. In addition, by extending the day length with supplemental lighting, you can greatly enhance your growing success. Container plants that are kept outdoors on decks and patios during the summer can be moved indoors during the winter under artificial lighting, allowing them to thrive year round.
There are four basic types of lighting available for greenhouse use: incandescent, high intensity discharge (HID) fluorescent, high intensity fluorescent and light emitting diode (LED) lights.
Incandescent
Incandescent lights do not require ballasts like other more expensive plant lights, but they generally do not provide sufficient light for most greenhouse applications. Small lamps with incandescent light bulbs can offer intrigue to the greenhouse and provide light for reading or nighttime accent. Incandescent bulbs also work when used in wall fixtures to light greenhouse doorways. Lights known as "Spot Grow" are also available in 75 and 150 watt and can be used to provide supplemental light to single plants. They do, however, produce substantial heat, so care must be taken not to place them too close to foliage.
High Intensity Discharge (HID)
There are two types of (HID) lamps: high pressure sodium lamps and metal halide lamps. These lights resemble large incandescent lamps. They are very high wattage and produce light in the red and blue spectrums that are beneficial to various stages of plant growth. High Pressure Sodium Lamps are considered by many growers to be the best lights available for providing supplemental greenhouse light. The light produced is in the red/orange spectrum, which is especially beneficial in promoting flowering/budding in plants. Metal halide lamps are better for use as the primary light source for plants in settings without much natural sunlight. The light produced is weighted in the blue spectrum, which is especially beneficial in promoting plant growth. The fluorescent lights produce very small amounts of infrared heat.
Conversion lamps are available which have ballasts and fixtures that can be used with either high pressure sodium or metal halide bulbs. This allows for the use of metal halide bulbs for advanced growth and high pressure sodium bulbs during the flowering and fruiting stages. There are two disadvantages that these lights have for greenhouse use. They require large heavy ballasts that are generally separate from the reflectors (light fixtures). These ballasts take up considerable space and generally detract from greenhouse esthetics. These lights also produce considerable heat which may be detrimental to the greenhouse during warmer seasons. The heat requires that the lights be placed a substantial distance (30-36 inches) from plants, which diminishes the light available to the plants. These lights are also more expensive to operate than other light options.
Fluorescent
Traditional T12 and T8 fluorescent fixtures are simply not powerful enough to light an area more than 8″ – 10″ below the bulb. This type of light can work for starts and seedlings, or overhead working light, but is a poor light source for growth and budding, primarily because of low lumen output. With the advent of T5 lights which put out over three times the light of traditional florescent fixtures and in warm and cool spectrums, fluorescents can now provide a worthy alternative for greenhouse lights.
These new fluorescent lights have the advantage of higher light efficiency with low heat. A common strategy is to mix cool with warm bulbs to provide a full spectrum for plant growth and flowering/fruiting. Although these lights do not match the intensity of HID lamps, the difference in light intensity at the leaf surface, where it matters, is similar due to the fact that the cooler florescent bulbs can be placed much closer (6-18 inches) to plants. Remember that the intensity at plant level decreases exponentially for each inch that lights are raised above the leaf surface. Fixtures for these florescent lights have a much lower profile than HID fixtures, as well as light weight self contained ballasts.
Light Emitting Diode (LED)
The newest type of grow lights use LED technology. One major advantage to the LED lights is the small size. LED lights are only a few inches in diameter and are easy to mount. In some greenhouses, LED lights may be the only practical light option. Hanging most grow lights requires a strong greenhouse structure and a place to hang the lights. LED lights weigh a fraction of other lights and are easy to configure where needed. Additional advantages include the production of very little heat and long life.
According to LED manufacturers, LED grow lights maximize blue and red light to provide and excellent balance for plants. They do not have much green-yellow light and generally there is no light produced except that which promotes photosynthesis. Since humans see green-yellow light best LED grow lights appear dim to our eyes. Manufacturers also state that LED lights consume up to 80% less energy than HID lightsand up to 30% less than fluorescents. LED grow lights can also last up to 11 years before needing changes so this is an exciting new technology that will be interesting to watch as it develops.
Guidelines & Sources
A general guideline for greenhouse lighting is 25 watts per square foot of garden space if the artificial light is used as a primary light source. One fourth the wattage is needed when using LED lights. Less is needed if artificial lights are used to supplement natural sunlight or if you are growing plants that do not require as much light (i.e.: lettuce). However, many gardeners prefer to double or even triple the recommended wattage to achieve faster growth rates with high light plants. Keep in mind that plants need periods of darkness too. Most indoor gardeners use lighting from 10 to 16 hours per day.
Light Hangers and Movers
Regardless of which type of light is installed it is important to have a good suspension system that will allow for the height of the light to be adjusted easily as plants grow. Also, make sure to check to see that the system you buy is rated to hold the weight of your lights.
Light movers are used to move lights back and forth, on a track or cable, across the growing area. Using these devices can allow you to increase the coverage of your lights and with lights that produce excess heat, they offer some cooling effect that can allow lights to be a little closer to the plants than with static lights. Movers also simulate the movement of the sun which gives plants some light penetration from the sides rather than just intense light from above. It may take some experimentation; however, to determine how much light each plant under the track is getting and to what extent moving light may impact plant growth.
Nick Fraser is a greenhouse grower and Garden & Greenhouse contributing editor.
Read More Articles
Innovative Hydroponics Designs Save Greenhouse Growers Money-Making Space
Maximizing Lighting Efficiency
Supplemental Lighting for the Greenhouse
Ventilation System Automation for Small Greenhouses and Indoor Gardens

A Dream: Retiring in Canada
Introduction
The prime of a person's life is represented by the golden years. If you've put in a lifetime of hard work, responsibility, and adhering to a strict work schedule, you can finally retire to your "cape" and relax in your own home, which need not be in the city where you currently reside. If you have made the decision to relocate for your retirement, you may be looking for the best Canadian city to retire to spend your time in.
Even if you already have a list of preferences for where you want to retire, this list can be a great resource. The adoption of a pragmatic and practical approach when selecting a retirement city can help you enjoy a happy and financially secure retirement.
Everyone has their own set of preferences, priorities, likes, and dislikes when it comes to just about anything and everything. This includes everything from minor details such as a favorite cup of coffee to major decisions such as choosing the right career path. As a result, it is understandable that each individual would have their own ideas about how and where to spend their retirement years.
Fredericton, NB
The city of Fredericton serves as the provincial capital of the province of New Brunswick. Although it is a small city in terms of population for a capital, it is a fortunate mix for retirees. In spite of the fact that the city is not particularly crowded, its status as the regional capital means that it has many amenities that a city of its size does not typically have (though public transportation is not available on Sundays). Real estate prices are low enough that you can afford a home if you have enough savings, which is especially true if you are looking to purchase a condominium.
In addition, the rent is significantly less expensive. It has a humid continental climate and is located on the banks of the river. So, if you like to fish, it could be a fantastic place to settle down in. For a city of its size, the city has a large number of historical buildings and museums, as well as parks and gardens. It also hosts a large number of festivals. The city's largest hospital, which has more than 300 beds and several specialists, as well as a level 3 trauma center.
It's possible that Fredericton will be the perfect place for you if you're looking for a nice, affordable blend of nature and a moderately large city.
Kingston, Ontario
When it comes to living in a city where half of the population is made up of young students rather than old retirees like yourself, Kingston might be the best Canadian city to retire to. Because of its strategic location, it has a long and illustrious history, particularly in the military sphere.
As a retiree, you'd appreciate Kingston's laid-back atmosphere and easygoing pace of life. Almost half of the year, the city is bathed in sunshine. Transport in the local area is efficient, quick, and reasonably priced. One of Kingston's most significant assets, however, may be its world-class medical facilities. Kingston General Hospital is one of the largest hospitals in the province of Ontario and is located in Kingston. Many wonderful places to visit or spend your retirement time in the city, such as Lake Ontario Park and the Museum of Healthcare, which is the only museum of its kind in the country, are available to you. Many outdoor activities are available to you in the city as well, including sailing, fishing, golf, and hiking, among many others.
Burlington, Ontario
There are 115 parks in the small community of Burlington, so getting some exercise and fresh air will not be a problem. Given that it's only about 40 minutes away from Toronto, it's possible that you'll enjoy living in this charming little town if you have family in the city. It has a vibrant creative community as well as a sufficient number of art venues, especially given the size of the city. In addition, the city is very bicycle-friendly.
Even though there is a major hospital in the town, you may need to travel to Hamilton, which is not far away, if you have a serious medical problem. The high cost of living in Burlington is a chink in the city's armor. Even if you decide to rent a place in the city, you may find it to be an expensive place to live. However, if you can find a way to avoid this expense (by living in a co-op or a small house, for example), the city will appear to be quite affordable. Alternatively, you can choose one of the city's retirement homes. In addition, the city offers a diverse range of retirement living options, including active retirement living, assisted living, and home care.
Kelowna, BC
When it happens to come to retirement homes, Kelowna is a bit of a cliche, to say the least. Until the most recent census, retirees accounted for more than 18 percent of the population, which is significantly higher than the national average. This city experiences all four seasons, although housing can be expensive (especially if you try to live near the lake). If you are an oenophile (a fancy way of saying wine enthusiast), Kelowna is the place to be. It's the perfect combination of nature, peace, and the big-city hustle and bustle (especially in tourist season).
If you don't mind living a little outside of the city for cheaper housing, if you enjoy driving and taking part in outdoor recreational activities such as picnics by the lake, you might find Kelowna to be a reasonable price. The primary medical facility, for example, is quite large, with over 700 beds, and the number of doctors per capita is sufficient given the city's population density. The dry weather is a major draw for many retirees who come to this city to enjoy their golden years.