How to Build a PVC Greenhouse
Have you ever thought about a PVC greenhouse? I've heard about re-bar and PVC greenhouses, but never thought about building one almost entirely out of PVC. What a great idea for building a gardening structure on a budget. PVC piping is inexpensive and readily available. It's possible, and you can do it for far less than a traditional greenhouse. The construction techniques are basic, and it seems to require few if any specialized tools and fasteners. This is a do it yourself greenhouse if I ever saw one.
Jeremy and Wanda Manley were gracious enough to allow me to visit with them about their 17 by 32 foot greenhouse made from PVC. It was built in the spring of 2008, and they have had lots of success with it. Located just southeast of Cheyenne, Wyoming these folks see a lot of windy weather. The structure seems plenty sturdy to hold up in the wind, and I can tell you that it gets plenty warm inside too.
Let's dive in now and learn about this greenhouse structure made primarily from PVC. I'll try to provide sufficient information so you can make a determination if this might be right for you. I think it's a good design for a beginner because it's not technically challenging.
The basic design of the structure is similar to what's known as a Gothic Arch. It isn't the rounded shape of the Quonset hut, nor does it have straight sides and sharp angles like one would expect from a garage or shed. I like the shape of the structure. It provides good room overhead without being wasteful, and it makes good use of the side walls. They don't go straight up, but they don't curve in much either to where they might interfere with the gardener.
The primary materials are 2 inch PVC tubing and fittings. These materials should be readily available online or at your local home improvement store. I understand that the Manley's built their structure out of 20 foot long pipe. This was important because the walls of the PVC greenhouse are made from 5 foot sections, and the rafters are made from 7.5 foot sections. It makes the construction work out well with little wasted material.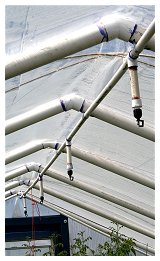 The PVC greenhouse has a plastic frame with some wood elements. Sole plates and purlins are made from painted wood. Painted wood lath is also used to hold the greenhouse film to the structure.
The ridge piece is 3/4 inch PVC mounted on the inside of the main PVC structure, using conduit clamps that screw into the 2 inch ribs. It also doubles as a header for overhead sprinklers and misting nozzles.
The nice thing about this arrangement is that when you shut down the water system for the season, the positioning of the lines overhead promotes draining to help prevent freeze damage.
When you build your PVC greenhouse, even if you aren't going to use overhead watering, it's a good idea to have some sort of ridge piece to keep the ribs from wiggling and rubbing on the poly film.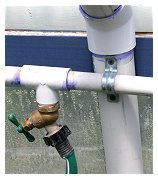 There are 3/4 inch PVC water lines that run alongside of the purlins on both sides of the structure. These are headers for water lines that have spigots and hoses attached. If you would rather hand water, this is a good way to do it.
This PVC greenhouse also incorporates roll-up sides. A long PVC tube with a homemade crank is positioned on either side of the structure and attached with wood lath to the clear film used for glazing. After removing the weights that hold down the ends of the poly film, the sides can be rolled up to help vent the
heat of the summer. Ends and doors are made from wood, and the ends are anchored into the ground as a precaution against the winds we are famous for here in wild, wide, windy Wyoming.
The wooden sole plate of the PVC greenhouse is attached to the ends of the ribs with sheet rock screws, and then it's anchored to the ground. The earth anchors are rebar that is pounded about 2 feet deep. The above earth portion is bent into the shape of a hook to
grab the sole plate. External anchors are used for fastening rope that keeps the poly from picking up off the structure in high winds. If lath is used to secure the poly to every other rafter, and you use woven poly, you probably won't need to use rope to secure the top. If you do use rope, be sure that you attach some wooden guide piece to avoid damage to the poly.
The amazing part of this structure is that it has no cross bracing on the walls. A cross brace is usually necessary to keep the structure from swaying lengthwise. The way cross braces are avoided with this PVC greenhouse is by using two screws, spaced far apart, to fasten the purlins to the sides of the building. Spacing the screws farther apart provides a little "shear wall" effect on each of the ribs, and this is enough to keep this do-it-yourself greenhouse from swaying back and forth.
The fasteners for this project are almost exclusively drywall screws. The PVC is soft enough that the screws penetrate it easily without the need to drill pilot holes. Care must be taken not to over-tighten the screws that bite into the PVC as this will risk stripping through the soft plastic material and making a weak connection.
The poly covering on the structure is UV protected greenhouse film. It is held in place at the purlins with painte
d lath that is screwed through the poly and into the purlins. The same approach is used at the bottom of the end, but not the sides (since they roll up). The poly at the top of each end is also secured in a similar manner, except instead of wood purlins, the lath and film are screwed into the end rafters.
The lath on the outside of the ends is screwed through the poly film and secured into the 2 by 4 on the lower inside of the end walls. Nothing fancy, but it works just fine, and that's what you want with your PVC greenhouse – effectiveness at a low cost.
The "up and over" poly film overlaps the ends a bit so it can be wrapped around the corner of the end wall and held in place to provide a seal for the greenhouse. This area can't be secured much because it needs to allow the sides to roll up. This naturally makes the PVC greenhouse a little "leaky," but it shouldn't make any difference at all in its performance, especially if you're not going to heat it. I suggest not heating any greenhouse unless you have double walls on all sides and a good seal all the way around. Without double wall glazing, you'll have poor insulation, and you'll just end up tossing your money away.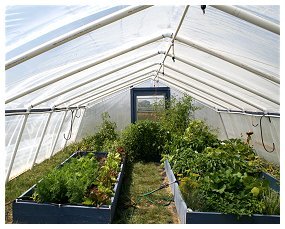 Another part of this project involved making raised beds. Of course, something like this is optional, but I find raised beds to be a nice feature for organizing plants and making gardening a bit more convenient.
A PVC greenhouse is a great way to start greenhouse gardening on a budget. You might get some of that purple primer and glue on your hands, but that beats splinters and sore thumbs from nailing up a wooden structure, and metal cuts and filings associated with a metal structure. I think building a PVC greenhouse will be far less challenging than most other methods, especially if you are a beginner. These structures can last quite a while. The longest lasting one I have heard of is 8 years old, and that is impressive for plastic pipe that costs about 65 cents a foot.
Background and credit is in order here. This particular PVC greenhouse idea is the brainchild of Del Jimenez of New Mexico State University. Del is an energetic and knowledgeable man who is busy helping farmers and gardeners get the most from their efforts using organic means.
I attended one of his lectures and as part it, he orchestrated the construction of this PVC greenhouse as a
workshop, enlisting the help of more than a dozen individuals. It required a good two day effort to be completed.
As with any project, building a PVC greenhouse goes quickly and more smoothly when you have lots of help, and everything is well organized from the start. If you're interested in a greenhouse, then this might be a low cost solution for you.
Clair Schwan is an avid vegetable gardener who considers his gardens to be important assets. To him, vegetables in the garden are a bit like money in the bank. It's all part of his self-reliant lifestyle. See his adventures in gardening at Frugal-Living-Freedom.com.
Want more information? Read these articles:
A Do-It-Yourself Greenhouse Built From Local Materials
Determining Greenhouse Design & Materials
Does My Greenhouse Need a Permit?
Greenhouse Construction: Planning for Snow Loads and Wind Loads
The Earth Sheltered Greenhouse
The Materials Needed to Build Your Own Greenhouse