Garden & Greenhouse Cover Story – Sun-Lite® Thermal Storage Tubes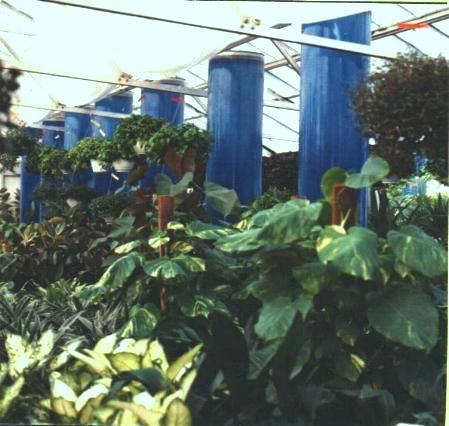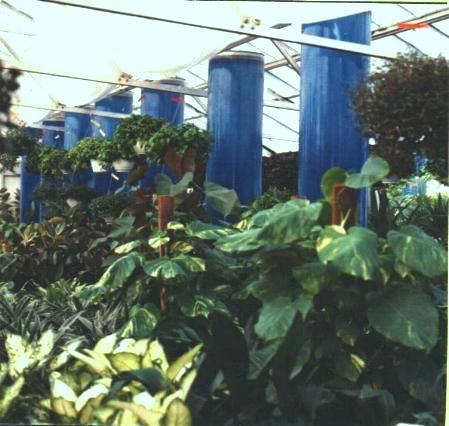 There is a world of diversity found in every hobby greenhouse and each gardener has his or her own unique style of growing and caring for the plants. However, amid all the differences, there is one common denominator that is absolutely necessary for plants in all greenhouses: the sun. The amazing power provided by the great big ball of fire in the sky gives the energy essential for photosynthesis and is the driving force behind hobbyists' gardens. Sunlight provides our plants with energy for growth and also warms our greenhouses in the process.
For many greenhouse growers, sunlight can actually warm the greenhouse beyond the optimal temperatures. In order to combat the excessive solar heat, horticulturists normally install some sort of ventilation system. For many this involves a passive vent system that is either manually or automatically opened as excess heat builds up in the greenhouse. In other cases, ventilation systems will include extravagant atmospheric controllers, power fans, and, in some cases, misters or air conditioners.
Excessive heat is only one half of the struggle related to temperature that many small greenhouse gardeners face. Temperatures below the desired range can be counterproductive to plant growth and can even halt growth altogether. Some greenhouse hobbyists are forced to heat their greenhouses, especially during the nighttime, to ensure their plants continue to grow properly. Other hobbyists, whose greenhouses are seasonal, are able to extend the season by heating the atmosphere during the nighttime and, in some cases, adding supplemental lighting.
What if I told you that a possible solution for both excessive heat and cold could come from the same source that provides energy to the plants in a greenhouse? It's true; the power of the sun can provide greenhouse growers with much more than just the energy for plant growth. Solar energy is becoming a solution to many of mankind's problems and some of the problems experienced by the greenhouse hobbyist are no exception.
Solar Components Corporation, out of Manchester, New Hampshire, may have the ultimate solution for temperature regulation in greenhouses. Their Sun-Lite® Thermal Storage Tubes offer a low cost, effective way for horticulturists to add thermal mass to their greenhouses for the purpose of temperature regulation. The Sun-Lite® Thermal Storage Tubes are large cylinders built from specialized materials which have the strength to hold water while at the same time remaining transparent enough for natural light transmission. Sun-Lite® Thermal Storage Tubes placed in a greenhouse will help to regulate the temperature during both the day and the night. First, as heat builds up in the greenhouse during the day (via the solar energy from the sun), the Sun-Lite® Thermal Storage Tubes absorb and
hold some of that energy (heat). The heat is absorbed by the water in the tubes which helps to maintain a cooler temperature during the daytime hours. Water has a high thermal storage capacity which allows it to absorb a good portion of the excess solar heat found within a greenhouse during the daytime. As the sun sets and temperatures fall, the heat contained within the Sun-Lite® Thermal Storage Tubes will dissipate, through natural convection, back into the greenhouse thus warming the cool night air. The next morning the cycle repeats itself as the now cool water can start to absorb heat from the sun and keep the daytime temperature within the greenhouse in check.
Sun-Lite® Thermal Storage Tubes aren't only good for regulating day and nighttime temperatures. They also assist in regulating seasonal temperatures. The thermal mass added to a greenhouse with the installation of Sun-Lite® Thermal Storage Tubes helps to regulate excess heat in the summer and assists in heating the greenhouse in the winter.
The quality of the Sun-Lite® Thermal Storage Tubes is what makes these units well suited for the greenhouse enthusiast. These containers are designed to be the most economical way (per gallon of storage) to add thermal mass to a greenhouse or sunroom. The tubes are completely self-contained and only require a flat, level floor for installation. Even the largest of the tubes weighs less than 20 lbs (prior to filling with water) which makes it easy for anyone to install or remove. All Sun-Lite® Thermal Storage Tubes are built from corrosion-free fiberglass so they will remain pristine even after years of use. They are available in four standard sizes: four foot or eight foot tubes with a 12" diameter and five foot and ten foot tubes with an 18" diameter. The larger the volume of the tube, the more water (thermal mass) it is capable of holding.
After reviewing this product I am impressed with the quality of construction and materials used. For me, as with many other hobbyist greenhouse horticulturists, function is of the utmost priority. That being said, aesthetic value is a close second. After all, one of the primary reasons people take up the hobby of greenhouse gardening is to surround themselves with beauty. What I absolutely love about the Sun-Lite® Thermal Storage Tubes is that they fit right in to any serene greenhouse space. All too often greenhouse hobbyists are asked to sacrifice beauty when installing hardware devices. This sacrifice is often made out of pure necessity for the plant's well-being. The modern, simple, yet clean, design of the Sun-Lite® Thermal Storage Tubes enhances the look of any greenhouse and gives an almost futuristic feel. Solar Components Corporation also has dyes available for the water contained in the tubes. The primary function of the dye is to aid in thermal absorption but it can also add a colorful ambiance to any greenhouse.
As previously mentioned, although aesthetic value is very important to the hobbyist greenhouse grower, function is still of the utmost importance. The main reason I would recommend the Sun-Lite® Thermal Storage Tubes is because they help the horticulturist acquire a consistent temperature in the greenhouse. I preach the importance of consistency in every article I write on the subject of atmospheric conditions. This is because plants thrive in consistent environments. Large fluctuations in temperature can cause various problems for the horticulturist, including hindered growth and humidity issues which can eventually lead to pathogenic molds and fungi. A simple yet effective way for the hobbyist greenhouse gardener to efficiently regulate temperature without sacrificing beauty is to install Sun-Lite® Thermal Storage Tubes. With Sun-Lite® Thermal Storage Tubes, greenhouse hobbyists can maximize their greenhouses' performance by further utilizing the readily available energy from the sun.
For more information contact Solar Components at 603.668.8186 or Solar-Components.com/tubes.htm.
Want more information? Read these articles:
Active Solar Heating for Greenhouse Operations
Harnessing Solar Energy for Greenhouse Operations – Light Makes Heat
Passive Solar Heating for Greenhouse Operations
Recycling Heat from an Indoor Garden to Heat a Home, Greenhouse, or Other Indoor Garden
Sizing Heating and Cooling Equipment for a Greenhouse

A Dream: Retiring in Canada
Introduction
The prime of a person's life is represented by the golden years. If you've put in a lifetime of hard work, responsibility, and adhering to a strict work schedule, you can finally retire to your "cape" and relax in your own home, which need not be in the city where you currently reside. If you have made the decision to relocate for your retirement, you may be looking for the best Canadian city to retire to spend your time in.
Even if you already have a list of preferences for where you want to retire, this list can be a great resource. The adoption of a pragmatic and practical approach when selecting a retirement city can help you enjoy a happy and financially secure retirement.
Everyone has their own set of preferences, priorities, likes, and dislikes when it comes to just about anything and everything. This includes everything from minor details such as a favorite cup of coffee to major decisions such as choosing the right career path. As a result, it is understandable that each individual would have their own ideas about how and where to spend their retirement years.
Fredericton, NB
The city of Fredericton serves as the provincial capital of the province of New Brunswick. Although it is a small city in terms of population for a capital, it is a fortunate mix for retirees. In spite of the fact that the city is not particularly crowded, its status as the regional capital means that it has many amenities that a city of its size does not typically have (though public transportation is not available on Sundays). Real estate prices are low enough that you can afford a home if you have enough savings, which is especially true if you are looking to purchase a condominium.
In addition, the rent is significantly less expensive. It has a humid continental climate and is located on the banks of the river. So, if you like to fish, it could be a fantastic place to settle down in. For a city of its size, the city has a large number of historical buildings and museums, as well as parks and gardens. It also hosts a large number of festivals. The city's largest hospital, which has more than 300 beds and several specialists, as well as a level 3 trauma center.
It's possible that Fredericton will be the perfect place for you if you're looking for a nice, affordable blend of nature and a moderately large city.
Kingston, Ontario
When it comes to living in a city where half of the population is made up of young students rather than old retirees like yourself, Kingston might be the best Canadian city to retire to. Because of its strategic location, it has a long and illustrious history, particularly in the military sphere.
As a retiree, you'd appreciate Kingston's laid-back atmosphere and easygoing pace of life. Almost half of the year, the city is bathed in sunshine. Transport in the local area is efficient, quick, and reasonably priced. One of Kingston's most significant assets, however, may be its world-class medical facilities. Kingston General Hospital is one of the largest hospitals in the province of Ontario and is located in Kingston. Many wonderful places to visit or spend your retirement time in the city, such as Lake Ontario Park and the Museum of Healthcare, which is the only museum of its kind in the country, are available to you. Many outdoor activities are available to you in the city as well, including sailing, fishing, golf, and hiking, among many others.
Burlington, Ontario
There are 115 parks in the small community of Burlington, so getting some exercise and fresh air will not be a problem. Given that it's only about 40 minutes away from Toronto, it's possible that you'll enjoy living in this charming little town if you have family in the city. It has a vibrant creative community as well as a sufficient number of art venues, especially given the size of the city. In addition, the city is very bicycle-friendly.
Even though there is a major hospital in the town, you may need to travel to Hamilton, which is not far away, if you have a serious medical problem. The high cost of living in Burlington is a chink in the city's armor. Even if you decide to rent a place in the city, you may find it to be an expensive place to live. However, if you can find a way to avoid this expense (by living in a co-op or a small house, for example), the city will appear to be quite affordable. Alternatively, you can choose one of the city's retirement homes. In addition, the city offers a diverse range of retirement living options, including active retirement living, assisted living, and home care.
Kelowna, BC
When it happens to come to retirement homes, Kelowna is a bit of a cliche, to say the least. Until the most recent census, retirees accounted for more than 18 percent of the population, which is significantly higher than the national average. This city experiences all four seasons, although housing can be expensive (especially if you try to live near the lake). If you are an oenophile (a fancy way of saying wine enthusiast), Kelowna is the place to be. It's the perfect combination of nature, peace, and the big-city hustle and bustle (especially in tourist season).
If you don't mind living a little outside of the city for cheaper housing, if you enjoy driving and taking part in outdoor recreational activities such as picnics by the lake, you might find Kelowna to be a reasonable price. The primary medical facility, for example, is quite large, with over 700 beds, and the number of doctors per capita is sufficient given the city's population density. The dry weather is a major draw for many retirees who come to this city to enjoy their golden years.