How to Build a Greenhouse Hydroponic System
A hydroponics system can be set up indoors or out. If outside you may want to consider greenhouse hydroponic system – in other words, build a greenhouse for yourself. Keep in mind that an outdoor hydroponic system needs to be under cover or rain will dilute the nutrient solution and it will change the pH rather quickly. Furthermore, a greenhouse provides warmth, humidity and animal protection in a controlled environment making a greenhouse hydroponic system one of the best ways to set up an outdoor hydroponics system.
My portable greenhouse hydroponic system, measures 14 x 18 feet and has a ceiling of 12 to 14 feet. It is constructed out of 1 inch PVC piping and is covered with 8 mil plastic. It has survived 3 inch surprise snow storms, 60 mile per hour winds and the ever present rain storm.
Each year I assemble it in early spring and take it down in fall. It only cost around $300 dollars to build and is almost completely reusable – each year all I replace is the plastic covering. For the covering I purchased a 100 foot by 20 foot roll of 8 mil plastic used as a painter's drop cloth.
This is why I only built it to be 18 feet long. I can cut a long solid piece of plastic for covering the greenhouse and at a 20 foot width it just fits over the greenhouse (18 feet) hanging down 1 foot on each end so you can staple it down. It is a little 'rough around the edges' but it does the job quite nicely.
Selecting the Site
To build this you first need to select and prepare the site. Greenhouse plans for a portable greenhouse are fairly easy to follow and provide an ideal solution for an outdoor hydroponics growing system. Your greenhouse site should provide easy access, receive at least 4 to 6 hours of sun daily and be reasonably close to an electrical outlet. Since the greenhouse plans call for a greenhouse that is 18 feet by 14 feet, site selection may be limited so do the best that you can.
Once a site is selected, you need to mark out the 4 corners of the structure by pounding sticks or small posts into the ground that mark the end of the structure (points 'a' and 'b' in the picture). These should be 14 feet apart. 
Now we need to determine where to place corners 'c' and 'd'. Remember the Pythagorean Theorem in grade school? If you don't, do not worry I'll explain its practical use in a minute. We need this formula to determine where to put the remaining 2 corners in such a way that the site is completely 'square'.
It is worth taking the time to do this because a 'squared' structure will be able to take more added stress before collapsing than an 'unsquared' structure. A squared structure will also accommodate the construction process much easier making the greenhouse plans 'flow' rather than frustrating you.
The theorem says that in a triangle with a 90 degree angle between the base and the side, the length of the hypotenuse can be determined with: Base (squared) + Side (squared) = Hypotenuse (squared). In English this means the base is 18 feet so (18 x 18 = 324); the side is 14 feet so (14 x 14 = 196). (324 + 196 = 520). So the length of the greenhouse from point 'a' to point 'c' is the square root of 520 which is about 22.8 feet or 22 feet 9.5 inches.
To place corner 'c', we tie a string to corner 'a' and mark on it 22 feet 9.5 inches from corner 'a'. We also tie a string to corner 'b' and mark the 18 foot point along its length. Take both strings in hand and move around until the mark on each string meet and that is where corner 'c' is placed. Do the same to find corner 'd' using the 18 foot string tied to corner 'c' and the 22 foot 9.5 inch string to corner 'b'.
Assemble your Tools and Materials
Now that you have the site designed it is time to assemble your tools and materials. The entire structure is built of PVC, plastic, plastic zip ties, 1 x 2 inch pine boards, a little deer netting and some screws and hinges. I found the actual construction plans for this greenhouse online. You can find several free plans by searching google for 'greenhouse' and 'pvc' and download the one that makes the most sense to you – I was able to construct it (have I mentioned yet that I really have no mechanical ability?). If I can do it so can you. Once the greenhouse has been assembled the hydroponics system is running there is not much left to do other than the general hydroponics maintenance.
Larry Maki is an avid, self-taught hydroponics gardener from Connecticut with a passion for alternative types of gardening.
Want more information? Read these articles:
Drip Irrigation for Greenhouses
Growing Fruit Using Hydroponics
Hydroponics System Daily Maintenance Check List
Understanding Foundations for Greenhouses
Understanding Polycarbonate Greenhouses

Why Should You Consider Planting Spring-Planted Bulbs in Your Garden?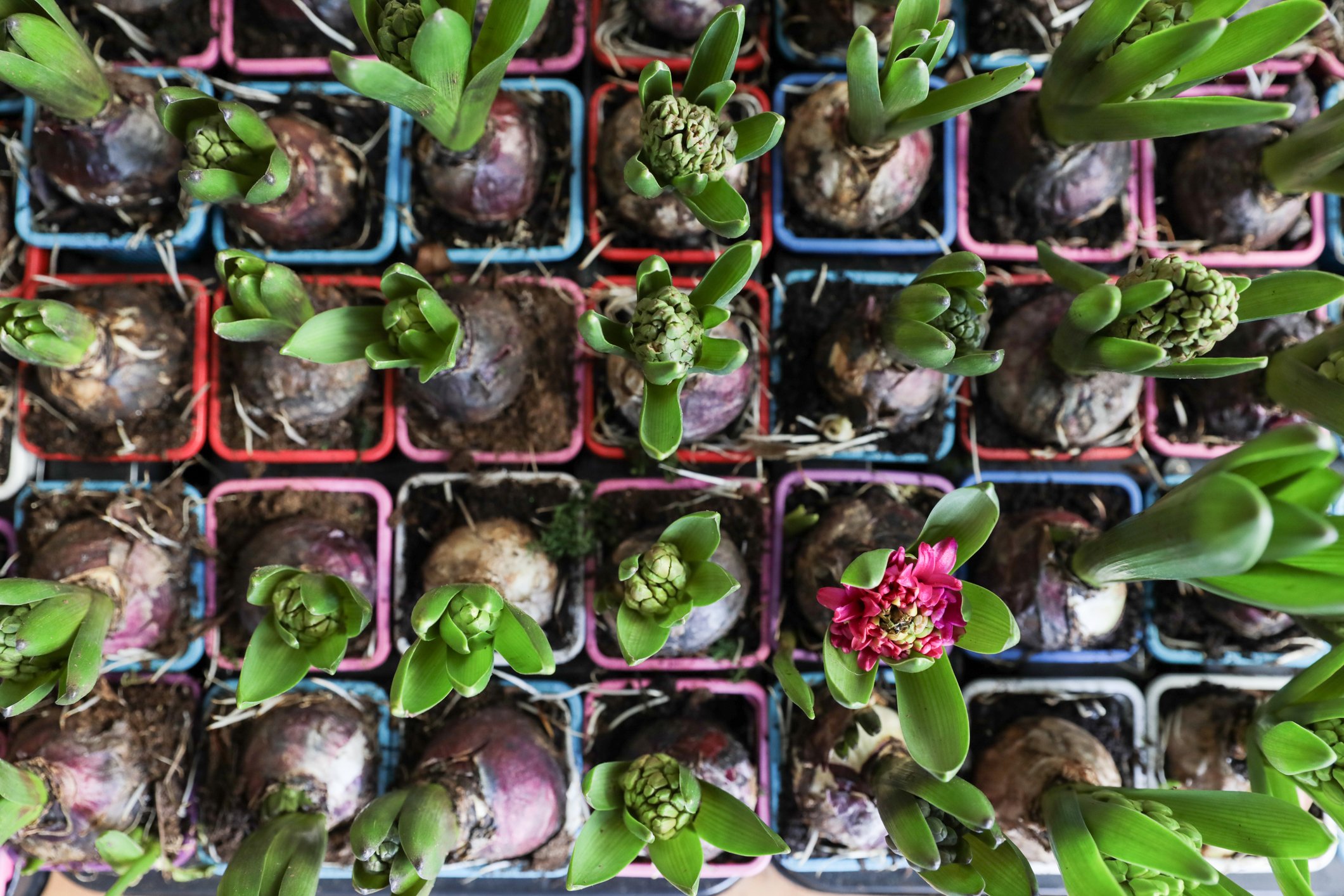 Spring is a great time to plant bulbs in your garden! Not only do they add a pop of color, but they also provide a number of benefits. In this blog post, we'll outline the benefits of planting spring planted bulbs in your garden. We'll discuss what bulbs are, what flowers come from bulbs, how to plant them, when to plant them, and how to care for them. So, go ahead and plant some spring-planted bulbs in your garden this spring!
What Are Spring Bulbs?
Do you love the beauty and colors of springtime? If so, then you should consider planting spring bulbs in your garden. Spring bulbs are a popular type of flower that is planted in the springtime. They come in many different colors and are known for their beautiful blooms. Not only do they add beauty to your garden, but they are also easy to care for.
When selecting spring bulbs for your garden, it's important to choose ones that look good together and have a variety of colors. Some of the most popular types of spring bulbs include tulips (a yellow bulb), daffodils (a blue or purple bulb), crocuses (a white or multicolored bulb), and hyacinths (an orange or yellow flower). When selecting which ones to plant, it's best to choose a mixture so that your garden looks colorful throughout the year.
What Flowers Come from Spring-Planted Bulbs?
There's no better way to add color and brightness to your garden than by planting bulbs. Not only are they easy to care for, but they also come back year after year. When choosing which bulbs to plant in your garden, it's important to consider what flowers you want them to produce. Some common bulbs you can plant include tulips, daffodils, hyacinths, and crocuses. All these bulbs will produce beautiful flowers that will add a touch of color and brightness to your garden. You can also choose to plant other types of bulbs, such as grape hyacinths or lily-of-the-valley bulbs. These plants produce smaller flowers but are very fragrant.
The Advantages of Planting Spring-Planted Bulbs
Do you love the look of brightly colored flowers in your garden, but you don't have the time or energy to tend to them? Planting spring-planted bulbs is a great way to add color and interest to your garden without any of the work. Bulbs are easy to care for and require very little maintenance—all you need is some water and sunshine. Plus, bulbs can be planted in a wide variety of locations, including in pots and containers. This makes them perfect for adding interest to any area of your garden.
Another advantage of planting bulbs is that they are relatively inexpensive. You can buy a large container of bulbs for just a few dollars, and they will last for many years with proper care. Plus, bulb plants are relatively easy to transplant if you ever want to move them somewhere else in your garden. Last but not least, planting bulbs is a great way to add color and brightness to your garden all year long!
How to Plant Spring Bulbs?
Color is one of the most important factors when it comes to garden design, and spring-planted bulbs are a great way to add some extra color to your landscape. Not only are they beautiful on their own, but they also provide a wonderful contrast against the cooler colors that will be in season during the summer. Spring-planted bulbs are easy to plant and care for, and there are a variety of different varieties available that will perfectly complement your garden.
When Should You Plant Spring Bulbs?
With the arrival of spring, it's time to start thinking about planting bulbs in your garden. There are a variety of beautiful bulbs that can be planted in the spring, and they're easy to care for, making them a great choice for someone who wants to add color and interest to their yard without much effort.
Consider the season when deciding which bulb to plant in your garden. Spring-planted bulbs will typically bloom earlier than bulbs planted in the fall, so make sure you choose the right one for your garden. There are a variety of different types of spring-planted bulbs to choose from, so find one that will fit well into your landscaping. With a little planning and effort, you can have a beautiful garden that blooms all year.
How to Care for Spring-Planted Bulbs?
Spring is a wonderful time to plant bulbs in your garden. Here are a few tips on how to get started:
First, be sure to research which types of bulbs work best for your garden and climate. Some popular choices include tulips, daffodils, hyacinths, and crocuses. Once you've selected the bulbs you want to buy, purchase them in advance so that you have plenty of time to plant them in the ground or in pots.
Once you have your bulbs home, it's time to take care of them! Make sure that their soil is moist but not soggy – this is crucial for bulb growth. Water them regularly during dry weather, and be sure not to overwater them, as this can damage their roots. When the flowers start blooming, cut the stems close to the ground so that the bulb will continue flowering indoors. After the flowers fade away (usually around mid-March), allow the foliage (orchids tend not to shed their leaves) to die back naturally. Enjoy your beautiful spring-planted bulbs!
In Short
Spring bulbs are a great way to add color and life to your garden. Planting these bulbs will provide you with beautiful flowers throughout the spring and summer. Bulbs are easy to care for and can be planted in almost any type of soil. Be sure to plant your bulbs in the fall so that they have time to establish themselves before the first frost. With a little love and care, your spring bulbs will thrive and bring you enjoyment for years to come.