Solar Greenhouse Operations – Insulation
The idea of insulation isn't the first thing that comes to mind when we think about a greenhouse. It's likely that many would wonder, "When and where have I ever seen insulation associated with a greenhouse?" Well, chances are we have, but it just didn't look like insulation to us when we first saw it. Nevertheless, insulation is an element we need to consider if we're focused on successful solar operations with our greenhouses. So, let's address the issue to wrap up this five-part series about solar greenhouse operations.
The main purpose of insulation in a greenhouse is to provide a thermal energy barrier, in the form of "dead air," to slow down energy movement that is caused primarily by convection and conduction. Let's take a look at how we can make use of insulation to deal with both of these issues. If we can do it successfully, we'll conserve thermal energy and keep it right where we'd like to have it, inside our greenhouse.
Kill the Convection
No matter what kind of skin or glazing we're using on our greenhouse, the immediate benefit it offers us is thwarting convection. If our greenhouse is all sealed up under a cover, then convection currents inside the heated structure don't have anywhere to go. And, that's exactly what we'd like to see if our aim is to keep the heat inside. In essence, the fact that we have a cover on the structure creates a giant dead air space. The dead air creates resistance to heat transmission simply because it thwarts convection currents that are trying to take that warm and rising air somewhere else.
The lesson for us here is to seal up our structures. Sealants aren't directly giving us any insulation value, but they play an important role in enhancing the effectiveness of the insulation we do have. Energy transfer is enhanced by air movement, so if we can reduce air movement, we can reduce the cooling effect of natural convection.
I don't remember much from my science classes at school, but I do remember that heat rises, so if you're going to seal up your garden greenhouse, you best start with the top and work your way down. With less dense air finding its way into the upper levels of your greenhouse, it will gently push on everything it can in an effort to find its way out.
Stop the Conduction
Conduction is another big heat loss factor for our greenhouse operations. Single layer glazing is very much like a single layer of glass at home, it's inferior when it comes to being an insulator. With natural convection on the inside of our gardening structure, and air movement on the outside, a single film covering serves as the heat transfer medium with an enormous surface area. Convection inside our greenhouse warms up the film on the inside and then heat is slowly conducted through the thin layer of film, allowing the cold air blowing on the outside to take the heat away.
One way to thwart conduction when it comes to glazing is to install a double layer of greenhouse film. Whether it's tacked in place or inflated, having a double layer of glazing is very much like having a double pane window, or adding a storm window on the outside of a single pane window in your home. Between the two layers of greenhouse film is dead air, and that's what will provide us with insulation that reduces the ability of colder outside weather to conduct heat out of our greenhouse.
Another way to reduce conduction is to use rigid clear plastic panels. Such panels come in double and triple wall design, so there is either a single or a double dead air space inside the panels. In order for conduction to take place, the energy inside has to migrate through the structure of the panels, via conduction, until it reaches the outside of the panel where it can be taken away by the breeze. Since most of the panel is composed of dead air, the surface area for conduction of thermal energy is greatly reduced.
If you have a greenhouse like mine, the north wall is solid and painted white to reflect light back to the plants inside. This wall is exposed to strong cold winds in the winter. Even though the wall is made of wood, it still represents a place where heat can be robbed away from the greenhouse via conduction. Placing insulation on the wall is one way to slow down migration of warmth. Use closed-cell rigid foam insulation. It won't absorb moisture that is naturally present inside a greenhouse during most of the regular growing season.
Soil as a Conduction Path
I know that I just said "heat rises" but in fact, it doesn't always do that. It only does that in media that allow for convection. That type of media would include primarily liquids and gases. In solids, heat behaves a little differently, as it migrates through the solid, following the path of least resistance. In a solid, heat doesn't know up from down; all it knows is to find the path that represents the best conductor. In the winter months, the ground outside the greenhouse can be at freezing temperature and often well below freezing. As such, this solid provides a conduction path where the warmer soil inside the greenhouse will transfer thermal energy to the cooler outside soil.
The solution is to install rigid closed-cell foam insulation at grade level and below, for at least a foot or two. The thousands of tiny cells in the foam insulation are air pockets that cumulatively provide dead air space and as a result, they insulate the warm soil inside from the cold soil outside that would like nothing better than to draw off the thermal energy. The closed-cell nature of the insulation prevents it from soaking up water, so the insulating qualities of the foam are maintained regardless of the environment indoors or out.
Insulation at Work
Insulation is perhaps the last thing we think about when it comes to solar greenhouse operations, yet experiments have shown that it's perhaps the most important aspect of creating and maintaining an environment that is conducive to growing plants in colder weather. In Wyoming, an experiment was conducted with triple pane poly panels in a greenhouse design that resembled a daylight basement. With no additional heat, the interior of the greenhouse never dipped below 45 degrees, despite below zero temperatures throughout the winter. To be sure, that greenhouse was making good use of thermal mass from the ground, but none of that would matter without the presence of insulation.
In another example, again in Wyoming, I have corresponded with a gentleman who built a greenhouse adjacent to his home. He uses triple pane glazing and a concrete northern wall that it part of his home. Despite outside temperatures below zero, he consistently sees temperatures that hit 100 degrees during the day. His main problem is venting the structure because of the combination of thermal mass and insulation that helps keep quite a bit of the heat inside.
When you think of insulation for a greenhouse, just think of something a friend of mine is fond of saying, "It isn't the heat you use; it's the heat you lose."
Clair Schwan is a vegetable gardener who uses both passive and active greenhouse solar heating systems in his homemade greenhouses. His systems are complemented by thermal mass and insulation to increase their effectiveness and that allows him to garden year round.
Want more information? Read these articles:
A Cheap and Easy Seedling Greenhouse
A Do-It-Yourself Greenhouse Built From Local Materials
Top 10 Reasons to Build Your Own Greenhouse
Make Your Own Cloche from Anything That Will Work

Why Should You Consider Planting Spring-Planted Bulbs in Your Garden?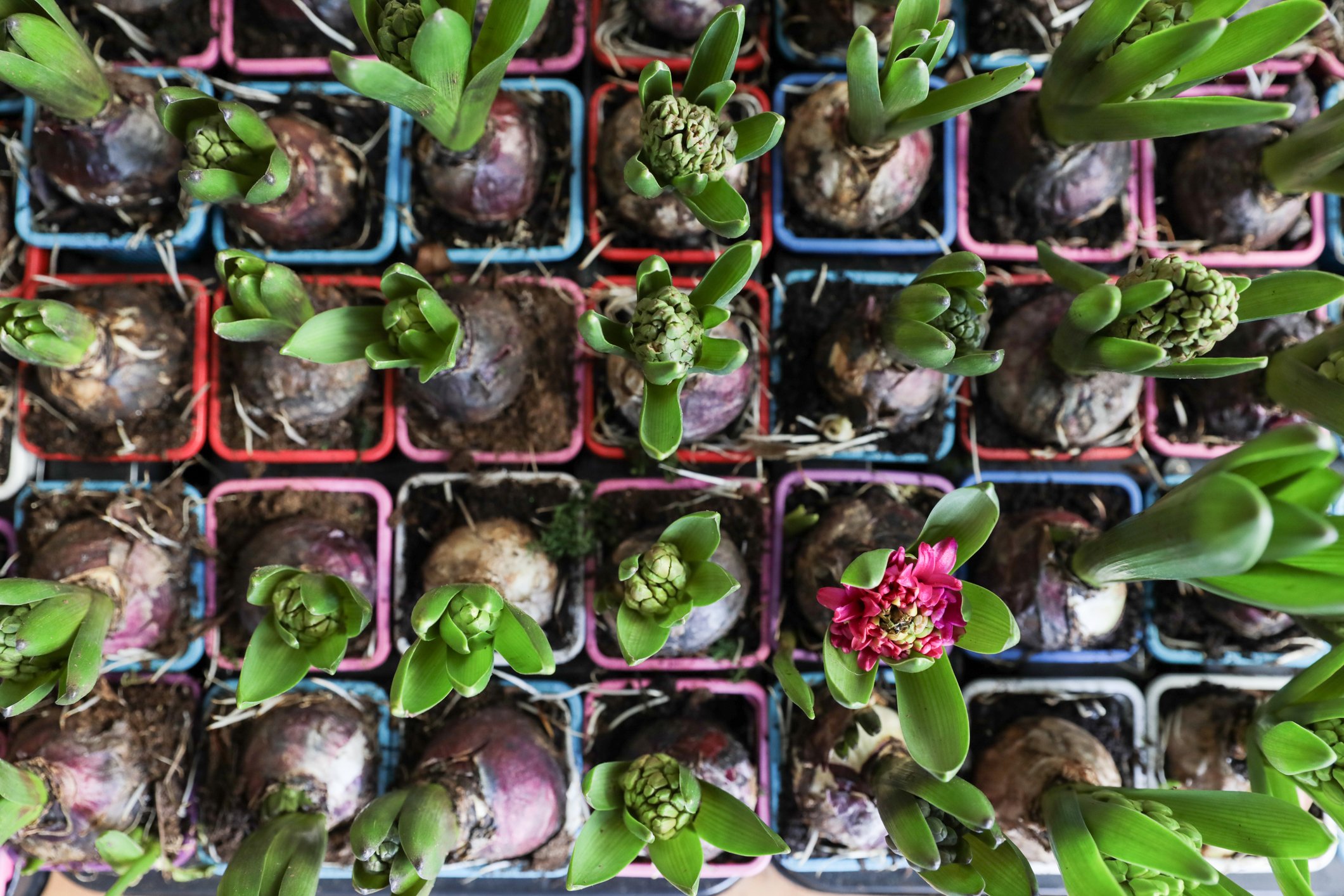 Spring is a great time to plant bulbs in your garden! Not only do they add a pop of color, but they also provide a number of benefits. In this blog post, we'll outline the benefits of planting spring planted bulbs in your garden. We'll discuss what bulbs are, what flowers come from bulbs, how to plant them, when to plant them, and how to care for them. So, go ahead and plant some spring-planted bulbs in your garden this spring!
What Are Spring Bulbs?
Do you love the beauty and colors of springtime? If so, then you should consider planting spring bulbs in your garden. Spring bulbs are a popular type of flower that is planted in the springtime. They come in many different colors and are known for their beautiful blooms. Not only do they add beauty to your garden, but they are also easy to care for.
When selecting spring bulbs for your garden, it's important to choose ones that look good together and have a variety of colors. Some of the most popular types of spring bulbs include tulips (a yellow bulb), daffodils (a blue or purple bulb), crocuses (a white or multicolored bulb), and hyacinths (an orange or yellow flower). When selecting which ones to plant, it's best to choose a mixture so that your garden looks colorful throughout the year.
What Flowers Come from Spring-Planted Bulbs?
There's no better way to add color and brightness to your garden than by planting bulbs. Not only are they easy to care for, but they also come back year after year. When choosing which bulbs to plant in your garden, it's important to consider what flowers you want them to produce. Some common bulbs you can plant include tulips, daffodils, hyacinths, and crocuses. All these bulbs will produce beautiful flowers that will add a touch of color and brightness to your garden. You can also choose to plant other types of bulbs, such as grape hyacinths or lily-of-the-valley bulbs. These plants produce smaller flowers but are very fragrant.
The Advantages of Planting Spring-Planted Bulbs
Do you love the look of brightly colored flowers in your garden, but you don't have the time or energy to tend to them? Planting spring-planted bulbs is a great way to add color and interest to your garden without any of the work. Bulbs are easy to care for and require very little maintenance—all you need is some water and sunshine. Plus, bulbs can be planted in a wide variety of locations, including in pots and containers. This makes them perfect for adding interest to any area of your garden.
Another advantage of planting bulbs is that they are relatively inexpensive. You can buy a large container of bulbs for just a few dollars, and they will last for many years with proper care. Plus, bulb plants are relatively easy to transplant if you ever want to move them somewhere else in your garden. Last but not least, planting bulbs is a great way to add color and brightness to your garden all year long!
How to Plant Spring Bulbs?
Color is one of the most important factors when it comes to garden design, and spring-planted bulbs are a great way to add some extra color to your landscape. Not only are they beautiful on their own, but they also provide a wonderful contrast against the cooler colors that will be in season during the summer. Spring-planted bulbs are easy to plant and care for, and there are a variety of different varieties available that will perfectly complement your garden.
When Should You Plant Spring Bulbs?
With the arrival of spring, it's time to start thinking about planting bulbs in your garden. There are a variety of beautiful bulbs that can be planted in the spring, and they're easy to care for, making them a great choice for someone who wants to add color and interest to their yard without much effort.
Consider the season when deciding which bulb to plant in your garden. Spring-planted bulbs will typically bloom earlier than bulbs planted in the fall, so make sure you choose the right one for your garden. There are a variety of different types of spring-planted bulbs to choose from, so find one that will fit well into your landscaping. With a little planning and effort, you can have a beautiful garden that blooms all year.
How to Care for Spring-Planted Bulbs?
Spring is a wonderful time to plant bulbs in your garden. Here are a few tips on how to get started:
First, be sure to research which types of bulbs work best for your garden and climate. Some popular choices include tulips, daffodils, hyacinths, and crocuses. Once you've selected the bulbs you want to buy, purchase them in advance so that you have plenty of time to plant them in the ground or in pots.
Once you have your bulbs home, it's time to take care of them! Make sure that their soil is moist but not soggy – this is crucial for bulb growth. Water them regularly during dry weather, and be sure not to overwater them, as this can damage their roots. When the flowers start blooming, cut the stems close to the ground so that the bulb will continue flowering indoors. After the flowers fade away (usually around mid-March), allow the foliage (orchids tend not to shed their leaves) to die back naturally. Enjoy your beautiful spring-planted bulbs!
In Short
Spring bulbs are a great way to add color and life to your garden. Planting these bulbs will provide you with beautiful flowers throughout the spring and summer. Bulbs are easy to care for and can be planted in almost any type of soil. Be sure to plant your bulbs in the fall so that they have time to establish themselves before the first frost. With a little love and care, your spring bulbs will thrive and bring you enjoyment for years to come.