Alternative "Garden Hives" for the Gardener Seeking Honeybee Pollination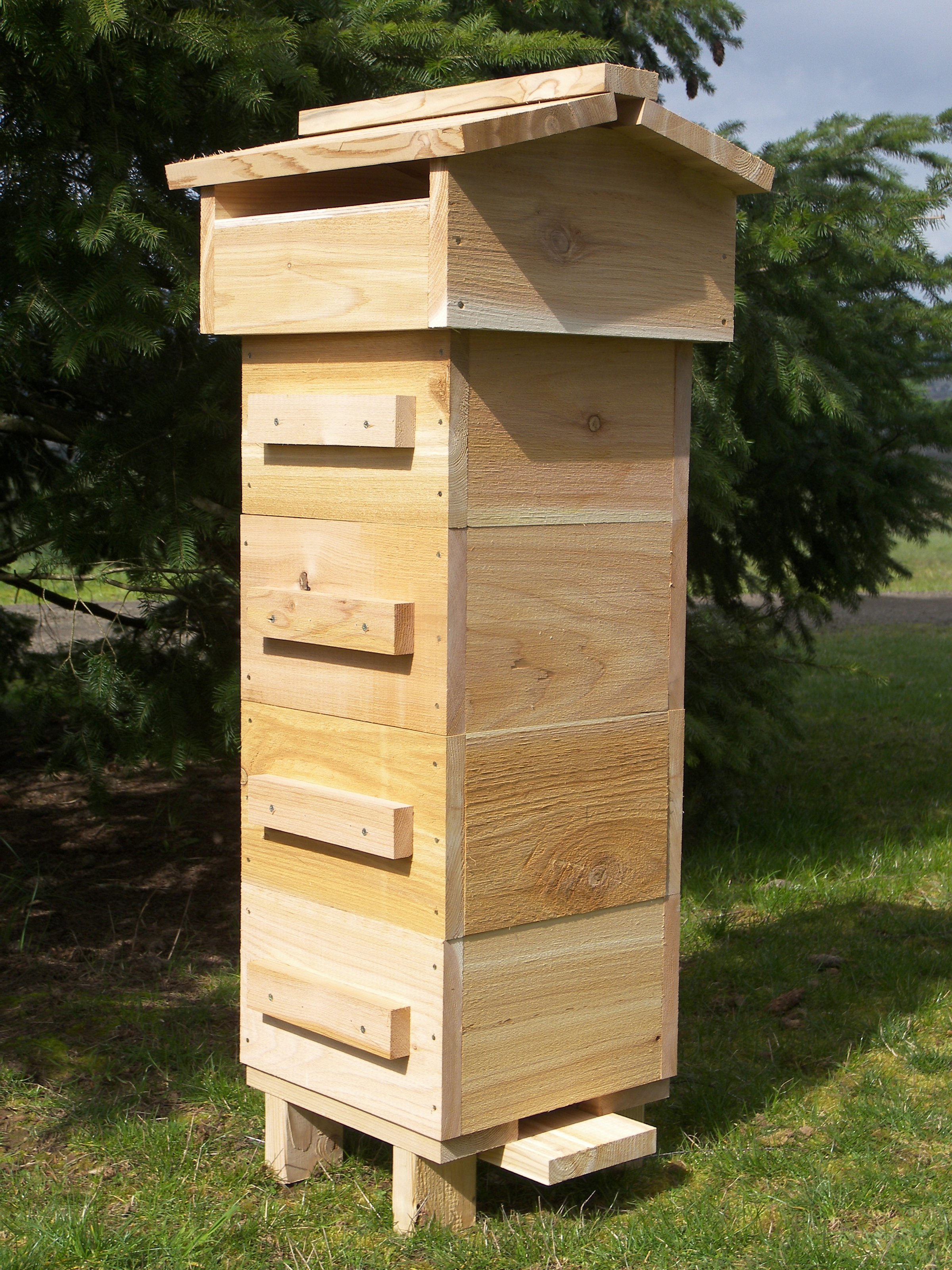 Many gardeners realize honeybee population is on the decline, and that pollination from these bees can greatly boost many of their garden crop yields. The U.S. Department of Agriculture estimates insect-pollinated foods attribute to a third of the human diet and that honey bees are responsible for about 80% of that pollination. But just in the home garden, honeybees may visit upwards of 100 flowers in a single collection trip. They can increase yields of many garden vegetables including peppers, watermelon, cucumbers, cantaloupe, squash, pumpkins, gourds, various beans, and many others, even seed crops such as flax seed, sunflowers, and buckwheat.
Gardeners interested in using honeybees for pollination may want to consider using one of the two smaller alternative backyard garden beehives described here, which are based on ancient designs. Both are far less work than the conventional beehive used to harvest large quantities of honey or beeswax for commercial sale.
The conventional hive we see often today is sometimes called a "filing cabinet" beehive. Used by commercial apiaries, its true name is the Langstroth hive. While it has some advantages that commercial users appreciate, it provides living conditions that can be stressful for the bees. It can also be high maintenance and tough on back muscles of the bees' human stewards. In these hives, bees can't move as freely as their instincts dictate. Also, the queen is sometimes unnaturally restricted from certain locations and worker bees are forced to build honeycombs in unnatural shapes.
Both of the alternative hives covered in this article, however, are considered healthier for honeybees by those who use them, and the choice of a growing number of gardeners.
Will bees move into an empty hive?
The Top-Bar Beehive
The top-bar hive is also sometimes more precisely called the "horizontal top-bar hive." This hive can be perfect for the backyard garden beekeeper. It is extremely simple to build and bees seem to love it. For those who do want to harvest some honey it doesn't involve the heavy lifting of hive sections as what happens with conventional hives. To oversimplify what this hive is, it is a safe container with an entrance for the bees with a removable lid made up of multiple side-by-side "bars" (such as long pieces of wood).
The bees start building their combs from the underside of the bars. Usually, something is added underneath each bar which gives the bees a gripping starter point to start building their combs. Some people add grooves underneath each bar for this purpose; others add a v-shaped addition under each bar to help bees begin the process. The top-bar hive allows bees to build combs in natural shapes rather than forcing them into the unnatural squares of conventional hives.
The top-bar hive is believed to be thousands of years old and most likely invented in Africa. There is a Kenyan version and a Tanzanian version, explaining why top-bar hives are also sometimes called African hives or Kenyan hives. In the earliest versions, beekeepers gathered or cut appropriately sized sticks to use as the bars to lay over open-topped woven baskets. Modern beekeepers who use the top-bar hive in temperate climates find ways to better help the hive remain dry and safe from temperate weather. Very severe weather, however, could be an issue when using these hives without added protection.
There are numerous top-bar hive building plans available online. Bees do best with natural, old or weathered wood as what might be found in nature, vs. smooth-cut wood. This means recycled wood could be ideal as long as it's not chemically treated. Wood that may have been treated, such as pallets, may contain chemicals that would be harmful to the bees. There are favored types of wood to use for hives, and these include Western red cedar, cypress, other cedars and Douglas fir.
The Warre Hive or "Vertical Top-Bar Hive"
Some people feel the Warre hive is almost as simple, or even more so, than the top-bar hive. This hive is named after Emile Warré who invented it in France in the early 20th century. It is also sometimes called the "vertical top-bar hive." It is bottomless and uses bars for the bees to build their comb. But it's different than the horizontal top-bar hive described above in that several boxes with bars are stacked vertically, and the comb is built vertically. It allows bees to huddle closer during cold winters. Also, because it is modular, if mold, mildew or other unwanted pathogens develop, only the box containing the problem needs to be replaced, rather than the whole hive itself as what could happen with the horizontal top-bar hive.
Though from a distance it can somewhat resemble a Langstroth hive to the untrained eye, it is actually smaller and lighter than conventional hives. Warre hives are kept fresh and clean by adding new boxes to the bottom, usually in spring, and removing honey-filled boxes each fall. It's considered a type of hive bees enjoy living in, allowing them to follow more of their natural instincts. And, it's much more of a hands-off method for beekeeping compared to conventional hives. Like the horizontal top-bar hive described above, Warre hives are easy to build with simple materials and plans available online.
How to Keep Honeybees Closer to Home
Even though an active hive is in the garden, the bees may wander further than what the gardener would prefer. Of course, the gardener wants them to stay around enough to pollinate their own crops, but they also may not want them to fly into pesticide strewn areas that could compromise the hive, or bring back cross pollination from unwanted species such as genetically modified crops. Bees will fly for miles to get what they need, so here are a few pointers.
First, maintain pollen plants near the hive from the moment the bees emerge in spring to when they retreat for winter. If the crops already grown by the gardener provide this for the bees, then nothing extra needs to be done. But when growers maintain bees for a few specific crops, such as cucumbers, not enough cuke flowers may open in spring and may diminish or be purposely pinched off near the end of the season. An answer to this could be as simple as letting dandelions surround your growing area which blossom early spring to late fall, or growing a border of all-season honeybee herbs.
Second, make sure there is a proper supply of water for the honeybees. Honeybees drink water like any creature and also use it to regulate the temperature of their hives. Even if there are plenty of flowers to collect nectar, if there is no water nearby, they may travel further than you want them to in search of it, which could include upsetting the neighbors with a swimming pool.
Honeybees are believed to sense a water supply by the moisture in the air above it. One simple suggestion for honeybee water is a saucer 10 or so inches in diameter filled with small stones and water. Always place this water source in the sun. The stones allow the bees support and climbing material to avoid drowning. The water should be refilled and flushed by overflowing it often. Clean, moving water is even better for those who may want to make a small water feature in their garden using a small recirculating pump that splashes water over stones.
But the bees, of course, will decide what water source they prefer using their instincts that humans can't tap into, so before something expensive or elaborate is built, the gardener can try something more make-shift in two or three different locations. Beekeepers need to make sure water never runs out and watch to see if the bees are using it. It's best to put the water source out immediately in spring so the bees don't first habituate to another water source. Thousands of bees really do drink their fair share of water, so be sure to refill often especially on hot sunny days.
Some people are also experimenting by giving bees the option of water with a tiny pinch of sea salt or a few drops of organic apple cider vinegar, though most feel simply that pure well or spring water works the best. A gardener may want to place several containers close together and give the honeybees a choice and observe the results, then follow through which what their choice is. The bees themselves are often the real experts. If honeybees still seem to ignore the water supply for a more distant one, a container with a larger surface area (not deeper) may make a difference because it makes it easier for them to detect the area above as a water source as they fly.
Honeybees in the Greenhouse?
Honeybee colonies have been used for pollination inside very large commercial greenhouses with mixed results. With smaller greenhouses, growers have sometimes placed their hives outside but nearby the greenhouse in hope that when the door is open, some honeybees find their way inside to do some pollination. But in spite of the honeybee's remarkable navigation abilities, the walls of a greenhouse are counter to any instincts they have, and honeybees inside a greenhouse often don't find their way out and back home. In most cases, honeybee hives are best used for outdoor gardens to help boost the garden yields sometimes many times over.
For garden hive videos, more photos, sources for plans, and further information, visit MicroEcoFarming.com. Barbara Berst Adams is author of Micro Eco-Farming and The New Agritourism: Hosting Community & Tourists on Your Farm.

Integrating Greenhouse Elements into Roofing Design
Step onto the future pathway of sustainable living by integrating greenhouse elements into your roofing design. You might be asking, what does that mean? Let's dissect it. A basic understanding of roofing design combined with the principles of a greenhouse can lead to an array of environmental and economic benefits right above your head.
Understanding the Greenhouse Concept
Dive into the world of greenhouses. In essence, a greenhouse captures the sun's radiation, using it to create a warmer environment that supports plant growth year-round, despite outside weather conditions.
The same notion can be applied to houses through smart residential roofing services. Imagine roofs performing like greenhouses – conserving energy and contributing towards creating a comfortable indoor climate, regardless of the outdoor temperature extremes.
Breaking Down Greenhouse Elements
Crystalize the thought as you dissect the concept further. It primarily involves transparent roofs, insulation materials, and heat-absorbing surfaces. Transparent materials like glass or polycarbonate allow access to sunlight.
Insulation materials prevent escaping heat while dark, heat-absorbing surfaces collect solar energy during the daytime and release it during cooler periods.
The Science Behind Integration
Integrating these elements into your existing roof is pure science at play. By managing solar radiation penetration and understanding the theory of microclimates, you can implement this concept effectively.
There are plenty of ways to make greenhouses energy efficient and to integrate elements into roofing. Moreover, plants play a vital role in improving air quality, making them an integral aspect of such designs.
Comparative Analysis of Roofing Materials
Your next move is figuring out which materials are best for these setups. Consider the battle between glass and polycarbonate roofs: while the former offers better clarity and longevity, the latter is lighter and safer as it's virtually unbreakable. Similarly, different insulating materials come with their unique benefits and challenges.
Benefits of Greenhouse Roofs
You'll find that there's a list of advantages waiting for you when incorporating greenhouse components into your roofing design. Besides a significant rise in energy efficiency, you'll notice a decrease in your environmental impact.
When you understand rooftop gardens you will get to enjoy the many benefits associated with them. Your health and well-being may flourish too, thanks to better air quality and regulated indoor temperatures.
Overcoming Potential Challenges
Like every venture, it's not without its challenges. Fear not though, they're surmountable. Think about safety aspects, maintenance costs, and managing light penetration. Shatterproof materials can enhance safety and durability while understanding the full extent of maintenance required enables planning for the associated costs.
Innovative Designing Approaches
Forward-thinking designs don't stop at the basics. Consider integrating solar panels or even cultivating rooftop gardens into your concept. Combine materials to add further insulation or aesthetic appeal. The sky is the limit when it comes to experimenting with designs.
Ensuring Optimal Functionality
A well-functioning roof doesn't happen by accident. Correct installation techniques ensure longevity while regular maintenance practices preserve its optimum functionality. Over time, making needed upgrades can combat wear-and-tear effects, keeping it efficient and effective.
Regulations and Building Codes
Legalities are part of the process so understanding local laws is essential. Compliance with building codes ensures you're on the right side of the law. Sometimes, advocating for changes in regulations might just be the way forward, making sustainable living more commonplace.
Future Projections for Greenhouse Roofs
Industry growth hints at future developments that should get you excited. Anticipate technological improvements that will revolutionize greenhouse roofs even more. Demand for such modernized concepts is projected to escalate as individuals like yourself seek more sustainable living options. Modern roofing solutions such as cool roofs reduce carbon footprints.
Additional Considerations
Before you march forward and embrace the future of residential construction, there are a few additional considerations to heed. While all these pros make integrating greenhouse designs into your roof sound enticing, remember it's not one-size-fits-all.
Geographical Factors
Be mindful of the geographical location of your home. Certain climates may be more conducive to greenhouse roofs than others. A transparent roof in a region with extreme sunshine might lead to overheating concerns while in less sunny regions, you'll need to extract every bit of sunlight possible.
Energy-efficient roofs are no longer a distant dream but a very viable reality that is rapidly becoming mainstream in residential construction space across the globe.
Financial Outlay
The financial aspect should also factor into your decision-making process. Even though the upfront cost may seem elevated, weigh that against expected energy savings over the life of the roof. A quarter of your heat is lost through the roof.
Forecasting these figures can help make a long-term economic decision. Remember, investing in a greenhouse roof doesn't just impact you, but also plays a small part in saving the planet for future generations.
Lastly…
Embrace the future of residential constructions and pave a path to sustainable living by integrating greenhouse elements into your roofing design – offering a trifecta of benefits including energy conservation, environmental impact reduction, and overall health enhancement.
Take a step towards making your home a harmonious integration of man-made structures and nature, reflecting the perfect example of sustainability.