The Differences Between Pure Neem Extract and Neem Oil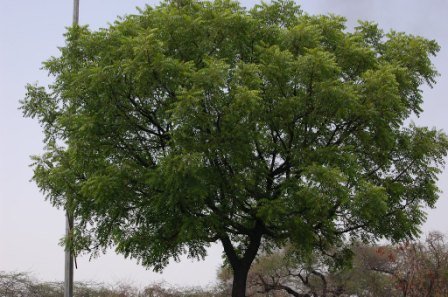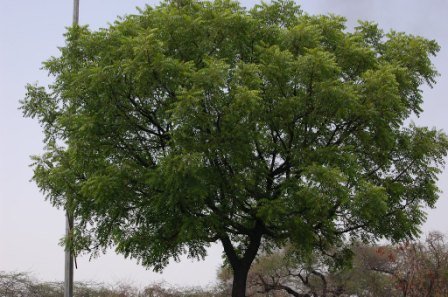 Articles written in Sanskrit are proof that people have been using neem for thousands of years. Neem seeds are pressed and what oozes out is neem oil. But starting in 2005, research scientists that retired from a global chemical company found a way to extract the pure neem extract from neem seeds – capturing 93% of the bioactive ingredients from the Neem trees in Africa.
This pure neem extract is a highly concentrated liquid that is mixed with water [two drops per one ounce of water] and applied to plants as a foliar spray once a week. The plants quickly transform and take on the properties of robust and healthy neem trees from Africa. Over centuries, these trees have evolved and adapted to survive and even thrive in the harshest climates on earth—such as sub-Saharan Africa. Many times these trees are visible whenever you see an African lion safari on TV. You observe the dry desolate landscape and then, in the middle of nowhere, you see a giant, lush, green tree. They are absolutely loaded with bioactive nutrients, and have an active ingredient called Azadirachtin that protects it from harmful pests.
When a locust swarm passes through eating everything in sight, the only plants left are the ones with Azadirachtin. Azadirachtin does not poison the insects like a pesticide; instead, it triggers a stop eating response and the bugs will ultimately starve to death. Harmful pests have learned that they don't want to be anywhere near these plants, so they avoid them. African villagers also like to gather under these trees because they provide the best shade (they remain green all year) and there are no bugs anywhere near them.
In May 2013, industry author "Grubbycup" wrote an article titled, "Blessed by Neem" that was published in another magazine that gives the best explanation I've seen of how and why pure neem extract works the way it does.  According to this article, extracts from the neem tree are often used to treat a variety of insect problems. Pests that can be treated with them include: aphids, beetles, cockroaches, flies, fruit flies, fungal infections, grasshoppers, leafminers, mosquitoes, moths, nematodes, snails, spider mites and thrips. Neem is an EPA-approved pesticide that is not only fairly non-toxic to people and animals, but also to beneficial insects including bees.
Quoting Grubbycup: "One of the most potent components in neem is the limonoid Azadirachtin, which causes some insect larvae to be unable to metamorphosize, and thus prevent them from becoming adults and reproducing."
He said that Azadirachtin is similar in structure to the hormones used by insects to control development. Once introduced, it blocks the normal functioning of these hormones and prevents the insects from becoming sexually mature. It is also responsible for a fair amount of neem's repellant properties. Neem also contains the limonoids salannin and meliantriol (both inhibit feeding) and nimbin, which has antiviral properties.
The extraction process is complicated, but the basic concept is simple: capture the biotechnology of robust, healthy trees (Neem) that have adapted to the harsh climates of sub-Saharan Africa and transfer those properties to plants grown in the United States.  Organibliss™ is an all-natural plant growth enhancer [fertilizer] that is primarily pure Neem extract that captures 93% of the bioactive ingredients from the Neem tree. It controls harmful pests such as spider mites, controls plant diseases such as Powdery Mildew and significantly increases the yield (average of 30 – 50%).
James E. Kostrava, is CEO & Founder of Organibliss, LLC.  He can be reached at 989.839.2342 or email: [email protected] and you can visit their website at Organibliss.com.
Want more information? Read these articles:
Azadirachtin and Neem: What is the Difference?
Neem Oil is an Amazing Product
Solving and Preventing Garden Fungi Problems Naturally
The Proper Use of Organic Sprays and Pesticides

Which Are the Еasiest Vegetables to Grow (and How to Grow Them)
Have you ever considered taking up gardening? It is a wonderful activity and hobby for many. It beautifies your surroundings and provides a vast plateau of health benefits. It's a great way to get some exercise, reduce stress and even boost your vitamin D intake.
In this article, we will show you the many benefits of gardening, what you need to get started and which are the easiest vegetables to grow as a beginner.
The Many Benefits of Gardening and Why It's Great
Gardening is a fantastic way to get outside, enjoy the fresh air and soak up some sunshine. It is also an excellent form of exercise that can help you burn calories, build strength, increase flexibility and improve cardiovascular health. Not to mention that it can also be a great way to spend time with family and friends or just to enjoy some peaceful time alone.
In addition to the physical health benefits, it has been proven to impact your mental health positively. Numerous studies have shown that spending more time with nature helps you avoid stress and anxiety. It also improves mood and even reduces the risk of dementia.
Taking up gardening indirectly boosts your vitamin D intake. You can bask in the sun's rays by spending time outside in your garden. Of course, always make sure to wear sun-safe gear, such as a hat and sunglasses. Needless to say, during the more extreme heat, you should also apply sunscreen to avoid burns.
What You Need to Get Started on Your Gardening Journey
If you're looking to get started in the wonderful world of gardening, there are a few things you'll need to get yourself in advance:
Gardening gloves – A good pair of gloves will help protect your hands from cuts, scratches, and dirt. Moreover, nowadays, you can find some pretty fancy in stores that will add some more fun to your hobby.
Watering can or hose – Water is essential for plants to thrive, so having a watering can or hose to keep them hydrated is a must. You need to consider the size of your garden and the type of plants you want to add before choosing the best option.
Soil – Good soil is crucial for healthy plants. You can buy it at a gardening store, or you can make your own by using compost. Remember that you need to have healthy soil, so your plants can be healthy too. Additionally, you should check what type of soil the plants you want prefer before buying any.
Seeds or seedlings – Whether you get them online or from the gardening store, it's best to start with plants that are easy to grow. A fantastic way is to collect seeds from plants you already have access to, like tomatoes. You can also ask friends and family to give you some of theirs.
The perfect place – Finally, you'll need to choose a spot for your garden. The ideal location in your garden has a lot of sunlight. You'll also need to ensure the area is well-drained so your plants don't get too wet.
Once you have the essentials, you must decide what type of beds you want for your garden. You need to decide this before the planting process. Of course, there are a few options to consider:
Pots – if you have limited space in your garden, pots are the ideal solution for you. They come in all shapes and sizes, providing much-needed flexibility for your crops. Many common plants grow well in pots, such as tomatoes, lettuce, beans, peppers and radishes.
Raised beds – If you have a more spacious garden, then raised beds are ideal for you. They are a very cheap option that makes for a great weed barrier. The downside to raised beds is that they are not easily movable, unlike pots.
Directly in the soil – This is the traditional method of growing vegetables, which has been used for centuries. To make this method work, you must first till and amend the soil.
Tilling – Tilling is relatively straightforward nowadays as you can borrow or rent a tiller, making the work much easier. Before you add any soil amendments, consider testing your soil to check what it needs. An advantage of sowing directly in the soil is that it's ideal for companion planting.
The Easiest Vegetables to Grow
Gardening is supposed to be fun. Yes, we can grow our food, which is part of our survival skills, but it must be fun. Along with that, growing vegetables is not that hard to do. Many vegetables are pretty easy to be grown and require little gardening maintenance. Some of these are:
Tomatoes – They are an excellent choice for beginners as they are easy to grow and produce a lot of fruit. They thrive in warm weather and look beautiful in your garden. Moreover, there are a lot of different kinds in different colours and flavours you can try to grow.
Leafy Salad Greens – The easiest varieties to look after indoors are spinach, kale, and arugula. It takes them about 30 days to grow, and they do not require special attention. They prefer warm weather and grow best at 15.5°C. In no time, you will be able to create the perfect salad for your healthy diet.
Zucchini – This is a fast-growing vegetable that is easy to grow and produces a lot of fruit. They need 6 hours of direct sunlight each day, so choosing a sunny spot is vital.
Carrots – Carrots are very space-efficient as they don't require much room to grow. They do, however, require deeper soil than other veggies. Like salad greens, they are
cool-tolerant and thrive at around 60° F(15.5°C).
Radishes – They are one of the easiest vegetables to grow and can be harvested in as little as four weeks. They do not require much sunlight. What you need to take into consideration if you decide to grow radishes is that you need to leave enough space for their bulbs to grow.
Conclusion
In conclusion, gardening is a great way to get out into the sun, exercise, and improve your overall health and well-being. It doesn't require a lot of equipment, and you can start with easy-to-grow vegetables. So, grab your gloves, trowel, watering can, soil and seeds, and start your gardening journey today!