Identifying and Eliminating the Two-Spot Spider Mite Tetranychus urticae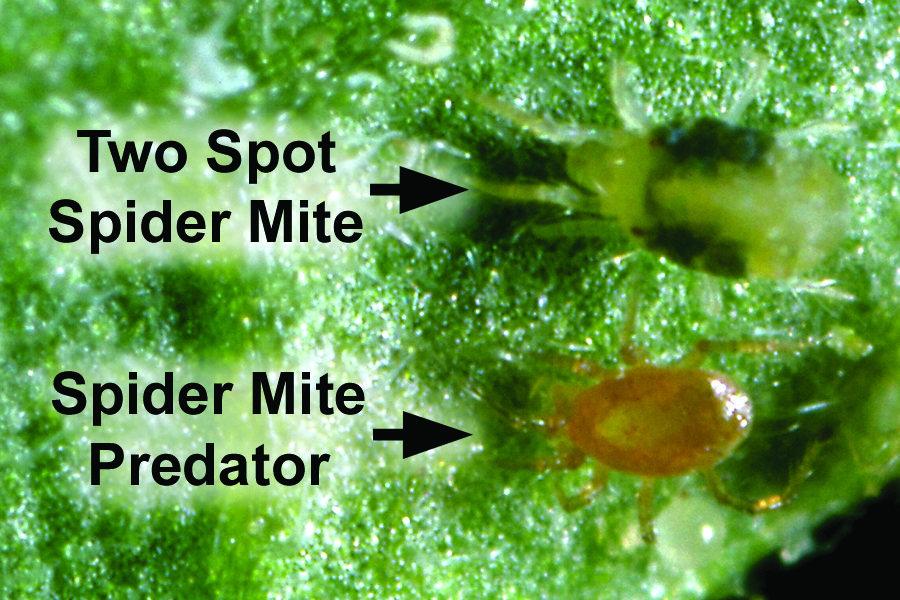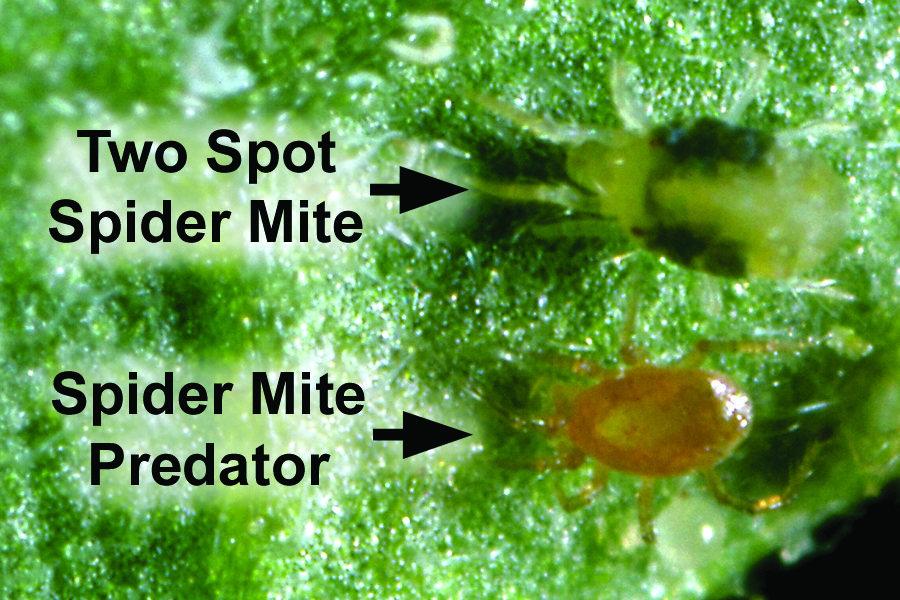 The first signs this pest has arrived are yellow speckling on leaf surface. Eventually little dots on underside of leaves and fine webbing between leaves. Under magnification small eggs shaped like perfect spheres might be visible and you plants may also lack vigor.
Spider Mites are probably the most well-known and common pest in existence. Most growers have encountered them at one time or another and some growers are plagued with them crop after crop. They are tiny little pests, but can be very destructive. They suck vital juices from the plants using mouth parts which have been modified to pierce the individual plant cells. As spider mites feed on the plant, they destroy the chloroplasts in the leaves. This leads to a decline in photosynthesis, the stomatas close and transpiration decreases. If left uncontrolled the plant will continue to weaken and eventually die.
Spider Mites usually live on the underside of the leaves. They are very small, less than 0.04 inches across or about the size of a pinhead. They have a clear to yellow color and as they grow older they get two dark spots on their back. The dark spots grow larger as they feed on more chlorophyll and plant juices. Spider Mite eggs look like perfectly clear or amber round spheres when viewed with a magnifier. As the spider mites become more established fine webbing can be found stretching between leaves and covering the tops and buds of the plant.
Environmental conditions greatly influence the Spider Mite life cycle and they thrive in hot, dry conditions. As the temperature increases, they can evaporate more moisture from their body and in turn suck more juices from the plant. In temperatures above 100 degrees, their life cycle can shorten from 3 weeks down to as little as one week from egg to adult! They can become sexually mature in 5 days with each female living up to 4 weeks and being capable of laying 20 eggs per day. As those eggs hatch and the resulting mites start breeding the entire population can explode very quickly. This is why some growers will see a couple of Spider Mites and then a week or two later their plants are covered in webs.
Outdoor growers need to be aware of the Spider Mites ability to go dormant. When light hours outdoors start to drop below 12 or 13 hours per day and at the same time temperatures start to drop, Spider Mites can enter a "diapause" state.  Adult females discontinue feeding, mating and other normal activities, and turn almost completely red in color. They search for a safe place to spend the winter. These safe places can be a crevice in a tree trunk, plant debris, or even grow equipment. They will stay in a dormant state until the next spring, and as the temperature warms back up they emerge to infest your new plants.
One of the best ways to control mites is to take measures to prevent them from getting established on your plants. Spider Mites are very creative when it comes to finding their way onto plants. They can hitch a ride on a strong breeze, literally blowing in the wind onto your plants. They can also climb onto people and pets, so if you have visited other cultivation sites make sure you change your clothes and take a shower before entering your garden. Vigorously inspect and quarantine any new plants before you put them near the rest of your crop.
There are dozens of sprays and miticides on the market that can kill Spider Mites, but after decades of use their effectiveness has diminished – and besides, who wants to smoke pesticide! Many states have very strict testing requirements for pesticide residue. One way to be sure you will not fail any test is to use natural predators that eat Spider Mites instead of sprays.
Spider Mite Predators are the most common and widely used insect to control Spider Mites. In most conditions they will reproduce faster than the Spider Mites. Each Spider Mite Predator sucks the juice out of about 5 Spider Mites a day, or 20 of their eggs. Three of the more common species used are Phytoseiulus persimilis, Mesoseiulus longipes, and Neoseiulus californicus. These small mites love to eat Spider Mites and their eggs. To estimate your Spider Mite population you can count the Spider Mite adults and eggs on an average leaf. Count how many leaves you have on the plant and multiply the two numbers together. This will give you a rough estimate of how many Spider Mites you have on one plant. Then multiply that by the number of infested plants to get an idea of how large your total population is and how many predators you might need to control it.
Amblyseius andersoni and Amblyseius fallacis can eat both Spider Mites and Russet Mites, so they are a great choice if you are dealing with both pests at the same time. Specially constructed hanging sachets full of predators are now available with some species of predators. These sachets usually hold a few hundred predators which will reproduce inside the container, slowly releasing for 2 to 4 weeks. This is a great option for prevention, and I recommend a few sachets of predators such as A. andersoni on every plant. Other predators are available in tubes filled with a media such as corn cob grit. These are applied directly to the leaves and are immediately available to attack Spider Mites, making them an excellent option when dealing if you are dealing with an active outbreak. If your plants have well developed flowers, be careful not to get the media on the flowers as it can be hard to remove and is undesirable on the finished buds. In these situations, fill small plastic containers (like 1 oz. ketchup containers) and place them strategically throughout the plant. You can also sprinkle some predator filled media onto index cards and place them in the foliage. After a few days these can be removed and discarded.
Spider Mite Destroyers Stethorus punctillum are a larger mite predator related to the ladybug. They can be used in conjunction with other mite predators when Spider Mites have been difficult to control. Stethorus eat all stages of Spider Mites and can fly from one infected plant to the next. They take longer to reproduce, but can eat an astonishing 40 Spider Mites every day!  Female Stethorus can lay up to 15 eggs per day. The life cycle from egg to adult takes 18 days at 70 degrees F, and is even faster at warmer temperatures.
Green Lacewings, Pirate Bugs and Ladybugs are general feeders that eat many small soft-bodied insects
including Spider Mites. They are good predators to use for prevention, and also great to use if you have more than one species of pest to deal with. They are not specific to Spider Mites like some of the predators are, but their ability to eat other insect pests and live longer without a source of food can be desirable.
Nearly all gardeners and growers eventually get Spider Mites. They can be a very destructive pest and need to be dealt with as soon as they are discovered. It is important to regularly inspect your plants for Spider Mites and other pests. Use preventative measures whenever possible and keep a healthy population of beneficial insects established on your plants before you have a serious outbreak.
Nathan Jackson is the owner of Nature's Control and Ladybug Indoor Gardens. Located in Phoenix, Oregon. Nature's Control has supplied growers with beneficial insects for over 35 years. He can be reached at (541) 245-6033 or nathan@naturescontrol.com.
Read More Articles
Controlling Scales can be Very Difficult
Hydroponic Systems Can Have Pest Control Problems Too
The Praying Mantis is the Gardener's Best Friend

Purchasing Real Estate in Atlanta, Georgia, in 2022
Introduction
The demand for Atlanta investment properties is high among all types of investors because you pay for high-quality real estate when you choose to purchase properties in desirable neighborhoods. As a result, Atlanta real estate has continued to appreciate faster than most other cities in the country. The Atlanta investment properties, which can be purchased for as little as $100,000, have more than 7% annual appreciation rate.
Atlanta's property appreciation rates were 6.44 percent in the most recent quarter, equating to a year-over-year appreciation rate of 28.36 percent. As a result, short-term investors, looking for homes for sale in Atlanta, GA, have benefited from a 15.25 percent increase in property values over the last year, resulting in a profitable investment opportunity. Our goal in this article is to provide you with an overview of some of the best neighborhoods in Atlanta where you can purchase investment properties.
Hanover West, Atlanta
It is a small, 1960s-era legacy development that is still in operation today. Several amenities are available to residents of all ages, making it a popular choice. This neighborhood was named one of the best places to buy a house in Atlanta by Niche, but houses rarely come on the market here. This allows landlords to charge a median rent of $1100 per month, which is the national average. The average home value in this area is higher than the national average and significantly higher than the average for Atlanta, resulting in many people who want to live here being forced to rent.
Midtown Atlanta, Downtown Atlanta
Prices in downtown and its surrounding areas, such as Midtown and Buckhead, have increased significantly. If you are able to purchase an investment property in Midtown Atlanta, you will be able to rent it out for a substantial profit. Atlanta investment properties will be valued for their space and privacy in an area that is rapidly transitioning from single-family to multifamily living. The average rent in this area is approximately $1800 per month. Property owners in the vicinity of Georgia Tech benefit from a steady stream of renters.
Buckhead, Atlanta
Want to invest? Check out homes for sale in Atlanta, GA. Buckhead is one of the best locations for purchasing investment properties in Atlanta. Because of their close proximity to downtown, the properties are extremely valuable. On top of that, it is densely packed with mansions and estate homes, though there are a few small cottages that can be rented out as starter homes. Alternatively, you could purchase an old bungalow and demolish it to make way for one of the four- to six-bedroom executive homes that are becoming the norm in this area.
Buckhead Heights is a residential neighborhood in Atlanta, Georgia, with a population of approximately 2,130 people. Residents have been assigned an A grade based on their ethnic and economic diversity, with many of them holding bachelor's or master's degrees, according to the report.
Gwinnett County, Georgia
This area is in such high demand that the amount of time on the market decreased by 20% in 2018. The median price of a home in this area increased by 5% from the previous year. A large part of this is due to the high quality of Gwinnett schools. The city of Buford in Gwinnett County was home to the best public schools in the state of Georgia.
Grant Park, Atlanta
Grand Park is Atlanta's oldest city park, and the neighborhood that surrounds it is known by the same name as the park itself: Grand Park. Even though this neighborhood is close to downtown, it is primarily comprised of older single-family homes, which command high rents for the privilege of residing there. Because the median rent in Grant Park, Atlanta was $1300 per month in 2019, you'll generate a significant amount of cash flow from investment properties in the area if you can buy at a low price.
Decatur, Northeast of Atlanta
One of the best suburbs in Georgia, Decatur has been named one of the best. Decatur is a city in the U.S. state of Georgia, located northeast of Atlanta. Even better, they were ranked 32nd on Niche's 2017 list of the best places to live in America. The city was also recognized as one of the best suburbs for millennials in 2016, according to Forbes. In the year 2022, purchasing investment properties in the suburbs of northeast Atlanta may prove to be a wise investment decision.
Alpharetta, North of Atlanta
For home buyers and renters alike, Alpharetta is a desirable real estate market, which makes it a desirable location for real estate investors. It is a suburb of Atlanta, located north of the city. The real estate market is a mix of condominiums and single-family homes on a detached lot. Numerous schools in Alpharetta received perfect scores of ten out of ten.
Peachtree Heights West, Atlanta
Peachtree Heights West is a neighborhood in Atlanta's southwest region. Because of the increase in sales and rental activity in this upscale neighborhood, it has been dubbed "one of the hottest neighborhoods in the city." It is an excellent location in which to purchase an investment property in Atlanta, particularly an apartment for rental income. It is only a short distance south of Buckhead Forest, which is already overpriced. This area is an excellent location for investing in Atlanta investment properties because the median rent is significantly higher than the national average at more than $1700 per month.
Ormewood Park/Glenwood Park, Atlanta
Ormewood Park/Glenwood Park is a neighborhood park located between Grant Park and East Atlanta Village in Atlanta, Georgia. This neighborhood is dotted with Craftsman-style homes built in the 1920s. Affordable single-family homes are being replaced by multi-family housing and upscale homes as part of the area's redevelopment effort. Many people relocate to this area in order to be close to the area's excellent charter schools. That's one of the reasons why median rents in Ormewood Park were a little less than $2000 per month.
Old Fourth Ward, Atlanta
The Old Fourth Ward is a historic industrial district that was on the verge of being abandoned at one point. It is being transformed into a trendy neighborhood with rents starting at approximately $1700. Because there are still properties in the area that need to be renovated in order to be attractive to renters, there are significant opportunities for real estate investors to purchase investment properties in Old Fourth Ward, Atlanta.