As a long-time grower of neem trees, I've become somewhat of an expert on what governments require before manufacturers can say anything about how their products work. Luckily for readers of Garden & Greenhouse, I'm also an expert on using soil micro-organisms – and since I don't sell them, I can share my experiences freely.
Soil microorganisms get a bad rap when people read about events like the spinach contaminated with E. coli last winter. That's misleading, because most microorganisms are either benign or necessary for life. In fact, without microorganisms functioning in soil, air and water, life as we know it on this planet would come to a screeching halt. And even with nearly unlimited access to neem, soil micro-organisms or the catalysts that boost them are a critical part of my garden and greenhouse success. In some ways, it goes back to the original Rodale thesis: feed the soil, not the plant. That obviously doesn't 100% apply in hydroponics, but the results in my yard have been amazing and new technologies promise to make the micro-organisms even more effective.
I first started using microorganisms when I became chemically sensitive and had to figure out how to garden – and live with multiple dogs – without using anything toxic. An organic mentor suggested I sprinkle the yard with a soil/compost activator. He said sprinkling the "good bugs" or soil microorganisms would make the soil come alive and that the good bugs would start competing with the bad bugs that had taken over.
I did, and almost immediately noticed a decline in the number of insects, including pests on plants and fleas on dogs. I sprinkle soil microorganisms every spring, and have had a totally flea-free yard for nearly 15 years without spraying anything, even in the worst Florida weather. Six years ago, a large oak started to die after it was struck with lightning. The highly stressed tree attracted the ugliest bugs I've ever seen, some kind of borer that laid eggs in the damaged wood and then grew to be nearly two inches long. The tree shaded our patio and I did everything I could to save it, including spraying with toxic pesticides.
It was easy to kill the individual borers, but the larva lived deep inside the tree. Nothing was working, even neem, until I started spraying a product called Medina that functions as a catalyst for soil microorganisms. Against all professional diagnoses, the tree is still alive and bark is slowly but surely covering the damaged sections. I've also learned – the hard way – not to use Medina or other microorganisms on butterfly larval food. I had gorgeous milkweed one year but I really wanted monarch caterpillars.
While the disease-fighting abilities of soil microorganisms aren't written into scientific fact (yet!), researchers do agree that the beneficial bugs stimulate vigorous growth and help plants resist pests.
By the Numbers
A cup of soil can have as large a population of bacteria as there are people on earth and the bacteria found in an acre of soil can weigh as much as the cow grazing on it. Common organisms found in 1 gram (1/5th teaspoon) of soil include:
3,000,000 to 500,000,000 bacteria, up to 50,000 different species in a single gram of soil.
1,000,000 to 20,000,000 actinomycetes, creatures which resemble both bacteria and fungi and give soil its earthy smell.
5,000 to 1,000,000 fungi, which recycle nutrients and protect plants by consuming damaging and insects.
1,000 to 500,000 protozoa, which help control bacteria by feeding on them.
10 to 5,000 nematodes are predators in the soil; they control bacterial population, as well as the protozoa and other organisms. Nematodes, in turn, are the prey of fungi.
---
An award-winning journalist with more than 20 years experience as a business, environmental and garden writer, Vicki Parsons is also a fifth-generation farmer who owns Neem Tree Farms in Brandon, Fla. You can visit her website at Neemtreefarms.com .


Why Should You Consider Planting Spring-Planted Bulbs in Your Garden?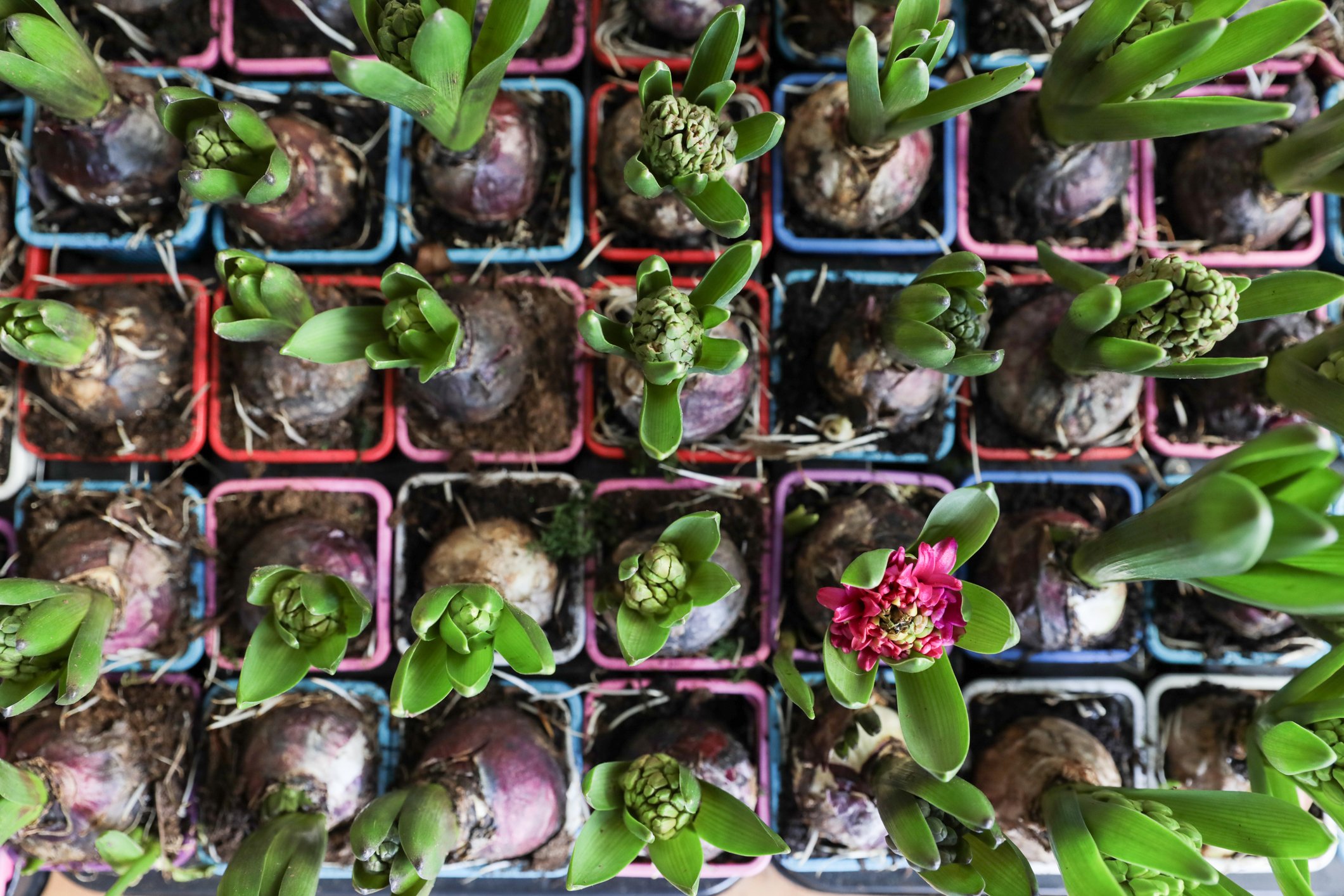 Spring is a great time to plant bulbs in your garden! Not only do they add a pop of color, but they also provide a number of benefits. In this blog post, we'll outline the benefits of planting spring planted bulbs in your garden. We'll discuss what bulbs are, what flowers come from bulbs, how to plant them, when to plant them, and how to care for them. So, go ahead and plant some spring-planted bulbs in your garden this spring!
What Are Spring Bulbs?
Do you love the beauty and colors of springtime? If so, then you should consider planting spring bulbs in your garden. Spring bulbs are a popular type of flower that is planted in the springtime. They come in many different colors and are known for their beautiful blooms. Not only do they add beauty to your garden, but they are also easy to care for.
When selecting spring bulbs for your garden, it's important to choose ones that look good together and have a variety of colors. Some of the most popular types of spring bulbs include tulips (a yellow bulb), daffodils (a blue or purple bulb), crocuses (a white or multicolored bulb), and hyacinths (an orange or yellow flower). When selecting which ones to plant, it's best to choose a mixture so that your garden looks colorful throughout the year.
What Flowers Come from Spring-Planted Bulbs?
There's no better way to add color and brightness to your garden than by planting bulbs. Not only are they easy to care for, but they also come back year after year. When choosing which bulbs to plant in your garden, it's important to consider what flowers you want them to produce. Some common bulbs you can plant include tulips, daffodils, hyacinths, and crocuses. All these bulbs will produce beautiful flowers that will add a touch of color and brightness to your garden. You can also choose to plant other types of bulbs, such as grape hyacinths or lily-of-the-valley bulbs. These plants produce smaller flowers but are very fragrant.
The Advantages of Planting Spring-Planted Bulbs
Do you love the look of brightly colored flowers in your garden, but you don't have the time or energy to tend to them? Planting spring-planted bulbs is a great way to add color and interest to your garden without any of the work. Bulbs are easy to care for and require very little maintenance—all you need is some water and sunshine. Plus, bulbs can be planted in a wide variety of locations, including in pots and containers. This makes them perfect for adding interest to any area of your garden.
Another advantage of planting bulbs is that they are relatively inexpensive. You can buy a large container of bulbs for just a few dollars, and they will last for many years with proper care. Plus, bulb plants are relatively easy to transplant if you ever want to move them somewhere else in your garden. Last but not least, planting bulbs is a great way to add color and brightness to your garden all year long!
How to Plant Spring Bulbs?
Color is one of the most important factors when it comes to garden design, and spring-planted bulbs are a great way to add some extra color to your landscape. Not only are they beautiful on their own, but they also provide a wonderful contrast against the cooler colors that will be in season during the summer. Spring-planted bulbs are easy to plant and care for, and there are a variety of different varieties available that will perfectly complement your garden.
When Should You Plant Spring Bulbs?
With the arrival of spring, it's time to start thinking about planting bulbs in your garden. There are a variety of beautiful bulbs that can be planted in the spring, and they're easy to care for, making them a great choice for someone who wants to add color and interest to their yard without much effort.
Consider the season when deciding which bulb to plant in your garden. Spring-planted bulbs will typically bloom earlier than bulbs planted in the fall, so make sure you choose the right one for your garden. There are a variety of different types of spring-planted bulbs to choose from, so find one that will fit well into your landscaping. With a little planning and effort, you can have a beautiful garden that blooms all year.
How to Care for Spring-Planted Bulbs?
Spring is a wonderful time to plant bulbs in your garden. Here are a few tips on how to get started:
First, be sure to research which types of bulbs work best for your garden and climate. Some popular choices include tulips, daffodils, hyacinths, and crocuses. Once you've selected the bulbs you want to buy, purchase them in advance so that you have plenty of time to plant them in the ground or in pots.
Once you have your bulbs home, it's time to take care of them! Make sure that their soil is moist but not soggy – this is crucial for bulb growth. Water them regularly during dry weather, and be sure not to overwater them, as this can damage their roots. When the flowers start blooming, cut the stems close to the ground so that the bulb will continue flowering indoors. After the flowers fade away (usually around mid-March), allow the foliage (orchids tend not to shed their leaves) to die back naturally. Enjoy your beautiful spring-planted bulbs!
In Short
Spring bulbs are a great way to add color and life to your garden. Planting these bulbs will provide you with beautiful flowers throughout the spring and summer. Bulbs are easy to care for and can be planted in almost any type of soil. Be sure to plant your bulbs in the fall so that they have time to establish themselves before the first frost. With a little love and care, your spring bulbs will thrive and bring you enjoyment for years to come.