The Persnickity Plantsman
 I've been called a plant bigot, or sometimes more kindly a plant snob. I'm told my taste in plants is esoteric and beyond that of what most gardeners are interested in. Yet when I tell stories about my plants in lectures that I give, the audience is entranced by such unusual plants not readily seen. I've gotten murmurs of approval at the mention of elegant fall bloomers like Autumn crocus (Colchicum autumnale) and meadow beauty (Rhexia virginica). I've seen inquisitive nods when I talk about the cool Corydalis I picked up from a rare bulb connoisseur last fall. Allan Armitage said, rather portentously, that behind every great plant lies an even better story. Our world is full of marvelous, fascinating, chlorophyll-possessing creatures, some of which are privileged enough to make into our gardens. Shouldn't we be eager for the quest to bring more to a wider audience?
I think so. Without ranting about the history of horticulture in 20th century America, I think it is fair to draw attention to such classic examples like Hemerocallis and Hosta. Present-day gardeners roll their eyes about now. But seriously, hostas were once an esoteric plant by some standards. They were collector items. Obscure plants trickled in from corners of Asia and it wasn't until such hosta giants like Frances Williams and Alex Summers got in the game that progress was made. Summers along with co-founder Eunice Fisher got together with other hosta fanatics in 1968 to form the American Hosta Society which continues to this day to be the largest international organization promoting what has become one of America's favorite perennials. Hosta lovers come by the dozen and all are proud owners of growing collections. But this bustle of activity wouldn't have been a reality had these champions not taken up the cause for a genus they saw promise and future in.
The two daylily favorites at the turn-of-the-century were hands down Hemerocallis fulva (ye' old orange daylily, turned ditch weed) and Hemerocallis lilasphodelus (lemon daylily). But American innovators like A.B. Stout, for whom the American Hemerocallis Society's top honor is named after, were determined to take this hardworking perennial to new heights. Seeds from Asian selections poured in and his crosses easily numbered 50,000. His arduous efforts and vigilant records produced nearly 100 cultivars, a meager morsel compared to the nearly 50,000 unique cultivars registered today with the AHS founded in 1946.
Amongst this history lies a message I would impart upon my sharp-worded friends. The esoteric plants of yesteryear have risen to pinnacle heights in our modern era of gardening only because a few individuals found joy in researching, breeding, corresponding, and organizing on their behalf. These plants are collector's items today only for opposite reasons. Gardeners find their earthly calling amongst these and other "collector" genera like irises, peonies, and daffodils. But what about groups of plants not so widely known?  Have you heard of the desert spectacles like Mariposa lilies (Calochortus) also known as the American tulip? What about the fawn lilies (Erythronium)? Both are bulbous plants of American origin and exist in great diversity in the wild. They can be grown in gardens but not a lot of information is abound about their culture nor are they well disseminated in gardening commerce. Online resources are far more abundant than those in print (hint, hint).
Maybe I am a little caught up in the clouds. Maybe weird, unheard of plants like those mentioned will never catch on. But maybe, if we take time to look a little ahead and catch a glimpse of the future, we might see them popping up all over. Maybe even in your own backyard.
---
Kelly D. Norris is Farm Manager at Rainbow Iris Farm and is working on his undergraduate degree at Iowa State University in Horticulture.  Check out his blog the E-Garden Almanac at http://e-gardenalmanac.blogspot.com.


Why Should You Consider Planting Spring-Planted Bulbs in Your Garden?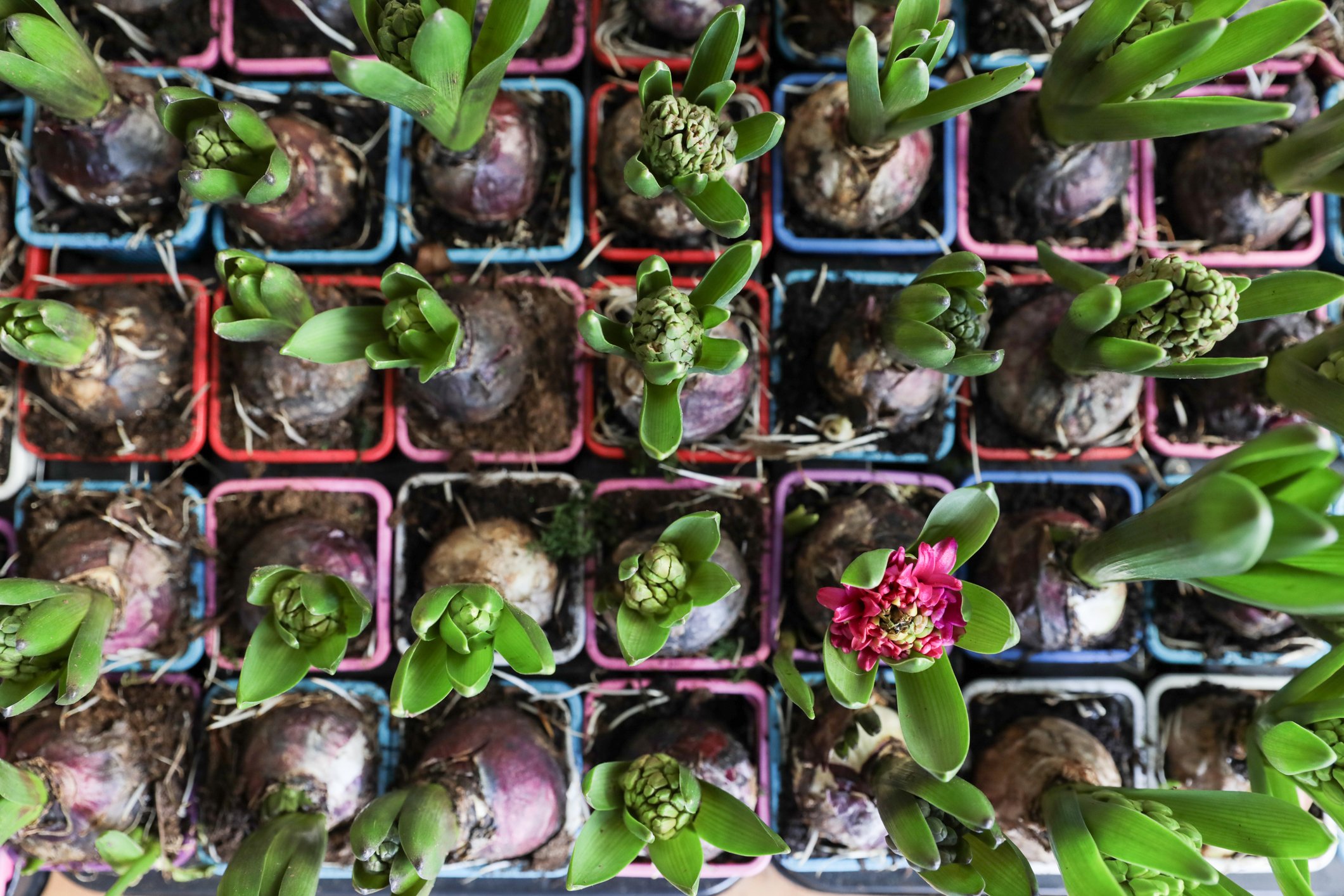 Spring is a great time to plant bulbs in your garden! Not only do they add a pop of color, but they also provide a number of benefits. In this blog post, we'll outline the benefits of planting spring planted bulbs in your garden. We'll discuss what bulbs are, what flowers come from bulbs, how to plant them, when to plant them, and how to care for them. So, go ahead and plant some spring-planted bulbs in your garden this spring!
What Are Spring Bulbs?
Do you love the beauty and colors of springtime? If so, then you should consider planting spring bulbs in your garden. Spring bulbs are a popular type of flower that is planted in the springtime. They come in many different colors and are known for their beautiful blooms. Not only do they add beauty to your garden, but they are also easy to care for.
When selecting spring bulbs for your garden, it's important to choose ones that look good together and have a variety of colors. Some of the most popular types of spring bulbs include tulips (a yellow bulb), daffodils (a blue or purple bulb), crocuses (a white or multicolored bulb), and hyacinths (an orange or yellow flower). When selecting which ones to plant, it's best to choose a mixture so that your garden looks colorful throughout the year.
What Flowers Come from Spring-Planted Bulbs?
There's no better way to add color and brightness to your garden than by planting bulbs. Not only are they easy to care for, but they also come back year after year. When choosing which bulbs to plant in your garden, it's important to consider what flowers you want them to produce. Some common bulbs you can plant include tulips, daffodils, hyacinths, and crocuses. All these bulbs will produce beautiful flowers that will add a touch of color and brightness to your garden. You can also choose to plant other types of bulbs, such as grape hyacinths or lily-of-the-valley bulbs. These plants produce smaller flowers but are very fragrant.
The Advantages of Planting Spring-Planted Bulbs
Do you love the look of brightly colored flowers in your garden, but you don't have the time or energy to tend to them? Planting spring-planted bulbs is a great way to add color and interest to your garden without any of the work. Bulbs are easy to care for and require very little maintenance—all you need is some water and sunshine. Plus, bulbs can be planted in a wide variety of locations, including in pots and containers. This makes them perfect for adding interest to any area of your garden.
Another advantage of planting bulbs is that they are relatively inexpensive. You can buy a large container of bulbs for just a few dollars, and they will last for many years with proper care. Plus, bulb plants are relatively easy to transplant if you ever want to move them somewhere else in your garden. Last but not least, planting bulbs is a great way to add color and brightness to your garden all year long!
How to Plant Spring Bulbs?
Color is one of the most important factors when it comes to garden design, and spring-planted bulbs are a great way to add some extra color to your landscape. Not only are they beautiful on their own, but they also provide a wonderful contrast against the cooler colors that will be in season during the summer. Spring-planted bulbs are easy to plant and care for, and there are a variety of different varieties available that will perfectly complement your garden.
When Should You Plant Spring Bulbs?
With the arrival of spring, it's time to start thinking about planting bulbs in your garden. There are a variety of beautiful bulbs that can be planted in the spring, and they're easy to care for, making them a great choice for someone who wants to add color and interest to their yard without much effort.
Consider the season when deciding which bulb to plant in your garden. Spring-planted bulbs will typically bloom earlier than bulbs planted in the fall, so make sure you choose the right one for your garden. There are a variety of different types of spring-planted bulbs to choose from, so find one that will fit well into your landscaping. With a little planning and effort, you can have a beautiful garden that blooms all year.
How to Care for Spring-Planted Bulbs?
Spring is a wonderful time to plant bulbs in your garden. Here are a few tips on how to get started:
First, be sure to research which types of bulbs work best for your garden and climate. Some popular choices include tulips, daffodils, hyacinths, and crocuses. Once you've selected the bulbs you want to buy, purchase them in advance so that you have plenty of time to plant them in the ground or in pots.
Once you have your bulbs home, it's time to take care of them! Make sure that their soil is moist but not soggy – this is crucial for bulb growth. Water them regularly during dry weather, and be sure not to overwater them, as this can damage their roots. When the flowers start blooming, cut the stems close to the ground so that the bulb will continue flowering indoors. After the flowers fade away (usually around mid-March), allow the foliage (orchids tend not to shed their leaves) to die back naturally. Enjoy your beautiful spring-planted bulbs!
In Short
Spring bulbs are a great way to add color and life to your garden. Planting these bulbs will provide you with beautiful flowers throughout the spring and summer. Bulbs are easy to care for and can be planted in almost any type of soil. Be sure to plant your bulbs in the fall so that they have time to establish themselves before the first frost. With a little love and care, your spring bulbs will thrive and bring you enjoyment for years to come.