Rotenone: A Botanical Insecticide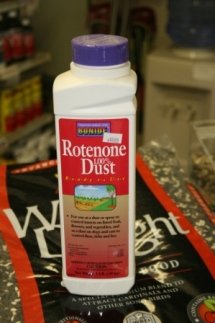 Natural on the Label Doesn't Always Mean Safe
There is a perceived notion among the public that botanical pesticides (insecticides and/or miticides) or those derived from plants are "safer" than synthetically-derived pesticides. However, nothing could be further from the truth, as plants produce some of the most toxic compounds in order to protect themselves from herbivores (insect and mite pests). Despite the fact that they are derived from plants,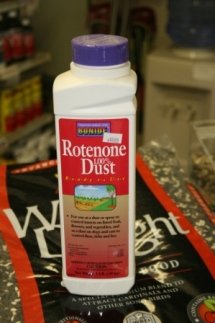 certain botanical insecticides may be highly toxic to humans. One of these botanically-based insecticides that may be used in home gardens is rotenone, which has been used as an insecticide since 1848. Rotenone has insect and some mite killing activity; however, it is more effective as an insecticide.
One of the major concerns with rotenone is that it is highly toxic to fish. As such, rotenone should never be applied around ponds, lakes, and rivers. Rotenone is derived from the roots of either Lonchocarpus spp., or Derris spp. plants, which are primarily grown in Malaya, Venezuela, Peru, and East Africa. Rotenone is extracted from the roots of these plants and ground-up, and usually formulated as a dust.
Rotenone has both contact and stomach poison activity. It is slow-acting but insect pests stop feeding immediately. Products containing rotenone as the active ingredient are labeled against a diversity of insect pests including aphids, sawflies, certain caterpillars (e.g., bagworms), beetles (e.g., Japanese beetle and flea beetles), leafhoppers, thrips, stink bugs, whiteflies, and some mites. Rotenone works by inhibiting the electron transport system in the mitochondria, which results in blocking the production of ATP (adenosine tri-phosphate). In other words, rotenone inhibits cellular respiration.
Rotenone has been registered in the USA since 1947 and is commercially-available for use in gardens to deal with insect pests of vegetables, fruits, and ornamentals. Rotenone is sold containing 1% or 5% active ingredient as either a dust or powder. Dust formulations should only be applied when the wind is still. In some formulations, rotenone is combined with pyrethrins (e.g., pyrethrum); however, these products are not recommended because rotenone has to be consumed by insects to be effective and the contact activity of the pyrethrins may reduce ingestion. Although rotenone is relatively non-toxic to bees (e.g., honey and bumble bees) it will kill beneficial insects such as parasitoids (parasitic wasps) and predators (e.g., ladybird beetles and lacewings) directly by contact.
Rotenone is not effective when the spray solution pH is >7.0. A synergist called MGK 264, which prevents insect pests from metabolizing insecticides, may be added to products so as to enhance the activity of rotenone. Rotenone is quickly degraded in soil and water, with persistence depending on exposure to environmental conditions. For example, rotenone is easily broken down under ultra-violet light resulting in a half-life between 1 and 3 days. Toxicity is 5 to 6 days when exposed to spring sunlight whereas toxicity is less (2 to 3 days) under summer sunlight. Because rotenone is rapidly broken down under sunlight it is best to make applications in the evening.
Rotenone is one of most acutely toxic botanicals with LD50 (lethal dose that kills 50% of the test population of rats) ranges from 132 to 1,500 mg/kg with variability due to differences in plant extracts. However, the oral LD50 is between 300 to 500 mg/kg; most typically cited as 350 mg/kg. Although this may be considered "moderately toxic" this is still more harmful than both carbaryl (Sevin) and malathion. Moreover, direct contact with rotenone may lead to irritation of the skin and mucous membranes. Rotenone was considered "safe" to use in organic production systems; however, due to recent studies that have linked possible rotenone chronic exposure to some forms of Parkinson's disease in animals, it is no longer registered for use in organic production systems. In addition, studies have revealed that rotenone causes tumors in rats.
It is important to understand that just because pesticides are derived from plants (or are "natural") doesn't mean they are "safer" to humans and other organisms. As such, always read the product label and exercise caution when applying any botanical pesticides.
Dr. Raymond A. Cloyd is a Professor and Extension Specialist in Ornamental Entomology/Integrated Pest Management in the Department of Entomology at Kansas State University. He can be contacted at:
Dr. Raymond A. Cloyd Kansas State University 123 Waters Hall Manhattan, KS 66506 P – 785.532.4750 Email:
rcloyd@ksu.edu
Want more information? Read these articles:
Azadirachtin and Neem: What is the Difference?
Identifying and Dealing with Aster Yellows
Insecticide Hormoligosis
Lime-Sulfur: A Broad-Spectrum Pesticide
Mosquitoes: How To Avoid Getting "Bitten"
Understanding the Use of Adjuvants

A Dream: Retiring in Canada
Introduction
The prime of a person's life is represented by the golden years. If you've put in a lifetime of hard work, responsibility, and adhering to a strict work schedule, you can finally retire to your "cape" and relax in your own home, which need not be in the city where you currently reside. If you have made the decision to relocate for your retirement, you may be looking for the best Canadian city to retire to spend your time in.
Even if you already have a list of preferences for where you want to retire, this list can be a great resource. The adoption of a pragmatic and practical approach when selecting a retirement city can help you enjoy a happy and financially secure retirement.
Everyone has their own set of preferences, priorities, likes, and dislikes when it comes to just about anything and everything. This includes everything from minor details such as a favorite cup of coffee to major decisions such as choosing the right career path. As a result, it is understandable that each individual would have their own ideas about how and where to spend their retirement years.
Fredericton, NB
The city of Fredericton serves as the provincial capital of the province of New Brunswick. Although it is a small city in terms of population for a capital, it is a fortunate mix for retirees. In spite of the fact that the city is not particularly crowded, its status as the regional capital means that it has many amenities that a city of its size does not typically have (though public transportation is not available on Sundays). Real estate prices are low enough that you can afford a home if you have enough savings, which is especially true if you are looking to purchase a condominium.
In addition, the rent is significantly less expensive. It has a humid continental climate and is located on the banks of the river. So, if you like to fish, it could be a fantastic place to settle down in. For a city of its size, the city has a large number of historical buildings and museums, as well as parks and gardens. It also hosts a large number of festivals. The city's largest hospital, which has more than 300 beds and several specialists, as well as a level 3 trauma center.
It's possible that Fredericton will be the perfect place for you if you're looking for a nice, affordable blend of nature and a moderately large city.
Kingston, Ontario
When it comes to living in a city where half of the population is made up of young students rather than old retirees like yourself, Kingston might be the best Canadian city to retire to. Because of its strategic location, it has a long and illustrious history, particularly in the military sphere.
As a retiree, you'd appreciate Kingston's laid-back atmosphere and easygoing pace of life. Almost half of the year, the city is bathed in sunshine. Transport in the local area is efficient, quick, and reasonably priced. One of Kingston's most significant assets, however, may be its world-class medical facilities. Kingston General Hospital is one of the largest hospitals in the province of Ontario and is located in Kingston. Many wonderful places to visit or spend your retirement time in the city, such as Lake Ontario Park and the Museum of Healthcare, which is the only museum of its kind in the country, are available to you. Many outdoor activities are available to you in the city as well, including sailing, fishing, golf, and hiking, among many others.
Burlington, Ontario
There are 115 parks in the small community of Burlington, so getting some exercise and fresh air will not be a problem. Given that it's only about 40 minutes away from Toronto, it's possible that you'll enjoy living in this charming little town if you have family in the city. It has a vibrant creative community as well as a sufficient number of art venues, especially given the size of the city. In addition, the city is very bicycle-friendly.
Even though there is a major hospital in the town, you may need to travel to Hamilton, which is not far away, if you have a serious medical problem. The high cost of living in Burlington is a chink in the city's armor. Even if you decide to rent a place in the city, you may find it to be an expensive place to live. However, if you can find a way to avoid this expense (by living in a co-op or a small house, for example), the city will appear to be quite affordable. Alternatively, you can choose one of the city's retirement homes. In addition, the city offers a diverse range of retirement living options, including active retirement living, assisted living, and home care.
Kelowna, BC
When it happens to come to retirement homes, Kelowna is a bit of a cliche, to say the least. Until the most recent census, retirees accounted for more than 18 percent of the population, which is significantly higher than the national average. This city experiences all four seasons, although housing can be expensive (especially if you try to live near the lake). If you are an oenophile (a fancy way of saying wine enthusiast), Kelowna is the place to be. It's the perfect combination of nature, peace, and the big-city hustle and bustle (especially in tourist season).
If you don't mind living a little outside of the city for cheaper housing, if you enjoy driving and taking part in outdoor recreational activities such as picnics by the lake, you might find Kelowna to be a reasonable price. The primary medical facility, for example, is quite large, with over 700 beds, and the number of doctors per capita is sufficient given the city's population density. The dry weather is a major draw for many retirees who come to this city to enjoy their golden years.