Growing the Next Generation of Gardeners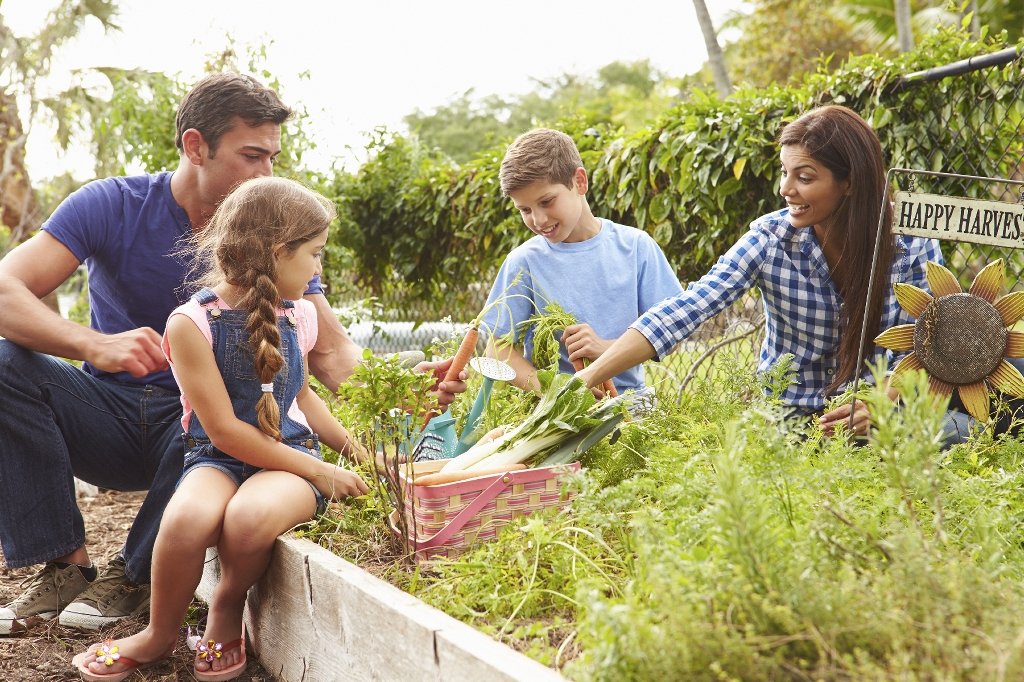 Imagine sitting in your Pullman, Washington apartment quietly watching TV. Suddenly, 8 police officers, guns drawn burst in to search your home. Now imagine their surprise when they discover they've just executed the largest tomato bust in campus history! In all fairness to law enforcement, they don't see too many college students growing tomatoes in their closets with high power grow lights. Two students, a civil engineer, and a business major found out first-hand just how surprised people are to see young people growing vegetables. It often seems the younger generations don't have much interest in gardening.
Certainly there is a common perception that younger generations, everyone since the baby boomers, show more interest in video games and the virtual world than digging in the dirt.  It seems that gardening skipped a generation.  As food sources became more prevalent and less expensive, vegetable gardening became more of a hobby than means of survival.  At the same time, many women entered the workforce and no longer had the time or interest in planting a garden. The extent of gardening in many households consisted of mowing the lawn and controlling weeds. Generations X and Y are products of what I would call the Roundup Era. If they are fortunate enough to have neighbors or grandparents with a garden, some children learned to appreciate fresh home-grown food. Many, however, do not know from experience that fresh tomatoes don't taste like cardboard.
Aside from the flavor of home grown food, many people have not experienced the joys of nurturing and caring for a living thing; or the satisfaction of watching and waiting for something to grow.  It is often not until people start purchasing homes that they start to garden. For those concerned that we are losing the younger generations, there is some hope.  New converts are of the most serious nature and tend to jump in with both feet.
Nearly every new gardener I know relates their interest to memories of their grandparent's gardens. Only a few were lucky enough to grow up with gardens of their own.  Once exposed, however, the gardening bug is easy to catch. I've heard people discussing their gardens and sharing information at parties, BBQ's, restaurants and at work.  For years, my company employed outstanding high-schools students after school and for the summer. At first they did not have any interest in gardening but became more interested as they learned more. Several college students came back while in college to purchase seed starting supplies and grow lights for their dorms and apartments. Luckily, none of them were greeted by an arsenal of search-warrant bearing officers.
Many schools are not incorporating gardening into their curriculum. A sad truth because not only do children love to garden, they learn important life skills at the same time. Children learn about biology, health and nutrition as well as how to follow instructions and do math.  While many schools do not recognize the value of a gardening program, schools in California are an exception. The California Department of Education has a "Garden in Every School" program. Many schools and school districts throughout the country are now following suit.  Recently a teacher in an inner city school in Chicago told me about her horticulture program targeting at-risk youth. As the only teacher running the program, she was under staffed and under- funded, yet her efforts made a difference in many students' lives.  She said many of her students were in gangs or at risk of joining them. While she may not see instant results, she says many of her students come back to tell her the horticulture class changed the course of their lives.
School programs are wonderful for kids, but nothing beats time in the garden with parents or grandparents. Last year, I spoke with a father who purchased a greenhouse for his back yard. He told me his 12 year-old daughter didn't like to eat anything healthy, so he was buying a greenhouse to teach her how to like fruit and veggies.  He said he was sure that once she helped him plant, she couldn't help but learn to like fresh food.  His first crop was strawberries because that was something she would eat.  His next crop was going to be tomatoes grown upside down in a Topsy Turvy.  If he has success with those two crops there are many more to try, including white tomatoes and purple carrots. Who could resist growing and eating those?
Last year, during an Earth Day Event, we held a child's gardening clinic. We were not sure if many kids could come, but we were pleasantly surprised. Several parents told me they came to see us specifically because their kids wanted to learn more about gardening.  We knew the event was a success when a young boy loudly declared, "I L-O-V-E THIS PLACE!" after viewing a lima bean sprouting demonstration. His enthusiasm was contagious as many adults then came to see the demonstration themselves.
There are many fun gardening related products for kids ranging from mini-themed terrarium gardens, to spider web frames to mini greenhouses kids can play and grow in.  Just starting seeds is enough to get some young gardener's hooked.
Some ideas of fun projects for kids include:
Germinating Lima beans (See instructions below)
Propagating cuttings in clear gel cups (See instructions below)
Creating a fun grass head (See instructions below)
Planting sunflower seeds
Starting a worm bin
While it seems unlikely that college students will be growing tomatoes in their dorm room en masse, perhaps it will become common enough not to elicit the attention of law enforcement. If enough kids are exposed to gardening at a young age it's much more likely they will continue to reap the rewards into adulthood.
Projects To Try With Kids
These are three fun projects to try with kids. They are easy to do and will take between a few days and several weeks to grow.
Germinating Lima Beans
This is fun and takes only a few days. You will need peroxide, lima beans, paper towels, a small reusable plastic bag and a few dry lima beans. To prepare the beans, dip them in hydrogen peroxide then soak overnight. Once the beans are soaked, simply place a few beans between a moist paper towel and place in the plastic bag.  Put the bag in a sunny location. Do not let the paper towels dry out.  Spray with a spray bottle to keep hydrated. From here there are a few options. Check the beans each day and note their progress.  Measure the length and observe the changes to the seed. Start one or two seeds each day for a week to two weeks. At the end of the week, open each bag to see each day's growth at once.
Propagating Cuttings in Gel Propagator Packs
Gel Propagator Packs look like pudding cups, but they contain rooting gel. The gel provides the plants taken as cuttings the stability they need and the hydration to develop roots.  What is unique about the gel is that you can see the roots as they form. Coleus and geraniums are two excellent plants to root because they have a high success rate and will grow visible roots quickly.
Creating a Fun Grass Head
This project may require a bit of shopping as some items may not be in your home. You will need: knee-high nylon stockings with a sandal toe (note: a reinforced toe will work but will not look as nice), 6" of thick cotton string or cording, rye grass seeds, small rubber bands (mini hair bands work well), pipe cleaner or ½" piece of string. Coco fiber or water retaining potting mix, glue gun or gorilla glue.
Make the Head
Assemble the tools in one place. Turn the stocking inside out and place it over your hand leaving several inches slack at the top by the toe.  Make a form with your hand like you are gripping the ball. Push the top few inches into the space between your fingers and your palm. Fill the pocket with a small amount of rye grass seed. Cover the rye grass seed with moist coco fiber. Use your fingers to lightly stretch the nylon fabric allowing you to overstuff the top area to create a larger head.  Make sure the material is packed tightly, but do not compress, to ensure the seeds do not migrate away from the toe area which will become the top of the head.  Fill until you have the desired shape and size.  Use the finger of your free hand to poke a hole in the coco approximately 1 1/2" long and insert the cotton cord. Roll the rest of the nylon over your hand and secure tightly with a rubber band.
Make the Face
While being careful not to displace the seeds, form ears and a nose by pinching material in the nylon and gently twisting to create the desired shape. Once you are satisfied with the shape, place a small rubber band over the twisted nylon to hold the shape in place. Now you are ready to glue on some eyes and a mouth. Pipe cleaner or string works well for the mouth. Hot glue holds well and multi-purpose glue will work too but it won't hold as long.
Plant the Grass Head
Simply place the grass head in any cup or jar which supports the head. A clear container will allow you to easily see the water level, but nearly any cup or container will work as long as the top ¾ of the head is above the lip of the container.  Forcing vases work nicely.  Fill the cup so the water nearly reaches the bottom of the grass head, making sure the wick is fully covered. Set your new grass head in a sunny window. You will start to see grass growing in about a week and then water as needed.
Michelle Moore is the General Manager of the Greenhouse Catalog where she has worked with greenhouses for 20 years. Michelle writes and lectures about greenhouse gardening as an Oregon State University Master Gardener and member of Garden Writers Association. Michelle is a Fulbright Scholar and earned an International MBA from Thunderbird, School of Global Management.
Want more information? Read these articles:
Bucket Gardening in a Greenhouse
Creative Seed Starting with Newspapers to Plastic
When Bigger isn't Better: Rethinking Healthful Eating

Tips to Pet-Proof Your Garden
Cats are delightful, but they can also be destructive. If you're wondering how to keep cats away from houseplants, you're not alone. As cat owners, we love our pet's mischievous blunders—until their curiosity results in shattered glass, messy spills, or entire shelves raining down.
Since indoor plants can be toxic to cats, many pet owners find it easier to sacrifice their lively green decor. But if you have just about given up, you should know that cats and plants can coexist.
Though your cat may fight your plant, eat it, dig up its soil, or even use it as a litter box, there are ways to stop them.
We will teach you how to protect plants from cats, but first, it helps to know why your cat wants to destroy your plants in the first place.
Why Your Cat Keeps Getting Into Your Plants
There are several reasons cats get into plants, from how they taste to curing boredom. But if you can determine what motivates your cat, it will be easier to stop them from turning your next plant to shreds.
Whether your cat is fighting, eating, digging, or going to the bathroom in your plants is your first clue.
Your Cat May Like the Taste or Digestive Boost
If you're wondering why cats eat plants because your cat craves yours, there are instinctual reasons behind their behavior.
For one, cats tend to explore items by putting them in their mouth because it provides sensory data. But if that item tastes good, there is nothing to stop them from going back for more.
Another possibility is that your cat's instincts tell it to eat your plants to aid digestion. Wild cats often eat grass for the extra fiber, so your cat may be attempting to ease a stomach ache if their food or hairball isn't doing them any favors.
Important: Even if your cat doesn't eat plants, only decorate with non-toxic varieties. Some plants are poisonous to cats, and it's never worth the risk.
When you buy plants that are safe for your cat to eat, ensure that they don't eat too much, and use the tips below for keeping cats out of plants altogether. Any plant can upset your kitty's tummy if they overeat it. Contact your veterinarian immediately if your cat exhibits any of the following signs:
Sneezing
Coughing
Gagging
Vomiting
Decreased appetite
Pawing at their nose or mouth
Plants Bring Out Your Cat's Inner Hunter (or Huntress)
Cats come from a long line of ferocious hunters that fought and killed to survive, and some cats still perceive themselves that way. It's why they love to attack toys—and sometimes your toes.
To some cats, your plants look like great victims. Even the gentlest movement can be enough to encourage an attack.
Your Cat Might Be Bored
It is also possible that your cat may first get the urge to hunt or play, and your plant is the best opponent around.
Cats are considered low-maintenance compared to dogs, but they need just as much entertainment to stimulate their brains and encourage healthy behaviors. If a cat is bored, it may experience pent-up energy and frustration. Sometimes, this results in acting out or taking it out on your plants or other belongings.
Why Do Cats Dig In Plants?
Perhaps your cat is more of a digger than a fighter, and you often come home to uprooted plants and dirt scattered across the room. This behavior traces back to the fact that digging is an instinct for cats, as it is for many animals.
If your cat also uses your plants as a bathroom, the digging is instinctual to cover up their scent. In this case, the problem stems from them wanting to use your plants as a bathroom.
Your Cat Likes Your Plants More Than Their Litter Box
Litter boxes are designed to appeal to a cat's bathroom needs. Their instinct for privacy—and to dig and cover up their business—is why litter boxes look and function the way they do. However, if your cat is unsatisfied with their litter box, they will choose to do their business elsewhere.
If your cat uses your plants as their personal bathroom, start by consulting with your vet. If there isn't a medical cause, the problem is probably due to an unsatisfactory litter box situation, and you can refer to the section "Litter Box the Right Way" below.
How to Keep Cats Out of Plants
Now that you know why your cat has made enemies with your plants, you know it's not out of pure malicious intent. Still, you might be wondering how you can duel with a cat's nature.
Here's what you can do to enjoy the serenity of having houseplants and the adventure of owning a pet cat all at once.
Make Your Plants Unappealing to Your Cat
One of the best methods for keeping cats away from plants, regardless of their motivation, is to make the plants unappealing to them. If your cat hates the taste or smell of your houseplants, they are more inclined to stay away.
Smells and tastes that are repulsive to cats include citrus, certain spices, and coffee grounds.
To make your plants less appetizing, try mixing water with juice from a lime, lemon, or orange and spraying it over your plants. You can also sprinkle your plants with chili powder, cayenne, or black pepper. If you're wondering how to stop cats from digging in plants, cover the soil too.
You can also buy spray to keep cats from eating plants; these sprays are made with distasteful ingredients for furry friends.
When using this method, reapply repellents after watering plants.
Cats also naturally dislike certain plants, like rosemary and lemon thyme, but you should check with the ASPCA before buying any plant. Some articles on how to stop cats from eating plants recommend the Scaredy Cat Plant—aptly named because it repels cats—but some research reveals that this plant is sometimes called dogbane, which is poisonous to cats.
Important: Never use citrus essential oils to protect plants from cats. Although they emit a strong scent, essential oils can be toxic to cats. We also recommend checking with your vet before using any homemade or store-bought cat repellent sprays.
Place Your Plants Out of Reach
If your cat can't reach your plants, they will have a hard time getting into trouble.
One option to keep plants away from cats is to place them high up on a shelf or hang them out of reach. When employing this method, keep in mind what your cat can do. Most cats are excellent jumpers and can rebound off nearby objects when determined. You'll want to make sure that your cat has no way to access each plant.
Another option is to use a plant cover for cats. You can enclose your plants in a cage, fish tank, or terrarium, but you'll want to ensure your cat can't knock it over or paw the lid off.
★ Important: Even with plants out of reach, never buy toxic plants. It's better not to risk it if your cat is feeling extra capable one day, you forget to put the lid on your tank, or anything else happens.
Cover Plant Soil to Protect from Digging Cats
If you have a digger on your hands, one way to deter cats from plants is to cover up your plants' soil. There are several creative ways to go about this.
Covering the soil around the base of your plants with aluminum foil is a popular recommendation because cats don't like the feel of foil. Mesh is another option.
If the aesthetic of foil or mesh isn't for you, you may consider more decorative options like rocks, stones, or shells. Just be sure to use heavier stones or a thick layer to prevent your cat from knocking them out of the pot.
Train Your Cat
It's possible to train pet cats just like you would a dog, but it takes time and patience. For this option to work, you need to be consistent and fast. Speed is essential so that your cat can connect their actions and the reward or punishment.
If you are home a lot and willing to commit to their training, you can teach your pet to leave plants alone or engage in a different activity when they want to play with them.
Bonus: Knowing what motivates your cat helps. For instance, treats or pets make a better reward based on whether your fur baby is food or affection motivated. The same goes for punishment; some cats are more deterred by a spray bottle, while others have a stronger dislike for loud noises.
Give Your Pet Their Own Plant
The whole point is to protect indoor plants from cats, so why should you willingly give them a plant to play with? Giving your cat their own plant may satisfy their plant-related instincts, so they aren't as desperate to mess with yours.
To effectively use this strategy, you will want to train them to play with their plant any time they try to get into yours.
Cat grass is a popular choice for this strategy because it's non-toxic, has all the plant traits that call to a cat's instincts, and can even aid your cat's digestion while providing extra niacin and B vitamins.
Although cat grass is non-toxic, it's still important to monitor your cat's consumption of any plant and talk with your vet first.
Catnip also comes from a plant, but your cat may love catnip a bit too much for it to be a great choice.
Bonus: If your vet approves of this method, plant your pet's new friend in an unbreakable plastic pot. You don't want to have to clean up shattered pieces or risk an injury when your cat gets too excited.
Litter Box the Right Way
There are three factors to consider when it comes to providing the right litter box situation for your cats:
Cleanliness
Availability
Size
In terms of cleanliness, cats need their litter box cleaned once a day. If it occasionally slips your mind, you can set a reminder on your phone.
Availability is about how easy it is for your cat to access their litter box at any given time, and it's important to note that cats don't like to share. The Pet Health Network recommends always having one more litter box than you have cats (# of cats + 1). Therefore, if you have one cat, you should have two litter boxes; if you have two cats, you should have three litter boxes.
If you have a multi-story house, it can also help to provide a litter box on each story, especially when there are plants around.
Lastly, your litter boxes should be large enough for your biggest cat to use the bathroom comfortably. Get a box as long as your cat, measured from the tip of their nose to the tip of their tail when fully extended.
If any one of these three factors isn't up to par, your cat may claim a potted houseplant as their preferred place to go.
Protect Your Cat From Boredom
If your cat attacks your plants out of boredom, the best way to stop them is to tackle the problem at the source.
Begin by creating a playful environment that stimulates your cat so they have something to do even when you're not home. Interactive toys and cat trees are a great place to start.
As a bonus, providing your cat with mental and physical activities is also great for their health.
Your Fallback: Keep a Cat-Free Plant-Haven
Have you tried all the methods above, and nothing is enough to stop your little troublemaker? If plants bring you happiness, you have an option to fall back on: the cat-free plant room.
Creating this room is as simple as putting all your plants in one room and keeping the door shut to keep cats out. Consider picking a room with a decent amount of natural lighting. You may even have other items that could benefit from a cat-free zone.
Talk With Your Vet Before Changing Your Cat's Lifestyle
Before trying the tips in this article, we advise talking with your vet about the changes you're considering. If your cat is exhibiting behavioral issues or begins to, there's a chance they may have a stomach bug or other medical issue to prioritize.
Once your methods are vet-approved, only bring cat-friendly plants into your home. Even when keeping plants away from cats, it's best to play it safe when it comes to the smaller members of your family.