The Insufferable Plight of a New Gardener
I have a confession to make. I work for a greenhouse company and sell greenhouses and greenhouse supplies. I write articles for our company blog and now I'm writing a column in a reputable industry magazine.
But I Don't Have a Garden
In fact, I've not had the greatest success in growing much of anything. My houseplants are generally in a troubling state of despair from either light starvation or thirst. I've built dozens of greenhouses of all sizes and in all types of climates. I can advise anyone on how to properly heat, or cool, or ventilate their greenhouses. I can advise you as to what size structure and what equipment to put in it. But when it comes to growing anything, I'm basically like a five year old that wanders around the end of the aisle in the grocery store and comes back to find that Mommy or Daddy is two aisles over.
The reason I'm sharing this bit of information is twofold. One is honesty; I just want to be upfront about what I personally know and don't know with people who may want to ask my advice. The other is much more practical.
This year is seeing an enormous leap in the number of people turning over Earth in their backyards and planting gardens. Economic and cultural conditions are making the backyard garden a kind of rediscovered art. And, since I became a first time homeowner last fall, I now have the opportunity to plant my own garden. So, I'm going to document my exploits in the hopes that both veteran and new gardeners alike can observe, advise, and even laugh at the trials that all gardeners undoubtedly face in their epic taming of the elements.
From the Ashes Arose a Garden
I have a small yard that is is not really conducive to having a garden. I have about a 35' x 110' lot in which a house and a two car garage sit. The garage is essentially in the backyard, and I struggle everyday when I back out to avoid inflicting severe structural damage to one corner of my home. So really, my usable backyard is only about 20' x 55'. To further complicate matters, there is a fairly large pine tree and a fair sized persimmon tree located in such a way that a significant portion of the yard is shaded for much of the day. There is also a very small, west facing incline at the back third of the yard.
All this is to say that there was really only one place to put the garden: smack dab in the middle of the backyard.  It is the only place that receives the magical minimum of 6 hours of direct sunlight every day. At some point a previous homeowner had put a garden there, and the grass is still quite obviously paying the price for that.
Now, I have a two year old son. And someday, I would like to be able to play catch with him in the backyard, so, this really wasn't a very good option for me. For my needs, I had to think just a little more abstractly.
Back in the corner, behind the garage, there was a yard shed. It looked like it was at least 30 years old, covered in paper fiberboard, and serving no purpose except for feeding the termites. It was also in a perfect spot for a garden, being flat, well drained, and receiving 7-8 hours of direct sunlight per day.
So, being the industrious fellow I am, I tore it down, chopped it up, and will use it for campfire wood this summer. Yes…it was completely as awesome as it sounds.
A Food Snob and Some over Ambition
The space the shed left behind gave me room for about a 12' x 22' garden plus a compost pile. Not a bad trade off really; I lose an eyesore and gain a garden. Only, I have to now choose what to plant, how to plant it, and of course keep it alive so I can reap a bountiful harvest.
Planting the garden is certainly, in part, because I want to save money on fresh produce. But more important for me personally, being a hopeless foodie (some might say snob), is the prospect of incomparably fresh produce. So the crops going in my garden must be delicious and usable in many different types of dishes. They must have a small footprint in the garden because of space constraints. They must have fairly substantial yields and be low maintenance. I am a beginner after all.
So, I immediately ruled out sweet corn, watermelon, and cantaloupe (muskmelon). Our area grows the best of these crops in the whole world, so I don't want to reinvent the wheel here. Plus their space requirements make them less than ideal in my situation.
Once that was settled, I did some Internet research to find out the best types of crops for my area. I also researched final frost dates and the closest university extension. These are both useful bits of information, and you can send soil samples away for testing to the extension in order to determine a fertilizer regimen (which can of course be organic if you so choose). Since I'm pretty sure I could plant Skittles in the loamy, Central Illinois soil and reap a harvest of fruit trees, I don't feel the need to test my soil. I will try to grow this season, and if I experience problems then I will get some testing done.
So, we've settled on the following: herbs of all kinds (basil, dill, thyme, sage, etc.), several varieties of lettuce, peppers, chilis, beets, kohlrabi, leeks, carrots, onions, spinach, tomatoes, alfalfa shoots, and in the fall, garlic. Possibly some fall squash as well.
Now I just have to till the soil and plant my seeds. Let the adventure begin.

Why Should You Consider Planting Spring-Planted Bulbs in Your Garden?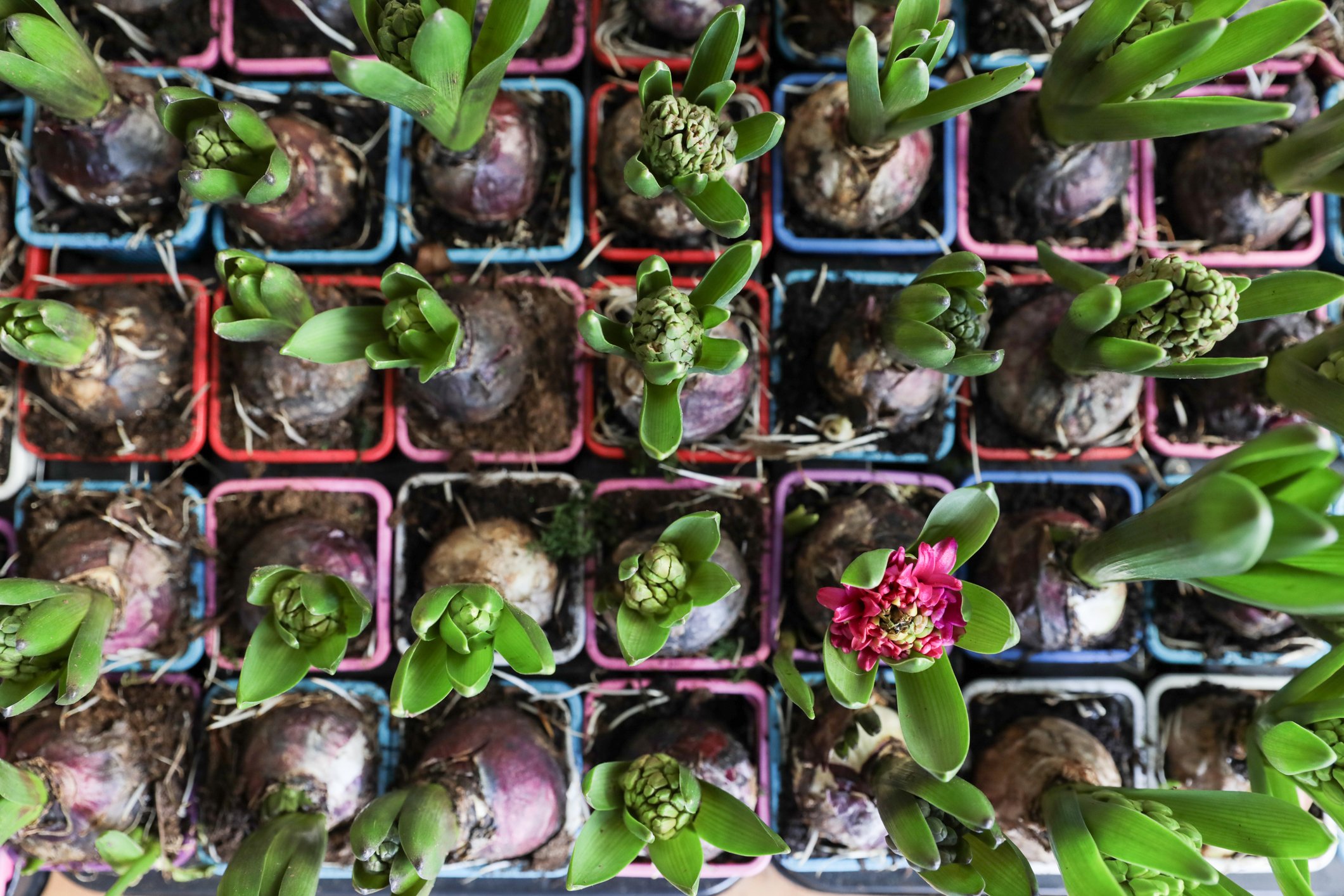 Spring is a great time to plant bulbs in your garden! Not only do they add a pop of color, but they also provide a number of benefits. In this blog post, we'll outline the benefits of planting spring planted bulbs in your garden. We'll discuss what bulbs are, what flowers come from bulbs, how to plant them, when to plant them, and how to care for them. So, go ahead and plant some spring-planted bulbs in your garden this spring!
What Are Spring Bulbs?
Do you love the beauty and colors of springtime? If so, then you should consider planting spring bulbs in your garden. Spring bulbs are a popular type of flower that is planted in the springtime. They come in many different colors and are known for their beautiful blooms. Not only do they add beauty to your garden, but they are also easy to care for.
When selecting spring bulbs for your garden, it's important to choose ones that look good together and have a variety of colors. Some of the most popular types of spring bulbs include tulips (a yellow bulb), daffodils (a blue or purple bulb), crocuses (a white or multicolored bulb), and hyacinths (an orange or yellow flower). When selecting which ones to plant, it's best to choose a mixture so that your garden looks colorful throughout the year.
What Flowers Come from Spring-Planted Bulbs?
There's no better way to add color and brightness to your garden than by planting bulbs. Not only are they easy to care for, but they also come back year after year. When choosing which bulbs to plant in your garden, it's important to consider what flowers you want them to produce. Some common bulbs you can plant include tulips, daffodils, hyacinths, and crocuses. All these bulbs will produce beautiful flowers that will add a touch of color and brightness to your garden. You can also choose to plant other types of bulbs, such as grape hyacinths or lily-of-the-valley bulbs. These plants produce smaller flowers but are very fragrant.
The Advantages of Planting Spring-Planted Bulbs
Do you love the look of brightly colored flowers in your garden, but you don't have the time or energy to tend to them? Planting spring-planted bulbs is a great way to add color and interest to your garden without any of the work. Bulbs are easy to care for and require very little maintenance—all you need is some water and sunshine. Plus, bulbs can be planted in a wide variety of locations, including in pots and containers. This makes them perfect for adding interest to any area of your garden.
Another advantage of planting bulbs is that they are relatively inexpensive. You can buy a large container of bulbs for just a few dollars, and they will last for many years with proper care. Plus, bulb plants are relatively easy to transplant if you ever want to move them somewhere else in your garden. Last but not least, planting bulbs is a great way to add color and brightness to your garden all year long!
How to Plant Spring Bulbs?
Color is one of the most important factors when it comes to garden design, and spring-planted bulbs are a great way to add some extra color to your landscape. Not only are they beautiful on their own, but they also provide a wonderful contrast against the cooler colors that will be in season during the summer. Spring-planted bulbs are easy to plant and care for, and there are a variety of different varieties available that will perfectly complement your garden.
When Should You Plant Spring Bulbs?
With the arrival of spring, it's time to start thinking about planting bulbs in your garden. There are a variety of beautiful bulbs that can be planted in the spring, and they're easy to care for, making them a great choice for someone who wants to add color and interest to their yard without much effort.
Consider the season when deciding which bulb to plant in your garden. Spring-planted bulbs will typically bloom earlier than bulbs planted in the fall, so make sure you choose the right one for your garden. There are a variety of different types of spring-planted bulbs to choose from, so find one that will fit well into your landscaping. With a little planning and effort, you can have a beautiful garden that blooms all year.
How to Care for Spring-Planted Bulbs?
Spring is a wonderful time to plant bulbs in your garden. Here are a few tips on how to get started:
First, be sure to research which types of bulbs work best for your garden and climate. Some popular choices include tulips, daffodils, hyacinths, and crocuses. Once you've selected the bulbs you want to buy, purchase them in advance so that you have plenty of time to plant them in the ground or in pots.
Once you have your bulbs home, it's time to take care of them! Make sure that their soil is moist but not soggy – this is crucial for bulb growth. Water them regularly during dry weather, and be sure not to overwater them, as this can damage their roots. When the flowers start blooming, cut the stems close to the ground so that the bulb will continue flowering indoors. After the flowers fade away (usually around mid-March), allow the foliage (orchids tend not to shed their leaves) to die back naturally. Enjoy your beautiful spring-planted bulbs!
In Short
Spring bulbs are a great way to add color and life to your garden. Planting these bulbs will provide you with beautiful flowers throughout the spring and summer. Bulbs are easy to care for and can be planted in almost any type of soil. Be sure to plant your bulbs in the fall so that they have time to establish themselves before the first frost. With a little love and care, your spring bulbs will thrive and bring you enjoyment for years to come.