June is National Rose Month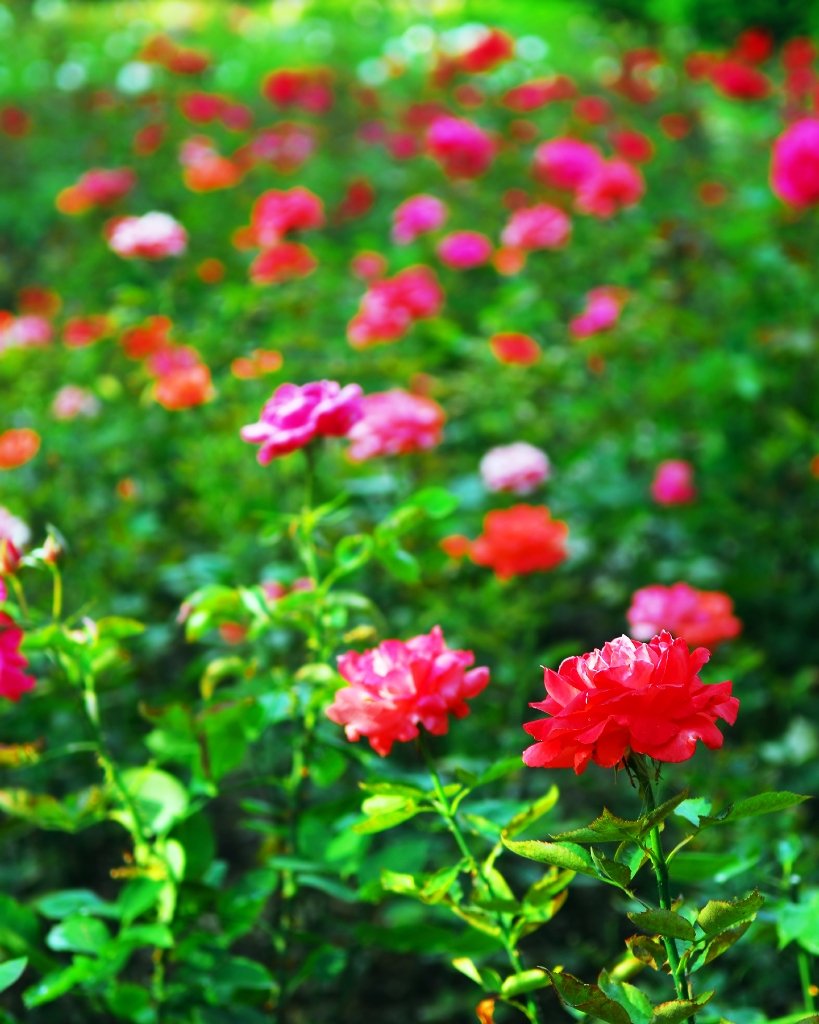 It's National Rose Month, and with good reason. Roses everywhere are blooming now, and rosarians are gathering flowers for the table, blooms for the bride, and bouquets for the bank teller. In climates where winters are cold, the June roses are the first of the season, and there's no more thrilling a time for gardeners whose hobby is roses.
Hybrid tea roses are my favorites. They're the classic florist roses, you know, the ones with one big bloom atop a long cutting stem. The hybrid teas you can grow in your own garden, however, are much better flowers. They last longer in the vase, their foliage is prettier, and chances are, they have a lot more fragrance. If you grow hybrid teas, they're probably your favorites, too. But if you've avoided these wonderful roses because you think they're harder to grow than floribundas and shrubs, you may want to give them another chance.
Hybrid teas definitely have some disadvantages in the garden, but the results are infinitely worth the little bit of extra effort it may take to grow them. Nearly all hybrid tea rose plants are budded. Budding is a form of grafting, and hybrid teas are budded onto a hardy rootstock. Budding is the most reliable way to ensure that the plants propagate successfully in the commercial rose fields, and the best way to ensure consistency in plant growth habit and flower size, color, and substance, in all climates. While some varieties of hybrid teas grow well on their own roots, the vast majority of them will perform best with a hardy rootstock under them.
When roses are budded, a woody knob forms at the graft site which is called the bud union. All of the parts of the plant, from the bud union upward, are those of the rose variety that was budded onto the rootstock. Everything below the bud union is the rootstock. All of the new canes your hybrid tea rose produces will grow from the bud union. This makes the bud union the most important part of the plant, and also the most vulnerable. The bud union must be protected from all sorts of environmental stresses, including winter. Therefore, hybrid teas need some form of winter protection when they're grown in cold climates. A couple of shovelfuls of soil over the crown of the plant will usually do the trick.
Hybrid teas produce fewer flowers over the course of the growing season than do shrubs and floribundas. This is because they grow only one flower per stem, rather than clusters of flowers. Of course, the plant may have several, even many, stems at one time, and the plant will produce many stems over the season, but each stem carries only one
flower. And what a flower it is! The stem's energy is directed toward producing just that one large, perfect flower.
Looking at growth habit alone, hybrid tea plants are usually not as pretty as floribundas and shrubs because they don't spread, but grow tall and upright in order to produce those long, straight cutting stems. I mix a few floribunda plants in with my hybrid teas so the rosebed always looks full and colorful.
Like all everblooming roses, hybrid teas like lots of fertilizer and water. Because the plants grow rapidly all season, they use fertilizer fast so once a week is not too often to apply a good liquid or water soluble fertilizer. Make sure the fertilizer you choose is formulated specifically for roses because it will contain large amounts of the macro-nutrients, nitrogen, phosphorus, and potash, as well as the many micro-nutrients roses need for rapid cell division. Make sure there's lots of organic material in your rosebed soil, but don't rely on organics alone to feed your roses, or they'll starve.
Be sure to deadhead your hybrid teas as soon as the flower is spent. Remove the spent bloom as you would if you were cutting a good flower with a very long stem. A sturdy new stem or two will begin to grow from the point where you cut off the old flower.
You'll be much happier with your hybrid tea roses if you keep the plants pest free, so use a good insecticide and a good fungicide regularly all season.
A perfect hybrid tea bloom is cut just when its two-thirds open. Take a container out to the garden and get the end of the stem in water as soon as you cut it. In the house, re-cut the stem underwater, and remove all the foliage that will be below the waterline in the vase you select. Add a good flower preservative and your rose will last a long, long time.
Ann Hooper is a certified American Rose Society Consulting Rosarian.

A Dream: Retiring in Canada
Introduction
The prime of a person's life is represented by the golden years. If you've put in a lifetime of hard work, responsibility, and adhering to a strict work schedule, you can finally retire to your "cape" and relax in your own home, which need not be in the city where you currently reside. If you have made the decision to relocate for your retirement, you may be looking for the best Canadian city to retire to spend your time in.
Even if you already have a list of preferences for where you want to retire, this list can be a great resource. The adoption of a pragmatic and practical approach when selecting a retirement city can help you enjoy a happy and financially secure retirement.
Everyone has their own set of preferences, priorities, likes, and dislikes when it comes to just about anything and everything. This includes everything from minor details such as a favorite cup of coffee to major decisions such as choosing the right career path. As a result, it is understandable that each individual would have their own ideas about how and where to spend their retirement years.
Fredericton, NB
The city of Fredericton serves as the provincial capital of the province of New Brunswick. Although it is a small city in terms of population for a capital, it is a fortunate mix for retirees. In spite of the fact that the city is not particularly crowded, its status as the regional capital means that it has many amenities that a city of its size does not typically have (though public transportation is not available on Sundays). Real estate prices are low enough that you can afford a home if you have enough savings, which is especially true if you are looking to purchase a condominium.
In addition, the rent is significantly less expensive. It has a humid continental climate and is located on the banks of the river. So, if you like to fish, it could be a fantastic place to settle down in. For a city of its size, the city has a large number of historical buildings and museums, as well as parks and gardens. It also hosts a large number of festivals. The city's largest hospital, which has more than 300 beds and several specialists, as well as a level 3 trauma center.
It's possible that Fredericton will be the perfect place for you if you're looking for a nice, affordable blend of nature and a moderately large city.
Kingston, Ontario
When it comes to living in a city where half of the population is made up of young students rather than old retirees like yourself, Kingston might be the best Canadian city to retire to. Because of its strategic location, it has a long and illustrious history, particularly in the military sphere.
As a retiree, you'd appreciate Kingston's laid-back atmosphere and easygoing pace of life. Almost half of the year, the city is bathed in sunshine. Transport in the local area is efficient, quick, and reasonably priced. One of Kingston's most significant assets, however, may be its world-class medical facilities. Kingston General Hospital is one of the largest hospitals in the province of Ontario and is located in Kingston. Many wonderful places to visit or spend your retirement time in the city, such as Lake Ontario Park and the Museum of Healthcare, which is the only museum of its kind in the country, are available to you. Many outdoor activities are available to you in the city as well, including sailing, fishing, golf, and hiking, among many others.
Burlington, Ontario
There are 115 parks in the small community of Burlington, so getting some exercise and fresh air will not be a problem. Given that it's only about 40 minutes away from Toronto, it's possible that you'll enjoy living in this charming little town if you have family in the city. It has a vibrant creative community as well as a sufficient number of art venues, especially given the size of the city. In addition, the city is very bicycle-friendly.
Even though there is a major hospital in the town, you may need to travel to Hamilton, which is not far away, if you have a serious medical problem. The high cost of living in Burlington is a chink in the city's armor. Even if you decide to rent a place in the city, you may find it to be an expensive place to live. However, if you can find a way to avoid this expense (by living in a co-op or a small house, for example), the city will appear to be quite affordable. Alternatively, you can choose one of the city's retirement homes. In addition, the city offers a diverse range of retirement living options, including active retirement living, assisted living, and home care.
Kelowna, BC
When it happens to come to retirement homes, Kelowna is a bit of a cliche, to say the least. Until the most recent census, retirees accounted for more than 18 percent of the population, which is significantly higher than the national average. This city experiences all four seasons, although housing can be expensive (especially if you try to live near the lake). If you are an oenophile (a fancy way of saying wine enthusiast), Kelowna is the place to be. It's the perfect combination of nature, peace, and the big-city hustle and bustle (especially in tourist season).
If you don't mind living a little outside of the city for cheaper housing, if you enjoy driving and taking part in outdoor recreational activities such as picnics by the lake, you might find Kelowna to be a reasonable price. The primary medical facility, for example, is quite large, with over 700 beds, and the number of doctors per capita is sufficient given the city's population density. The dry weather is a major draw for many retirees who come to this city to enjoy their golden years.