5 Endangered Orchid Species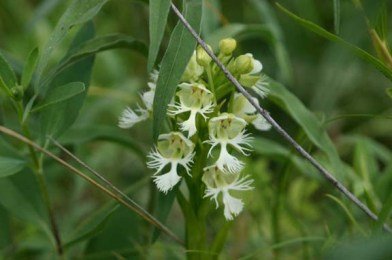 Over the past few decades an exponential number of flora and fauna species have been listed on the endangered species list and, worse yet, the extinct species list. Unfortunately humans have dramatically impacted the environment in a way that, for some species, the damage is irreversible; however, there are many endangered and rare orchids that can still be saved. Knowing what endangered orchid species are, what's causing their rapid decline, and how promoting awareness can help will aid in the re-population of many orchid species.
Platanthera praeclara
The Platanthera praeclara, also commonly known as the western prairie fringed orchid, is an endangered and very rare orchid found in only a handful of states within the Midwest. It's a stunningly beautiful orchid that grows up to three feet tall and features about a dozen white flowers on each stalk. The decline of this unique white orchid is due to human development, brush and forest fires, as well as overgrazing.
Bulbophyllum kupense
This particular orchid is critically endangered due to the clearance of trees and small scale agriculture within its native area. It's found in the Republic of Cameroon (Africa), and currently there is only one known plant on a mango tree within a private garden. There are likely other Bulbophyllum kupense nearby growing naturally, however there needs to be more done to research and identify them for protection and collection.
Cattleya schilleriana
This is a stunning orchid that features beautiful purple blossoms and grows only around 4-5 inches in size. Native to Brazil, this endangered orchid is seeing numbers decline due to habitat destruction and poaching.
Bulbophyllum modicum
This is another species native to the Republic of Cameroon and there have been very few plants recorded which leads some to believe it may be extinct. Three collections of this species have been discovered outside of a town called Buea. The presence of humans, expansion of housing, as well as deforestation has led to the decline and possible extinction of this orchid.
Cypripedium acaule
The Cypripedium acaule, commonly known as the lady's slipper, is a species of orchids that are endangered but are now highly protected. This particular orchid species only produces one bloom at a time – a single pink flower from atop a long stalk. Poaching, habitat destruction, and agriculture have dramatically reduced the population to the endangered levels.
Promoting Awareness
There are countless orchid species that should be placed on the endangered species list; however, orchids are highly underrepresented as a whole. A huge problem with endangered orchids is that not enough identification and research is done on species in the wild. If more research is done, then it would be far easier to see when a species is beginning to decline in numbers which ultimately could help prevent it from extinction overall.
Prevent Poaching
When awareness is raised, appropriate authorities are put under more pressure to crack down on poaching and illegal activities. This allows orchids to grow and flourish naturally in the wild without human intervention.
Raise Money
Orchids play a vital role in their surrounding environment, and their decline in nature is systematic of the effect humans are having. When awareness is raised, more money will be channeled into research and conservation for rare and endangered orchid species.
Increase Research
Research is vital for the preservation and cultivation of endangered orchid species across the world. Unfortunately many orchids live in an intense environment (such as the Paphiopedilum armeniacum which grows on cliff edges) which makes research costly and difficult. When more awareness is focused on endangered orchid species, the amount of funding placed into research also increases.
Cultivate At Home
There are many orchid species which simply are not flourishing in the wild either due to natural causes or to human development. Species such as the American ghost orchid will often go years without blooming because they're not exposed to the exact environment they require. This leads to slow growth and re-population – something that can be done within greenhouses and in homes.
With awareness raised, orchid owners can then begin to cultivate these rare and endangered species at home and within greenhouses to help boost their numbers and ensure that various species do not go extinct.
Mary Ann Berdak is a Garden & Greenhouse contributing editor and the publisher of OrchidCareZone.com an online destination for orchid growing tips and advice. For more information on caring for your newly purchased plants, download her totally free report, "The 5 Biggest Orchid Mistakes (and How to Avoid Them!)", at OrchidSecretsRevealed.com.
Want more information? Read these articles:
5 Easy Steps to Create the Perfect Environment for Ondontoglossum Orchids
5 Potting Tips Your Vanda Orchids Will Love
5 Warning Signs that Your Orchids Could be in Trouble
Choosing the Correct Greenhouse Cover for Orchids
How to Avoid 8 Dangers with Oncidium Orchids

A Dream: Retiring in Canada
Introduction
The prime of a person's life is represented by the golden years. If you've put in a lifetime of hard work, responsibility, and adhering to a strict work schedule, you can finally retire to your "cape" and relax in your own home, which need not be in the city where you currently reside. If you have made the decision to relocate for your retirement, you may be looking for the best Canadian city to retire to spend your time in.
Even if you already have a list of preferences for where you want to retire, this list can be a great resource. The adoption of a pragmatic and practical approach when selecting a retirement city can help you enjoy a happy and financially secure retirement.
Everyone has their own set of preferences, priorities, likes, and dislikes when it comes to just about anything and everything. This includes everything from minor details such as a favorite cup of coffee to major decisions such as choosing the right career path. As a result, it is understandable that each individual would have their own ideas about how and where to spend their retirement years.
Fredericton, NB
The city of Fredericton serves as the provincial capital of the province of New Brunswick. Although it is a small city in terms of population for a capital, it is a fortunate mix for retirees. In spite of the fact that the city is not particularly crowded, its status as the regional capital means that it has many amenities that a city of its size does not typically have (though public transportation is not available on Sundays). Real estate prices are low enough that you can afford a home if you have enough savings, which is especially true if you are looking to purchase a condominium.
In addition, the rent is significantly less expensive. It has a humid continental climate and is located on the banks of the river. So, if you like to fish, it could be a fantastic place to settle down in. For a city of its size, the city has a large number of historical buildings and museums, as well as parks and gardens. It also hosts a large number of festivals. The city's largest hospital, which has more than 300 beds and several specialists, as well as a level 3 trauma center.
It's possible that Fredericton will be the perfect place for you if you're looking for a nice, affordable blend of nature and a moderately large city.
Kingston, Ontario
When it comes to living in a city where half of the population is made up of young students rather than old retirees like yourself, Kingston might be the best Canadian city to retire to. Because of its strategic location, it has a long and illustrious history, particularly in the military sphere.
As a retiree, you'd appreciate Kingston's laid-back atmosphere and easygoing pace of life. Almost half of the year, the city is bathed in sunshine. Transport in the local area is efficient, quick, and reasonably priced. One of Kingston's most significant assets, however, may be its world-class medical facilities. Kingston General Hospital is one of the largest hospitals in the province of Ontario and is located in Kingston. Many wonderful places to visit or spend your retirement time in the city, such as Lake Ontario Park and the Museum of Healthcare, which is the only museum of its kind in the country, are available to you. Many outdoor activities are available to you in the city as well, including sailing, fishing, golf, and hiking, among many others.
Burlington, Ontario
There are 115 parks in the small community of Burlington, so getting some exercise and fresh air will not be a problem. Given that it's only about 40 minutes away from Toronto, it's possible that you'll enjoy living in this charming little town if you have family in the city. It has a vibrant creative community as well as a sufficient number of art venues, especially given the size of the city. In addition, the city is very bicycle-friendly.
Even though there is a major hospital in the town, you may need to travel to Hamilton, which is not far away, if you have a serious medical problem. The high cost of living in Burlington is a chink in the city's armor. Even if you decide to rent a place in the city, you may find it to be an expensive place to live. However, if you can find a way to avoid this expense (by living in a co-op or a small house, for example), the city will appear to be quite affordable. Alternatively, you can choose one of the city's retirement homes. In addition, the city offers a diverse range of retirement living options, including active retirement living, assisted living, and home care.
Kelowna, BC
When it happens to come to retirement homes, Kelowna is a bit of a cliche, to say the least. Until the most recent census, retirees accounted for more than 18 percent of the population, which is significantly higher than the national average. This city experiences all four seasons, although housing can be expensive (especially if you try to live near the lake). If you are an oenophile (a fancy way of saying wine enthusiast), Kelowna is the place to be. It's the perfect combination of nature, peace, and the big-city hustle and bustle (especially in tourist season).
If you don't mind living a little outside of the city for cheaper housing, if you enjoy driving and taking part in outdoor recreational activities such as picnics by the lake, you might find Kelowna to be a reasonable price. The primary medical facility, for example, is quite large, with over 700 beds, and the number of doctors per capita is sufficient given the city's population density. The dry weather is a major draw for many retirees who come to this city to enjoy their golden years.