Turning Tomato Growing Upside Down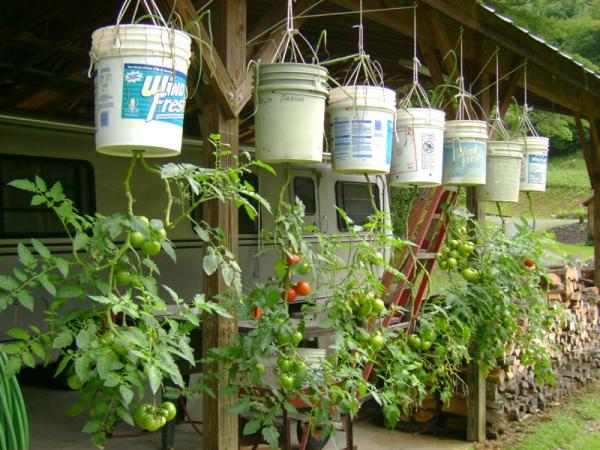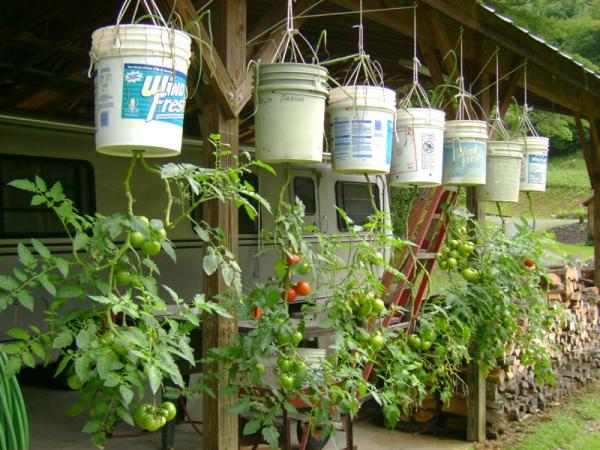 Growing tomatoes upside down not only saves garden space, it also reduces insect problems and increases yields. It's also a great way to utilize the upper space in a greenhouse or garden. This technique has other advantages in that there is no need to use cages or other means to support the vines. Hanging tomato plants have a much lower incidence of pest infestation than their traditionally grown counterparts.
Plastic 5 gallon buckets work great for this, but they need to have lids like the buckets in which contain paint or pool chlorine tablets. Restaurants generally are able to provide these buckets, because many food items are delivered in them, or they can be purchased at most hardware stores. Make sure to wash the buckets with a natural dish detergent and hot water prior to beginning this project. You can also change the color of the buckets by painting them with spray paint designed specifically for plastic that is available at most hardware
stores.
Step 1
Turn the bucket upside down and use a utility knife to cut about a 3 inch hole in the bottom of the bucket. For this step you can also use a drill with a hole cutting bit used for installing door knobs to cut the hole.
Step 2
Turn the bucket over and cut a 3 inch hole in the center of the lid.
Step 3
Remove the lid and place several layers of newspaper in the bottom of the bucket to cover the hole.
Step 4
Fill the bucket with 40 lbs of premium potting soil mixed with the directed amount of four month time release fertilizer, or an appropriate organic substitute like crab meal. Vermiculite or Perlite may be added in place of 50% of the soil to improve water retention, which is especially helpful in hot or dry climates. For an even better soil environment, add a few worms before closing the bucket. Place a piece of screen on top of the soil and secure the lid.
Step 5
Turn the bucket upside down and cut two slits in the newspaper then dig out a small cavity and plant the tomato plant inside. It is best to start with a small tomato of around 10 inches tall and bury 80% of the plant to stimulate root growth.
Step 6
Grow the plant right side up until it reaches 10 inches above the bucket and then it is ready for hanging. It is important to have a secure fixture for hanging the bucket and to hang it at a sufficient height to accommodate plant growth, generally at least six feet high. T shaped poles that are sold for clotheslines and cemented into the ground make excellent hanging structures and may hang two to four buckets each.
The tomato plants can be watered and fertilized through the top holes and will take much less water than those grown on the ground due to the closed container. Upside down tomatoes are sure to turn some heads in the garden and in the kitchen at harvest time.
John Berends is a Garden & Greenhouse contributing editor.
Want more information? Read these articles:
Growing Great Hydroponic Tomatoes
How to Grow Juicy and Tasty Tomatoes
Ten Planting Tips for Healthy Tomatoes

Integrating Greenhouse Elements into Roofing Design
Step onto the future pathway of sustainable living by integrating greenhouse elements into your roofing design. You might be asking, what does that mean? Let's dissect it. A basic understanding of roofing design combined with the principles of a greenhouse can lead to an array of environmental and economic benefits right above your head.
Understanding the Greenhouse Concept
Dive into the world of greenhouses. In essence, a greenhouse captures the sun's radiation, using it to create a warmer environment that supports plant growth year-round, despite outside weather conditions.
The same notion can be applied to houses through smart residential roofing services. Imagine roofs performing like greenhouses – conserving energy and contributing towards creating a comfortable indoor climate, regardless of the outdoor temperature extremes.
Breaking Down Greenhouse Elements
Crystalize the thought as you dissect the concept further. It primarily involves transparent roofs, insulation materials, and heat-absorbing surfaces. Transparent materials like glass or polycarbonate allow access to sunlight.
Insulation materials prevent escaping heat while dark, heat-absorbing surfaces collect solar energy during the daytime and release it during cooler periods.
The Science Behind Integration
Integrating these elements into your existing roof is pure science at play. By managing solar radiation penetration and understanding the theory of microclimates, you can implement this concept effectively.
There are plenty of ways to make greenhouses energy efficient and to integrate elements into roofing. Moreover, plants play a vital role in improving air quality, making them an integral aspect of such designs.
Comparative Analysis of Roofing Materials
Your next move is figuring out which materials are best for these setups. Consider the battle between glass and polycarbonate roofs: while the former offers better clarity and longevity, the latter is lighter and safer as it's virtually unbreakable. Similarly, different insulating materials come with their unique benefits and challenges.
Benefits of Greenhouse Roofs
You'll find that there's a list of advantages waiting for you when incorporating greenhouse components into your roofing design. Besides a significant rise in energy efficiency, you'll notice a decrease in your environmental impact.
When you understand rooftop gardens you will get to enjoy the many benefits associated with them. Your health and well-being may flourish too, thanks to better air quality and regulated indoor temperatures.
Overcoming Potential Challenges
Like every venture, it's not without its challenges. Fear not though, they're surmountable. Think about safety aspects, maintenance costs, and managing light penetration. Shatterproof materials can enhance safety and durability while understanding the full extent of maintenance required enables planning for the associated costs.
Innovative Designing Approaches
Forward-thinking designs don't stop at the basics. Consider integrating solar panels or even cultivating rooftop gardens into your concept. Combine materials to add further insulation or aesthetic appeal. The sky is the limit when it comes to experimenting with designs.
Ensuring Optimal Functionality
A well-functioning roof doesn't happen by accident. Correct installation techniques ensure longevity while regular maintenance practices preserve its optimum functionality. Over time, making needed upgrades can combat wear-and-tear effects, keeping it efficient and effective.
Regulations and Building Codes
Legalities are part of the process so understanding local laws is essential. Compliance with building codes ensures you're on the right side of the law. Sometimes, advocating for changes in regulations might just be the way forward, making sustainable living more commonplace.
Future Projections for Greenhouse Roofs
Industry growth hints at future developments that should get you excited. Anticipate technological improvements that will revolutionize greenhouse roofs even more. Demand for such modernized concepts is projected to escalate as individuals like yourself seek more sustainable living options. Modern roofing solutions such as cool roofs reduce carbon footprints.
Additional Considerations
Before you march forward and embrace the future of residential construction, there are a few additional considerations to heed. While all these pros make integrating greenhouse designs into your roof sound enticing, remember it's not one-size-fits-all.
Geographical Factors
Be mindful of the geographical location of your home. Certain climates may be more conducive to greenhouse roofs than others. A transparent roof in a region with extreme sunshine might lead to overheating concerns while in less sunny regions, you'll need to extract every bit of sunlight possible.
Energy-efficient roofs are no longer a distant dream but a very viable reality that is rapidly becoming mainstream in residential construction space across the globe.
Financial Outlay
The financial aspect should also factor into your decision-making process. Even though the upfront cost may seem elevated, weigh that against expected energy savings over the life of the roof. A quarter of your heat is lost through the roof.
Forecasting these figures can help make a long-term economic decision. Remember, investing in a greenhouse roof doesn't just impact you, but also plays a small part in saving the planet for future generations.
Lastly…
Embrace the future of residential constructions and pave a path to sustainable living by integrating greenhouse elements into your roofing design – offering a trifecta of benefits including energy conservation, environmental impact reduction, and overall health enhancement.
Take a step towards making your home a harmonious integration of man-made structures and nature, reflecting the perfect example of sustainability.