The Frightening but Helpful Potato Bug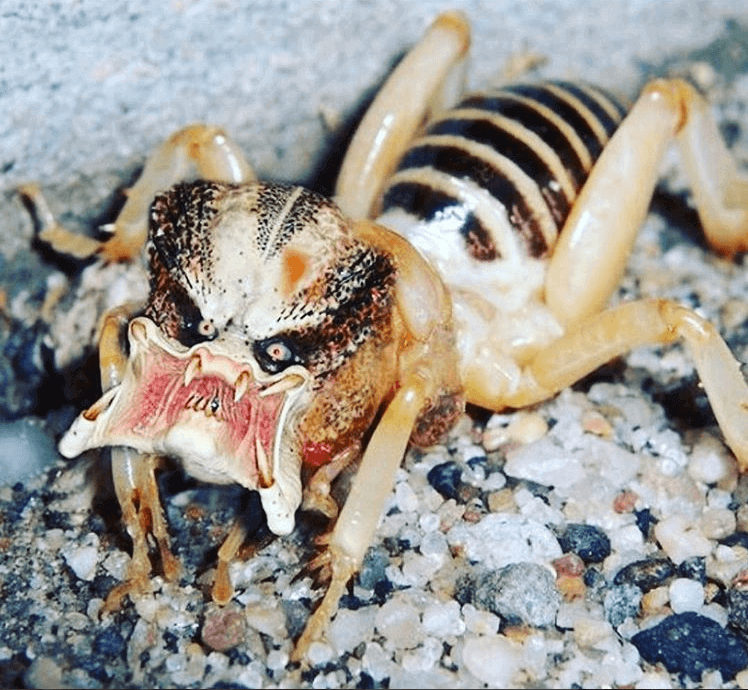 Author: Michael Potter
Let's be honest, potato bugs are not cute. In fact, they have a variety of names that reflect just how horrible and disgusting Jerusalem crickets or potato bugs are. But just because they look terrifying doesn't mean they are anything to be afraid of. This article tells you how to spot a potato bug, where to find them, and what to do when you encounter one. It also answers the age-old question: are potato bugs poisonous or dangerous? The potato bug does have a purpose so you might want to think twice about eliminating it.
What Are Potato Bugs?
The potato bug is also known as the Jerusalem cricket (even though it is not a cricket and isn't from Jerusalem). It is also called the child's face, skunk bug, skull insect, old bald-headed man, devil's spawn and earth baby.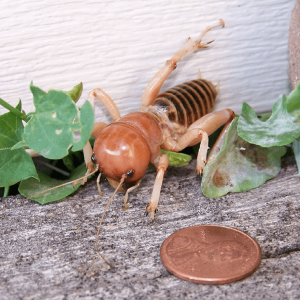 They are a member of the Stenopelmatidae family and are different from the Colorado potato beetle. The name potato bug is very misleading as they are not bugs but insects and have no particular fondness for potatoes. They are also not crickets, but more closely related to grasshoppers and have no logical connection to Jerusalem. They do not chirp or rub their legs together but do hiss and drum on their abdomens to make noise and attract mates.
Potato bugs are around two inches long with black and orange banded bodies that look like engorged wasps. They have a red, human like heads and antennas that look like long pieces of thread. The creep factor is not helped because the potato bug has a massive head and small black eyes that look childlike. They have no wings and instead hobble around awkwardly on translucent, spider like legs and have been known to hop when frightened and are frequently mistaken for giant velvet ants. Basically, the potato bug is the Frankenstein's monster of the insect world.
What Potato Bugs Eat
Potato bugs mainly eat organic material like plants, crops, roots, and tubers. Unlike the name suggests, they have no preference for potatoes but love any underground organic material. They eat almost any fruits or vegetables by sucking the plant's juices from the undersides of leaves and stems. This can stunt the growth of a plant as a result of the toxin in the potato bug's saliva being transferred to the plants. When the potato bug does not have access to dead or decaying organic material it is more likely to go after the healthier plants like the ones in your garden. If food is exceptionally scarce potato bugs will eat other insects and even other potato bugs alive or dead.
Where They Live
Potato bugs are primarily found in the Western United States and parts of Mexico. They are nocturnal insects which spend most of their time underground. Potato bugs have very strong jaws and legs that allow them to burrow into the soil. They prefer moist conditions with a lot of organic material. They prefer areas of the garden and flower beds where plants have started to decay. They are frequently found when the soil is being tilled for winter or spring plantings. As the soil gets moved around, it disturbs the bugs and brings them to the surface. Check for any bugs and remove them before planting.
Do the Bite and Are they Dangerous?
A potato bug will do everything it can to avoid you, but if you persist and threaten them, you can expect a bite. This bite, while painful, typically will not need treatment and should only hurt for a few minutes. To avoid getting bit, you should keep an eye out when gardening and always wear a good pair of gloves just in case.
Are Potato Bugs Poisonous?
While the potato bug does have toxin-laced saliva that destroys plants, it is not dangerous to humans. They are not poisonous in any way, and the worst you will get from these guys is a painful bite when threatened. Potato bugs do emit a foul smell to deter predators when threatened, but with these guys, you need only worry about their jaws.
Are They Aggressive?
Jerusalem crickets are a classic example of the pest being more afraid of us than we are of them. They prefer being underground anyway and will shy away from humans if spotted. Though they might look tough, potato bugs will only become aggressive when threatened. Most of the time potato bugs will try to get away from you as quickly as possible, even leaping when necessary. They will kick out of their back legs much like a donkey does when they feel an extreme threat. They will also raise the same back legs up over their body to appear larger than they really are. They will also roll onto their back and force their legs into the air. If you hear hissing noises they are telling you to back off.
Are They Actually Pests?
Jerusalem crickets may not look it, but they are actually beneficial to your garden. They are rarely found in large numbers and help keep your soil healthy. Because their food of choice is decaying plant life, potato bugs will burrow into your garden and eat away all the dead roots and any other material left behind from the previous garden. This burrowing aerates the soil and allows for it to be more porous. They also eat smaller insects that can be harmful to your plants. In a way, the potato bug provides pest control for you and your garden.
Will They Infest a Home?
The vast majority of the time potato bugs remain outside where their natural food source is. They are drawn to a food source so as the planting season ends you will have more and more of them heading for your garden. Because they spend most of their time underground, it is important to look for signs that the potato bugs have not gone from a helpful garden aid to an infestation. These signs include damage to the garden or flowerbed, infested plants, hissing and scratching sounds coming from the garden, and curling or stunted plants. The potato bug will rarely be seen indoors as it prefers moist, dark places. But when it is extremely hot and dry outside, they may make their way inside. They offer no direct threat and will not do any damage to the home.
What Do I Do If I See One?
If there is one in your home or a small amount in your garden, then I recommend wearing a thick pair of gloves and just picking them up and moving them elsewhere. For larger infestations, you can spray them with an insecticide or introduce their natural predators like ladybugs, stinkbugs, and spined soldier bugs.
Organic Potato Bug Control
It can be beneficial to gardens to have Jerusalem crickets, but if the numbers are getting out of control, there are some things you can do. In gardens, it is easy to prevent them by introducing their natural predators like ladybugs, stinkbugs, and spined soldier bugs into the area, but you face possible damage from these insects depending on where you are planting. Always do some research to see if these insects are common where you live and if it is okay to introduce them into the local ecosystem. When in doubt contact a professional.

To keep potato bugs out of your home make sure to seal up any small cracks and crevices they can wander into. This includes large gaps in the home's siding, open doors, and windows. It is also important to keep your home dry as moisture attracts them. Keep mulch a few inches away from the foundation of your home, so the moisture doesn't spread into the house. Clean up any rocks, woodpiles, and debris from your lawn as this promotes hiding spots for potato bugs and other unwanted pests. If you insist on having sprinklers on then run them in the morning so areas around the house can dry out during the day.
In small amounts, the potato bug can be very beneficial to gardens and should be left alone. They will do everything they can to avoid you and pose no threat to humans unless they are threatened. Despite their look, these insects just want to be left in peace. So relax, get a good pair of gardening gloves, and enjoy the free help!
Lindsey Hyland is the owner of Urban Organic Yield. You can visit her website at UrbanOrganicYield.com.
Read More Articles
How to Kill Vegetable Garden Pests with Ease
Natural and Organic Pest Control
Pest Control Using Predatory Insects
Preventing Pest Infestations in a Greenhouse

Integrating Greenhouse Elements into Roofing Design
Step onto the future pathway of sustainable living by integrating greenhouse elements into your roofing design. You might be asking, what does that mean? Let's dissect it. A basic understanding of roofing design combined with the principles of a greenhouse can lead to an array of environmental and economic benefits right above your head.
Understanding the Greenhouse Concept
Dive into the world of greenhouses. In essence, a greenhouse captures the sun's radiation, using it to create a warmer environment that supports plant growth year-round, despite outside weather conditions.
The same notion can be applied to houses through smart residential roofing services. Imagine roofs performing like greenhouses – conserving energy and contributing towards creating a comfortable indoor climate, regardless of the outdoor temperature extremes.
Breaking Down Greenhouse Elements
Crystalize the thought as you dissect the concept further. It primarily involves transparent roofs, insulation materials, and heat-absorbing surfaces. Transparent materials like glass or polycarbonate allow access to sunlight.
Insulation materials prevent escaping heat while dark, heat-absorbing surfaces collect solar energy during the daytime and release it during cooler periods.
The Science Behind Integration
Integrating these elements into your existing roof is pure science at play. By managing solar radiation penetration and understanding the theory of microclimates, you can implement this concept effectively.
There are plenty of ways to make greenhouses energy efficient and to integrate elements into roofing. Moreover, plants play a vital role in improving air quality, making them an integral aspect of such designs.
Comparative Analysis of Roofing Materials
Your next move is figuring out which materials are best for these setups. Consider the battle between glass and polycarbonate roofs: while the former offers better clarity and longevity, the latter is lighter and safer as it's virtually unbreakable. Similarly, different insulating materials come with their unique benefits and challenges.
Benefits of Greenhouse Roofs
You'll find that there's a list of advantages waiting for you when incorporating greenhouse components into your roofing design. Besides a significant rise in energy efficiency, you'll notice a decrease in your environmental impact.
When you understand rooftop gardens you will get to enjoy the many benefits associated with them. Your health and well-being may flourish too, thanks to better air quality and regulated indoor temperatures.
Overcoming Potential Challenges
Like every venture, it's not without its challenges. Fear not though, they're surmountable. Think about safety aspects, maintenance costs, and managing light penetration. Shatterproof materials can enhance safety and durability while understanding the full extent of maintenance required enables planning for the associated costs.
Innovative Designing Approaches
Forward-thinking designs don't stop at the basics. Consider integrating solar panels or even cultivating rooftop gardens into your concept. Combine materials to add further insulation or aesthetic appeal. The sky is the limit when it comes to experimenting with designs.
Ensuring Optimal Functionality
A well-functioning roof doesn't happen by accident. Correct installation techniques ensure longevity while regular maintenance practices preserve its optimum functionality. Over time, making needed upgrades can combat wear-and-tear effects, keeping it efficient and effective.
Regulations and Building Codes
Legalities are part of the process so understanding local laws is essential. Compliance with building codes ensures you're on the right side of the law. Sometimes, advocating for changes in regulations might just be the way forward, making sustainable living more commonplace.
Future Projections for Greenhouse Roofs
Industry growth hints at future developments that should get you excited. Anticipate technological improvements that will revolutionize greenhouse roofs even more. Demand for such modernized concepts is projected to escalate as individuals like yourself seek more sustainable living options. Modern roofing solutions such as cool roofs reduce carbon footprints.
Additional Considerations
Before you march forward and embrace the future of residential construction, there are a few additional considerations to heed. While all these pros make integrating greenhouse designs into your roof sound enticing, remember it's not one-size-fits-all.
Geographical Factors
Be mindful of the geographical location of your home. Certain climates may be more conducive to greenhouse roofs than others. A transparent roof in a region with extreme sunshine might lead to overheating concerns while in less sunny regions, you'll need to extract every bit of sunlight possible.
Energy-efficient roofs are no longer a distant dream but a very viable reality that is rapidly becoming mainstream in residential construction space across the globe.
Financial Outlay
The financial aspect should also factor into your decision-making process. Even though the upfront cost may seem elevated, weigh that against expected energy savings over the life of the roof. A quarter of your heat is lost through the roof.
Forecasting these figures can help make a long-term economic decision. Remember, investing in a greenhouse roof doesn't just impact you, but also plays a small part in saving the planet for future generations.
Lastly…
Embrace the future of residential constructions and pave a path to sustainable living by integrating greenhouse elements into your roofing design – offering a trifecta of benefits including energy conservation, environmental impact reduction, and overall health enhancement.
Take a step towards making your home a harmonious integration of man-made structures and nature, reflecting the perfect example of sustainability.