The Frightening but Helpful Potato Bug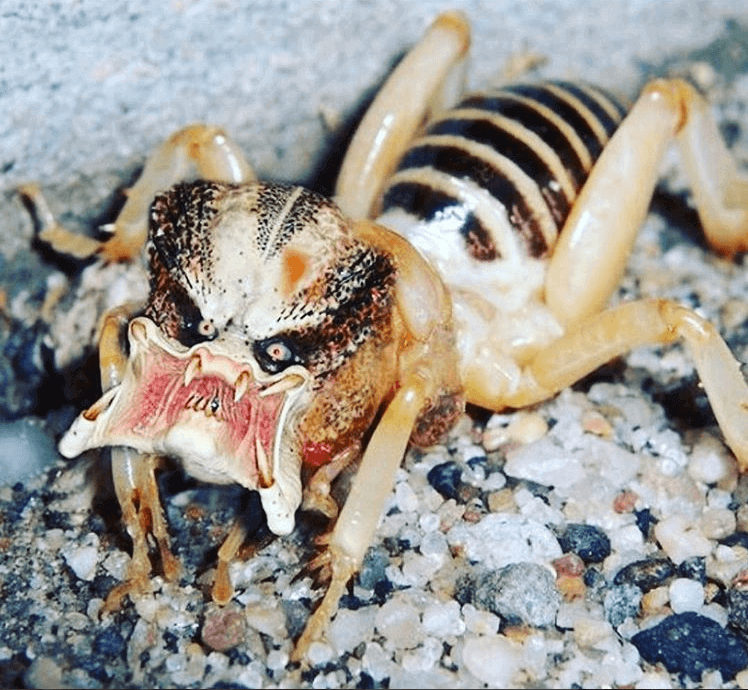 Author: Michael Potter
Let's be honest, potato bugs are not cute. In fact, they have a variety of names that reflect just how horrible and disgusting Jerusalem crickets or potato bugs are. But just because they look terrifying doesn't mean they are anything to be afraid of. This article tells you how to spot a potato bug, where to find them, and what to do when you encounter one. It also answers the age-old question: are potato bugs poisonous or dangerous? The potato bug does have a purpose so you might want to think twice about eliminating it.
What Are Potato Bugs?
The potato bug is also known as the Jerusalem cricket (even though it is not a cricket and isn't from Jerusalem). It is also called the child's face, skunk bug, skull insect, old bald-headed man, devil's spawn and earth baby.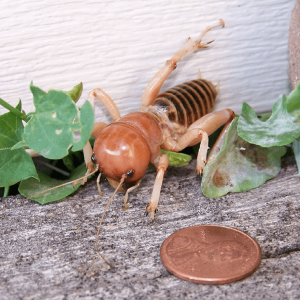 They are a member of the Stenopelmatidae family and are different from the Colorado potato beetle. The name potato bug is very misleading as they are not bugs but insects and have no particular fondness for potatoes. They are also not crickets, but more closely related to grasshoppers and have no logical connection to Jerusalem. They do not chirp or rub their legs together but do hiss and drum on their abdomens to make noise and attract mates.
Potato bugs are around two inches long with black and orange banded bodies that look like engorged wasps. They have a red, human like heads and antennas that look like long pieces of thread. The creep factor is not helped because the potato bug has a massive head and small black eyes that look childlike. They have no wings and instead hobble around awkwardly on translucent, spider like legs and have been known to hop when frightened and are frequently mistaken for giant velvet ants. Basically, the potato bug is the Frankenstein's monster of the insect world.
What Potato Bugs Eat
Potato bugs mainly eat organic material like plants, crops, roots, and tubers. Unlike the name suggests, they have no preference for potatoes but love any underground organic material. They eat almost any fruits or vegetables by sucking the plant's juices from the undersides of leaves and stems. This can stunt the growth of a plant as a result of the toxin in the potato bug's saliva being transferred to the plants. When the potato bug does not have access to dead or decaying organic material it is more likely to go after the healthier plants like the ones in your garden. If food is exceptionally scarce potato bugs will eat other insects and even other potato bugs alive or dead.
Where They Live
Potato bugs are primarily found in the Western United States and parts of Mexico. They are nocturnal insects which spend most of their time underground. Potato bugs have very strong jaws and legs that allow them to burrow into the soil. They prefer moist conditions with a lot of organic material. They prefer areas of the garden and flower beds where plants have started to decay. They are frequently found when the soil is being tilled for winter or spring plantings. As the soil gets moved around, it disturbs the bugs and brings them to the surface. Check for any bugs and remove them before planting.
Do the Bite and Are they Dangerous?
A potato bug will do everything it can to avoid you, but if you persist and threaten them, you can expect a bite. This bite, while painful, typically will not need treatment and should only hurt for a few minutes. To avoid getting bit, you should keep an eye out when gardening and always wear a good pair of gloves just in case.
Are Potato Bugs Poisonous?
While the potato bug does have toxin-laced saliva that destroys plants, it is not dangerous to humans. They are not poisonous in any way, and the worst you will get from these guys is a painful bite when threatened. Potato bugs do emit a foul smell to deter predators when threatened, but with these guys, you need only worry about their jaws.
Are They Aggressive?
Jerusalem crickets are a classic example of the pest being more afraid of us than we are of them. They prefer being underground anyway and will shy away from humans if spotted. Though they might look tough, potato bugs will only become aggressive when threatened. Most of the time potato bugs will try to get away from you as quickly as possible, even leaping when necessary. They will kick out of their back legs much like a donkey does when they feel an extreme threat. They will also raise the same back legs up over their body to appear larger than they really are. They will also roll onto their back and force their legs into the air. If you hear hissing noises they are telling you to back off.
Are They Actually Pests?
Jerusalem crickets may not look it, but they are actually beneficial to your garden. They are rarely found in large numbers and help keep your soil healthy. Because their food of choice is decaying plant life, potato bugs will burrow into your garden and eat away all the dead roots and any other material left behind from the previous garden. This burrowing aerates the soil and allows for it to be more porous. They also eat smaller insects that can be harmful to your plants. In a way, the potato bug provides pest control for you and your garden.
Will They Infest a Home?
The vast majority of the time potato bugs remain outside where their natural food source is. They are drawn to a food source so as the planting season ends you will have more and more of them heading for your garden. Because they spend most of their time underground, it is important to look for signs that the potato bugs have not gone from a helpful garden aid to an infestation. These signs include damage to the garden or flowerbed, infested plants, hissing and scratching sounds coming from the garden, and curling or stunted plants. The potato bug will rarely be seen indoors as it prefers moist, dark places. But when it is extremely hot and dry outside, they may make their way inside. They offer no direct threat and will not do any damage to the home.
What Do I Do If I See One?
If there is one in your home or a small amount in your garden, then I recommend wearing a thick pair of gloves and just picking them up and moving them elsewhere. For larger infestations, you can spray them with an insecticide or introduce their natural predators like ladybugs, stinkbugs, and spined soldier bugs.
Organic Potato Bug Control
It can be beneficial to gardens to have Jerusalem crickets, but if the numbers are getting out of control, there are some things you can do. In gardens, it is easy to prevent them by introducing their natural predators like ladybugs, stinkbugs, and spined soldier bugs into the area, but you face possible damage from these insects depending on where you are planting. Always do some research to see if these insects are common where you live and if it is okay to introduce them into the local ecosystem. When in doubt contact a professional.

To keep potato bugs out of your home make sure to seal up any small cracks and crevices they can wander into. This includes large gaps in the home's siding, open doors, and windows. It is also important to keep your home dry as moisture attracts them. Keep mulch a few inches away from the foundation of your home, so the moisture doesn't spread into the house. Clean up any rocks, woodpiles, and debris from your lawn as this promotes hiding spots for potato bugs and other unwanted pests. If you insist on having sprinklers on then run them in the morning so areas around the house can dry out during the day.
In small amounts, the potato bug can be very beneficial to gardens and should be left alone. They will do everything they can to avoid you and pose no threat to humans unless they are threatened. Despite their look, these insects just want to be left in peace. So relax, get a good pair of gardening gloves, and enjoy the free help!
Lindsey Hyland is the owner of Urban Organic Yield. You can visit her website at UrbanOrganicYield.com.
Read More Articles
How to Kill Vegetable Garden Pests with Ease
Natural and Organic Pest Control
Pest Control Using Predatory Insects
Preventing Pest Infestations in a Greenhouse

Backyard Landscape Design: 4 Important Things to Consider
Wanting your exteriors to look exquisite, it is only natural that you will also focus on the surroundings of your house. After all, a beautiful, well-maintained backyard will only enhance the charm of your property, and it can be the perfect place to spend your leisure time surrounded by nature. That is why so many people are devoted and spend so much time improving their gardens.
Whether you are designing a backyard from scratch for a new property or you want to get your outdoor space ready for spring, your project will need to plan carefully for each element. Unfortunately, it might not be the easiest process, and you have to consider things like the site, your needs, form, theme, plants, and the time it will take for your garden to grow.
Your goal is to create an aesthetically pleasing and functional space. To ensure that your backyard satisfies your needs, here are some things you should consider in your design. Check them out!
Understand Your Site
One thing you should always do is to consider the size of your property because it can greatly affect the layout and design of your backyard. If you are not quite familiar with the lay of your land, you can easily arrange a meeting with a professional. To have a great design, you need to take into account things like drainage, sunlight exposure, moisture level, and soil pH. Also, do not forget to think about potential hazards like nearby structures prone to storm damage.
Know Your User's Needs
Your backyard will be an extension of your home, and it needs to be functional as well. That is why you need to know how you will use it and how much time you will spend there. It can help you decide on the type of plants and materials that you should use in your design.
For example, if you want a place for relaxation, then you should think about adding comfortable seating arrangements and maybe even a fire pit. If you want a space for entertaining guests, then you might want to add a barbeque area or a swimming pool. Think about the types of activities you will conduct in your garden, such as gardening or cooking, and give yourself enough privacy so that you can enjoy your time without worrying about being disturbed by people passing by or peering from behind the windows.
For kids, a playground might be the ideal element. You can build them a treehouse or an obstacle course, or just make sure that they have their own section of the garden where they can play without worrying too much about breaking things or getting hurt.
Choose Your Theme
When it comes to designing your backyard, you need to create coherency between all the elements. That is why it is best to start from the overall concept first before deciding on the details, such as the color scheme and plants.
You don't have to stick with one theme, but having a specific style in mind for your landscape design will help you decide what materials to use for your project, as well as how to arrange everything. There are several design elements that you can use when creating a landscape for your property, including:
Garden Design Elements
There are plenty of elements you can use to enhance your backyard, such as hardscapes, water features, lighting, walls, and fences. With proper planning, these elements will create a more functional space and will enhance the visual appeal of your garden. For example, installing fences or walls between different sections of your property will not only improve the appearance of your garden but can also offer privacy and security.
Color Scheme
You can also choose certain colors that will reflect the mood you want to achieve in your garden. For example, earth tones can give you a natural look, while vibrant colors can make your space feel alive and playful. Specifically, look at things like foliage plants that are available in different shades of green that you can incorporate into your design.
Plant Selection
You can find tons of plants that you can use in your garden, such as grasses and flowering plants. These elements are essential in improving the aesthetics of your property while also providing other benefits. You can plant trees that provide cool shade during hot summer days or citrus plants that will help attract wildlife to your garden.
Functional Components
You can incorporate elements or structures that will serve a purpose in your garden, such as raised beds for gardening or a gazebo for seating. Make sure to choose materials that are easy to care for, and that can withstand harsh weather conditions. To make the most out of your backyard, you should consider having a nice pavement that links specific areas.
Take Time Frame Into Account
You should also think about how long it will take for your garden to grow and mature. If you want an instant result, then you can choose plants that require little to no maintenance. Some plants will need more time to grow to a considerable size, and you should ensure that they have enough space as overcrowded plants might not grow or produce as well. You can also incorporate some elements like pots or trellises for climbing plants that can instantly add color to your garden.
In Conclusion
Designing your backyard landscape can be fun and exciting, but it can also be a challenge. That is why you need to plan ahead and know what you want before you start doing anything else. Review your site, know your needs and wants, choose a theme, and determine when you can work on your project. You will then be able to create a garden that you will love and that will enhance the appeal of your home.