Alternative "Garden Hives" for the Gardener Seeking Honeybee Pollination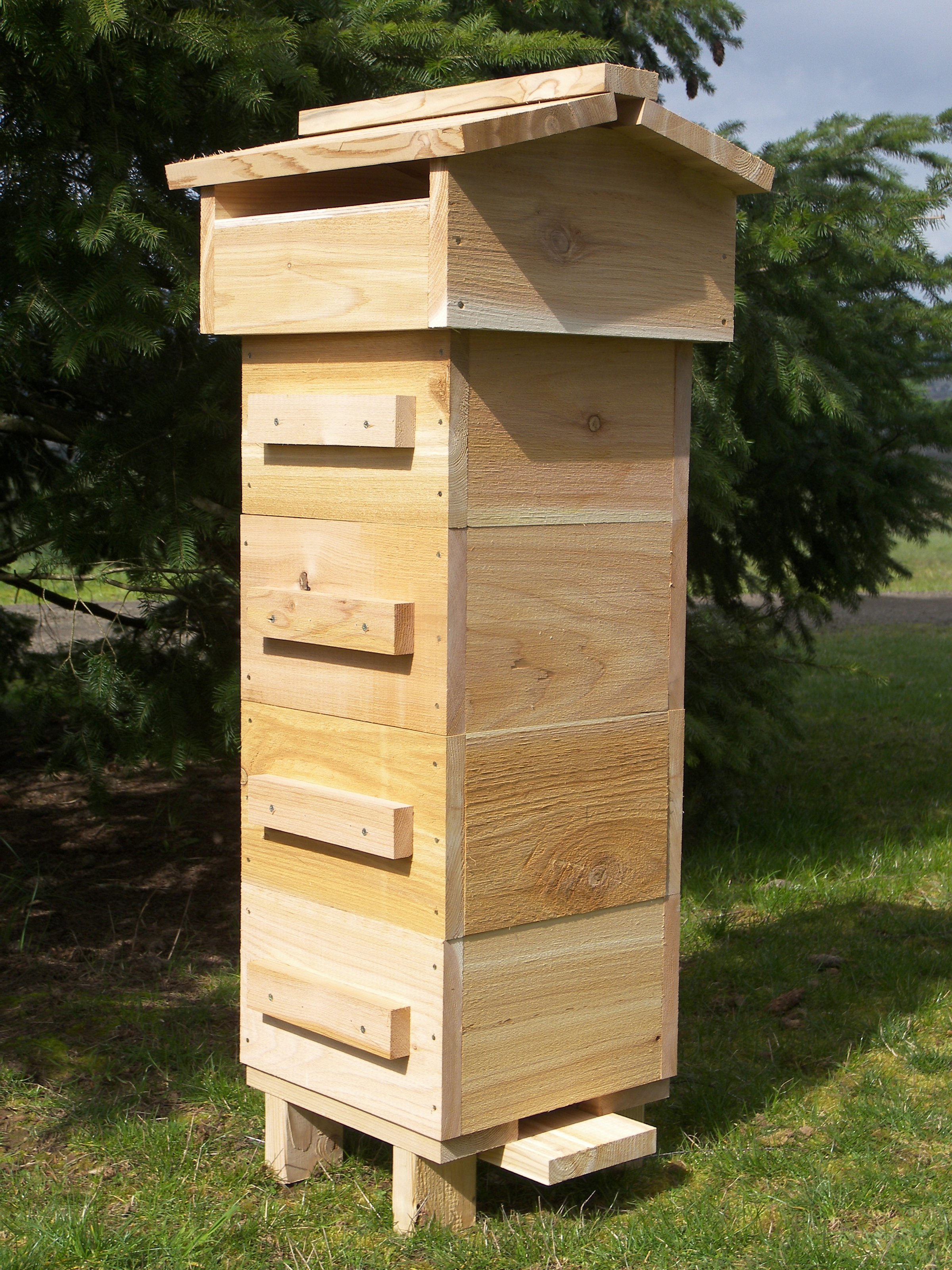 Many gardeners realize honeybee population is on the decline, and that pollination from these bees can greatly boost many of their garden crop yields. The U.S. Department of Agriculture estimates insect-pollinated foods attribute to a third of the human diet and that honey bees are responsible for about 80% of that pollination. But just in the home garden, honeybees may visit upwards of 100 flowers in a single collection trip. They can increase yields of many garden vegetables including peppers, watermelon, cucumbers, cantaloupe, squash, pumpkins, gourds, various beans, and many others, even seed crops such as flax seed, sunflowers, and buckwheat.
Gardeners interested in using honeybees for pollination may want to consider using one of the two smaller alternative backyard garden beehives described here, which are based on ancient designs. Both are far less work than the conventional beehive used to harvest large quantities of honey or beeswax for commercial sale.
The conventional hive we see often today is sometimes called a "filing cabinet" beehive. Used by commercial apiaries, its true name is the Langstroth hive. While it has some advantages that commercial users appreciate, it provides living conditions that can be stressful for the bees. It can also be high maintenance and tough on back muscles of the bees' human stewards. In these hives, bees can't move as freely as their instincts dictate. Also, the queen is sometimes unnaturally restricted from certain locations and worker bees are forced to build honeycombs in unnatural shapes.
Both of the alternative hives covered in this article, however, are considered healthier for honeybees by those who use them, and the choice of a growing number of gardeners.
Will bees move into an empty hive?
The Top-Bar Beehive
The top-bar hive is also sometimes more precisely called the "horizontal top-bar hive." This hive can be perfect for the backyard garden beekeeper. It is extremely simple to build and bees seem to love it. For those who do want to harvest some honey it doesn't involve the heavy lifting of hive sections as what happens with conventional hives. To oversimplify what this hive is, it is a safe container with an entrance for the bees with a removable lid made up of multiple side-by-side "bars" (such as long pieces of wood).
The bees start building their combs from the underside of the bars. Usually, something is added underneath each bar which gives the bees a gripping starter point to start building their combs. Some people add grooves underneath each bar for this purpose; others add a v-shaped addition under each bar to help bees begin the process. The top-bar hive allows bees to build combs in natural shapes rather than forcing them into the unnatural squares of conventional hives.
The top-bar hive is believed to be thousands of years old and most likely invented in Africa. There is a Kenyan version and a Tanzanian version, explaining why top-bar hives are also sometimes called African hives or Kenyan hives. In the earliest versions, beekeepers gathered or cut appropriately sized sticks to use as the bars to lay over open-topped woven baskets. Modern beekeepers who use the top-bar hive in temperate climates find ways to better help the hive remain dry and safe from temperate weather. Very severe weather, however, could be an issue when using these hives without added protection.
There are numerous top-bar hive building plans available online. Bees do best with natural, old or weathered wood as what might be found in nature, vs. smooth-cut wood. This means recycled wood could be ideal as long as it's not chemically treated. Wood that may have been treated, such as pallets, may contain chemicals that would be harmful to the bees. There are favored types of wood to use for hives, and these include Western red cedar, cypress, other cedars and Douglas fir.
The Warre Hive or "Vertical Top-Bar Hive"
Some people feel the Warre hive is almost as simple, or even more so, than the top-bar hive. This hive is named after Emile Warré who invented it in France in the early 20th century. It is also sometimes called the "vertical top-bar hive." It is bottomless and uses bars for the bees to build their comb. But it's different than the horizontal top-bar hive described above in that several boxes with bars are stacked vertically, and the comb is built vertically. It allows bees to huddle closer during cold winters. Also, because it is modular, if mold, mildew or other unwanted pathogens develop, only the box containing the problem needs to be replaced, rather than the whole hive itself as what could happen with the horizontal top-bar hive.
Though from a distance it can somewhat resemble a Langstroth hive to the untrained eye, it is actually smaller and lighter than conventional hives. Warre hives are kept fresh and clean by adding new boxes to the bottom, usually in spring, and removing honey-filled boxes each fall. It's considered a type of hive bees enjoy living in, allowing them to follow more of their natural instincts. And, it's much more of a hands-off method for beekeeping compared to conventional hives. Like the horizontal top-bar hive described above, Warre hives are easy to build with simple materials and plans available online.
How to Keep Honeybees Closer to Home
Even though an active hive is in the garden, the bees may wander further than what the gardener would prefer. Of course, the gardener wants them to stay around enough to pollinate their own crops, but they also may not want them to fly into pesticide strewn areas that could compromise the hive, or bring back cross pollination from unwanted species such as genetically modified crops. Bees will fly for miles to get what they need, so here are a few pointers.
First, maintain pollen plants near the hive from the moment the bees emerge in spring to when they retreat for winter. If the crops already grown by the gardener provide this for the bees, then nothing extra needs to be done. But when growers maintain bees for a few specific crops, such as cucumbers, not enough cuke flowers may open in spring and may diminish or be purposely pinched off near the end of the season. An answer to this could be as simple as letting dandelions surround your growing area which blossom early spring to late fall, or growing a border of all-season honeybee herbs.
Second, make sure there is a proper supply of water for the honeybees. Honeybees drink water like any creature and also use it to regulate the temperature of their hives. Even if there are plenty of flowers to collect nectar, if there is no water nearby, they may travel further than you want them to in search of it, which could include upsetting the neighbors with a swimming pool.
Honeybees are believed to sense a water supply by the moisture in the air above it. One simple suggestion for honeybee water is a saucer 10 or so inches in diameter filled with small stones and water. Always place this water source in the sun. The stones allow the bees support and climbing material to avoid drowning. The water should be refilled and flushed by overflowing it often. Clean, moving water is even better for those who may want to make a small water feature in their garden using a small recirculating pump that splashes water over stones.
But the bees, of course, will decide what water source they prefer using their instincts that humans can't tap into, so before something expensive or elaborate is built, the gardener can try something more make-shift in two or three different locations. Beekeepers need to make sure water never runs out and watch to see if the bees are using it. It's best to put the water source out immediately in spring so the bees don't first habituate to another water source. Thousands of bees really do drink their fair share of water, so be sure to refill often especially on hot sunny days.
Some people are also experimenting by giving bees the option of water with a tiny pinch of sea salt or a few drops of organic apple cider vinegar, though most feel simply that pure well or spring water works the best. A gardener may want to place several containers close together and give the honeybees a choice and observe the results, then follow through which what their choice is. The bees themselves are often the real experts. If honeybees still seem to ignore the water supply for a more distant one, a container with a larger surface area (not deeper) may make a difference because it makes it easier for them to detect the area above as a water source as they fly.
Honeybees in the Greenhouse?
Honeybee colonies have been used for pollination inside very large commercial greenhouses with mixed results. With smaller greenhouses, growers have sometimes placed their hives outside but nearby the greenhouse in hope that when the door is open, some honeybees find their way inside to do some pollination. But in spite of the honeybee's remarkable navigation abilities, the walls of a greenhouse are counter to any instincts they have, and honeybees inside a greenhouse often don't find their way out and back home. In most cases, honeybee hives are best used for outdoor gardens to help boost the garden yields sometimes many times over.
For garden hive videos, more photos, sources for plans, and further information, visit MicroEcoFarming.com. Barbara Berst Adams is author of Micro Eco-Farming and The New Agritourism: Hosting Community & Tourists on Your Farm.

Creating a Cottagecore Garden is Easier than You Think: Here's How
Picture this – An English-style country cottage adorned with roses against the backdrop of a clear mid-morning sky and a field of sun-kissed flowers. The door is striking and welcoming, leading up to a cabinet of vintage china pieces and rooms decked with antique furniture, neutral linens, reclaimed wood works, woven wicker baskets, and flowers of all possible kinds and colors.
Does this look like a place you're nostalgic for; but have given up all hopes of finding? Thankfully, such idyllic scenes are not just reserved for your grandmother's "life on the farm" anecdotes. The Cottagecore aesthetic, as dubbed by modern folks, is making a serious comeback to offset the despair of urban living.
Described as a "homage to a simple life," Cottagecore interior design and gardening aesthetic are based on rural self-sufficiency and everything picturesque. Since Cottagecore gardens are slightly different in layout from their traditional counterparts, modern homeowners shy away from incorporating them into their home scheme. Some believe such a garden aesthetic is only suitable for those with large patios and yards.
The Discover Britain Magazine debunks these myths, stating that Cottagecore-themed gardens were popular among poor cottage dwellers and aristocratic property owners. Meaning, anyone can introduce this theme's whimsical elements into their garden. This article provides insight into how you can create a Cottagecore garden akin to the famous English folklore.
What Can You Plant in a Cottagecore-themed Garden?
Cottagecore gardening was not started just for the aesthetics (at least not for the poor cottage dwellers). The aristocrats used these gardens to display botanical ornateness, but the rest of the English countryside grew vegetation for sustenance, along with wildflowers, grasses, and trees. The primary aim was to not disturb nature or tame it. So, you can grow the following in your Cottagecore garden –
Lots and lots of flowers – Most English cottage gardens were a melting pot of colors and textures, often rendered by flowers. Perennial shrubs were the most common, followed by wildflowers and vines.
Aromatic Herbs – If you can't grow proper vegetables due to space crunch, try planting flavorful herbs like thyme, cilantro, rosemary, lemongrass, or sage. These will add a lovely touch to homecooked meals and align well with the sustenance aspect of the Cottagecore garden.
Fruit Trees – If your garden space allows the square footage, and you have the patience of a saint, consider planting fruit trees like apples, mangoes, guavas, and oranges.
Bushes and Ornamental Grasses – Need something interesting to fill visual gaps and spark four-season interest? Consider wispy bushes and ornamental grasses that add unparalleled texture. These include feather reed grass, fountain grass, little bluestem, switch grass, and blue oat grass.
Setting up a Cottagecore Garden Layout
While traditional landscaping leans towards taming the shrubs and trees, sometimes even towards fanciful topiary, English countryside Cottagecore gardens are all about allowing nature to run its course. You can call the shots through a concrete garden plan, but the rest is left to the whims of the planted foliage. Here's how to go about it –
1. Start by Mapping out Your Garden
The first step in setting up a Cottagecore-themed garden is to walk outside and envision the final look (as far as possible). This should help you answer some important questions –
Do you wish to see more flowers or just greenery?
Will there be a single pathway or multiple, interconnected ones?
Would you like a separate relaxation spot, and will there be space for one?
Will the roadmap offer easy access to garden maintenance?
Maybe take a sketchbook and pencil along to make your plans visual and concrete. If you wish to introduce pathways, line them with pebbles or add stepping stones that bring out the Cottagecore theme in a vivid manner.
2. Decide Which Flowers and Plants Will Go Where
Once the basic layout is ready, the next step is to decide which plants and flowers you want and where. The best way to exude a charming Cottagecore feel is to have a juxtaposition of greens and flowers.
As for the varieties, you can stick to the plants and flowers that are native to your area. However, if possible, include popular English foliage, such as poppies, delphiniums, and foxgloves. Other vibrant flower choices include bellflowers, daisies, geraniums, irises, lavenders, and peonies.
3. Get Your Supplies and Review it All
Once the planning part is over, next is the execution. For this, you will need proper gardening tools and supplies. Make a list of the flowers, plants, tools, planters, potting mix, and manure that you will need.
Both for indoor and outdoor gardening, the scope is limitless as you can choose among garden beds, permaculture, rock systems, and traditional pots. Crescent Garden believes that a mix of small, large, and different shapes of pots will enhance the whimsical appeal of the garden. You can even choose self-watering pots for moisture-loving plants.
Once you've purchased and reviewed all supplies, place the flowers and plants in the desired alignment to check whether you like the layout. Allow sufficient space between plants, but also fill visual gaps using succulents and phlox.
4. Take Advantage of Mulching
If you consider the soil to be a cake, mulch is the icing or topping. Mulching is the process of adding a protective layer of organic material, dried leaves, or wood chips to prevent soil erosion and encourage moisture retention.
It will prevent weeding and protect your plants from drying out in summer and freezing in winter.
Décor Ideas for Wholesome Country Vibes
Do you crave the 'Anne of the Green Gables Meets Bucolic Dreamland' aesthetics for your garden, but are not sure how to achieve it? Well, the elements are simple and when brought together, will seamlessly exude a folksy mystic vibe.
1. Install a Summer House
Ah! Just imagine the feeling of walking into a shabby-chic wooden summerhouse humbly sitting in the midst of your English garden where you can allocate time to yourself. With plenty of rustic windows, the natural light invites you to bask in its glory or try your hand at hobbies like art, music, and reading.
The perfect vintage summerhouse would feature antique furniture, natural materials, wooden armchairs, a hammock (if you please), and lots of antique trinkets that transport you to the bygone era.
2. Hang Macramé Plants
The macramé trend, or the art of knotting rope to create fanciful hanging decorations, is not a newfound idea. In fact, it has resurrected from the 1970s as homeowners are creating stunning macramé pots to hang from the ceilings.
The use of ropes gives this look a Cottagecore vibe. You can hang these in your living room, kitchen, bedroom, and even the patio or the summerhouse. The best botanical beauties for macramé pots include the Boston fern, satin pothos, button fern, and tradescantia.  
3. Consider Having a Fanciful Trellis
Is the English Cottagecore aesthetic ever complete without a trail, arch, or lattice of flowers? Thankfully, it's super easy to create one without breaking the bank. While you can opt for a basic wire mesh display, the Cottagecore vibe comes out best through a wooden pergola.
The most common yet appealing look is that of an archway lined with (fragrant) flowers opening up to the patio or separating the summerhouse area from the rest of the garden. Some of the top flowers for this setup include clematis, honeysuckle, sweet pea, rose, star jasmine, and wisteria.
4. Don't Forget the Signature Fountain!
Whether your patio features a detailed Cottagecore theme, a manicured one, or a pathway framed by stones and pebbles, it will stay incomplete without the signature English fountain.
The ideal model would be a tiered fountain surrounded by potted hydrangeas and other colorful flowers. Even small stone fountains can become the focal point as their cascading waters produce the calming effect needed to soften the formal symmetry.
5. Add the Touch of Wrought-Iron Benches
Given the Cottagecore theme, you can choose wood or stone benches that feature some carvings. But, the only design that is truly transportive is the ornate, antique cast-iron benches still resting in some Victorian parks today.
These benches are easy-to-install and weatherproof; plus, sitting on one of them while gazing at the birds flocking to drink from the fountain will have you enjoying your personal 'Bridgerton' moment!
Time to Gild the Lily?
Is your current garden or patio brimming with life already, but you're just looking to switch to the English Cottagecore era? Even if you're not starting from scratch, the above-mentioned tips and décor ideas will work for you.
The only difference might be in terms of the plants and flower arrangement. In case you're already happy with the setup, there's no need to change the placement right away. You can do that when it's time to change the plants' soil (which may be sooner for some than others).
Simply try to create room for whimsical elements that breathe 'cottagecore' into the aesthetic theme. Finally, plant a whole lot more flowers; after all, can one ever have too many flowers, especially in the gardens of the English countryside?