Understanding The Differences in How Magnetic and Electronic Ballasts Operate
Greenhouse hobbyists and indoor horticulturalists rely on artificial light sources to illuminate their gardens throughout the winter months. Whether it is the sole light source or a supplementary lighting system, choosing the proper high intensity discharge (HID) lighting equipment is a process that takes some consideration. Many variables make up a HID horticultural lighting system, from the type of lamp (bulb) to the wattage and voltage of the unit. With new technologies emerging there is also a big difference in the way our HID bulbs are being illuminated. Regardless of the technology, HID lighting units consist of two imperative pieces of equipment: the lamp and the ballast.
The Lamp
All arc-type lamps (florescent and HIDs) have the ability to illuminate due to their construction (two electrodes separated by a gas). An arc is the discharge that occurs when the gas contained within the lamp is ionized by an initial burst of voltage. This phenomenon is similar to the way lightning ionizes the atmosphere due to the significant potential difference in voltage from the ground to the storm clouds. Once the bulb is struck, the electrical charge excites the gas molecules inside the bulb causing them to discharge photon particles and, therefore, create light. All HID bulbs rely on this discharge of gas to create light but it is not an instantaneous process. HID bulbs will only produce 5% of their brightness at ignition. Most bulbs require a few minutes of operation before they reach their full light output potential.
The Ballast
A ballast is essentially a voltage controller for arc-type discharge lamps. In other words, a ballast is
required for any HID or florescent light fixture to work. A ballast's main purpose is to regulate voltage to the lamp for start up and operation. Generally speaking, a ballast will provide higher voltage during the lamp's start-up and then limit the electrical current during operation to stabilize the arc. If a lamp was directly connected to a constant voltage supply it would draw an increasing amount of current until either the power supply or the lamp itself failed. The ballast acts as an essential buffer between the power supply and the lamp. The initial burst of voltage to the lamp is known as the strike. There are two types of ballasts available to horticulturists: magnetic and electronic (digital) ballasts.
Operation of Magnetic Ballasts
Magnetic ballasts, also known as coil and core ballasts, are the most common ballast used to operate HID lighting. This technology has been around since the early 1900's and has changed very little in terms of the internal components used. Every HID ballast contains a capacitor and an inductor (the copper or aluminum coils wrapped around the core). A high pressure sodium (HPS) ballast also contains an additional component, an igniter, which is required to strike the gases contained within the HPS bulb. A magnetic ballast must be matched to the specific bulb type and wattage to ensure proper operation. High intensity discharge lamps come in different types (MH, HPS) and different wattages (150, 250, 400, 600, 750, 1000).  Each component within the ballast serves a unique function in the striking and operation of the HID lamp. Most magnetic ballasts are multi-tap voltage ballasts. In other words, they can be rewired easily to operate on a different voltage. Many horticultural ballast suppliers offer ballasts that have interchangeable power cords which change the operating voltage and do not require any internal rewiring.
Capacitors
The capacitor's vital role is to maintain power to the bulb once it is fired up. Its other important role is to regulate the power to the bulb. Without a capacitor a HID bulb would continue to draw more and more power until the bulb burned out. This is why capacitors need to be rated to the specific wattage of the lamp to operate properly. For example, a capacitor for a 400 watt system will not work in a 1000 watt system or visa versa. There are two types of capacitors used in HID ballasts: wet and dry capacitors. Wet capacitors or oil filled capacitors can be found on some of the older, lower wattage ballasts but, due to the superior performance of dry capacitors, have become virtually obsolete in the horticultural industry.
Dry Capacitors
Most of the ballasts used for horticulture are equipped with a dry capacitor. These capacitors are also referred to as dry film capacitors because of the mylar, polystyrene, polypropylene, polycarbonate, metallised paper or teflon film used in the internal construction. This film acts as the capacitor's dielectrics and, because of its resilience to higher temperatures, significantly increases the longevity and reliability of the unit. This is especially important in higher wattage units (600 watts and higher) because they produce significantly more heat than lower wattage units.
Core and Coil
The core and coil within a magnetic ballast is the inductor or transformer that drives the power of the ballast. The core is generally made up of a ferromagnetic metal (a metal that holds magnetism), usually iron or a compound made of other ferromagnetic metals. This core is wrapped with a coil of wire made of copper or aluminum that carries the electrical current. As electricity runs through the coil a magnetic field is created. The presence of the core increases the magnitude of the magnetic field created, sometimes by several thousand times. The main purpose of the core and coil is to create a large voltage boost to the lamp in order to strike the gases contained within the lamp. The electrical current that runs through the coil and increases the magnetic field results in an applied voltage opposite the flow of current in the wire. This is where the lamp is wired in to the ballast to receive this increased voltage until the bulb is struck.
Pros of Magnetic Ballasts
The pros of magnetic ballasts are attributed to the fact that this type of technology has passed the test of time. Light manufacturers have all but perfected this technology, making it a very reliable choice for consumers. So reliable, in fact, that many manufacturers offer 5-year, 10-year, or even lifetime warranties on their products. Magnetic ballasts are also relatively easy to repair so even after a product's warranty expires it is possible to repair a magnetic ballast for a minimal cost. There are a magnitude of magnetic ballast manufacturers which brings forth healthy competition; keeping the price point as low as possible for consumers. Because this technology has existed for so long and there is enough competition between suppliers there is no shortage of options available. A consumer can choose a low cost "bare bones" magnetic ballast kit, a high-end magnetic ballast equipped with all of the top of the line components for a significantly higher price tag or anything in-between.
Electronic and Digital Ballasts
Electronic ballasts are ballasts that utilize electronic circuitry in place of the core/coil, capacitor, and igniter found in magnetic ballasts. The original electronic ballasts were specific to bulb type (MH or HPS), wattage, and voltage. They consisted of little more than a basic circuit board. Since their inception, almost all electronic ballasts in the horticultural industry have been replaced by digital ballasts. Digital ballasts are a type of electronic ballast and their names are used interchangeably throughout the industry. There is, however, a distinction between digital and electronic ballasts. Digital ballasts are electronic ballasts equipped with a microprocessor that makes various options possible. For example, digital ballasts are considered "smart" ballasts because they will differentiate between a metal halide and a high pressure sodium bulb. The microprocessor can be programmed to monitor bulb performance and shut down the ballast if a bulb failure is sensed, eliminating continuous attempts to strike a malfunctioning bulb. Microprocessors make it possible to have dimmable, multi-voltage, and multi-wattage ballasts that will even, in some cases, alert the user to problems or any malfunctions. Digital ballasts operate at a high frequency, in the 20,000-60,000 Hz range, which is much higher than the standard 60 Hz operation of magnetic ballasts. This higher frequency creates a heightened level of efficiency for digital ballasts. In other words, more light is produced per unit of energy consumed.
Pros of Digital Ballasts
The pros of the digital ballast are attributed to technological advancements, allowing for increased efficiency. Because of the way they operate (higher frequency) digital ballasts are more efficient at creating useable light in relation to the energy they consume. Digital ballasts are light weight, significantly smaller than magnetic ballasts and operate very quietly. They also tend to operate a bit cooler than most magnetic ballasts. The digital ballast's microprocessor allows for soft bulb start-up (a technique shown to increase the longevity of most HID lamps), monitoring of the lamp (which increases safety), and the ability to be interchangeable in terms of wattage, voltage, and bulb type.
The purpose of this article is not to convince gardeners that either technology is better or worse than the other or that they should purchase one over the other. The goal is to relay information on the way these technologies work to give gardeners a better understanding of what they are purchasing. Choosing a magnetic or digital ballast is entirely up to the individual and their garden's needs. Each gardener needs to weigh the advantages and disadvantages of both technologies before making a decision. Magnetic and digital ballasts serve the same vital purpose: to drive the artificial light source that allows us to enjoy our hobby year-round. Magnetic and digital ballasts light up our greenhouses and, in turn, our greenhouses light up our lives.
Eric Hopper resides in Michigan's beautiful Upper Peninsula where he enjoys gardening and pursuing sustainability. He is a Garden & Greenhouse contributing editor and may be contacted at [email protected].
Suggested Vendor
Want more information? Read these articles:
Horticultural Lighting Technology Overview
Supplemental Lighting for the Greenhouse
The Best 1000 Watt Ballast Options in the Market That Are Worth Your Money
Troubleshooting the Magnetic HID Light System
Why High Intensity Discharge (HID) Grow Lights Remain Popular

Why Should You Consider Planting Spring-Planted Bulbs in Your Garden?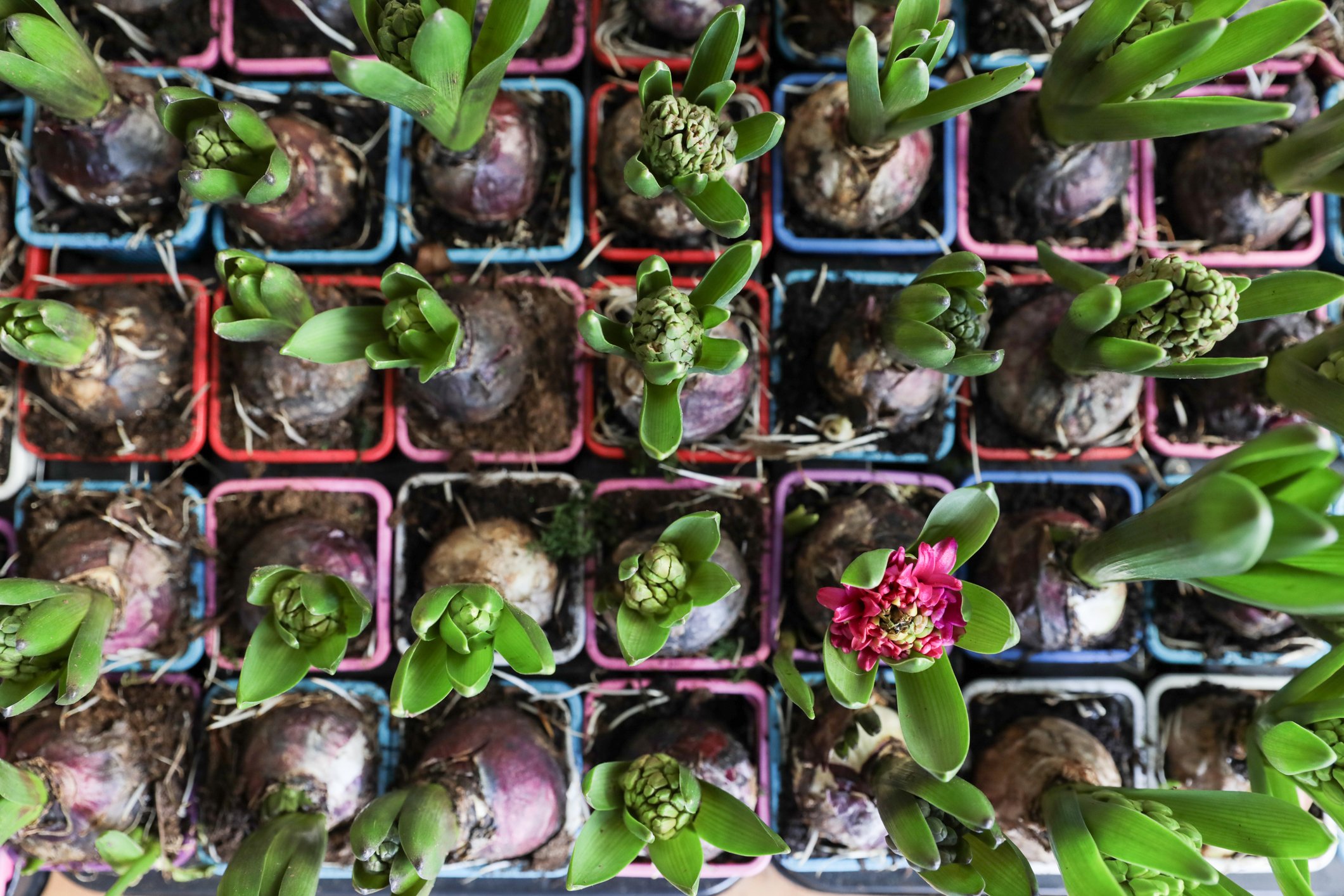 Spring is a great time to plant bulbs in your garden! Not only do they add a pop of color, but they also provide a number of benefits. In this blog post, we'll outline the benefits of planting spring planted bulbs in your garden. We'll discuss what bulbs are, what flowers come from bulbs, how to plant them, when to plant them, and how to care for them. So, go ahead and plant some spring-planted bulbs in your garden this spring!
What Are Spring Bulbs?
Do you love the beauty and colors of springtime? If so, then you should consider planting spring bulbs in your garden. Spring bulbs are a popular type of flower that is planted in the springtime. They come in many different colors and are known for their beautiful blooms. Not only do they add beauty to your garden, but they are also easy to care for.
When selecting spring bulbs for your garden, it's important to choose ones that look good together and have a variety of colors. Some of the most popular types of spring bulbs include tulips (a yellow bulb), daffodils (a blue or purple bulb), crocuses (a white or multicolored bulb), and hyacinths (an orange or yellow flower). When selecting which ones to plant, it's best to choose a mixture so that your garden looks colorful throughout the year.
What Flowers Come from Spring-Planted Bulbs?
There's no better way to add color and brightness to your garden than by planting bulbs. Not only are they easy to care for, but they also come back year after year. When choosing which bulbs to plant in your garden, it's important to consider what flowers you want them to produce. Some common bulbs you can plant include tulips, daffodils, hyacinths, and crocuses. All these bulbs will produce beautiful flowers that will add a touch of color and brightness to your garden. You can also choose to plant other types of bulbs, such as grape hyacinths or lily-of-the-valley bulbs. These plants produce smaller flowers but are very fragrant.
The Advantages of Planting Spring-Planted Bulbs
Do you love the look of brightly colored flowers in your garden, but you don't have the time or energy to tend to them? Planting spring-planted bulbs is a great way to add color and interest to your garden without any of the work. Bulbs are easy to care for and require very little maintenance—all you need is some water and sunshine. Plus, bulbs can be planted in a wide variety of locations, including in pots and containers. This makes them perfect for adding interest to any area of your garden.
Another advantage of planting bulbs is that they are relatively inexpensive. You can buy a large container of bulbs for just a few dollars, and they will last for many years with proper care. Plus, bulb plants are relatively easy to transplant if you ever want to move them somewhere else in your garden. Last but not least, planting bulbs is a great way to add color and brightness to your garden all year long!
How to Plant Spring Bulbs?
Color is one of the most important factors when it comes to garden design, and spring-planted bulbs are a great way to add some extra color to your landscape. Not only are they beautiful on their own, but they also provide a wonderful contrast against the cooler colors that will be in season during the summer. Spring-planted bulbs are easy to plant and care for, and there are a variety of different varieties available that will perfectly complement your garden.
When Should You Plant Spring Bulbs?
With the arrival of spring, it's time to start thinking about planting bulbs in your garden. There are a variety of beautiful bulbs that can be planted in the spring, and they're easy to care for, making them a great choice for someone who wants to add color and interest to their yard without much effort.
Consider the season when deciding which bulb to plant in your garden. Spring-planted bulbs will typically bloom earlier than bulbs planted in the fall, so make sure you choose the right one for your garden. There are a variety of different types of spring-planted bulbs to choose from, so find one that will fit well into your landscaping. With a little planning and effort, you can have a beautiful garden that blooms all year.
How to Care for Spring-Planted Bulbs?
Spring is a wonderful time to plant bulbs in your garden. Here are a few tips on how to get started:
First, be sure to research which types of bulbs work best for your garden and climate. Some popular choices include tulips, daffodils, hyacinths, and crocuses. Once you've selected the bulbs you want to buy, purchase them in advance so that you have plenty of time to plant them in the ground or in pots.
Once you have your bulbs home, it's time to take care of them! Make sure that their soil is moist but not soggy – this is crucial for bulb growth. Water them regularly during dry weather, and be sure not to overwater them, as this can damage their roots. When the flowers start blooming, cut the stems close to the ground so that the bulb will continue flowering indoors. After the flowers fade away (usually around mid-March), allow the foliage (orchids tend not to shed their leaves) to die back naturally. Enjoy your beautiful spring-planted bulbs!
In Short
Spring bulbs are a great way to add color and life to your garden. Planting these bulbs will provide you with beautiful flowers throughout the spring and summer. Bulbs are easy to care for and can be planted in almost any type of soil. Be sure to plant your bulbs in the fall so that they have time to establish themselves before the first frost. With a little love and care, your spring bulbs will thrive and bring you enjoyment for years to come.