The Differences Between a Greenhouse and a Cold Frame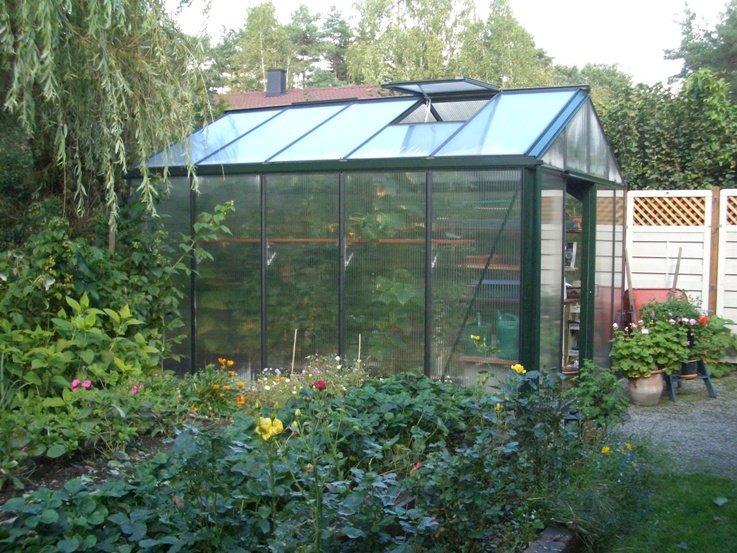 Recently a friend sent me a cartoon which perfectly described what having a greenhouse is about. The picture was of two small flowers growing in the ground outside peering wistfully into a greenhouse.  The greenhouse is filled with beautiful blooming plants bathed in perfect light and watered by a bikini clad woman. One of the small flowers outside said to the other, "Oh man, that's the life".
One of the most common misconceptions of people looking to purchase or start using a greenhouse is that if it's called a greenhouse, it will grow plants. Often a structure is called a greenhouse if it can hold plants with no regard for the environment it will create. You could easily purchase a "greenhouse in a bag" for a few hundred dollars, but you would not be happy for very long zipped up in a plastic bag. Chances are your plants won't like it either. Several greenhouse makers recognize the need for some basic industry standards to help consumers make more informed choices. Until those standards are developed, however, gardeners must spend a little time to educate themselves or run the risk of making a costly mistake.
There is an important place for entry level products as long as you know what to expect before making an investment of money or time. Most products called greenhouses on the market today are actually large cold frames. The good news is that there are many good options. Some of the least expensive products on the market can provide good results if the uses and limitations are understood. Even a "greenhouse" in a bag can give plants a head start if used properly.
Understanding the difference between a greenhouse and a cold frame is the key to achieving the best results.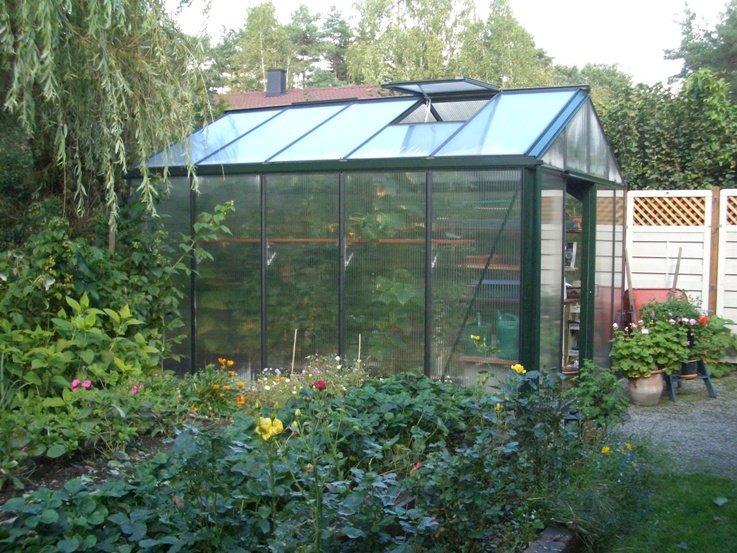 Shane Smith, author of the definitive resource on greenhouse gardening; The Greenhouse Gardener's Companion, defines a greenhouse as a structure that is heated. A properly designed greenhouse will allow the gardener to control the temperature and environment within a specific range.
A greenhouse is either operated as a hot house or a cool house, depending on the zone it's in and how much heat is added. A hot house maintains a minimum nighttime temperature of 55 degrees or greater. A cool house would be one that will maintain a minimum nighttime temperature of 45 degrees. In most cases, a maximum greenhouse temperature would be around 90 degrees.
In contrast to a greenhouse, a cold frame is any structure that is generally used to extend either end of the growing season by a few weeks. Cold frames are not designed for heat, so the temperature cannot be closely
controlled. No external heat is added, so they depend solely on the heat generated from the sun's radiation. Many cold frames are covered with a single walled glazing. Without insulation, only a minimal amount of heat from the day will remain overnight. They are not a good choice for winter growing or wintering over in cooler climates. Cold frames are most suitable for the few weeks before and after the last frost. With a cold frame, you can get a jump on spring by a few weeks before the soil was fully warmed and before the threat of frost has passed. Warming the soil temperature by even a few degrees can drastically increase the success of early plantings. In fall a cold frame can guard against an early frost giving some winter crops an opportunity to develop strong healthy roots before facing a long cold winter. In an area with a short growing season a cold frame may be all that is needed to give tomatoes that extra few days of precious sun to ripen.
Many people think that if you can walk in a structure it's a greenhouse. They are often surprised to learn that cold frames come in all shapes and sizes. A cold frame can be small structures on the ground with a hinged lid or it can be a long tunnel structure used by commercial growers. Greenhouses are easily used as cold frames if they are not heated, however, just adding heat to a structure will not turn a cold frame into a greenhouse.
There are some types of structures that cannot be safely or effectively heated. Factors to carefully consider include: the structure's size, the structure's ventilation capabilities, the type of covering used, and the frame. The size of the structure is the first consideration. Small structures are more difficult to heat than larger structures because they overheat easily. Any structure with low overhead clearance or less than 64 square feet of floor space will heat very quickly with the addition of external heat. The overheating may cause damage to the plants if the air temperature rises above 90 degrees. Ventilation is the second consideration. Structures that do not have ventilation will not be able to expel excess heat. If the heat source is a gas heater, the air will be moisture laden causing more potential issues from the excess humidity. Controlling a greenhouse environment requires the exchange of fresh air and the addition of heat.
Another important factor to consider when deciding to add heat is the type of covering used. Single wall covering such as glass, fiberglass, film and single wall polycarbonate do not provide any insulation. Heating a single wall structure is not much different than heating the outside air. Most of these coverings are not compatible with ventilation so they temperature can fluctuate between hot and cold rapidly. The framing is the final consideration. Some plastic or resin framing should not be near external heat sources since some materials have a low melting point.
If you are interested in growing tropicals, growing outside your zone, starting seeds early, wintering over sensitive plants in cooler climate, or actively growing in the winter you may need a greenhouse to accomplish your goals. Some seeds will need minimum soil temperatures of 50 degrees in order to germinate and establish themselves, but many seeds will germinate at 65 degrees or higher. Many of our summer vegetables, tomatoes for example, are tropical plants which thrive in the warmer temperatures. Warmer soil and air temperature alone is not enough for some plants to flourish. Some plants are day-light sensitive which means that even if they have the heat they require, they will not flourish in months where there is little daylight without supplemental light. Many greenhouses are designed to support grow lights and can be used to grow even sensitive crops all year. A greenhouse can be used to grow in most places all year long, provided you are willing to add the heat, ventilation, and in some cases, the light necessary.
Once you decide what you want to grow and when you want to grow it, you can determine if you need to use a greenhouse or a cold frame. Since most products are called greenhouses, make sure to look at the covering, the ventilation, and for a sturdy frame. If you are unsure if a product is a greenhouse or cold frame, ask how and where you add a ventilation fan. If a fan cannot be added, then heating the structure will be difficult. Price may be another clue. There are few greenhouses available for less than $1,000, although there are also quite a few high quality cold frames that sell for thousands of dollars. Regardless of whether you use a greenhouse or a cold frame, the plants inside will be the envy of the garden.
Read More Articles
Greenhouse Maintenance – Getting 100,000+ Miles out of Your Greenhouse!
Maintenance on Indoor Gardening and Greenhouse Equipment
The Benefits of Using a Cold Frame
---
Michelle Moore is the general manager for The Greenhouse Catalog. She is an Oregon State University Master Gardener and has nearly 20 years experience working with greenhouses. She lives in Oregon with her husband where they are gardening outside of a greenhouse for the first time.

Creating a Cottagecore Garden is Easier than You Think: Here's How
Picture this – An English-style country cottage adorned with roses against the backdrop of a clear mid-morning sky and a field of sun-kissed flowers. The door is striking and welcoming, leading up to a cabinet of vintage china pieces and rooms decked with antique furniture, neutral linens, reclaimed wood works, woven wicker baskets, and flowers of all possible kinds and colors.
Does this look like a place you're nostalgic for; but have given up all hopes of finding? Thankfully, such idyllic scenes are not just reserved for your grandmother's "life on the farm" anecdotes. The Cottagecore aesthetic, as dubbed by modern folks, is making a serious comeback to offset the despair of urban living.
Described as a "homage to a simple life," Cottagecore interior design and gardening aesthetic are based on rural self-sufficiency and everything picturesque. Since Cottagecore gardens are slightly different in layout from their traditional counterparts, modern homeowners shy away from incorporating them into their home scheme. Some believe such a garden aesthetic is only suitable for those with large patios and yards.
The Discover Britain Magazine debunks these myths, stating that Cottagecore-themed gardens were popular among poor cottage dwellers and aristocratic property owners. Meaning, anyone can introduce this theme's whimsical elements into their garden. This article provides insight into how you can create a Cottagecore garden akin to the famous English folklore.
What Can You Plant in a Cottagecore-themed Garden?
Cottagecore gardening was not started just for the aesthetics (at least not for the poor cottage dwellers). The aristocrats used these gardens to display botanical ornateness, but the rest of the English countryside grew vegetation for sustenance, along with wildflowers, grasses, and trees. The primary aim was to not disturb nature or tame it. So, you can grow the following in your Cottagecore garden –
Lots and lots of flowers – Most English cottage gardens were a melting pot of colors and textures, often rendered by flowers. Perennial shrubs were the most common, followed by wildflowers and vines.
Aromatic Herbs – If you can't grow proper vegetables due to space crunch, try planting flavorful herbs like thyme, cilantro, rosemary, lemongrass, or sage. These will add a lovely touch to homecooked meals and align well with the sustenance aspect of the Cottagecore garden.
Fruit Trees – If your garden space allows the square footage, and you have the patience of a saint, consider planting fruit trees like apples, mangoes, guavas, and oranges.
Bushes and Ornamental Grasses – Need something interesting to fill visual gaps and spark four-season interest? Consider wispy bushes and ornamental grasses that add unparalleled texture. These include feather reed grass, fountain grass, little bluestem, switch grass, and blue oat grass.
Setting up a Cottagecore Garden Layout
While traditional landscaping leans towards taming the shrubs and trees, sometimes even towards fanciful topiary, English countryside Cottagecore gardens are all about allowing nature to run its course. You can call the shots through a concrete garden plan, but the rest is left to the whims of the planted foliage. Here's how to go about it –
1. Start by Mapping out Your Garden
The first step in setting up a Cottagecore-themed garden is to walk outside and envision the final look (as far as possible). This should help you answer some important questions –
Do you wish to see more flowers or just greenery?
Will there be a single pathway or multiple, interconnected ones?
Would you like a separate relaxation spot, and will there be space for one?
Will the roadmap offer easy access to garden maintenance?
Maybe take a sketchbook and pencil along to make your plans visual and concrete. If you wish to introduce pathways, line them with pebbles or add stepping stones that bring out the Cottagecore theme in a vivid manner.
2. Decide Which Flowers and Plants Will Go Where
Once the basic layout is ready, the next step is to decide which plants and flowers you want and where. The best way to exude a charming Cottagecore feel is to have a juxtaposition of greens and flowers.
As for the varieties, you can stick to the plants and flowers that are native to your area. However, if possible, include popular English foliage, such as poppies, delphiniums, and foxgloves. Other vibrant flower choices include bellflowers, daisies, geraniums, irises, lavenders, and peonies.
3. Get Your Supplies and Review it All
Once the planning part is over, next is the execution. For this, you will need proper gardening tools and supplies. Make a list of the flowers, plants, tools, planters, potting mix, and manure that you will need.
Both for indoor and outdoor gardening, the scope is limitless as you can choose among garden beds, permaculture, rock systems, and traditional pots. Crescent Garden believes that a mix of small, large, and different shapes of pots will enhance the whimsical appeal of the garden. You can even choose self-watering pots for moisture-loving plants.
Once you've purchased and reviewed all supplies, place the flowers and plants in the desired alignment to check whether you like the layout. Allow sufficient space between plants, but also fill visual gaps using succulents and phlox.
4. Take Advantage of Mulching
If you consider the soil to be a cake, mulch is the icing or topping. Mulching is the process of adding a protective layer of organic material, dried leaves, or wood chips to prevent soil erosion and encourage moisture retention.
It will prevent weeding and protect your plants from drying out in summer and freezing in winter.
Décor Ideas for Wholesome Country Vibes
Do you crave the 'Anne of the Green Gables Meets Bucolic Dreamland' aesthetics for your garden, but are not sure how to achieve it? Well, the elements are simple and when brought together, will seamlessly exude a folksy mystic vibe.
1. Install a Summer House
Ah! Just imagine the feeling of walking into a shabby-chic wooden summerhouse humbly sitting in the midst of your English garden where you can allocate time to yourself. With plenty of rustic windows, the natural light invites you to bask in its glory or try your hand at hobbies like art, music, and reading.
The perfect vintage summerhouse would feature antique furniture, natural materials, wooden armchairs, a hammock (if you please), and lots of antique trinkets that transport you to the bygone era.
2. Hang Macramé Plants
The macramé trend, or the art of knotting rope to create fanciful hanging decorations, is not a newfound idea. In fact, it has resurrected from the 1970s as homeowners are creating stunning macramé pots to hang from the ceilings.
The use of ropes gives this look a Cottagecore vibe. You can hang these in your living room, kitchen, bedroom, and even the patio or the summerhouse. The best botanical beauties for macramé pots include the Boston fern, satin pothos, button fern, and tradescantia.  
3. Consider Having a Fanciful Trellis
Is the English Cottagecore aesthetic ever complete without a trail, arch, or lattice of flowers? Thankfully, it's super easy to create one without breaking the bank. While you can opt for a basic wire mesh display, the Cottagecore vibe comes out best through a wooden pergola.
The most common yet appealing look is that of an archway lined with (fragrant) flowers opening up to the patio or separating the summerhouse area from the rest of the garden. Some of the top flowers for this setup include clematis, honeysuckle, sweet pea, rose, star jasmine, and wisteria.
4. Don't Forget the Signature Fountain!
Whether your patio features a detailed Cottagecore theme, a manicured one, or a pathway framed by stones and pebbles, it will stay incomplete without the signature English fountain.
The ideal model would be a tiered fountain surrounded by potted hydrangeas and other colorful flowers. Even small stone fountains can become the focal point as their cascading waters produce the calming effect needed to soften the formal symmetry.
5. Add the Touch of Wrought-Iron Benches
Given the Cottagecore theme, you can choose wood or stone benches that feature some carvings. But, the only design that is truly transportive is the ornate, antique cast-iron benches still resting in some Victorian parks today.
These benches are easy-to-install and weatherproof; plus, sitting on one of them while gazing at the birds flocking to drink from the fountain will have you enjoying your personal 'Bridgerton' moment!
Time to Gild the Lily?
Is your current garden or patio brimming with life already, but you're just looking to switch to the English Cottagecore era? Even if you're not starting from scratch, the above-mentioned tips and décor ideas will work for you.
The only difference might be in terms of the plants and flower arrangement. In case you're already happy with the setup, there's no need to change the placement right away. You can do that when it's time to change the plants' soil (which may be sooner for some than others).
Simply try to create room for whimsical elements that breathe 'cottagecore' into the aesthetic theme. Finally, plant a whole lot more flowers; after all, can one ever have too many flowers, especially in the gardens of the English countryside?