Scientists in Scotland rocked the world in 1997 when they unveiled Dolly, the cloned sheep. Dolly captured headlines and magazine covers across the globe and cloning became a highly discussed and debated topic. Dolly was the first cloned mammal, but people have been cloning plants for thousands of years.
Make an exact genetic copy of your favorite plant
Cloning is an asexual means of propagation that produces an exact copy of the host. Because the plant will have exactly the same traits as the original plant, it is the best way to replicate plants that have desirable traits. Asexual reproduction occurs in nature frequently in plants that send out runners. Strawberries are the most common example cited, but many plants reproduce in this manner. Many plants that don't readily reproduce by sending out runners can be cloned. Cloning is an effective method for creating a large volume of new plants. New equipment designed for the hobbyist makes cloning accessible and easy for anyone.
How cloning works
Plants have the most amazing ability to recreate missing parts because each cell contains the information needed to create any part of the plant. Given favorable conditions, plants can grow missing parts. We see this after pruning during the growth cycle. Trees produce a flurry of new growth after pruning triggered by a hormone response. For propagation, stems can grow new roots. Leaves can grow stems and roots, and roots can grow stems and leaves. This article will only address three types of cloning that apply to soft wood cuttings: tissue culture, cuttings and hydroponic cloning.
Tissue Culture
Tissue culture, also called micro propagation, is a relatively complex process. Plant material is chopped into a pulp then placed in a sterile medium where the plant forms. Tissue culture is an economical way for breeders to make thousands of copies of a single plant. Plant breeders and commercial nurseries use this technique extensively because they can replicate the exact traits and quality of a plant that shows the characteristics they desire. Tissue culture typically takes place in a lab and requires specialized equipment.  Recently, some home tissue culture kits became available; however, they are still quite expensive.
Cuttings
Most gardeners are familiar with cuttings. New plants are created by cutting a small portion of stems and leaves from a host plant. The stem is then placed in rooting hormone and soil. The soil is kept warm and moist while roots form. The greatest challenge in growing cuttings is keeping the plant alive while the roots grow. Maintaining the correct soil moisture is part of the challenge. Warmth added to the soil to stimulate root growth dries the soil quickly. Plastic bags placed over the cuttings help maintain moisture, but must be monitored carefully. Lack of air circulation and ventilation can add to excess moisture which may cause damping off. Some cuttings perform well placed in water. Roots grow quickly; however, water roots do not generally perform in soil requiring a transitional planting. Coco fiber is a very good transitional medium because it holds moisture allowing the plant to slowly adjust.
Hydroponic Cloning
Hydroponic cloning is much easier to do than tissue culture and more effective than traditional cuttings. New equipment allows customers to clone as few as four cuttings and as many as several hundred at a time.  The success rate is extremely high, with rooting in generally 10 days or less.  There are several methods used for cloning, but the easiest is a basket method.  A small neoprene insert fits snugly around the stems of cuttings and suspends the stem in a small basket. The basket is then suspended over a reservoir. The nutrient water sprayed on the cuttings causes the cuttings to root.  Hydroponic methods work well because the stem does not dry out. The water supplies nutrients to the roots while they develop, and the plant is fully supported during the process. The plant's roots are not suspended in water, so they do not develop water roots and can be planted directly once roots form.
Tips for cloning success
Most of the tips below will work for traditional cuttings as well as hydroponic cloning.
Select the plant you plan to clone. Select only plants that are in good health and are at least two months old.  New growth is best if it's available, however, any healthy stem with at least two or three healthy sets of leaves will work. Only take cuttings from well hydrated plants.  Plants that are dry will not perform as well as cuttings.
Hygiene cannot be stressed enough.  Disease, fungus and viruses spread quickly and are a primary cause of failure.  Luckily, a few easy steps will ensure healthy cuttings.  It may be tempting to skip the cleaning steps, but you will be rewarded with quick healthy cuttings by spending a few extra seconds.
Gather your tools: A sharp craft knife or razor blade, cutting shears, container with water, rooting hormone, clean cutting mat, cloning system.
Prepare the water bath in the cloner.  Measure nutrients carefully.
Select a 2"-3" stem of plant, ideally with new growth.  (Note: fall is the ideal time to find new growth, but cuttings will work in spring) cut below the intersection of leaves on the stem.  Immediately place cutting into water until you are ready to process all cuttings.
Remove lower leaves by carefully slicing them at the stem.  Leave several leaves at the top of the stem. If leaves are too large for the cloning space, cut then lengthwise.
Place cutting on a clean cutting mat. Sterilize blade with alcohol and carefully cut the stem diagonally at a 45° angle to expose as much of the plant's cambium as possible. Be careful not to crush any tissues. Dip knife in alcohol between each cutting.
Place a small amount of rooting hormone in a small Dixie cup or small glass and dip cutting into hormone.  Do not dip the cutting directly into main container to avoid contamination.  Throw the excess compound away; do not add back to the original container. Note: Commercial growers typically use liquid rooting hormone because the plant absorbs the liquid faster than the powder.
Secure the cutting in the basket and place in cloner.
Check your cuttings frequently.  In a few days you will start to see nodes forming just prior to root development.  Change the water once a week or per the manufacturer's instructions.  Once roots are formed, transplant into 4" pots.  Placing them in a cool greenhouse with bottom heat will encourage healthy root growth while keeping top growth compact and healthy.
If you are interested in trying a cloning machine, the Daisy Cloner is an excellent place to start.  The Daisy Cloner will root eight cuttings at once and takes up less than a square foot of space, and costs less than $70.00.  Larger units like the Cloner-25 and the Power Cloner will clone 25 and 45 plants at a time.  Much larger units are also available.
By following these easy steps, you are well on your way to an abundant and healthy garden.  Cloning is not only easy and practical, it's rewarding and fun! GG 
---
Michelle Moore is the General Manager of the Greenhouse Catalog where she has worked with greenhouses for 20 years. Michelle writes and lectures about greenhouse gardening as an Oregon State University Master Gardener and member of Garden Writers Association. Michelle is a Fulbright Scholar and earned an International MBA from Thunderbird, School of Global Management.
---
The two types of plant reproduction include sexual and asexual. Plants grown from seed are produced sexually and contain genetic material from several plants. Plants produced asexually contain only the genetic material from the host.
Annuals reproduce sexually and cannot be cloned. Some plants sold as annuals are in fact tender perennials, so it's worthwhile to check.
Want more information? Read these articles:
A Consistent Environment is a Key Factor in Successful Plant Propagation
Cloning Methods and Techniques

Why Should You Consider Planting Spring-Planted Bulbs in Your Garden?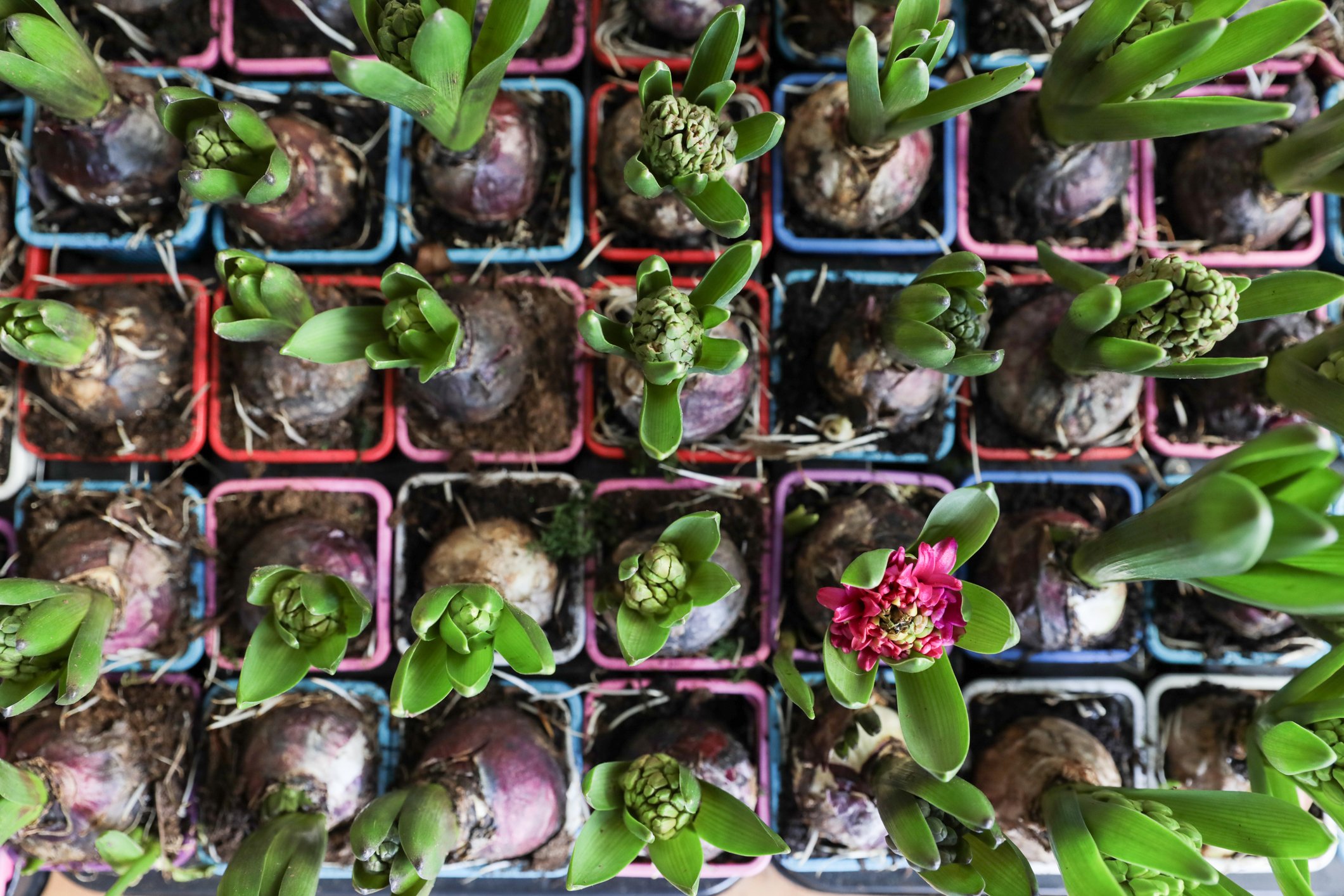 Spring is a great time to plant bulbs in your garden! Not only do they add a pop of color, but they also provide a number of benefits. In this blog post, we'll outline the benefits of planting spring planted bulbs in your garden. We'll discuss what bulbs are, what flowers come from bulbs, how to plant them, when to plant them, and how to care for them. So, go ahead and plant some spring-planted bulbs in your garden this spring!
What Are Spring Bulbs?
Do you love the beauty and colors of springtime? If so, then you should consider planting spring bulbs in your garden. Spring bulbs are a popular type of flower that is planted in the springtime. They come in many different colors and are known for their beautiful blooms. Not only do they add beauty to your garden, but they are also easy to care for.
When selecting spring bulbs for your garden, it's important to choose ones that look good together and have a variety of colors. Some of the most popular types of spring bulbs include tulips (a yellow bulb), daffodils (a blue or purple bulb), crocuses (a white or multicolored bulb), and hyacinths (an orange or yellow flower). When selecting which ones to plant, it's best to choose a mixture so that your garden looks colorful throughout the year.
What Flowers Come from Spring-Planted Bulbs?
There's no better way to add color and brightness to your garden than by planting bulbs. Not only are they easy to care for, but they also come back year after year. When choosing which bulbs to plant in your garden, it's important to consider what flowers you want them to produce. Some common bulbs you can plant include tulips, daffodils, hyacinths, and crocuses. All these bulbs will produce beautiful flowers that will add a touch of color and brightness to your garden. You can also choose to plant other types of bulbs, such as grape hyacinths or lily-of-the-valley bulbs. These plants produce smaller flowers but are very fragrant.
The Advantages of Planting Spring-Planted Bulbs
Do you love the look of brightly colored flowers in your garden, but you don't have the time or energy to tend to them? Planting spring-planted bulbs is a great way to add color and interest to your garden without any of the work. Bulbs are easy to care for and require very little maintenance—all you need is some water and sunshine. Plus, bulbs can be planted in a wide variety of locations, including in pots and containers. This makes them perfect for adding interest to any area of your garden.
Another advantage of planting bulbs is that they are relatively inexpensive. You can buy a large container of bulbs for just a few dollars, and they will last for many years with proper care. Plus, bulb plants are relatively easy to transplant if you ever want to move them somewhere else in your garden. Last but not least, planting bulbs is a great way to add color and brightness to your garden all year long!
How to Plant Spring Bulbs?
Color is one of the most important factors when it comes to garden design, and spring-planted bulbs are a great way to add some extra color to your landscape. Not only are they beautiful on their own, but they also provide a wonderful contrast against the cooler colors that will be in season during the summer. Spring-planted bulbs are easy to plant and care for, and there are a variety of different varieties available that will perfectly complement your garden.
When Should You Plant Spring Bulbs?
With the arrival of spring, it's time to start thinking about planting bulbs in your garden. There are a variety of beautiful bulbs that can be planted in the spring, and they're easy to care for, making them a great choice for someone who wants to add color and interest to their yard without much effort.
Consider the season when deciding which bulb to plant in your garden. Spring-planted bulbs will typically bloom earlier than bulbs planted in the fall, so make sure you choose the right one for your garden. There are a variety of different types of spring-planted bulbs to choose from, so find one that will fit well into your landscaping. With a little planning and effort, you can have a beautiful garden that blooms all year.
How to Care for Spring-Planted Bulbs?
Spring is a wonderful time to plant bulbs in your garden. Here are a few tips on how to get started:
First, be sure to research which types of bulbs work best for your garden and climate. Some popular choices include tulips, daffodils, hyacinths, and crocuses. Once you've selected the bulbs you want to buy, purchase them in advance so that you have plenty of time to plant them in the ground or in pots.
Once you have your bulbs home, it's time to take care of them! Make sure that their soil is moist but not soggy – this is crucial for bulb growth. Water them regularly during dry weather, and be sure not to overwater them, as this can damage their roots. When the flowers start blooming, cut the stems close to the ground so that the bulb will continue flowering indoors. After the flowers fade away (usually around mid-March), allow the foliage (orchids tend not to shed their leaves) to die back naturally. Enjoy your beautiful spring-planted bulbs!
In Short
Spring bulbs are a great way to add color and life to your garden. Planting these bulbs will provide you with beautiful flowers throughout the spring and summer. Bulbs are easy to care for and can be planted in almost any type of soil. Be sure to plant your bulbs in the fall so that they have time to establish themselves before the first frost. With a little love and care, your spring bulbs will thrive and bring you enjoyment for years to come.