A Future Biofuel you Probably Don't Know About
In rural Northern Minnesota almost every small town has a café where the farmers meet in the morning. It was in one of these cafés that I made the mistake of bringing up a certain clean burning fuel made from renewable resources. Alright, I said "ethanol". I learned that the word can turn a usually genial bunch of coffee drinking, dice rolling farmers into animated political orators. As a result of this experience and in an effort to avoid having to roll the dice alone on my next visit; I feel it necessary to emphasize that I am about to write about the future of biofuel which is not corn.
According to the International Energy Agency, biofuels have the potential of meeting more than a quarter of the world's demand for transportation fuels by 2050. One of the most promising sources for this fuel is algae. Algae can double its biomass in a day and doesn't require freshwater or land that could otherwise be used to grow food. Algae are incredibly efficient. If we were to run two acres side by side – one with a traditional biofuel crop and the other with algae, the algae acre could produce 300 times more oil and absorb as much as seven times more carbon from the atmosphere.
According to the Department of Energy, the widespread adoption of LEDs (light emitting diodes) over the next twenty years can decrease the amount of energy consumed by lighting in the US by as much as 25% and avoid over 246 million metric tons of carbon emissions over the same period. LEDs can be constructed to target specific wavelengths to fuel photosynthesis and run on alternative energy sources such as solar, wind, or even geothermal. If we were to run two acres side by side- one with traditional artificial plant lighting and one with LED plant lighting; the LED lighting could last over 15 times longer, reduce the amount of water lost to evaporation, and use as much as 90% less electricity.
It's only natural that these solutions would come together and they do in biofuel. Some of the hurdles in algae research have been met with solutions in LED technology and vice versa. LEDs can provide a consistent 18 or 24 hour photoperiod to maximize production potential year round utilizing less resources than previously required to do so with artificial lighting. Algae requires very little light, maximizing the potential coverage area of LED lighting (a very small amount of light can be used over a large area of for algae.)  Algae can be sensitive to temperature which has limited the potential of supplemental lighting for algae in the past but with LEDs researchers are now able to add multiple levels of lighting while adding virtually no heat to the system. While both solutions struggle with initial cost barriers, the combination increases the productivity per square foot for algae and increases the coverage per square foot of LEDs making both solutions more financially appealing.
The developing relationship between algae and LEDs is mainly transpiring in the lab today; but their marriage could ultimately produce a sustainable fuel source for the future that could be grown anywhere and would be produced locally. With almost 50% of our global energy needs tied up in transportation and lighting, you can bet that these ideas are on the fast track. Farmers may soon be just as interested in filling your fuel tank as your dinner table.
Angela Lundmark is the CEO of LED Grow Master Global, LLC.

Why Should You Consider Planting Spring-Planted Bulbs in Your Garden?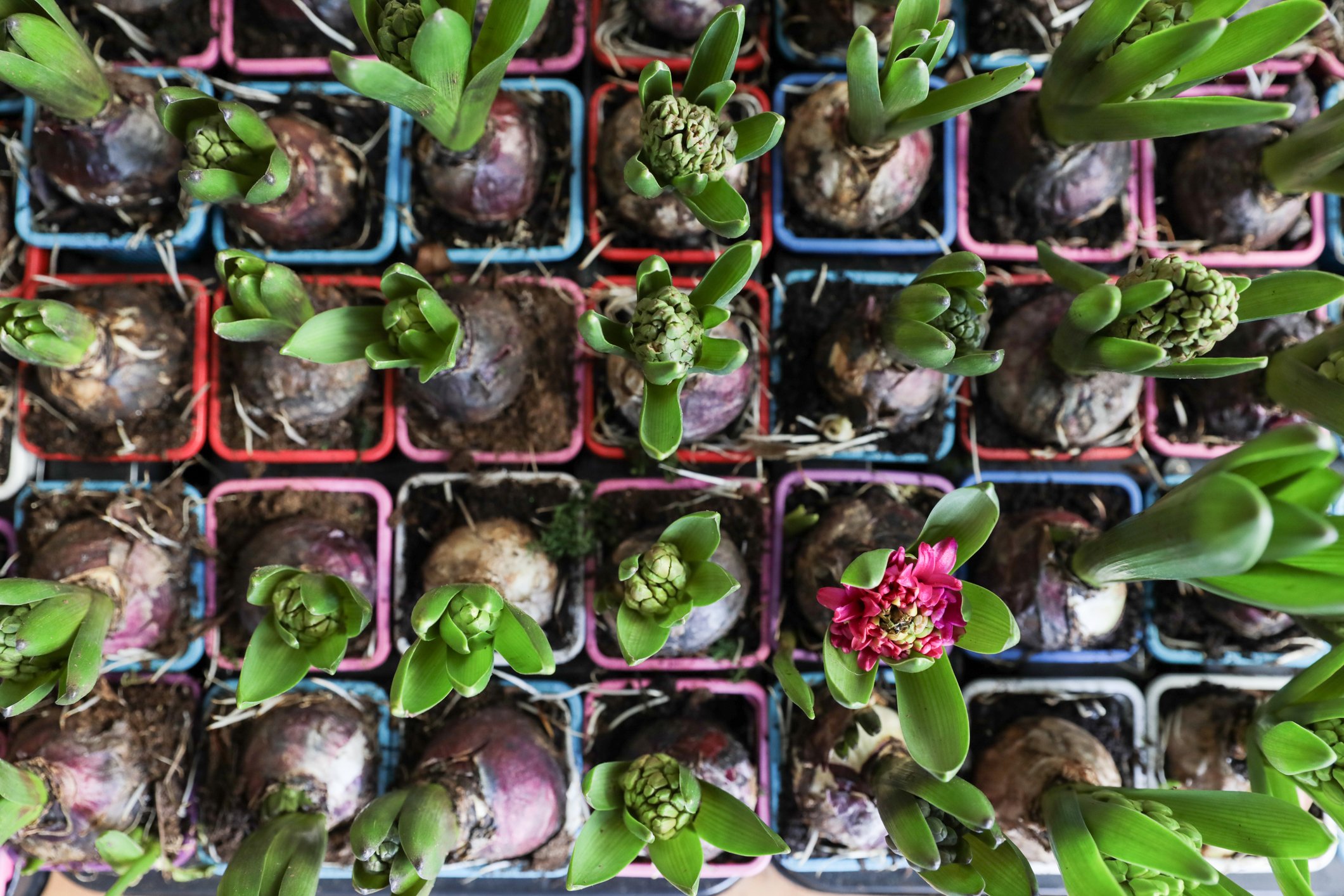 Spring is a great time to plant bulbs in your garden! Not only do they add a pop of color, but they also provide a number of benefits. In this blog post, we'll outline the benefits of planting spring planted bulbs in your garden. We'll discuss what bulbs are, what flowers come from bulbs, how to plant them, when to plant them, and how to care for them. So, go ahead and plant some spring-planted bulbs in your garden this spring!
What Are Spring Bulbs?
Do you love the beauty and colors of springtime? If so, then you should consider planting spring bulbs in your garden. Spring bulbs are a popular type of flower that is planted in the springtime. They come in many different colors and are known for their beautiful blooms. Not only do they add beauty to your garden, but they are also easy to care for.
When selecting spring bulbs for your garden, it's important to choose ones that look good together and have a variety of colors. Some of the most popular types of spring bulbs include tulips (a yellow bulb), daffodils (a blue or purple bulb), crocuses (a white or multicolored bulb), and hyacinths (an orange or yellow flower). When selecting which ones to plant, it's best to choose a mixture so that your garden looks colorful throughout the year.
What Flowers Come from Spring-Planted Bulbs?
There's no better way to add color and brightness to your garden than by planting bulbs. Not only are they easy to care for, but they also come back year after year. When choosing which bulbs to plant in your garden, it's important to consider what flowers you want them to produce. Some common bulbs you can plant include tulips, daffodils, hyacinths, and crocuses. All these bulbs will produce beautiful flowers that will add a touch of color and brightness to your garden. You can also choose to plant other types of bulbs, such as grape hyacinths or lily-of-the-valley bulbs. These plants produce smaller flowers but are very fragrant.
The Advantages of Planting Spring-Planted Bulbs
Do you love the look of brightly colored flowers in your garden, but you don't have the time or energy to tend to them? Planting spring-planted bulbs is a great way to add color and interest to your garden without any of the work. Bulbs are easy to care for and require very little maintenance—all you need is some water and sunshine. Plus, bulbs can be planted in a wide variety of locations, including in pots and containers. This makes them perfect for adding interest to any area of your garden.
Another advantage of planting bulbs is that they are relatively inexpensive. You can buy a large container of bulbs for just a few dollars, and they will last for many years with proper care. Plus, bulb plants are relatively easy to transplant if you ever want to move them somewhere else in your garden. Last but not least, planting bulbs is a great way to add color and brightness to your garden all year long!
How to Plant Spring Bulbs?
Color is one of the most important factors when it comes to garden design, and spring-planted bulbs are a great way to add some extra color to your landscape. Not only are they beautiful on their own, but they also provide a wonderful contrast against the cooler colors that will be in season during the summer. Spring-planted bulbs are easy to plant and care for, and there are a variety of different varieties available that will perfectly complement your garden.
When Should You Plant Spring Bulbs?
With the arrival of spring, it's time to start thinking about planting bulbs in your garden. There are a variety of beautiful bulbs that can be planted in the spring, and they're easy to care for, making them a great choice for someone who wants to add color and interest to their yard without much effort.
Consider the season when deciding which bulb to plant in your garden. Spring-planted bulbs will typically bloom earlier than bulbs planted in the fall, so make sure you choose the right one for your garden. There are a variety of different types of spring-planted bulbs to choose from, so find one that will fit well into your landscaping. With a little planning and effort, you can have a beautiful garden that blooms all year.
How to Care for Spring-Planted Bulbs?
Spring is a wonderful time to plant bulbs in your garden. Here are a few tips on how to get started:
First, be sure to research which types of bulbs work best for your garden and climate. Some popular choices include tulips, daffodils, hyacinths, and crocuses. Once you've selected the bulbs you want to buy, purchase them in advance so that you have plenty of time to plant them in the ground or in pots.
Once you have your bulbs home, it's time to take care of them! Make sure that their soil is moist but not soggy – this is crucial for bulb growth. Water them regularly during dry weather, and be sure not to overwater them, as this can damage their roots. When the flowers start blooming, cut the stems close to the ground so that the bulb will continue flowering indoors. After the flowers fade away (usually around mid-March), allow the foliage (orchids tend not to shed their leaves) to die back naturally. Enjoy your beautiful spring-planted bulbs!
In Short
Spring bulbs are a great way to add color and life to your garden. Planting these bulbs will provide you with beautiful flowers throughout the spring and summer. Bulbs are easy to care for and can be planted in almost any type of soil. Be sure to plant your bulbs in the fall so that they have time to establish themselves before the first frost. With a little love and care, your spring bulbs will thrive and bring you enjoyment for years to come.