What's Small, Squishy and Hated by Every Rose Grower?
Aphids and they can be found nearly anywhere roses are grown. It seems that almost everybody can recognize an aphid when they see it. Some aphids are monophagous, meaning they only feed on 1 type of plant, however most will settle for about any plant in your garden.
About 1/8" in size, aphids can be green, purple, yellow, brown, or just about any other color. They are generally pear shaped, and most have 2 "tail pipes", called cornicles, sticking out their abdomen. These soft bodied pests suck the juices out of plants using mouthparts called stylets. As they feed, the cornicles secrete a sticky substance called honeydew which should be hosed off or wiped off with soap and water. If honeydew is left on the plant, it can cause a black sooty mold that can eventually kill the plants.
Many species of ants love to feed on the honeydew, and will "herd" aphid colonies and take them from plant to plant to feed. The ants will defend the aphids from attack, so if ants are present it can help to spread some Diatomaceous Earth around the base of plants to help keep them under control. Aphids can also be a vector for viruses which can wipe out entire crops. Infected plants need to be pulled and disposed of immediately.
During early Spring and Summer only female aphids are present. They do not need a male to reproduce, and give birth to live aphids which are identical (only smaller) to the mother. They live up to 40 days and have multiple generations per year. When the days shorten and the temperature starts to drop in the Fall, aphids start to produce both males and females. The males and females mate, and the females lay eggs which will winter over. The following Spring when the weather warms, the eggs hatch, and the cycle begins again. Occasionally, especially if there are high populations of aphids and little food, females will lay eggs that hatch into winged aphids which will fly off to find other food sources.
Ladybugs (Hippodamia convergens) are probably the most common predator used to control aphids. Although they have a reputation for flying away to your neighbor's yard, they are still an inexpensive control. Small handfuls can be applied every few days to ensure you have continuous control. One ladybug can eat over 5,000 aphids during its lifetime and with luck, ladybugs will reproduce in your yard. Ladybug larvae are voracious feeders, and are great predators to have in your garden. General feeding predators like Ladybugs, Green Lacewings, and Pirate Bugs are good at controlling not only aphids, but other small, soft bodied insect pests like mites, thrips, and whiteflies.
Aphid Predators (Aphidoletes aphidimyza) are used in greenhouses for long term control. They work so well that after 1 or 2 releases in the spring aphids can be hard to find by the middle of Summer. Aphid Predator adults are frail looking winged midges. They fly around plants and lay up to 250 eggs near aphid colonies. The eggs hatch, and the Aphid Predator larvae begin to search for aphids. The larvae bite the knee joint of the aphid and inject a paralyzing toxin. After the aphid stops struggling, the predator bites into the thorax and sucks out the body contents. After eating about 10 aphids and reaching full size, larvae drop to the soil and pupate into an adult. The entire life cycle takes about 3 weeks at 68 degrees.
Aphid Parasites (Aphidius matricariae) are good at searching out scattered aphid populations. They are not an ideal single control, but when used along with other predators they can help to find the aphids others may miss. They also reproduce very well in greenhouses and back yard gardens. Aphid Parasites work by laying one of their eggs inside an aphid and the resulting larvae consume the aphid from the inside. The parasite then spins a cocoon inside the dead aphid, and pupates. The dead, parasitized aphid swells and stiffens into a leathery, brown, mummy-like wrapping. These are referred to as aphid "mummies", and are a sure sign the parasites are working. Adult Aphid Parasites chew a small hole in the mummy and flies off to find more aphids. Over her lifetime a single female typically attacks 200-300 aphids. The entire life cycle takes about 3 weeks.
There are over 4,000 species of aphids, they have existed for 280 million years, and they aren't going away anytime soon. Soapy sprays can be used initially, followed up with predator releases for best results.
Treat them early and don't think one aphid won't turn into thousands…if left alone it will.
Nathan Jackson is the owner of Nature's Control and Ladybug Indoor Gardens. You can send your specific bug questions to [email protected]. For more information, to request a catalog, or to find a local distributor, check out Naturescontrol.com or call (541) 245-6033.

Why Should You Consider Planting Spring-Planted Bulbs in Your Garden?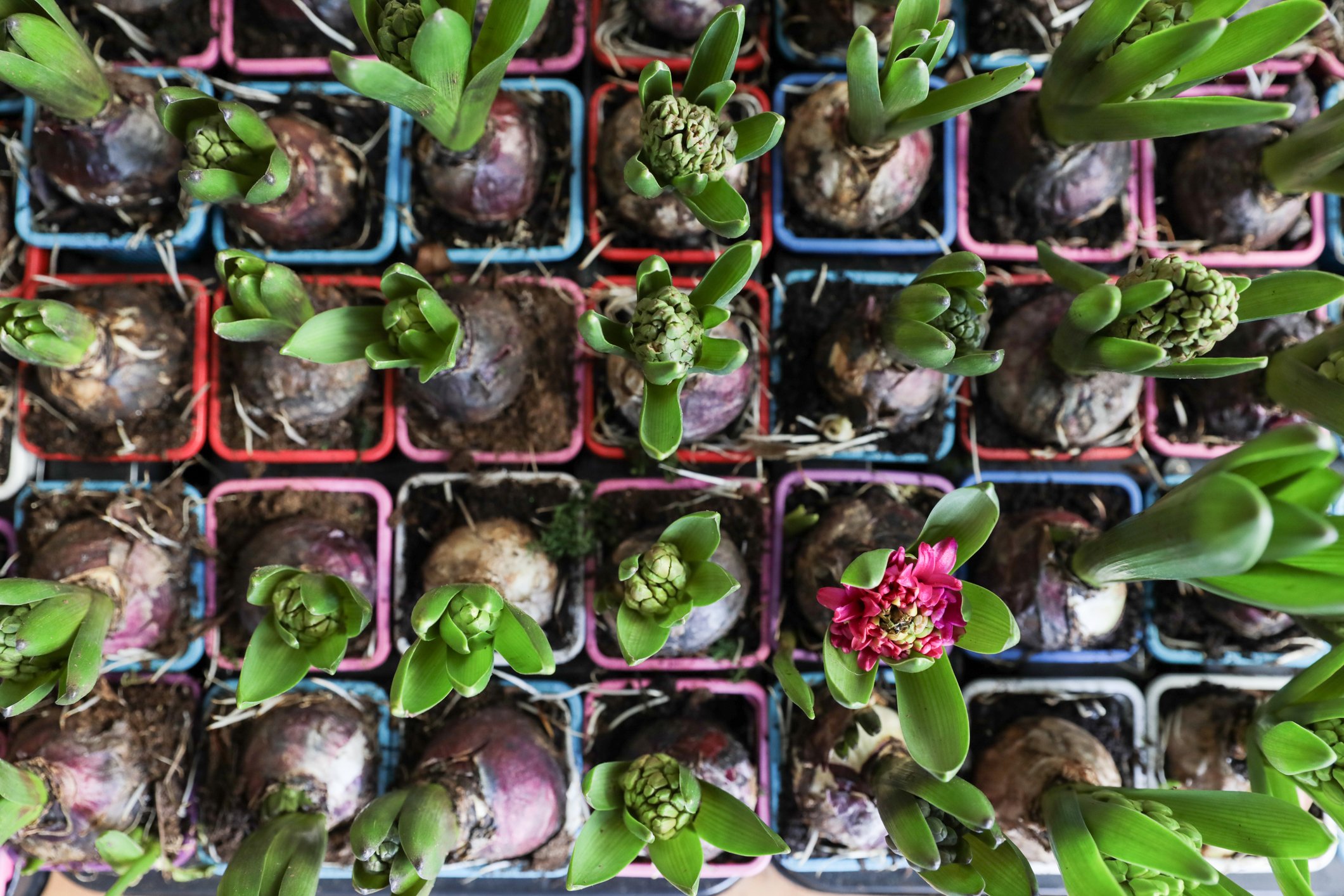 Spring is a great time to plant bulbs in your garden! Not only do they add a pop of color, but they also provide a number of benefits. In this blog post, we'll outline the benefits of planting spring planted bulbs in your garden. We'll discuss what bulbs are, what flowers come from bulbs, how to plant them, when to plant them, and how to care for them. So, go ahead and plant some spring-planted bulbs in your garden this spring!
What Are Spring Bulbs?
Do you love the beauty and colors of springtime? If so, then you should consider planting spring bulbs in your garden. Spring bulbs are a popular type of flower that is planted in the springtime. They come in many different colors and are known for their beautiful blooms. Not only do they add beauty to your garden, but they are also easy to care for.
When selecting spring bulbs for your garden, it's important to choose ones that look good together and have a variety of colors. Some of the most popular types of spring bulbs include tulips (a yellow bulb), daffodils (a blue or purple bulb), crocuses (a white or multicolored bulb), and hyacinths (an orange or yellow flower). When selecting which ones to plant, it's best to choose a mixture so that your garden looks colorful throughout the year.
What Flowers Come from Spring-Planted Bulbs?
There's no better way to add color and brightness to your garden than by planting bulbs. Not only are they easy to care for, but they also come back year after year. When choosing which bulbs to plant in your garden, it's important to consider what flowers you want them to produce. Some common bulbs you can plant include tulips, daffodils, hyacinths, and crocuses. All these bulbs will produce beautiful flowers that will add a touch of color and brightness to your garden. You can also choose to plant other types of bulbs, such as grape hyacinths or lily-of-the-valley bulbs. These plants produce smaller flowers but are very fragrant.
The Advantages of Planting Spring-Planted Bulbs
Do you love the look of brightly colored flowers in your garden, but you don't have the time or energy to tend to them? Planting spring-planted bulbs is a great way to add color and interest to your garden without any of the work. Bulbs are easy to care for and require very little maintenance—all you need is some water and sunshine. Plus, bulbs can be planted in a wide variety of locations, including in pots and containers. This makes them perfect for adding interest to any area of your garden.
Another advantage of planting bulbs is that they are relatively inexpensive. You can buy a large container of bulbs for just a few dollars, and they will last for many years with proper care. Plus, bulb plants are relatively easy to transplant if you ever want to move them somewhere else in your garden. Last but not least, planting bulbs is a great way to add color and brightness to your garden all year long!
How to Plant Spring Bulbs?
Color is one of the most important factors when it comes to garden design, and spring-planted bulbs are a great way to add some extra color to your landscape. Not only are they beautiful on their own, but they also provide a wonderful contrast against the cooler colors that will be in season during the summer. Spring-planted bulbs are easy to plant and care for, and there are a variety of different varieties available that will perfectly complement your garden.
When Should You Plant Spring Bulbs?
With the arrival of spring, it's time to start thinking about planting bulbs in your garden. There are a variety of beautiful bulbs that can be planted in the spring, and they're easy to care for, making them a great choice for someone who wants to add color and interest to their yard without much effort.
Consider the season when deciding which bulb to plant in your garden. Spring-planted bulbs will typically bloom earlier than bulbs planted in the fall, so make sure you choose the right one for your garden. There are a variety of different types of spring-planted bulbs to choose from, so find one that will fit well into your landscaping. With a little planning and effort, you can have a beautiful garden that blooms all year.
How to Care for Spring-Planted Bulbs?
Spring is a wonderful time to plant bulbs in your garden. Here are a few tips on how to get started:
First, be sure to research which types of bulbs work best for your garden and climate. Some popular choices include tulips, daffodils, hyacinths, and crocuses. Once you've selected the bulbs you want to buy, purchase them in advance so that you have plenty of time to plant them in the ground or in pots.
Once you have your bulbs home, it's time to take care of them! Make sure that their soil is moist but not soggy – this is crucial for bulb growth. Water them regularly during dry weather, and be sure not to overwater them, as this can damage their roots. When the flowers start blooming, cut the stems close to the ground so that the bulb will continue flowering indoors. After the flowers fade away (usually around mid-March), allow the foliage (orchids tend not to shed their leaves) to die back naturally. Enjoy your beautiful spring-planted bulbs!
In Short
Spring bulbs are a great way to add color and life to your garden. Planting these bulbs will provide you with beautiful flowers throughout the spring and summer. Bulbs are easy to care for and can be planted in almost any type of soil. Be sure to plant your bulbs in the fall so that they have time to establish themselves before the first frost. With a little love and care, your spring bulbs will thrive and bring you enjoyment for years to come.