Save Your Garbage for Your Greenhouse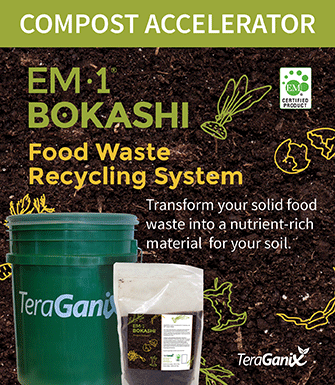 Compost Food Scraps with Worms
Several years ago when my husband's parents first visited our new home, I snapped a picture of my father-in-law fleeing across the deck upon realizing the object he was studying was a worm bin. Despite my best efforts, he was not convinced to look in the bin to see the rich humus and castings. Just after his visit, I received a mini worm farm from a trade show. No more than three inches high, the bin was the perfect home for a few gummy worms. Needless to say, my father-in-law's stocking present that winter was a hit with the family and is a long-standing source for jokes.
Composting with Worms is Clean and Odor Free
The thought of worms eating garbage, called vermicomposting, may not sound appealing, but the process is surprisingly easy and the results are stunning when used in your garden.  When my worms first arrived and I set them in their new bedding, I was expecting to be just a little grossed out. I was wrong. Not only was it clean, it was fascinating. The bin never smells bad, and it's amazing how much the worms eat. In the last few years there has been a wealth of information on composting and a dramatic rise in popularity. Small worm farms are popping up in many communities and new products make it easier than ever for home owners to compost their food waste.
Nature's Best Fertilizer
Worm castings are a wonderful addition to any garden, especially an organic one. Vermicompost contains more healthful benefits than other types of compost. Worm castings are fully digested and "mature" while garden compost may contain some pathogens as well as weed seeds.  This is not to say that all composting is not beneficial, just that vermicompost provides the best plant nutrients.  This wonderful natural fertilizer provides macro and micro nutrients plants can readily access. When plants are healthy, they are more resistant to disease and garden pests. Worm farmers, A Tasteful Garden, report as little as one tablespoon of worm castings will fertilize a 6" container for as long as two months. The slow release nutrients do not leech out of the soil and will not burn even the most sensitive plant.
Worm castings are a gardener's gold. Castings, the worm's waste, are rich in digested plant material, enzymes, bacteria, nitrogen, phosphorus, potash and calcium. A worm's digestion kills human pathogens resulting in a completely safe 100% organic and non-toxic fertilizer. Soil structure is improved with the addition of worm castings. Worm castings add organic matter to the soil increasing drainage; root aeration and can lessen the effects of erosion.  Worm castings will hold two to three times their volume in water, which reduces overall watering requirements.
Environmental Benefits
Food waste often ends up in either the landfill or washed down a garbage disposal. Using the garbage disposal consumes roughly four gallons of water per minute. Many countries in Europe do not allow garbage disposals due to the increased stain on water treatment facilities.  Some cities in the US are following suit.  Raleigh, NC instituted a ban in 2008 on the installation or replacement of garbage disposals connected to the city's sewer system. If caught violating the new law, fines are as much as $25,000 per day.
Some gardeners advocate composting food scraps in traditional garden compost; however, food waste must be composted carefully.  Most home compost piles are not hot enough to decompose food waste without producing odor and attracting rodents. Active compost bins will produce finished humus in roughly 21 days or less.  This type of composting requires an adequate mixture of moisture, greens, nitrogen, and brown material such as leaves or small twigs, and frequent turning. Vermicompost is an effective and easy way to eliminate food waste and can be done all year.  Worms can eat roughly ½ of their body weight daily.  When in a healthy environment, they multiply quickly and will easily compost a family's food scraps.
How to Compost with Worms
Composting food scraps with worms is fairly straight forward.  Worms need a dark environment, air, damp bedding and a food source.  Worms will eat most organic matter but prefer vegetable waste. Animal products, fatty foods and heavily spiced foods are best left out of the container.  Eggshells do not compost easily, but work much better when finely ground.  Coffee grounds are a favorite with worms, and are turned quickly into castings.
Regardless of the type of bin you select or build, you will want to start with high quality red worms. Garden earth worms will not work.  Red worms are available on-line and arrive in a small box packed with bedding. A one pound order will yield approximately 1,000 little red wigglers which must be situated in their new home quickly before they will eat their way out of the packaging and the box.  To prepare the bin, place bedding material in the bottom of the bin. The bedding must be damp like sponge but not wet.  Newspaper, torn cardboard or coco-fiber work well. My bin used coco-fiber which maintained a very good moisture balance and did not dry out to quickly while the worms established themselves.  The worms do not like light, so you will see them for a few moments when you first open the packaging, but they bury quickly into the bedding material once released.
Start slowly feeding the worms while they get used to their new home.  It is important not to over feed them at first. As they grow and reproduce, they will consume more waste.  To establish your bin faster, you can speed up digestion by breaking the food down before feeding it to the worms. Scraps cut into small pieces will break down much more quickly than large pieces.  For even faster results, food scraps can be frozen then thawed or added to a blender and blended.  It can take as long as a year or slightly longer to establish a mature worm bin, but the steps above will significantly reduce that time.
If done properly, worm bins do not create any odor; however, from time to time things may be out of balance. If you spot flies in the bin or insect larva, there is good indication the bin is to acidic.  If this happens, the problem is easily corrected by covering the top of the bin lightly with damp paper then sprinkling a small amount of lime on the paper.  Worms like moderate temperatures and will not do well in hot or cold weather.   Greenhouses are an excellent place to locate your worm bin most of the year, provided you are controlling the temperature. Worms will not want to get much below 55° and will need to be moved in the summer when temperatures are much above 75°.  Ideally the bin will be close to your house to it is easy to add the food scraps. You can store them in a compost pail containing a carbon filter to reduce odor in your kitchen, then feed the worms weekly. If you do not have an indoor location for your bin, you can insulate the bin to cool and or heat it.
Types of Worm Bins
There are two basic designs for worm bins: single and multi-tiered bins. Since tiered bins are the most basic of the two. This is the most common home made bin and requires little more than a plastic tub a small drill to make air holes and some damp newspaper. There are some good videos on You Tube showing some homemade systems.  The downside with single tier bins is the work required to use the castings. Castings must be filtered to remove worms before using in the greenhouse or garden. This can be a messy process and slow down production.
Multi-tier systems are the easiest to use. Bins start as a single layer; however, when they fill with castings, a second bin with a screen on the bottom is added to the top of the system. New food is placed in the top bin causing worms to migrate to the upper level.  As the worms produce new castings, the fine material falls through the screen. Excess water flows through the system into a water collection reservoir for the collection of worm tea. Once several layers are full, the bottom bin may be removed and used in the garden. Once emptied it is placed on the top of the system. Two bins readily available for home use include the Can-O-Worms and the Worm Farm.
When selecting your worm bin, keep in mind the size you will need. Your bin will need approximately one square foot for each pound per week of waste. If the size of your bin is too large, you may need to feed your worms more than the waste you create. Some food waste is easily supplemented with non-food scraps. Worms will eat many types of paper (not magazine paper or shiny junk mail), as well as the waste from vacuum cleaners and hair. Some local coffee shops bag their used coffee grounds which work very well in the compost mix. It is also possible to compost pet waste, however, some types of animal waste are not safe to compost for use in the garden. The Pet Poo Converter is specifically designed for animal waste. The manufacturer recommends a dedicated system for pet waste as worms must have a consistent diet.
How to Use Your Worm Castings
Worm castings are a wonderful solution to common the greenhouse problems of watering, fertilizing existing containers, and deterring harmful insects. Containers that winter over in a greenhouse require frequent fertilizing. Adding a thin layer, up to an inch, of worm castings to the top of the container will supply constant nutrients as well as reduce the amount of water and time spent maintaining the container.  Reapply at least every few months.
Castings also make a wonderful seed starter. Seeds do not need nutrients to germinate, however, the first 72 hours after the first leaves appear is a critical time for the plant. By planting seeds in small containers with mixture of worm castings covered by a small layer of coco-fiber make for an excellent starter mix. The coco-fiber supplies the moisture and structure needed for the germination. Once the root grows into the worm castings, it is provided with water-soluble nutrients the plant can use immediately.
Mix castings with potting soil for transplanting. Use roughly 10% to 20% castings to potting soil. This mix will hold water better than the potting soil alone while providing a constant supply of nutrients. As with greenhouse plants, adding a layer to the top of outdoor containers or houseplants is an easy way to refresh a container. If transplanting into the ground, a handful of castings at the base of the planting hole for small plants will suffice.  Using castings will decrease instances of transplant shock.
Two methods for applying worm castings to landscaping and gardening include mulching and compost tea. Sensitive plants are easily mulched by adding a small amount of castings around the base of the plant. The castings continue to break down and compost after application. This application will discourage harmful nematodes from attacking plant's roots but will provide a healthy environment for beneficial insects.
Compost tea is made from worm castings and highly oxygenated water.  Just as with a passive compost pile, the compost will turn anaerobic and start to stink without the proper amount of aeration.  A pump with bubblers and added molasses will help to brew this tea. Once complete, the product must be applied immediately.  The tea is an excellent foliar spray and is also good applied to the plant's roots.  Many organic gardeners claim by adding properly composted tea to their garden in the spring they encourage beneficial insects and healthy growth all season.  There are several compost tea brewers available for home gardeners and also directions for brewing tea on the internet.  If you decide to make your own tea brewing system, make sure to select a design that uses a pump.
Once you are over the "gross" factor, if you are subject to it, you will find vermicomposting easy and rewarding.  Just like checking on your seedlings, tending to worms is interesting and fun too.  Children love to feed and monitor the worms and it's even more fun to see the dramatic results.  My father-in-law has noticed the results of own worm composting efforts, but he still won't look in the bin. Clearly, worm composting is not for everyone, but it's the best gift you can give your garden or greenhouse plants.
Michelle Moore is the General Manager of the Greenhouse Catalog where she has worked with greenhouses for 20 years. Michelle writes and lectures about greenhouse gardening as an Oregon State University Master Gardener and member of Garden Writers Association. Michelle is a Fulbright Scholar and earned an International MBA from Thunderbird, School of Global Management.

A Dream: Retiring in Canada
Introduction
The prime of a person's life is represented by the golden years. If you've put in a lifetime of hard work, responsibility, and adhering to a strict work schedule, you can finally retire to your "cape" and relax in your own home, which need not be in the city where you currently reside. If you have made the decision to relocate for your retirement, you may be looking for the best Canadian city to retire to spend your time in.
Even if you already have a list of preferences for where you want to retire, this list can be a great resource. The adoption of a pragmatic and practical approach when selecting a retirement city can help you enjoy a happy and financially secure retirement.
Everyone has their own set of preferences, priorities, likes, and dislikes when it comes to just about anything and everything. This includes everything from minor details such as a favorite cup of coffee to major decisions such as choosing the right career path. As a result, it is understandable that each individual would have their own ideas about how and where to spend their retirement years.
Fredericton, NB
The city of Fredericton serves as the provincial capital of the province of New Brunswick. Although it is a small city in terms of population for a capital, it is a fortunate mix for retirees. In spite of the fact that the city is not particularly crowded, its status as the regional capital means that it has many amenities that a city of its size does not typically have (though public transportation is not available on Sundays). Real estate prices are low enough that you can afford a home if you have enough savings, which is especially true if you are looking to purchase a condominium.
In addition, the rent is significantly less expensive. It has a humid continental climate and is located on the banks of the river. So, if you like to fish, it could be a fantastic place to settle down in. For a city of its size, the city has a large number of historical buildings and museums, as well as parks and gardens. It also hosts a large number of festivals. The city's largest hospital, which has more than 300 beds and several specialists, as well as a level 3 trauma center.
It's possible that Fredericton will be the perfect place for you if you're looking for a nice, affordable blend of nature and a moderately large city.
Kingston, Ontario
When it comes to living in a city where half of the population is made up of young students rather than old retirees like yourself, Kingston might be the best Canadian city to retire to. Because of its strategic location, it has a long and illustrious history, particularly in the military sphere.
As a retiree, you'd appreciate Kingston's laid-back atmosphere and easygoing pace of life. Almost half of the year, the city is bathed in sunshine. Transport in the local area is efficient, quick, and reasonably priced. One of Kingston's most significant assets, however, may be its world-class medical facilities. Kingston General Hospital is one of the largest hospitals in the province of Ontario and is located in Kingston. Many wonderful places to visit or spend your retirement time in the city, such as Lake Ontario Park and the Museum of Healthcare, which is the only museum of its kind in the country, are available to you. Many outdoor activities are available to you in the city as well, including sailing, fishing, golf, and hiking, among many others.
Burlington, Ontario
There are 115 parks in the small community of Burlington, so getting some exercise and fresh air will not be a problem. Given that it's only about 40 minutes away from Toronto, it's possible that you'll enjoy living in this charming little town if you have family in the city. It has a vibrant creative community as well as a sufficient number of art venues, especially given the size of the city. In addition, the city is very bicycle-friendly.
Even though there is a major hospital in the town, you may need to travel to Hamilton, which is not far away, if you have a serious medical problem. The high cost of living in Burlington is a chink in the city's armor. Even if you decide to rent a place in the city, you may find it to be an expensive place to live. However, if you can find a way to avoid this expense (by living in a co-op or a small house, for example), the city will appear to be quite affordable. Alternatively, you can choose one of the city's retirement homes. In addition, the city offers a diverse range of retirement living options, including active retirement living, assisted living, and home care.
Kelowna, BC
When it happens to come to retirement homes, Kelowna is a bit of a cliche, to say the least. Until the most recent census, retirees accounted for more than 18 percent of the population, which is significantly higher than the national average. This city experiences all four seasons, although housing can be expensive (especially if you try to live near the lake). If you are an oenophile (a fancy way of saying wine enthusiast), Kelowna is the place to be. It's the perfect combination of nature, peace, and the big-city hustle and bustle (especially in tourist season).
If you don't mind living a little outside of the city for cheaper housing, if you enjoy driving and taking part in outdoor recreational activities such as picnics by the lake, you might find Kelowna to be a reasonable price. The primary medical facility, for example, is quite large, with over 700 beds, and the number of doctors per capita is sufficient given the city's population density. The dry weather is a major draw for many retirees who come to this city to enjoy their golden years.