11 Essential Greenhouse Accessories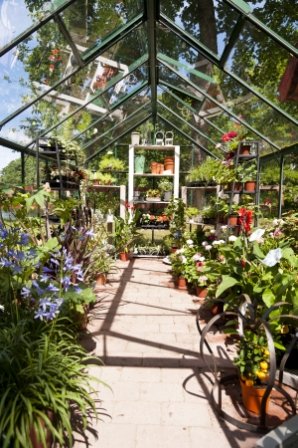 Greenhouses are popular with both amateur and avid gardeners, any professional greenhouse grower knows that some greenhouse accessories and add on systems, are extremely vital to achieving maximum year round growing environments.
Not only do these glasshouses give you the chance to grow some of your favorite plants, fruits and vegetables, they also enable you to grow them all year-round too. However, purchasing a greenhouse structure is just the start of it, as there are plenty of things you will also have to consider buying. These are eleven of the most essential accessories available for your greenhouse.
Greenhouse Heating
There are normally two types of heating systems when it comes to greenhouses, a central system and a unit system. Which one you need will depend on a variety of things, including what sort of plants you are planning to grow and the size of the greenhouse itself. Each heating system has unique benefits, as well as disadvantages so it is important you properly research which one would most suit your particular gardening needs.
Greenhouse Ventilation
In order to maintain a proper greenhouse environment, you should invest in a ventilation system. You can choose from an automatic or manual system. Automatic systems offer convenience because an automatic timer will open the vents of a greenhouse when a certain temperature is reached. In some cases, a fan may also be activated. Manual systems rely on a person opening them by hand and are generally good for using only in very basic greenhouses. A good ventilation system will also reduce the appearance of mildew and mold.
Plant Fertilizer
No greenhouse plants would be complete without a supply of plant fertilizer to aid healthy growth. While standard fertilizers are relatively inexpensive, the more expensive organic fertilizers are gaining in popularity. Not only are the organic options good for the plants, they help protect the surrounding environment too.
Greenhouse Pest Control
Every gardener is aware of the need to protect their plants from both walking and flying pests. Therefore, no greenhouse is complete without a decent pest control system. As well as the standard pesticides, there are several eco-friendly versions for those worried about inadvertently damaging their plants or the environment. A simple mesh will help to keep out flies and other small bugs.
Greenhouse Watering Systems
Water wands release tiny droplets of water in a fine mist directly over the plants. These wands work on a timer, so you will have peace of mind regarding your plant's water supply. Drip systems are often larger and supply a greater quantity of water. A drip system also uses a timer and is ideal for a large area watering.
Greenhouse Irrigation Systems
If you have an active water system you will also need to implement an irrigation system to get rid of excess and waste water from the greenhouse. Virtually all systems work in a similar fashion with only size to differentiate them. They all work by carrying excess water away from the plants and into a designated area, which is usually the soil in your garden.
Greenhouse Staging & Shelving Systems
Growing racks are great space savers for smaller greenhouses. They are designed to protect plants from harsh weather conditions and accidental knocks. For smaller structures, greenhouse shelving units are often used as either a two-tier freestanding unit, three-tier freestanding unit, or a four-tier freestanding unit. These units are easy to assemble and the shelving is essential for keeping a greenhouse tidy and organized.
Lighting
Lighting units provide basic light for when you need to work in your greenhouse when there is little natural sunlight. The units should be waterproof and feature a safety trip-switch that will automatically stop the flow of electricity if the unit is compromised by bad weather, water or anything else. Greenhouse lighting is essential for winter gardening, when hours of daylight are drastically reduced.
Digital Thermometer
A thermometer may be a small accessory, but it is definitely one of the most important when it comes to greenhouse gardening. Because certain plants grow best in certain temperatures, a thermometer will help ensure the proper temperature is achieved and if the temperature drops below a safe limit. Plants do not fare well in cold weather and frost can kill them quickly, so a thermometer helps ensure your greenhouse temperature is regulated.
Greenhouse Coverings
Everyone knows that plants need sunlight to grow however, not everyone knows that too much sunlight can be detrimental to their growth. Cloth shades fit on the windows and can be pulled down when the sunlight is strong, to give the plants some shade. The shades will also help prevent the inside temperature from becoming uncomfortable.
Cleaning Kit
Special micro-fiber cloths and demister spray are essential cleaning items for a greenhouse. Used together they help eliminate condensation on greenhouse windows, which reduces the chances of mold and mildew.
Conclusion
This is simply, a list of the most important accessories one might need, for optimal growing circumstances. Every structure is different; due to the fact that it will be located within a unique climate, serve a different purpose, be used for growing different types of plants and be constructed with different materials. For most people, an excellent greenhouse garden can be achieved with just heaters for winter, shade cloth for the warmer months, manual or automatically opening ventilation window units, lights and a misting system.
Marion Catubig is a Garden & Greenhouse contributing editor and the owner of GreenhouseHut.com a company that sells hobby greenhouses and other gardening supplies.
Want more information? Read these articles:
Drip Irrigation for Greenhouses
Have a Plan Before Purchasing a Greenhouse
How to Build a Plastic Greenhouse
Understanding Foundations for Greenhouses
Ventilation System Automation for Indoor Gardens and Greenhouses
5 Practical Box Opener Hacks
Your package arrives in the mail, and you grab the first pair of scissors or keys to pry it open. Or, maybe you have a box opener handy to see what the delivery carrier brought you. While you may have initially bought that box opener for obvious reasons, don't just think it's for opening packages. In fact, this versatile tool might just become one of your favorite "go-to" gadgets once you see the many life hacks it can be used for.
A box opener also called a box cutter or utility knife is a nifty little tool that consists of a handle and a blade. Typically, the blade is retractable and stores neatly inside the handle housing when not in use. There are many different styles, colors, and designs to choose from. Finding a box opener should be fairly easy. One should take into account the blade style and handle, as well as the material that they are made of. For instance, ceramic is a really great material, especially from a safety point of view. A practical box opener is really durable and easy to grip. So let's find out more about why you need one and how to make the most of your purchase. 
Why Do You Need a Box Opener?
As the name suggests, a box opener is great for opening and breaking down cardboard boxes. However, box openers are also handy for: 
Home Improvement Projects: Cutting drywall and insulation board; scoring vinyl tile or veneer; trimming linoleum or carpet; deburring polyvinyl chloride (PVC); removing caulk seals
Landscaping Applications: Cutting landscape fabric or sod; opening bags of mulch or granular fertilizer; pruning small unruly bush stems
In the Kitchen: Opening food packages; slicing through meats, cheeses, and small fruits and vegetables.
For Hobbies and Crafts: Scrapbooking; wood carving; bookbinding; soap and candle making; leather and fabric crafting
Outdoor Adventures: Cutting fishing lines; cleaning fish; trimming rope or twine; making emergency repairs
Do Box Openers Really Have Hacks?
While this isn't a comprehensive list, here are a few very practical hacks for box openers that you may want to try.
Hack #1 – Perfect Edge Painting
Have you ever taken the time to carefully apply painters tape to trim and other woodwork before painting your wall, only to be frustrated when the tape tears away bits of your freshly painted wall when removed? A box opener tool can be used to remedy this pesky problem.
Before pulling off your painter's tape, simply make a neat cut with your box opener tool right at the edge of the tape, where it connects with the wall paint. This small step will help your tape pull off cleanly, leaving the wall paint intact.
Hack #2 – Cardboard Template Cutting
Mounting items on the walls of your home is often necessary—but tedious. It can be difficult to know exactly where to place your nails or screws, especially when there are multiple brackets and you are working alone. The next time this problem arises, reach for your box opener tool and some basic cardboard to help.
Use a pen to trace the shape of the item onto the cardboard, and then cut it out with the box opener tool. Mark appropriate places where brackets or mounting hardware is located and then place your newly created template on the wall for reference to narrow down where you will need a drill or hammer.
Hack #3 – Softening Ice Cream
Having a good working freezer is a fabulous thing until you try to scoop hard-as-rock ice cream from a carton. The next time you want ice cream and it's frozen solid, skip the mess and try this box opener hack instead.
With your box cutter blade fully exposed, run it under hot tap water for about 30 seconds. Using the warmed blade, cut several horizontal lines straight across the surface of the ice cream. Turn your carton into a vertical position, and make similar cuts perpendicular to the first ones. This will result in a checkerboard pattern in the ice cream. Once all cuts are made, use your ice cream scooper to get your dessert.
Hack #4 – Trimming Photos
Whether you print your own images or you cut apart sheet photographs delivered from a print studio or photographer, a box opener tool and a straight-edged ruler make this task quick and easy.
Start by laying your photo on a solid-cut, proof surface. Then lay the ruler along the photograph's edge. Score carefully with the box cutter tool, and then discard any unwanted scraps. Your photos are now ready to frame!
Hack #5 – Replacing Screens
Everything from pets to the weather can wreak havoc on a home's window and door screens, and replacing the screen material seems to be on every homeowner's to-do list at some point in time or another. With the help of a box opener tool, this becomes a relatively simple DIY project to tackle.
Once you have removed the old, torn screen material, cut your new screen just a few inches larger on all sides than the screen's frame. After aligning the new screen with the frame and pressing in your rubber seal strips, use your box cutter tool to trim off the excess screen material, leaving a clean-cut finish.
Whether your project involves a sweet tooth, a do-it-yourself project, or showing off your favorite pics, here's hoping these five handy tips make your life a little easier courtesy of your box opener.