10 Steps to Supercharged Cuttings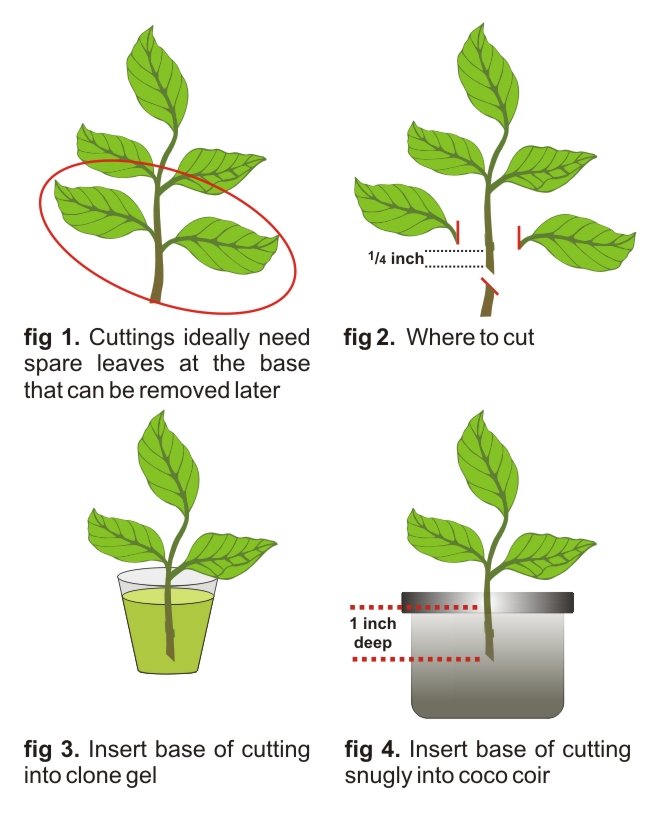 Reproducing your own plants from cuttings provides control over the supply and quality of seedlings.  It also enables you to replicate your favorite strain.
Start with Clean, Sterile Water
This helps to prevent diseases. Use either fresh, reverse osmosis water (ideal), or fresh treated tap water. The water should be tepid and around 68 °F.
Use a Professional Nutrient
Choose a professional nutrient then add coco coir and stir.
Stimulate Root Production
Add a suitable root stimulant and root-zone conditioner to the nutrient solution then stir again. This encourages strong, vigorous and healthy roots.
Check pH to Ensure Optimal Nutrient Availability
Depending on the nutrient being used, this step may be unnecessary. However, if you are not certain then use a calibrated digital pH meter to verify the nutrient solution's pH is between 5.5 and 7.0. If the pH is above 7.0, add dilute (not straight out of the bottle!) phosphoric acid, little by little until the pH falls within the correct range.
Prep the Pots Then Moisten
Line two or three-inch net pots with net pot liners and fill them with premium quality, pith-rich coco coir and place in a propagation tray. Large cell trays or coco propagation blocks can also be used. Gently tap the pot or tray a few times to get rid of any large air gaps. Thoroughly moisten (flush) the propagation media with the nutrient solution and discard any run-off.  To prevent diseases, ensure all hardware has been thoroughly cleaned and sterilized with bleach.
Take Small Cuttings
Select a healthy mother plant that is not flowering and has no visible diseases or pest infestations:
Select "lead" growth tips wherever possible: Ideal length is 3 – 5 inches with one leaf set (two leaves) at the base that can be removed later on (fig 1).  When these lower leaves are removed (in Step 2) this region offers greater rooting potential when placed into 'soil'.
Work quickly with a sterile, sharp blade (razor blades are good but be careful): Remove the lower set of leaves flush with stem, but without cutting into it.  Then cut through the stem on a 45 degree angle about 1/4 inch below this (fig 2).  Do not tear or crush the stem.
Insert the one inch of base of cutting (fig 3) into a cloning gel then insert the stem about one inch deep into a pre-made hole (slightly undersized) in the center of the pot or block (fig 4).  It should fit snugly but be careful not to bruise or damage the stem. Steps 1 to 3 should be done quickly to minimize stresses on the cutting such as dehydration and air ingress.
Seal in Moisture
Place a propagator lid on the tray and generally close any vents. Relative humidity should be maintained about 90% (open vents slightly if required). To combat any persistent wilting, spray 2-3 times per day with water or a cloning spray. Make sure to avoid pools of liquid at the bottom of the propagator – propagation media should never be allowed to sit in water.
Place Under Low Intensity Fluorescent Light
Choose 6500K lamps. One 2 foot lamp is sufficient for one full-sized propagator. Leave the lights on for 24 hours a day. Monitor the temperature inside the propagator using a thermometer with a remote probe and aim for 75-80 °F. Use a thermostatically controlled heat mat if temperatures are too cold, which is unlikely and raise the lights if is too hot, which is more likely.
Check Cuttings Regularly
Once roots form (typically after 5 – 10 days) the propagation media can become dry very quickly, often catching growers off guard. Re-moisten the media using the same solution while keeping in mind that in some cases, top-watering fails to water the entire propagation block. Full immersion of the block itself may be required.
Be Patient and Clean
Wait until the roots have fully explored the propagation media before transplanting—keeping the cuttings moist (but not drenched) with regular top-ups of a mild nutrient solution. Vents can be gradually opened once roots have formed to help prevent diseases. Also, maintain hygiene by keeping hard surfaces wiped clean while removing any dead plant matter as it is an ideal host for fungi.
Andrew Taylor is the Chief Chemist at FloraMax. You can visit their website at Floramax.com.
Read More Articles
11 Houseplant Propagation Tips
Plant Propagation Calendar – What You Should Be Doing Each Month of the Year
Using an Electronic Leaf in Plant Propagation

A Dream: Retiring in Canada
Introduction
The prime of a person's life is represented by the golden years. If you've put in a lifetime of hard work, responsibility, and adhering to a strict work schedule, you can finally retire to your "cape" and relax in your own home, which need not be in the city where you currently reside. If you have made the decision to relocate for your retirement, you may be looking for the best Canadian city to retire to spend your time in.
Even if you already have a list of preferences for where you want to retire, this list can be a great resource. The adoption of a pragmatic and practical approach when selecting a retirement city can help you enjoy a happy and financially secure retirement.
Everyone has their own set of preferences, priorities, likes, and dislikes when it comes to just about anything and everything. This includes everything from minor details such as a favorite cup of coffee to major decisions such as choosing the right career path. As a result, it is understandable that each individual would have their own ideas about how and where to spend their retirement years.
Fredericton, NB
The city of Fredericton serves as the provincial capital of the province of New Brunswick. Although it is a small city in terms of population for a capital, it is a fortunate mix for retirees. In spite of the fact that the city is not particularly crowded, its status as the regional capital means that it has many amenities that a city of its size does not typically have (though public transportation is not available on Sundays). Real estate prices are low enough that you can afford a home if you have enough savings, which is especially true if you are looking to purchase a condominium.
In addition, the rent is significantly less expensive. It has a humid continental climate and is located on the banks of the river. So, if you like to fish, it could be a fantastic place to settle down in. For a city of its size, the city has a large number of historical buildings and museums, as well as parks and gardens. It also hosts a large number of festivals. The city's largest hospital, which has more than 300 beds and several specialists, as well as a level 3 trauma center.
It's possible that Fredericton will be the perfect place for you if you're looking for a nice, affordable blend of nature and a moderately large city.
Kingston, Ontario
When it comes to living in a city where half of the population is made up of young students rather than old retirees like yourself, Kingston might be the best Canadian city to retire to. Because of its strategic location, it has a long and illustrious history, particularly in the military sphere.
As a retiree, you'd appreciate Kingston's laid-back atmosphere and easygoing pace of life. Almost half of the year, the city is bathed in sunshine. Transport in the local area is efficient, quick, and reasonably priced. One of Kingston's most significant assets, however, may be its world-class medical facilities. Kingston General Hospital is one of the largest hospitals in the province of Ontario and is located in Kingston. Many wonderful places to visit or spend your retirement time in the city, such as Lake Ontario Park and the Museum of Healthcare, which is the only museum of its kind in the country, are available to you. Many outdoor activities are available to you in the city as well, including sailing, fishing, golf, and hiking, among many others.
Burlington, Ontario
There are 115 parks in the small community of Burlington, so getting some exercise and fresh air will not be a problem. Given that it's only about 40 minutes away from Toronto, it's possible that you'll enjoy living in this charming little town if you have family in the city. It has a vibrant creative community as well as a sufficient number of art venues, especially given the size of the city. In addition, the city is very bicycle-friendly.
Even though there is a major hospital in the town, you may need to travel to Hamilton, which is not far away, if you have a serious medical problem. The high cost of living in Burlington is a chink in the city's armor. Even if you decide to rent a place in the city, you may find it to be an expensive place to live. However, if you can find a way to avoid this expense (by living in a co-op or a small house, for example), the city will appear to be quite affordable. Alternatively, you can choose one of the city's retirement homes. In addition, the city offers a diverse range of retirement living options, including active retirement living, assisted living, and home care.
Kelowna, BC
When it happens to come to retirement homes, Kelowna is a bit of a cliche, to say the least. Until the most recent census, retirees accounted for more than 18 percent of the population, which is significantly higher than the national average. This city experiences all four seasons, although housing can be expensive (especially if you try to live near the lake). If you are an oenophile (a fancy way of saying wine enthusiast), Kelowna is the place to be. It's the perfect combination of nature, peace, and the big-city hustle and bustle (especially in tourist season).
If you don't mind living a little outside of the city for cheaper housing, if you enjoy driving and taking part in outdoor recreational activities such as picnics by the lake, you might find Kelowna to be a reasonable price. The primary medical facility, for example, is quite large, with over 700 beds, and the number of doctors per capita is sufficient given the city's population density. The dry weather is a major draw for many retirees who come to this city to enjoy their golden years.