Garden & Greenhouse Cover Story – Phantom 50 Series Commercial Lighting Systems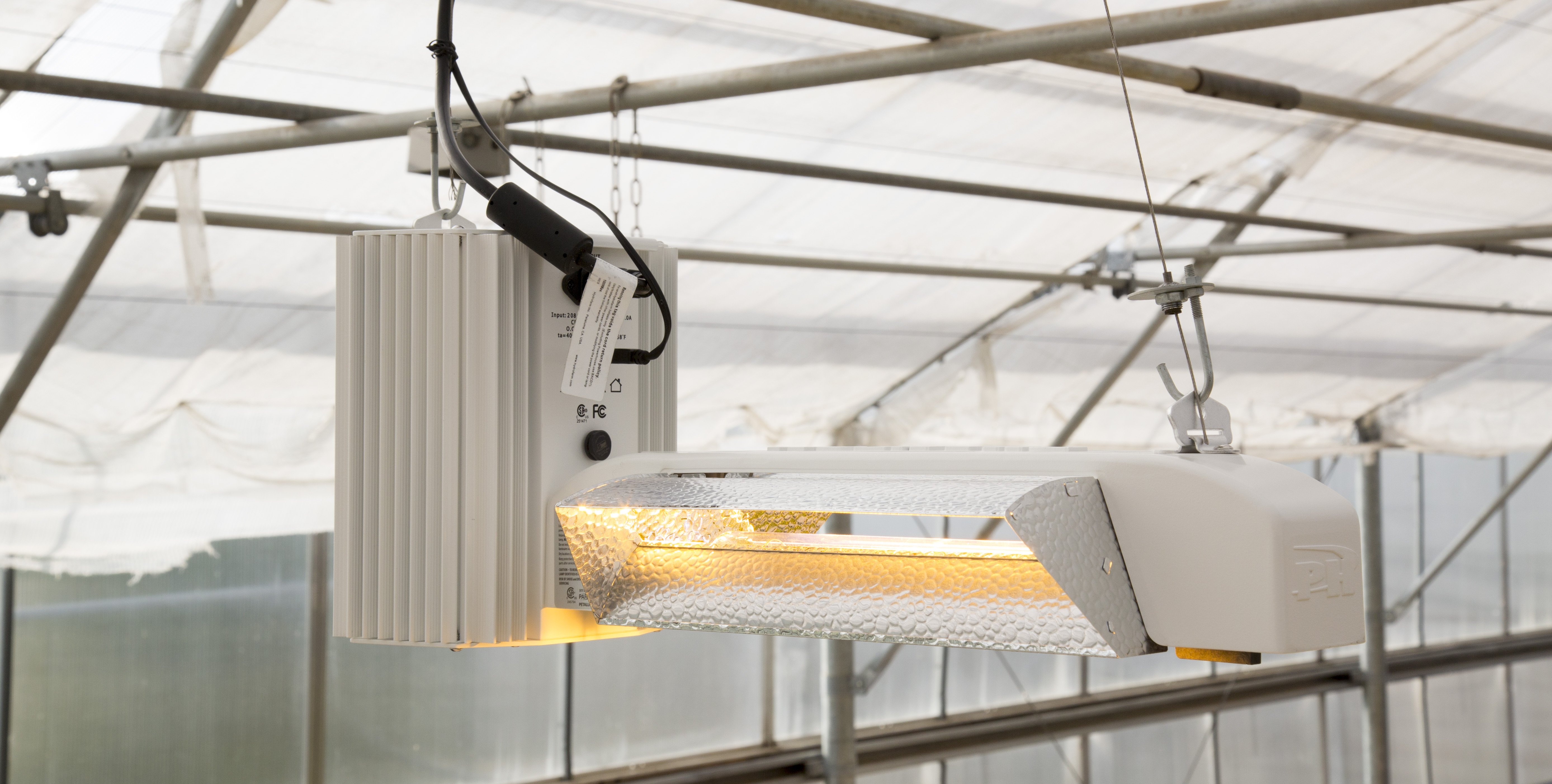 Experienced indoor growers understand that not all horticultural lighting systems are created equally. In fact, there is a huge variance in technologies, efficiency, effectiveness and overall quality between the lighting fixtures available to modern horticulturists. Considering that light energy is the main driving force behind plant growth in an indoor garden, it only makes sense that an indoor gardener seeks the very best for his or her artificial lighting system.
When looking for a quality lighting system, a horticulturist needs to examine the system's ability to effectively convert electricity into usable light energy (photosynthetically active radiation or PAR). The amount of PAR a lighting system creates compared to the electricity it uses can help a grower determine the system's overall efficiency. However, it's not just the PAR to electricity draw ratio that an indoor horticulturist should be concerned with. How the light energy is delivered to the plants is another important point to consider. In other words, the type of reflector or specialty lens being used makes a big difference in how the plants "see" the light.
Few companies have had as large an impact on the indoor horticultural industry as Hydrofarm. Hydrofarm and PARsource teamed up to develop the most efficient and effective double-ended (DE) HID lighting system in the horticultural market. That lighting system is known as the Phantom DE. The grower's success was the key objective when designing the Phantom DE. The folks at Hydrofarm and PARsource realize that in order for a grower to continue to compete in a world with continuously rising energy costs, he or she needs a lighting solution that will efficiently convert electrical energy into PAR at the highest possible rate. With almost four decades of lighting expertise in their corner, Hydrofarm and PARsource integrated the highest quality components available into the Phantom DE Lighting System Series.
Phantom Commercial 50 Series Lighting System
Available exclusively from Hydrofarm is the new Phantom Commercial 50 Series Lighting System. This system represents a decade of product evolution and refinement. The Phantom Commercial DE Lighting System features state-of-the-art double-ended technology that uniformly delivers optimal PAR levels to the plants. At the heart of the system is the Phantom ballast, which includes a high-precision microprocessor and premium RF shielding. Th
e Phantom Series features an all-in-one design for maximum strength and optimal heat management. The reflector insert is easily interchangeable and there are a variety of reflector options available, including the Open Reflector, Enclosed Reflector, and the Super Deep Reflector. The Phantom DE Series includes a USB interface for full compatibility with the Autopilot PX1 Digital Lighting Controller. Many Phantom DE Lighting Systems are available with a dimmable option (750W and 1000W) and multiple voltage options.
Independent Testing Proves Phantom DE Systems Consistently Outperform
To prove it had created the most efficient double-ended lighting system available to horticulturists, Hydrofarm hired a third-party testing laboratory. Independent Testing Laboratories, Inc. (ITL Boulder) is the most experienced independent photometric testing lab in North America. The test compared eight of the most popular commercially available double-ended horticultural lighting systems. Based on the test results generated by Independent Testing Laboratories, Hydrofarm's Phantom DE Open Lighting System and Phantom DE Enclosed Lighting System were ranked first and second place, respectively. There were a total of five testing categories: relative efficiency, total micromole output, micromoles per watt, absolute luminous flux, and lumens per watt.
The Phantom DE fixtures placed first and second in all five categories. The Phantom DE fixtures also produced more plant usable photons per watt consumed, required fewer fixtures to meet desired micromole levels and had the lowest operating cost of any double-ended horticultural lighting system available. Put another way, the Phantom DE Lighting Systems offer the highest efficiency of any of the tested double-ended lighting systems.
Reflector Options for the Phantom DE Series
What makes a lighting system great is not just the bulb and ballast, but the material the reflector is made from and how the reflector is configured. All Phantom reflectors are made from a multi-layered European hammer-tone reflective material. The utmost quality of this material ensures a higher level of light reflectivity and overall longevity.
The Hydrofarm staff understands that having the right tool for the job makes all the difference. That's why it has multiple reflector options for the Phantom DE series.
Open DE Reflector
This basic, but bold, reflector directs light energy to the canopy below. It is ideal for small-sized gardens or for large commercial spaces when multiple fixtures are used in footprint cross-patterns. The Phantom DE Open Lighting System is designed to uniformly deliver optimal PAR value over a broad footprint.
Enclosed DE Reflector
The Enclosed DE Reflector was specifically designed to concentrate the high output of DE lamps in a standard, traditional spread. The Enclosed DE Reflector creates super intense light when positioned close to the plant canopy or, if appropriate for the growing situation, a wider distribution of still-powerful illumination when raised higher. This reflector has an open roof or ridge vent for optimum heat dissipation.
Super Deep DE Reflector
This reflector was designed by Hydrofarm's in-house engineering team to fill the need for a DE reflector that delivers an ultra-focused light spread of maximum intensity. In other words, this reflector was designed to provide an intense downward focused light from a higher mounted position. The Super Deep DE Reflector is perfect for applications needing high levels of PAR concentrated on a less broad canopy.
Team with the Autopilot PX1 for Maximum Lighting Control
The Autopilot PX1 Digital Lighting Controller provides a centralized, dual-zone digital control over the Phantom DE Lighting Systems. The Autopilot PX1 allows the user to switch, dim, and/or boost multiple Phantom DE ballasts at once (up to 256 in each of the two independent zones). The trunk-line cable connection ensures seamless communication between the controller and all the ballasts in the chain. This digital ballast interface is easy to set up and control and is available at an affordable price.
The cost of energy is constantly on the rise. If an indoor horticulturist wishes to continue his or her hobby or business, they need the most effective and efficient lighting system available. The Phantom DE Lighting System Series from Hydrofarm is extremely effective at providing usable light energy to plants, but it also does so in a very efficient manner. There is currently no other DE lighting system on the market that can provide such high levels of PAR in such a uniform and efficient manner. Over the course of a few garden cycles, horticulturists who implement high-efficiency lighting systems such as the Phantom DE Lighting System Series will be rewarded with a lower cost of operation and a higher return on investment.
When teamed with the Autopilot PX1 Lighting Controller, the Phantom DE Lighting System becomes even more efficient. The future of indoor horticulture is all about efficiency. The grower who understands the importance of providing intense, uniform light as efficiently as possible will be the one who continues to compete in the years to come. The folks at Hydrofarm have designed an incredible DE lighting system based on the needs of the grower. The Phantom DE Lighting System Series, with its interchangeable reflector options, equips all indoor horticulturists from hobbyists to professionals with the right tool for creating abundant harvests as efficiently as possible.
For more information call 800.634.9990, email info@hydrofarm.com or visit Hydrofarm.com.

A Dream: Retiring in Canada
Introduction
The prime of a person's life is represented by the golden years. If you've put in a lifetime of hard work, responsibility, and adhering to a strict work schedule, you can finally retire to your "cape" and relax in your own home, which need not be in the city where you currently reside. If you have made the decision to relocate for your retirement, you may be looking for the best Canadian city to retire to spend your time in.
Even if you already have a list of preferences for where you want to retire, this list can be a great resource. The adoption of a pragmatic and practical approach when selecting a retirement city can help you enjoy a happy and financially secure retirement.
Everyone has their own set of preferences, priorities, likes, and dislikes when it comes to just about anything and everything. This includes everything from minor details such as a favorite cup of coffee to major decisions such as choosing the right career path. As a result, it is understandable that each individual would have their own ideas about how and where to spend their retirement years.
Fredericton, NB
The city of Fredericton serves as the provincial capital of the province of New Brunswick. Although it is a small city in terms of population for a capital, it is a fortunate mix for retirees. In spite of the fact that the city is not particularly crowded, its status as the regional capital means that it has many amenities that a city of its size does not typically have (though public transportation is not available on Sundays). Real estate prices are low enough that you can afford a home if you have enough savings, which is especially true if you are looking to purchase a condominium.
In addition, the rent is significantly less expensive. It has a humid continental climate and is located on the banks of the river. So, if you like to fish, it could be a fantastic place to settle down in. For a city of its size, the city has a large number of historical buildings and museums, as well as parks and gardens. It also hosts a large number of festivals. The city's largest hospital, which has more than 300 beds and several specialists, as well as a level 3 trauma center.
It's possible that Fredericton will be the perfect place for you if you're looking for a nice, affordable blend of nature and a moderately large city.
Kingston, Ontario
When it comes to living in a city where half of the population is made up of young students rather than old retirees like yourself, Kingston might be the best Canadian city to retire to. Because of its strategic location, it has a long and illustrious history, particularly in the military sphere.
As a retiree, you'd appreciate Kingston's laid-back atmosphere and easygoing pace of life. Almost half of the year, the city is bathed in sunshine. Transport in the local area is efficient, quick, and reasonably priced. One of Kingston's most significant assets, however, may be its world-class medical facilities. Kingston General Hospital is one of the largest hospitals in the province of Ontario and is located in Kingston. Many wonderful places to visit or spend your retirement time in the city, such as Lake Ontario Park and the Museum of Healthcare, which is the only museum of its kind in the country, are available to you. Many outdoor activities are available to you in the city as well, including sailing, fishing, golf, and hiking, among many others.
Burlington, Ontario
There are 115 parks in the small community of Burlington, so getting some exercise and fresh air will not be a problem. Given that it's only about 40 minutes away from Toronto, it's possible that you'll enjoy living in this charming little town if you have family in the city. It has a vibrant creative community as well as a sufficient number of art venues, especially given the size of the city. In addition, the city is very bicycle-friendly.
Even though there is a major hospital in the town, you may need to travel to Hamilton, which is not far away, if you have a serious medical problem. The high cost of living in Burlington is a chink in the city's armor. Even if you decide to rent a place in the city, you may find it to be an expensive place to live. However, if you can find a way to avoid this expense (by living in a co-op or a small house, for example), the city will appear to be quite affordable. Alternatively, you can choose one of the city's retirement homes. In addition, the city offers a diverse range of retirement living options, including active retirement living, assisted living, and home care.
Kelowna, BC
When it happens to come to retirement homes, Kelowna is a bit of a cliche, to say the least. Until the most recent census, retirees accounted for more than 18 percent of the population, which is significantly higher than the national average. This city experiences all four seasons, although housing can be expensive (especially if you try to live near the lake). If you are an oenophile (a fancy way of saying wine enthusiast), Kelowna is the place to be. It's the perfect combination of nature, peace, and the big-city hustle and bustle (especially in tourist season).
If you don't mind living a little outside of the city for cheaper housing, if you enjoy driving and taking part in outdoor recreational activities such as picnics by the lake, you might find Kelowna to be a reasonable price. The primary medical facility, for example, is quite large, with over 700 beds, and the number of doctors per capita is sufficient given the city's population density. The dry weather is a major draw for many retirees who come to this city to enjoy their golden years.