LED Arrays for Greenhouse Plant Production
LED lights are beginning to flood the market in and for every lighting application, including greenhouses. Many of these are low priced plastic systems that produce insufficient quantities of light and have high failure rates. However, there are several companies that are producing incredibly efficient high output lights that really do produce. Some of the major plant research facilities in the world, like Stanford University, NASA and the USDA, are replacing their existing HID (High Intensity Discharge) lighting systems with LEDs. If you are considering adding lighting to, or replacing existing lighting systems in your greenhouse, make certain you spend the time to know the product you are purchasing. The old adage "you get what you pay for" really applies to LED technology.
How to Choose a LED Array
LED grow lights are not cheap and if they are, you need to know why. It is important, as an educated consumer that you end up with the best value for your dollar. The LED market has many plastic models that have been poorly designed in order to lower the cost. It is important to find the companies that are using high quality chips, power supplies and heat dissipation systems. The chips should be protected by high impact lenses and surrounded by a case that can withstand the rigors of a greenhouse. By spending a little time evaluating the companies, you will quickly see the difference between the lamps that will be more likely to fail or produce an inferior amount and quality of light when compared to higher quality lights.
Advantages of LED Lighting
Traditional lighting high output lights (Metal Halide and High Pressure Sodium) are expensive to operate, contain numerous toxic compounds and/or require frequent replacement. Many of the high quality LED arrays produce light intensities that rival traditional 600W HID light sources while consuming approximately 80% less power and have none of the toxic compounds.
Decreased Heat
Most of the power savings come from the decreased amount of waste heat generated by LEDs. The heat emitted by HID lighting is simply energy that has been wasted during the conversion of power to light. Many HID users, especially in colder climates, see this as a benefit, by using the waste heat from their HIDs to help heat their greenhouse.
Unfortunately, for the same reasons you avoid using electrical strip or box heaters to heat your house you should avoid using lights to heat your greenhouse. Electrical heating is very expensive and users would save money by using natural gas heaters to warm the growing environment instead of the electrical heat from lights.
The standard operating temperature of LED arrays are approximately 90 F° (32 C°), whereas HID lamps generally operate around 600 F° (315 C°). This can present a working hazard and results in excess heat that needs to be removed from an environment. This is especially true in the summer months. The lower operating temperatures of LEDs may allow some users to operate their lights during the summer, which may be impossible with HID lighting, especially in warmer climates.
Light Output/Spectrum
The high output LEDs produce light levels (PPF-Photosynthetic Photon Flux) that are significantly greater than fluorescent lighting, including VHO's and have similar outputs to 600W HID lamps. The coverage area is determined by the focusing lenses that are used by the manufacturer, but can cover similar areas as most conventional HID lights.  Additionally, because the arrays utilize many LED chips, the uniformity of the light in the growing area is superior to HIDs and comparable to fluorescents. LED chips are now available as multi-spectrum, white light or as single color. This allows the user to determine the appropriate color spectrum for their unique applications. Additionally, LED lamps can be turned on/off instantly, similar to fluorescents, allowing a user to enter a room immediately.
Maintenance
LED lights have a longer working life than any conventional light source available on the market today. LEDs chips are designed to operate longer than 50,000 hours (about 5.7 years running 24/7 and in most cases significantly longer), while maintaining their light output. A typical HID lamp has an operational lifespan of 15,000 hours (about 1.7 years) but should be replaced even more frequently (between 9 months –1 year) because of the diminished output. Fluorescent lamps need replacement in an even shorter period of time because of the diminished output. The decreased cost of bulb replacement and labor involved with replacement leads to additional savings for the LED user.
Hazards
LED chips are a solid state product, therefore don't have the potential of glass breakage and they don't include the toxic compounds, including mercury, that are found in both fluorescents and HID lighting. In addition to mercury, some of the hazardous compounds found in fluorescents and HID lamps are thorium, iodides and or bromides of scandium, sodium, thallium, indium, gallium, etc. The LED chip, is solid state and offers a solution to toxic and hazardous waste generated by these traditional lighting sources.
Return on Investment
Don't be fooled by those low cost LED lights. These lights have inferior light output and quality and often fail to live up to the warranty period. High quality, high output LED lights are relatively new to the market and will provide sufficient light to produce superior crops in a greenhouse. However, the cost of these good LED's is steep and generally has consumers looking back toward traditional lighting sources. The buyer needs to examine the potential cost savings of up to 80% in their energy bill and the long life of the arrays to understand the advantage.
LEDs at NASA/Ames Research Center Crop Research Facility
The researchers at NASA/Ames Research Center have been working with and testing LED arrays for over 20 years and have never found an array that can produce enough light energy to conduct their plant production research, until now. The researchers at NASA have retrofitted their growth chambers that originally included 400W, 600W and 1000W HID lamps with LED arrays. In this environment LEDs have produced adequate light to conduct their research, improved the light uniformity, while substantially decreasing the heat load and power consumption.
LEDs at Stanford University Greenhouse Facility
While the Ames Research Center scientists were primarily interested in growth chamber research, and obtaining high light output, the staff at the Stanford University research greenhouses were looking for a light that could replace their HID lamps (primarily used for supplemental lighting) utilized in their research greenhouses. The lamps ranged from 400W-1000W. They required a lamp that also had high output, but more importantly they were looking for a "green alternative" that would decrease the energy consumption of the facility and decrease the frequency of replacing bulbs, ballasts and capacitors and eliminate their hazardous waste costs. They opted for LED arrays to replace their HID lamps in their greenhouse facility. They determined that the LED arrays easily out-performed 400W HIDs in both intensity and distribution on a one-to-one basis and if they used two arrays in place of one 1000W HID that the LED arrays were comparable.
Energy audits concluded that lighting is the single greatest cost in maintaining the greenhouse facility. The university greenhouse staff evaluated several LED arrays over a two year period and qualified only a select few companies that made arrays that would meet the researcher's demands. Additionally, after conducting a detailed cost analysis, the University determined that LED installation would pay for itself (Return on Investment) in less than 2 years and would save the university more than $200,000.00 annually in lighting energy costs alone. This does not take into account the decreased cooling costs, lamp replacement and hazardous waste disposal costs.
LED lighting technology has finally reached a point in development where it is a feasible alternative to existing and more traditional greenhouse lighting systems. But the buyer needs to understand this is not true with all LED lighting systems. Some inexpensive LED lighting systems will not provide the light or the energy savings you are looking for.  The good LED lights are expensive; however, the return on investment can be as quick as one year and, in almost every case, no longer than two years.
Greg Schlick is employed by Ames Associates at NASA/Ames Research Center.

Why Should You Consider Planting Spring-Planted Bulbs in Your Garden?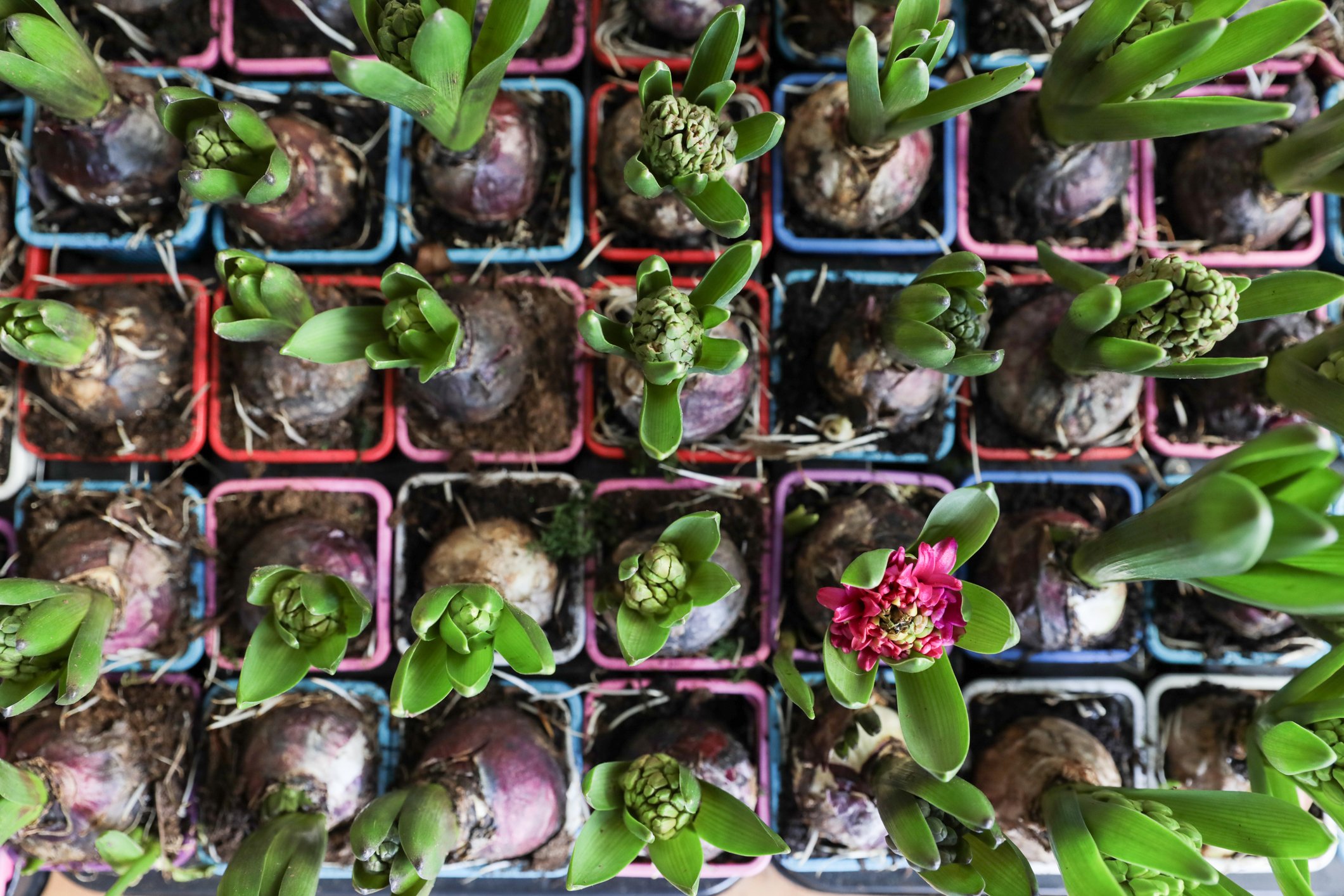 Spring is a great time to plant bulbs in your garden! Not only do they add a pop of color, but they also provide a number of benefits. In this blog post, we'll outline the benefits of planting spring planted bulbs in your garden. We'll discuss what bulbs are, what flowers come from bulbs, how to plant them, when to plant them, and how to care for them. So, go ahead and plant some spring-planted bulbs in your garden this spring!
What Are Spring Bulbs?
Do you love the beauty and colors of springtime? If so, then you should consider planting spring bulbs in your garden. Spring bulbs are a popular type of flower that is planted in the springtime. They come in many different colors and are known for their beautiful blooms. Not only do they add beauty to your garden, but they are also easy to care for.
When selecting spring bulbs for your garden, it's important to choose ones that look good together and have a variety of colors. Some of the most popular types of spring bulbs include tulips (a yellow bulb), daffodils (a blue or purple bulb), crocuses (a white or multicolored bulb), and hyacinths (an orange or yellow flower). When selecting which ones to plant, it's best to choose a mixture so that your garden looks colorful throughout the year.
What Flowers Come from Spring-Planted Bulbs?
There's no better way to add color and brightness to your garden than by planting bulbs. Not only are they easy to care for, but they also come back year after year. When choosing which bulbs to plant in your garden, it's important to consider what flowers you want them to produce. Some common bulbs you can plant include tulips, daffodils, hyacinths, and crocuses. All these bulbs will produce beautiful flowers that will add a touch of color and brightness to your garden. You can also choose to plant other types of bulbs, such as grape hyacinths or lily-of-the-valley bulbs. These plants produce smaller flowers but are very fragrant.
The Advantages of Planting Spring-Planted Bulbs
Do you love the look of brightly colored flowers in your garden, but you don't have the time or energy to tend to them? Planting spring-planted bulbs is a great way to add color and interest to your garden without any of the work. Bulbs are easy to care for and require very little maintenance—all you need is some water and sunshine. Plus, bulbs can be planted in a wide variety of locations, including in pots and containers. This makes them perfect for adding interest to any area of your garden.
Another advantage of planting bulbs is that they are relatively inexpensive. You can buy a large container of bulbs for just a few dollars, and they will last for many years with proper care. Plus, bulb plants are relatively easy to transplant if you ever want to move them somewhere else in your garden. Last but not least, planting bulbs is a great way to add color and brightness to your garden all year long!
How to Plant Spring Bulbs?
Color is one of the most important factors when it comes to garden design, and spring-planted bulbs are a great way to add some extra color to your landscape. Not only are they beautiful on their own, but they also provide a wonderful contrast against the cooler colors that will be in season during the summer. Spring-planted bulbs are easy to plant and care for, and there are a variety of different varieties available that will perfectly complement your garden.
When Should You Plant Spring Bulbs?
With the arrival of spring, it's time to start thinking about planting bulbs in your garden. There are a variety of beautiful bulbs that can be planted in the spring, and they're easy to care for, making them a great choice for someone who wants to add color and interest to their yard without much effort.
Consider the season when deciding which bulb to plant in your garden. Spring-planted bulbs will typically bloom earlier than bulbs planted in the fall, so make sure you choose the right one for your garden. There are a variety of different types of spring-planted bulbs to choose from, so find one that will fit well into your landscaping. With a little planning and effort, you can have a beautiful garden that blooms all year.
How to Care for Spring-Planted Bulbs?
Spring is a wonderful time to plant bulbs in your garden. Here are a few tips on how to get started:
First, be sure to research which types of bulbs work best for your garden and climate. Some popular choices include tulips, daffodils, hyacinths, and crocuses. Once you've selected the bulbs you want to buy, purchase them in advance so that you have plenty of time to plant them in the ground or in pots.
Once you have your bulbs home, it's time to take care of them! Make sure that their soil is moist but not soggy – this is crucial for bulb growth. Water them regularly during dry weather, and be sure not to overwater them, as this can damage their roots. When the flowers start blooming, cut the stems close to the ground so that the bulb will continue flowering indoors. After the flowers fade away (usually around mid-March), allow the foliage (orchids tend not to shed their leaves) to die back naturally. Enjoy your beautiful spring-planted bulbs!
In Short
Spring bulbs are a great way to add color and life to your garden. Planting these bulbs will provide you with beautiful flowers throughout the spring and summer. Bulbs are easy to care for and can be planted in almost any type of soil. Be sure to plant your bulbs in the fall so that they have time to establish themselves before the first frost. With a little love and care, your spring bulbs will thrive and bring you enjoyment for years to come.