Aquaponics: From Fish to Fertilizer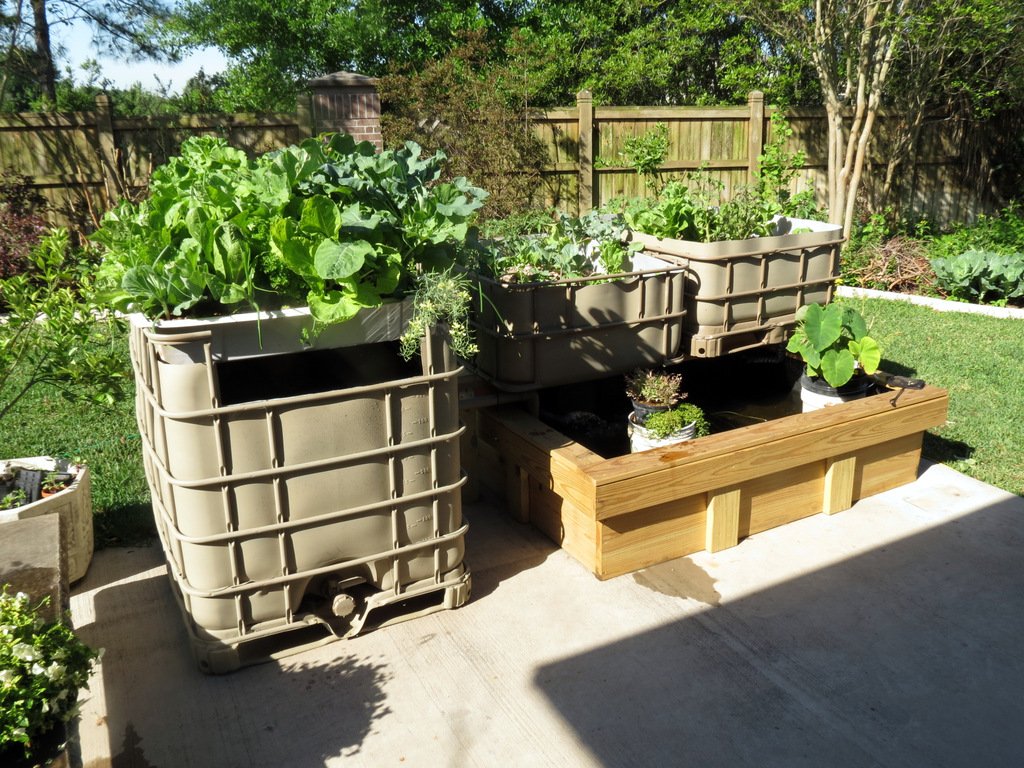 Aquaponic gardening is the combination of aquaculture (fish farming) and hydroponic gardening. Essentially, an aquaponic system mimics what happens in nature along every waterway present on earth. There are many different life cycles and the nitrification of ammonia from fish waste is just one intriguing strand in the web of ecosystems that make up our world. In nature, waste produced by fish is converted from ammonia to nitrites and nitrates by bacteria. The converted nitrates can then be used by plants as a source of food. In order to produce edible produce and fish, aquaponic gardeners encourage this natural process within their aquaponic systems. By utilizing the fish waste, which was once disposed of by aquaculturists, an aquaponic system can produce an abundance of food in a small area. Proponents of sustainable farming are just some of the people who are ecstatic to discover the possibilities of aquaponics. Hobbyist gardeners are also taking advantage of all the benefits that aquaponic gardening has to offer. A closer look at some of the variables that can make or break a productive aquaponic system will give a horticulturist a better idea of how he or she may be able to incorporate an aquaponic system into his or her garden.
Energy Flow
As we all know, it is impossible to get something out of nothing. The same principle holds true for aquaponics. When examining a complex natural system like aquaponics, it is a good idea to examine the flow of energy and how each stage affects the next. In order for the fish to produce the waste that will be converted into plant food, the fish need an energy source. The main input for any aquaponic system is the fish food. This food is usually high in protein and can be produced in another sub-ecosystem (like a worm bed or cricket farm) or purchased. Once the fish eat and digest the food, waste will be produced.
Over 50% of the waste produced by the fish will be in the form of ammonia (fish urine). The remainder of the fish waste, excreted as fish fecal matter, undergoes a process of mineralization. In an aquaponic system, mineralization occurs when heterotrophic bacteria consume the fish fecal matter along with any decaying plant material and uneaten fish food. The specialized bacteria convert all three into ammonia and other compounds. Stepping in next is one of the most important microorganisms existing on our planet: nitrifying bacteria. Nitrifying bacteria live naturally in the soil, water and air and play a vital role in creating nitrates for our world. It is the nitrifying bacteria that convert the ammonia (mineralized by the heterotrophic bacteria or found in fish urine) into first nitrite and then nitrate. Plants consume the nitrate as food thus completing the aquaponic cycle.
When looking at an aquaponic system, it is easy to forget the bacteria that play a vital role in the stability of the system. After all, it's easy to see the fish and the plants but the microorganisms escape our vision and out of sight is out of mind. However, it is very important to remember that there are really three crops to keep alive in an operational aquaponic system: the bacteria, the fish and the plants.
Bacteria
In an aquaponic system the heterotrophic bacteria and the nitrifying bacteria live on the fish tank walls, organic matter in the system, the growing medium, the pump and the water delivery system. There is usually no need for an aquaponic system to be inoculated with these bacteria as they are all naturally occurring. As soon as ammonia and nitrite are present, these bacteria will show up to do their jobs. When first beginning an aquaponic system ammonia needs to be introduced in order to promote the growth of the imperative bacteria. This is usually done by adding the fish to the system.
The fish waste will introduce the ammonia to the system and attract the first of the nitrifying bacteria: nitrosomonas. Nitrosomonas will convert the ammonia into nitrites. Both ammonia and nitrites are toxic to fish but this process is necessary in order to attract the nitrifying bacteria that all aquaponic horticulturists are after: nitrospira. Nitrospira convert the nitrites into nitrates which are generally harmless to fish and are a perfect food for plants. During the cycling process (the start up process of an aquaponic system), the gardener will need to test for the presence of nitrates. Once the presence of nitrates has been detected and the levels of nitrites and ammonia have dropped to a lower level, the system is considered "fully cycled".
At this time, the plants, fish, and bacteria can begin their synergistic livelihoods. Making sure the system's pH, ammonia, nitrite and nitrate levels are in the desired range is important. In some cases, when one of these parameters is out of the desired range, some corrective action may be necessary. In most cases, the majority of the monitoring for an aquaponic system happens during the cycling process. Once the system has been "fully cycled" and has found balance, much less monitoring is required.
Fish
There are many different types of fish that can be used in an aquaponic system. Most fish produce waste in a similar fashion so the only limiting factor is climate and supply availability. Many aquaculturists who have experience with fish farming choose a fish that is quick to mature. In other words, fish that grow quickly and taste good are the best choice if you plan to harvest the fish for food. On the other hand, some hobbyist aquaponic gardeners are more interested in creating the ecosystem and don't care as much about the type of fish because they are more concerned with the plants and do not plan on eating the fish. For these growers, gold fish, carp, bullhead, catfish, or inexpensive "feeder" fish are all good choices. These types of fish can withstand more variance in temperature and oxygen levels and are relatively easy to maintain.
For systems where the fish will be harvested, the most common fish species are tilapia, yellow perch and trout. Tilapia are native to Africa and can easily withstand warmer water temperatures (a common problem for hobbyist aquaponic gardeners). Yellow perch and trout may be a little more finicky but grow quickly and tend to be a more sought after food. Possibly the most important factor to consider when choosing a fish breed is the affect the climate will have on water temperature. It is far more efficient to choose a fish species that will do well in your climate's average ambient temperature than trying to heat or cool water to meet the needs of the fish. This is especially true for aquaponic systems that will operate year-round. For year-round systems, the average temperatures should be heavily weighed when choosing a fish species so the system can be as efficient as possible.
Plants
There are gardeners who have successfully grown everything from potatoes to fruit trees in aquaponic systems. There is virtually no limit to the plant species that can be grown in an aquaponic system. After choosing the types of plants to grow, they will need to be planted into the system. Planting the plants into an aquaponic system is usually done in one of two ways: directly planting seeds or planting starts. Plant seeds can be planted directly in the medium bed by either sprinkling the seeds on top (good for plants with a shallow recommended planting depth) or by burying the seeds slightly in the medium.
With either method, the seeds should germinate quickly and start to grow. Once growing, the seedlings can be treated as they would in any other garden. The rules for thinning out, row spacing, etc. will be similar to that of a soil garden. Gardeners can also plant starts (already established plants) in an aquaponic system. In fact, many gardeners prefer starts because they will immediately feed on more of the nitrates than the smaller seedlings. If planting starts, it is a good idea to thoroughly rinse off all potting soil around the plants' roots. This will help to avoid introducing any possible contaminates to the aquaponic system.
Types of Hydroponic Systems Used in Aquaponics
Hydroponics is a general term that refers to soilless growing. There are many different types of hydroponic systems; some of which are better suited for aquaponic systems than others. Three hydroponic systems are most commonly used in aquaponic systems. These systems are: media filled beds, NFT (nutrient film technique), and DWC (deep water culture). Before choosing a system, a horticulturist should examine all of the variables that make each system operate smoothly. A close investigation of the particular hydroponic system to incorporate into your aquaponic system will only save time and money in the long run.
Media Filled Beds
Media filled beds are the most commonly used systems for aquaponics. Media filled beds utilize some sort of container or bed that can be filled with the medium (usually rock or expanded clay). Water from the fish tank is then pumped over the medium and the plants grow directly in the medium. The medium also works as a bio-filter over time as it will start to develop an entire ecosystem of beneficial bacteria. Instead of a continuous flow over the medium, a media filled bed can be set up to operate with a timed flooding and draining of the medium. The size of the media bed, the size and type of plants grown and the atmospheric conditions will all play roles in how often the pump is cycled. Aside from its straight forward construction and operation, the biggest advantage to a media filled bed is that virtually any type of plant can be grown.
NFT (Nutrient Film Technique)
NFT is a very common hydroponic growing method but is not as common in aquaponic systems. Water from the fish tank is pumped to a small enclosed gutter or tube where the angle of the tube allows gravity to create a flow of the solution. NFT systems are designed to have only a thin film of nutrient solution at the bottom of the gutter or tube. As the nutrient solution cascades down one or multiple gutters or tubes the plants' roots, which dangle into the solution, are able to absorb nutrients. In an aquaponic system, NFT is really only suitable for particular crops, like leafy, green vegetables. Larger plants with larger root masses tend to be problematic for NFT systems.
DWC (Deep Water Culture)
Deep water culture for aquaponic systems usually refers to the process of floating the plants on top of the water and allowing the roots to dangle into the solution. Some growers will actually place the plants directly in the same tank as the fish. However, the most successful DWC aquaponic systems usually have a separate tank for the plants where the water has passed through some sort of filter. I have seen growers make filters out of five gallon buckets filled with rock. The rock in the bucket ends up housing millions of beneficial bacteria that help the nitrification process before the water is passed to the tank where the plants are floating.
Where to Place Your Aquaponic System
Location, location, location. The actual location of your aquaponic system is an important thing to consider, especially before filling up a large tank with water (once they're filled, they're hard to move). The first thing to be considered is the amount of sunlight the plants will be able to receive. The fish, on the other hand, do not need all that sun. In fact, sun will equate to algae in a fish tank. This is why most commercial aquaponic fish tanks are shaded.
Finding a location where the fish tank is properly shaded but the plants still receive enough sunlight is crucial. Some growers will even implement some floating plants in the fish tank to help shade the water from excess sun. Power is another huge consideration. Pumps, heaters, chillers and all those things required for cleaning and maintenance need a power source. Space is another consideration. When first setting up the system, remember that once the plants start growing, they will take up much more room than an empty system.
Aquaponic gardening is a complex but fun way to integrate a living ecosystem into your garden. There is a lot to know about this type of farming before beginning but that does not mean you should be intimidated. Aquaponics give rural and urban gardeners the opportunity to produce a large amount of food in a relatively small space. On top of that, it allows them to do so in a sustainable manner. Using the waste product of one resource to fuel another is one way we can make our world better. Aquaponics gives commercial growers and hobbyists alike the ability to experiment with the future of horticultural sustainability.
Eric Hopper resides in Michigan's beautiful Upper Peninsula where he enjoys gardening and pursuing sustainability. He is a Garden & Greenhouse contributing editor and may be contacted at [email protected].
Want more information? Read these articles:
Aquaponics – Greenhouse Grown Fish May Yield a Bumper Crop of Vegetables Too
Easy Lettuce Growing with a Raft Aquaponic System
How to Set Up a Small, but Productive Aquaponic Garden
Maintenance Tips for an Aquaponics System Working

Creating a Cottagecore Garden is Easier than You Think: Here's How
Picture this – An English-style country cottage adorned with roses against the backdrop of a clear mid-morning sky and a field of sun-kissed flowers. The door is striking and welcoming, leading up to a cabinet of vintage china pieces and rooms decked with antique furniture, neutral linens, reclaimed wood works, woven wicker baskets, and flowers of all possible kinds and colors.
Does this look like a place you're nostalgic for; but have given up all hopes of finding? Thankfully, such idyllic scenes are not just reserved for your grandmother's "life on the farm" anecdotes. The Cottagecore aesthetic, as dubbed by modern folks, is making a serious comeback to offset the despair of urban living.
Described as a "homage to a simple life," Cottagecore interior design and gardening aesthetic are based on rural self-sufficiency and everything picturesque. Since Cottagecore gardens are slightly different in layout from their traditional counterparts, modern homeowners shy away from incorporating them into their home scheme. Some believe such a garden aesthetic is only suitable for those with large patios and yards.
The Discover Britain Magazine debunks these myths, stating that Cottagecore-themed gardens were popular among poor cottage dwellers and aristocratic property owners. Meaning, anyone can introduce this theme's whimsical elements into their garden. This article provides insight into how you can create a Cottagecore garden akin to the famous English folklore.
What Can You Plant in a Cottagecore-themed Garden?
Cottagecore gardening was not started just for the aesthetics (at least not for the poor cottage dwellers). The aristocrats used these gardens to display botanical ornateness, but the rest of the English countryside grew vegetation for sustenance, along with wildflowers, grasses, and trees. The primary aim was to not disturb nature or tame it. So, you can grow the following in your Cottagecore garden –
Lots and lots of flowers – Most English cottage gardens were a melting pot of colors and textures, often rendered by flowers. Perennial shrubs were the most common, followed by wildflowers and vines.
Aromatic Herbs – If you can't grow proper vegetables due to space crunch, try planting flavorful herbs like thyme, cilantro, rosemary, lemongrass, or sage. These will add a lovely touch to homecooked meals and align well with the sustenance aspect of the Cottagecore garden.
Fruit Trees – If your garden space allows the square footage, and you have the patience of a saint, consider planting fruit trees like apples, mangoes, guavas, and oranges.
Bushes and Ornamental Grasses – Need something interesting to fill visual gaps and spark four-season interest? Consider wispy bushes and ornamental grasses that add unparalleled texture. These include feather reed grass, fountain grass, little bluestem, switch grass, and blue oat grass.
Setting up a Cottagecore Garden Layout
While traditional landscaping leans towards taming the shrubs and trees, sometimes even towards fanciful topiary, English countryside Cottagecore gardens are all about allowing nature to run its course. You can call the shots through a concrete garden plan, but the rest is left to the whims of the planted foliage. Here's how to go about it –
1. Start by Mapping out Your Garden
The first step in setting up a Cottagecore-themed garden is to walk outside and envision the final look (as far as possible). This should help you answer some important questions –
Do you wish to see more flowers or just greenery?
Will there be a single pathway or multiple, interconnected ones?
Would you like a separate relaxation spot, and will there be space for one?
Will the roadmap offer easy access to garden maintenance?
Maybe take a sketchbook and pencil along to make your plans visual and concrete. If you wish to introduce pathways, line them with pebbles or add stepping stones that bring out the Cottagecore theme in a vivid manner.
2. Decide Which Flowers and Plants Will Go Where
Once the basic layout is ready, the next step is to decide which plants and flowers you want and where. The best way to exude a charming Cottagecore feel is to have a juxtaposition of greens and flowers.
As for the varieties, you can stick to the plants and flowers that are native to your area. However, if possible, include popular English foliage, such as poppies, delphiniums, and foxgloves. Other vibrant flower choices include bellflowers, daisies, geraniums, irises, lavenders, and peonies.
3. Get Your Supplies and Review it All
Once the planning part is over, next is the execution. For this, you will need proper gardening tools and supplies. Make a list of the flowers, plants, tools, planters, potting mix, and manure that you will need.
Both for indoor and outdoor gardening, the scope is limitless as you can choose among garden beds, permaculture, rock systems, and traditional pots. Crescent Garden believes that a mix of small, large, and different shapes of pots will enhance the whimsical appeal of the garden. You can even choose self-watering pots for moisture-loving plants.
Once you've purchased and reviewed all supplies, place the flowers and plants in the desired alignment to check whether you like the layout. Allow sufficient space between plants, but also fill visual gaps using succulents and phlox.
4. Take Advantage of Mulching
If you consider the soil to be a cake, mulch is the icing or topping. Mulching is the process of adding a protective layer of organic material, dried leaves, or wood chips to prevent soil erosion and encourage moisture retention.
It will prevent weeding and protect your plants from drying out in summer and freezing in winter.
Décor Ideas for Wholesome Country Vibes
Do you crave the 'Anne of the Green Gables Meets Bucolic Dreamland' aesthetics for your garden, but are not sure how to achieve it? Well, the elements are simple and when brought together, will seamlessly exude a folksy mystic vibe.
1. Install a Summer House
Ah! Just imagine the feeling of walking into a shabby-chic wooden summerhouse humbly sitting in the midst of your English garden where you can allocate time to yourself. With plenty of rustic windows, the natural light invites you to bask in its glory or try your hand at hobbies like art, music, and reading.
The perfect vintage summerhouse would feature antique furniture, natural materials, wooden armchairs, a hammock (if you please), and lots of antique trinkets that transport you to the bygone era.
2. Hang Macramé Plants
The macramé trend, or the art of knotting rope to create fanciful hanging decorations, is not a newfound idea. In fact, it has resurrected from the 1970s as homeowners are creating stunning macramé pots to hang from the ceilings.
The use of ropes gives this look a Cottagecore vibe. You can hang these in your living room, kitchen, bedroom, and even the patio or the summerhouse. The best botanical beauties for macramé pots include the Boston fern, satin pothos, button fern, and tradescantia.  
3. Consider Having a Fanciful Trellis
Is the English Cottagecore aesthetic ever complete without a trail, arch, or lattice of flowers? Thankfully, it's super easy to create one without breaking the bank. While you can opt for a basic wire mesh display, the Cottagecore vibe comes out best through a wooden pergola.
The most common yet appealing look is that of an archway lined with (fragrant) flowers opening up to the patio or separating the summerhouse area from the rest of the garden. Some of the top flowers for this setup include clematis, honeysuckle, sweet pea, rose, star jasmine, and wisteria.
4. Don't Forget the Signature Fountain!
Whether your patio features a detailed Cottagecore theme, a manicured one, or a pathway framed by stones and pebbles, it will stay incomplete without the signature English fountain.
The ideal model would be a tiered fountain surrounded by potted hydrangeas and other colorful flowers. Even small stone fountains can become the focal point as their cascading waters produce the calming effect needed to soften the formal symmetry.
5. Add the Touch of Wrought-Iron Benches
Given the Cottagecore theme, you can choose wood or stone benches that feature some carvings. But, the only design that is truly transportive is the ornate, antique cast-iron benches still resting in some Victorian parks today.
These benches are easy-to-install and weatherproof; plus, sitting on one of them while gazing at the birds flocking to drink from the fountain will have you enjoying your personal 'Bridgerton' moment!
Time to Gild the Lily?
Is your current garden or patio brimming with life already, but you're just looking to switch to the English Cottagecore era? Even if you're not starting from scratch, the above-mentioned tips and décor ideas will work for you.
The only difference might be in terms of the plants and flower arrangement. In case you're already happy with the setup, there's no need to change the placement right away. You can do that when it's time to change the plants' soil (which may be sooner for some than others).
Simply try to create room for whimsical elements that breathe 'cottagecore' into the aesthetic theme. Finally, plant a whole lot more flowers; after all, can one ever have too many flowers, especially in the gardens of the English countryside?