Early Growth Fertilizer Regimens for Propagation and Vegetative Stages of Plant Growth
A plant's fruit or flowers do not reach maturity until the end of the fruiting or flowering stage, but a plant's ability to produce a prolific yield is affected by all stages of growth. In other words, the seedling/cloning and vegetative stages play significant roles in a plant's ability to achieve its full potential. The way a clone or seedling is cared for directly impacts the young plant's transition into the vegetative stage. Along that same line of thinking, the manner in which a vegetative plant is cared for directly influences how the plant will transition and perform in the fruiting/flowering stage.
The cloning/seedling and vegetative stages of growth should be considered the foundation for producing larger yields during the fruiting and flowering stage. This is not to say that the way a plant is cared for in the fruiting or flowering stage does not have much significance over the yield; it definitely does. However, without a good foundation (healthy growth in the clone and early vegetative stages), a plant in the flowering/fruiting stage can never live up to its full potential. There is a wide variety of cloning and vegetative specific products available to help horticulturists lay the groundwork for abundant harvests.
Essential Elements for Plants
Throughout all the stages of growth, plants require particular elements to survive and develop properly. Although plants may need more or less of a particular element depending on the stage of growth they are in, scientists have determined a list of essential mineral elements (elements taken in through the roots) that should be included in every grower's fertilizer regimen. These essential mineral elements are further classified as either macro- or micronutrients. The macronutrients are the nutrients used in higher concentrations relative to micronutrients, which are absorbed in smaller amounts. A closer look at a fertilizer's label will reveal which macro- and micro-nutrients are contained in that fertilizer.
Macronutrients
The six essential elements classified as macronutrients are nitrogen, phosphorus, potassium, calcium, magnesium, and sulfur.
(N) – Nitrogen is a basic component of chlorophyll and is associated with the green color of a plant's leaves. Nitrogen is the main nutrient responsible for vigorous growth, hence its higher concentration in "grow" base fertilizers.
(P) – Phosphorus stimulates root development and, in turn, helps young plants or transplants establish more quickly. Phosphorus is also a key in initiating flowering, fruiting, ripening, and respiration.
(K) – Potassium is directly linked to a plant's structural integrity and increases the overall resistance to cold, drought and pathogens. Much like phosphorus, potassium plays an intricate role in initiating the fruiting/blooming process.
(Ca) – Calcium is vital to plant structure and it helps build, and actually becomes part of, the cell walls. Calcium will be discussed more later in this article.
(Mg) – Magnesium helps reinforce cell walls and is also an important component of chlorophyll. Magnesium encourages the absorption of phosphorus, nitrogen, and sulfur.
(S) – Sulfur helps with chlorophyll production and is a necessary component of several proteins, enzymes and vitamins.
Micronutrients
The eight essential elements classified as micronutrients are iron, manganese, chlorine, boron, zinc, copper, molybdenum, and nickel.
(Fe) – Iron assists biochemical processes, including the manufacturing of chlorophyll. Iron also aids in the formation of some enzymes and amino acids.
(Mn) – Manganese plays an essential role in chlorophyll production, nitrogen assimilation, and the formation of proteins. Manganese stimulates seed germination and has been linked to the speed at which a plant matures.
(Cl) – Chlorine is involved in the stimulation of photosynthesis.
(B) – Boron is essential for tissue growth within the plant. Boron helps promote the absorption of water and regulate a plant's metabolism.
(Zn) – Zinc helps with the development of enzymes and growth hormones.
(Cu) – Copper helps activate various enzymes and plays a role in chlorophyll production.
(Mo) – Molybdenum is needed for the production of nitrogen-based proteins.
(Ni) – Nickel regulates mineral metabolism, enzyme activity, and other metabolic processes in plants.
Nutrition for Seedlings and Clones
In addition to consistent atmospheric conditions (arguably the most influential factor over cloning/seedling success), gardeners can employ various nutrients and nutrient additives to help clones/seedlings transition gently into the vegetative stage. During the first few days, neither seedlings nor clones require very much nutrition. In fact, one of the most common mistakes made by novice growers is to over-feed seedlings and/or clones. The first wave of nutrition for seedlings is actually provided by the seed itself. In most cases, a seed contains vital minerals and vitamins for the initial emergence of the seedling.
After the first few days, depending on the particular plant variety, a horticulturist can begin a very light fertilizer regimen. For seedlings, a diluted "vegetative" base fertilizer (1/4-1/2 strength of the recommended dosage) will contain all of the essential mineral elements needed for proper plant development. For soil gardeners, very little additional nutrients are required during the first few weeks of growth because the soil itself (depending on the composition) will likely contain all of the essential elements needed for healthy plant growth. As the seedling develops into a vegetative plant, the grower can increase the strength of the base fertilizer until he or she reaches the manufacturer's recommended dose.
Clones tend to be a little more finicky than seedlings in terms of nutrition. Until the clone has developed a healthy root mass, the provided nutrients should be geared toward root production instead of rapid vegetative growth. For this reason, many horticulturists rely on clone specific fertilizer regimens or will use a diluted blooming base fertilizer (1/4 or 1/2 strength). A diluted blooming base fertilizer will still contain all of the essential mineral elements needed, but will also have a lower ratio of nitrogen to phosphorus and potassium. This type of ratio is more conducive to root development than a "grow" fertilizer that is rich in nitrogen. Once the clone has developed a healthy root zone, its nutrition can be transitioned to a vegetative base fertilizer which can be gradually increased to full strength as the clone grows.
Nutrition for Vegetative Plants
A good base vegetative fertilizer containing all of the essential mineral elements is a great start for vegetative plants. During the vegetative stage, plants should have a balanced diet with a higher ratio of nitrogen. Nitrogen is used by plants for the development of healthy, green leaves and branches. In addition to a vegetative base fertilizer with a high ratio of nitrogen, growers can supplement various additives which aid in vigorous growth and increased structural integrity. Some of those additives include plant hormones, amino acids, vitamins, trace elements, silica, beneficial microorganisms, and enzymes. During the early vegetative stage or the transition from the clone/seedling stage, it may be a good idea to dilute the fertilizer (1/2-3/4 strength) until the plants have become acclimated to their new home. Growers rarely realize how drastically the environmental conditions change when moving a plant from one stage to the next. Lessening the potency of the fertilizer, even for a few days, can make a huge difference in the way a plant responds to the changes in its environment.
The Importance of Calcium
There is one essential element that should be given some extra attention when it comes to clone/seedling and early vegetative growth. That element is calcium. Much of a plant's structural integrity is influenced by calcium. Calcium is vital for vigorous growth and overall structural development. When calcium levels are too low, a plant's cell membrane can become weak. This weakening can cause leakage resulting in the loss of cellular compounds. Sufficient calcium levels are required for cell wall development and cellular division. Strong stems and branches are a result of proper calcium levels. Put another way, much of the plant's ability to hold large, dense fruits or flowers is determined by its structural integrity which is greatly influenced by calcium.
Calcium also acts as a secondary messenger that helps regulate cellular functions and assists in general plant functions, like nutrient uptake. Calcium stimulates the protein channels within a plant's rhizosphere which aids in nutrient uptake. If there is not enough calcium present this process will not function properly and nutrient uptake will be slowed down. In this way, calcium works very similarly to the hormones that regulate various cell functions.
In order to reap the reward of larger yields, horticulturists should pay close attention to the cloning and vegetative stages, much like they do to the fruiting/flowering stage. During the early stages of growth, the nutrition provided, along with proper atmospheric conditions, will directly impact a plant's ability to later produce large fruit or flowers. Providing a fertilizer regimen that contains all of the essential elements is imperative. In addition to a balanced base fertilizer, growers can accelerate vegetative growth by incorporating additives, such as plant hormones, amino acids, and enzymes.
Although all of the essential elements are necessary, a grower who understands how each particular element affects plant development will be better equipped to fine tune his or her fertilizer regimen. For example, providing ample calcium throughout the vegetative stage of growth will prepare the plants for increased fruit/flower production. All in all, horticulturists who provide clones, seedlings, and vegetative plants with the proper nutrition will be greatly rewarded come harvest time.
Eric Hopper resides in Michigan's beautiful Upper Peninsula where he enjoys gardening and pursuing sustainability. He is a Garden & Greenhouse senior editor and can be contacted at [email protected].
Read More Articles
A Stable Atmosphere Equals More Success with Plant Clones
Creating the Perfect Nutrient Solution for the Veg and Flower Stages
Easy Plant Tissue Culture Clones
Using CO2 for Increased Cloning Success

Why Should You Consider Planting Spring-Planted Bulbs in Your Garden?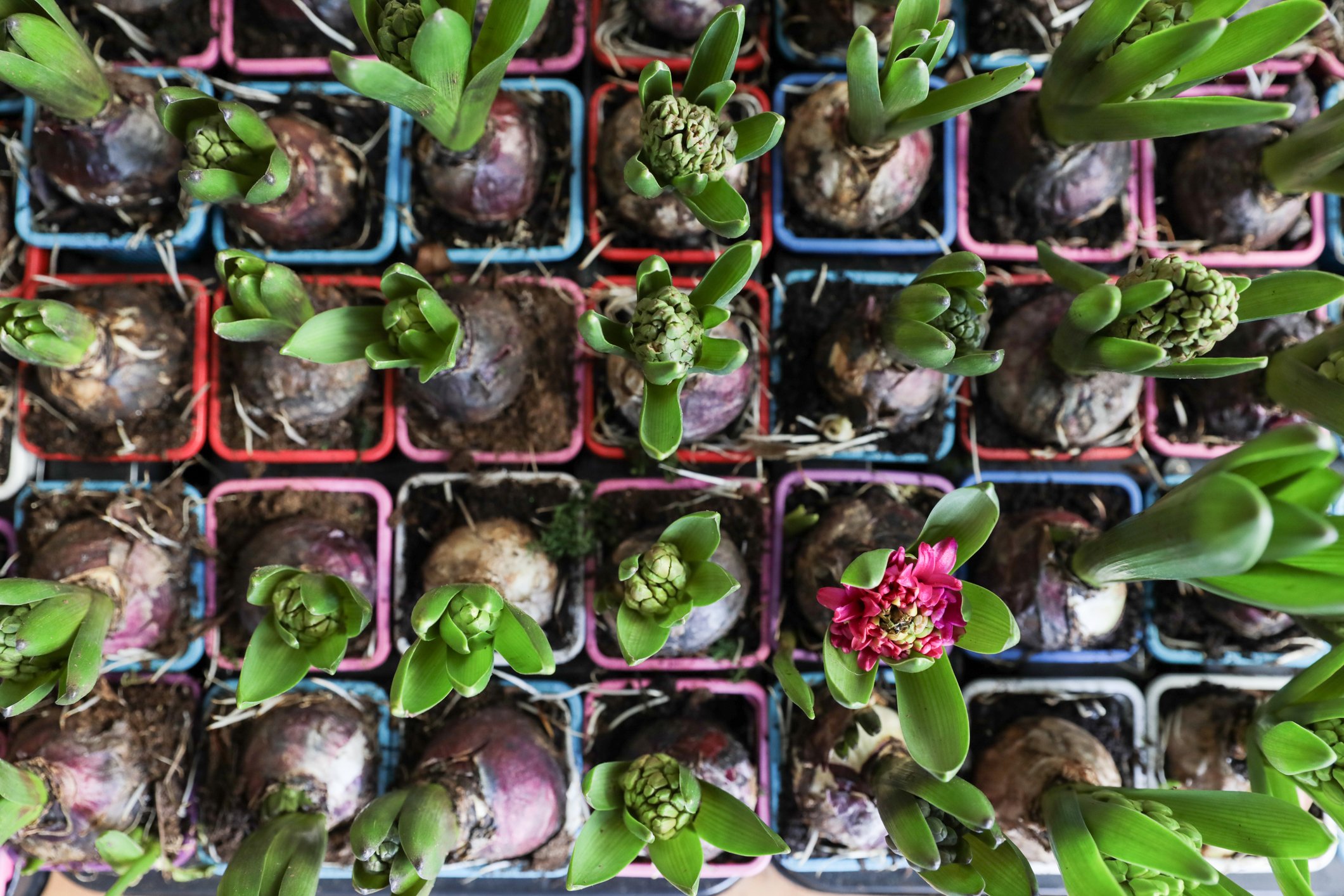 Spring is a great time to plant bulbs in your garden! Not only do they add a pop of color, but they also provide a number of benefits. In this blog post, we'll outline the benefits of planting spring planted bulbs in your garden. We'll discuss what bulbs are, what flowers come from bulbs, how to plant them, when to plant them, and how to care for them. So, go ahead and plant some spring-planted bulbs in your garden this spring!
What Are Spring Bulbs?
Do you love the beauty and colors of springtime? If so, then you should consider planting spring bulbs in your garden. Spring bulbs are a popular type of flower that is planted in the springtime. They come in many different colors and are known for their beautiful blooms. Not only do they add beauty to your garden, but they are also easy to care for.
When selecting spring bulbs for your garden, it's important to choose ones that look good together and have a variety of colors. Some of the most popular types of spring bulbs include tulips (a yellow bulb), daffodils (a blue or purple bulb), crocuses (a white or multicolored bulb), and hyacinths (an orange or yellow flower). When selecting which ones to plant, it's best to choose a mixture so that your garden looks colorful throughout the year.
What Flowers Come from Spring-Planted Bulbs?
There's no better way to add color and brightness to your garden than by planting bulbs. Not only are they easy to care for, but they also come back year after year. When choosing which bulbs to plant in your garden, it's important to consider what flowers you want them to produce. Some common bulbs you can plant include tulips, daffodils, hyacinths, and crocuses. All these bulbs will produce beautiful flowers that will add a touch of color and brightness to your garden. You can also choose to plant other types of bulbs, such as grape hyacinths or lily-of-the-valley bulbs. These plants produce smaller flowers but are very fragrant.
The Advantages of Planting Spring-Planted Bulbs
Do you love the look of brightly colored flowers in your garden, but you don't have the time or energy to tend to them? Planting spring-planted bulbs is a great way to add color and interest to your garden without any of the work. Bulbs are easy to care for and require very little maintenance—all you need is some water and sunshine. Plus, bulbs can be planted in a wide variety of locations, including in pots and containers. This makes them perfect for adding interest to any area of your garden.
Another advantage of planting bulbs is that they are relatively inexpensive. You can buy a large container of bulbs for just a few dollars, and they will last for many years with proper care. Plus, bulb plants are relatively easy to transplant if you ever want to move them somewhere else in your garden. Last but not least, planting bulbs is a great way to add color and brightness to your garden all year long!
How to Plant Spring Bulbs?
Color is one of the most important factors when it comes to garden design, and spring-planted bulbs are a great way to add some extra color to your landscape. Not only are they beautiful on their own, but they also provide a wonderful contrast against the cooler colors that will be in season during the summer. Spring-planted bulbs are easy to plant and care for, and there are a variety of different varieties available that will perfectly complement your garden.
When Should You Plant Spring Bulbs?
With the arrival of spring, it's time to start thinking about planting bulbs in your garden. There are a variety of beautiful bulbs that can be planted in the spring, and they're easy to care for, making them a great choice for someone who wants to add color and interest to their yard without much effort.
Consider the season when deciding which bulb to plant in your garden. Spring-planted bulbs will typically bloom earlier than bulbs planted in the fall, so make sure you choose the right one for your garden. There are a variety of different types of spring-planted bulbs to choose from, so find one that will fit well into your landscaping. With a little planning and effort, you can have a beautiful garden that blooms all year.
How to Care for Spring-Planted Bulbs?
Spring is a wonderful time to plant bulbs in your garden. Here are a few tips on how to get started:
First, be sure to research which types of bulbs work best for your garden and climate. Some popular choices include tulips, daffodils, hyacinths, and crocuses. Once you've selected the bulbs you want to buy, purchase them in advance so that you have plenty of time to plant them in the ground or in pots.
Once you have your bulbs home, it's time to take care of them! Make sure that their soil is moist but not soggy – this is crucial for bulb growth. Water them regularly during dry weather, and be sure not to overwater them, as this can damage their roots. When the flowers start blooming, cut the stems close to the ground so that the bulb will continue flowering indoors. After the flowers fade away (usually around mid-March), allow the foliage (orchids tend not to shed their leaves) to die back naturally. Enjoy your beautiful spring-planted bulbs!
In Short
Spring bulbs are a great way to add color and life to your garden. Planting these bulbs will provide you with beautiful flowers throughout the spring and summer. Bulbs are easy to care for and can be planted in almost any type of soil. Be sure to plant your bulbs in the fall so that they have time to establish themselves before the first frost. With a little love and care, your spring bulbs will thrive and bring you enjoyment for years to come.