Vermicomposting is Easier Than You Think
As seed catalogs quickly replace the influx of Christmas catalogs, I always take the time to flip through the pages of this year's collection of seeds to see what's new? And find it rather interesting to see more and more Organic seeds for sale.
I suppose on the surface, buying organic seeds seems like the "right" thing to do if you are interested in growing with all Natural and/or Organic fertilizers (as I do) — but find the prices for packets of seeds which only contain a few seeds (10 or less) to be an expense I am not interested in indulging in.
My viewpoint is such that as long as the seeds do not come from genetically modified (GMO) plants, and I stick to my usual method of growing, then the produce which is produced from less expensive seeds will not cause me harm in the long run. And, because my earliest memories of Memorial Weekends included watching my grandfathers, uncles and dad clean out barns and chicken coops. They would load the precious "commodity" of organic waste into a manure spreader and take it to whichever field had been designated for growing that year.
Witnessing this helped me become a strong proponent of keeping the soil in the best microbial balance as possible and enabling plants the opportunity to absorb as many healthful nutrients as they can get from the soil they are grown in. This for me means that I implement vermicomposting as a way to keep my soil healthy, which is especially important when you grow in containers, because the roots cannot spread out to get added nutrients from the surrounding soil if the nutrients in their immediate vicinity become depleted.
I got interested in vermicomposting some years back from an avid "worm wrangler". My compost pile would all but stop processing during the cold winter months, which are my most productive time of year in my greenhouse so I needed access to more compost than my outdoor compost pile could provide me. Vermicomposting also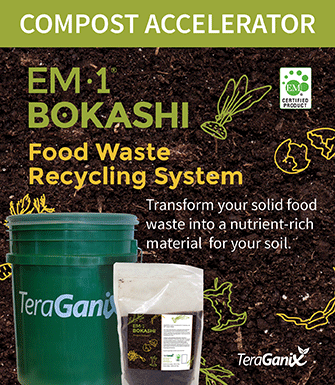 allowed me to stop hauling scraps to my back yard, which felt more like a trip to the North 40 — especially during the winter months. Since the industrious worms do all the work, it also eliminated the need to turn the compost pile to keep it cooking.
All I have to do is make sure they aren't too cold or too hot, have a steady supply of scraps, shredded newspapers and coconut coir and they go about their business of producing the best fertilizer you can get. And, as an added bonus, the "tea" that is created as a by-product of the composting process is second to none for a high quality, liquid fertilizer, which can be used straight or added to chlorine-free water for house plants and the garden!
And though I still have bouts of the "yuck" factor when I pick up a worm, I have learned that if I remove the lid, and start stirring the contents of the bin I am planning on using a few days in advance, the worms will move into the next bin, because they don't like the added attention or light — making it a win, win for them and me. I don't have to pick them out and they don't have to worry about being tossed out of their home when the bin is emptied.
Furthermore, vermicomposting requires much less time, because I don't have to worry about whether I've added enough dry material to the green to ensure that the pile doesn't stop working, or worst yet — smell! However, I've met people over the years (mainly retired men) that have made their outdoor compost piles into a full-time job, because of all the time and attention they put into acquiring the finished product — not me. I always tell people "If I have to babysit something, it is going to die, because I already have one job, and don't want another."
For me, gardening is relaxing, like Yoga is to someone else. And, I can eat the fruits of the labor of my plants.
Paula M. Christensen has 12 years of experience gardening year-round as a hobby greenhouse gardener.
Read More Articles
A Worms Eye View at Vermicomposting
Amending Soil and Mulching With Organic Matter
The Benefits of Lactic Acid Bacteria
What is the Element Content of Your Generated Compost?

How can the effects of climate change be mitigated?
Climate change will affect us all and it's important to consider how climate change will have wide reaching consequences for generations to come.
This article investigates how the effects of climate change will affect all of us and what measures we can take to mitigate the effects of climate change.
What is climate change mitigation?
Climate change mitigation refers to actions taken to limit climate change by either reducing greenhouse gas emissions or removing those gases from the atmosphere.
Mitigation actions can include using new technologies and renewable energies, making existing equipment more energy efficient, and ensuring carbon sinks continue to absorb carbon and remain intact.
What are some strategies to mitigate climate change?
Climate change mitigation strategies include retrofitting buildings to make them more energy efficient; adopting renewable energy sources like solar, wind, and small hydro; helping cities develop more sustainable transport such as bus rapid transit, electric vehicles, and biofuels; and promoting more sustainable uses of land and forests.
Celestial Green Ventures looks at the benefits and drawbacks for some of the solutions for climate change mitigation and adaptation.
Retrofitting
Retrofitting can help to improve the energy efficiency of homes, reduce fuel bills and create comfortable even temperatures all year round as well as helping to eliminate draughts.
There are plenty of challenges when it comes to retrofitting. Whether it's the social and income divide, or a lack of funds, policy, trust, and experts to carry out the work, it's still an uphill struggle to bring retrofitting to the fore, regardless of any climate change commitments.
Renewable Energy
The main benefit of renewable energy is that renewable energy sources will not run out.
Examples of renewable energy sources are solar power, wind power, bioenergy and hydroelectricity. The most important difference between renewables and fossil fuels, is that renewable energy sources provide an infinite source of energy.
Why invest in renewable energy?
Renewable energy is reliable, as opposed to fossil fuels which are always subject to disputes and wars between countries. Renewable energy is also environmentally friendly as they use natural sources for energy generation and can therefore be considered clean.
Although renewable energy technologies can cause some emissions, overall, they are minimal and certainly lower than generating traditional fossil fuels.
There are also the economic benefits too as renewable technologies can create many jobs. This is especially important in some poorer regions. In fact, this is an emerging job market that can empower people in many parts of the world.
Renewable energy can help reduce turmoil in global energy prices, therefore helping to make the global energy market more stable.
What are some of the challenges related to renewable energy?
Unfortunately, most natural forces are strongly dependent on the weather conditions. Therefore, it is advisable to utilise a mix of sustainable power sources, to maximise the production of power across multiple inputs.
Another challenge regarding renewables is the initial cost and investment required for implementing them is high. The initial cost for renewable energy solutions is disproportionately high and sometimes unaffordable, in comparison with how much energy would be produced.
Celestial Green Ventures PLC is extremely aware that renewable energy requires significant resources to harness nature's energies but this can present numerous challenges to providing the world with cleaner energy.
Sustainable Travel
Transportation is one of the largest contributors to climate change. By choosing sustainable travel methods, you can significantly help in the mitigation of climate change.
There are many benefits to sustainable transportation. Whether it be the benefits to your health, the Earth, the community or even financial benefits, sustainable travel can be better for them all.
Why is sustainable travel good for the planet?
Sustainable travel emits less pollution. Transportation accounts for nearly 24% of greenhouse gas emissions in the United Kingdom.
However, about 82% of those emissions come from personal vehicles. Buses and trains only account for a mere 6% of greenhouse gas emissions, making these modes of transportation much greener than cars and vans. Additionally, sustainable travel also promotes good health because it reduces emissions and air pollution.
A further benefit is that as people choose sustainable transportation over driving themselves, leading to a decrease in congestion and lower emissions.
Celestial Green Ventures PLC recognises that the main disadvantage of implementing a sustainable travel infrastructure to any city or town is the initial cost and disruption.
Biofuels
Fuels that have been extracted from plants and crops are known as biofuels. Of these, the most commonly extracted and used one is Bioethanol or simply Ethanol and Biodiesel.
It is blended with gasoline and can be used as an alternative fuel for your car. Plant-based fuels come from renewable sources, can be grown anywhere and have lower carbon emissions as compared to fossil fuels.
Biofuel is made from renewable resources and relatively less-flammable compared to fossil diesel. It has significantly better lubricating properties.
Some things that biofuels are made out of include:
Manure
Waste from crops
Other farming by-products
Algae and plants grown specifically for biofuel.
Why are biofuels important in terms of economic security?
Economic security is also an interesting opportunity brought to light due to the increased demand for biofuels. Not every country has large reserves of crude oil.
For these countries that don't have the natural crude oil resources, importing the oil puts a huge strain on the economy. If more people start shifting towards biofuels, a country can reduce its dependence on fossil fuels.
Some of the disadvantages of using biofuels are that even with all the benefits associated with biofuels, they are quite expensive to produce in the current market. Biofuels also promote the use of fertilisers and consume vast amounts of water to produce the crops.
Growing these crops can also lead to other problems such as monocultures and potential food shortages. With the attractive yield for growing biofuel friendly crops this may sway farmers away from growing other crops we use for day to day food consumption.
What are some land-use strategies for mitigating climate change?
Nature-based solutions are recognised as being able to contribute significantly to the mitigation of climate change.
Land use strategies include sustainable forestry practices, reforestation and avoided deforestation actions.
These actions also help to conserve biodiversity within these areas which is a further positive consequence from implementing these mitigation actions.
What are some policies that will implement change?
The Paris Agreement is an example of policy change to help mitigate climate change and to avoid dangerous climate change.
The agreement sets out the global framework for limiting global warming to well below 2° C and to limit the increase to 1.5° C.
195 countries signed the Paris Agreement in 2015 agreeing to these targets. The expectation was that keeping to the Paris Agreement, the risks and impact of climate change would be significantly reduced.
Conclusion
Celestial Green Ventures recognises that climate change is the most significant problem facing the world.
Global warming is increasing day by day and it cannot be ignored. If we continue the current trajectory, our world will face undesirable consequences.
Celestial Green Ventures PLC is concerned the expected effects of climate change could seriously compromise the ability of the agriculture sectors to feed the world, and severely undermine progress toward eradicating hunger, malnutrition and poverty.
It is now as important as ever to focus on the mitigation of climate change, both individually and collectively.