Garden & Greenhouse Cover Story – FloraMax Nutrients & Additives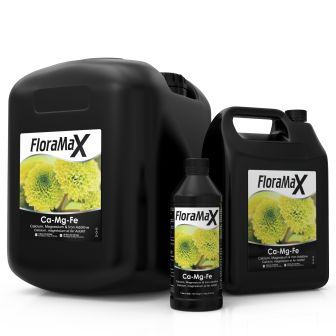 Horticulturists are always on the lookout for the ultimate feeding regimen. In order to maximize plant performance, many growers opt to mix and match various manufacturer's products until they find the perfect blend of nutrients. One company in particular has developed a complete line of nutrients designed to take the guesswork out of growing and to provide growers with the ultimate solution for nutrition. That company is FloraMax. Their product development capabilities are backed by over 50 years of experience as analytical chemists in horticulture, 25 years as nutrient chemists and rigorous crop trials and feedback from over 50 industry professionals.
Their product line-up provides a complete growing solution for gardeners and includes essential products often missing from other nutrient lines, such as resin enhancers, silica, clone sprays, pathogen control, and calcium and magnesium supplementation.  With the use of the highest grade ingredients available, FloraMax contains a sophisticated blend of both organic and inorganic ingredients.
One of their biggest achievements is ensuring that the full line-up works cohesively to unlock the true genetic expression of the plant, resulting in a clean, uncontaminated final product. When a plant is flowered by FloraMax, you are experiencing the genetic profile of the plant, not the nutrient inputs. This feature could only be achieved through strict, unbiased and extensive field testing – over many years.
FloraMax's long history in the hydroponic industry has bred a product design mandate combining simplicity and effectiveness. In order to truly be effective, a nutrient regiment has to be consistent, foolproof and repeatable across a range of conditions and users. The FloraMax regiment eliminates tedious dosing procedures in that there is no waiting; simply measure, pour then stir. The resulting pH stability is over 500% more than the most highly buffered brands available. As an example, when growing in recirculating systems, growers will typically use about 5 times 'less' pH Down than normal. This adds considerable ease-of-use and eliminates potentially costly mistakes, a particularly critical factor for both hobbyists and large commercial operations.
All batches of FloraMax are manufactured by an in-house chemist and then quality tested. This is especially beneficial for growers. Due to the consistent manufacturing methods and quality assurance testing, they can rely on these products to demonstrate uniform results harvest after harvest. FloraMax's core base nutrient product line consists of media-specific base formulas, including Coco A+B, Soil A+B, and Hydro A+B.
Coco A+B
FloraMax Coco A+B is a professional, Dutch-style, two-part nutrient that is used throughout both the vegetative and flowering cycles. The Coco A+B formula provides seed-to-harvest nutrition. This means there is not a separate A+B solution for vegetative and bloom like other manufacturer's products. Simply put, the Coco A+B formula is less confusing and more convenient than other products on the market. In addition to a single formula for both veg and bloom, Coco A+B by is balanced, pH buffered specifically for coco, and contains no unnecessary ingredients. This formula will not clog drip emitters and, perhaps most importantly, requires no pH adjustment.
Soil A+B
Like the Coco A+B formula, Soil A+B is a professional, Dutch-style, two-part nutrient designed to be used
during both the vegetative and flowering cycles. Soil A+B is balanced, pH buffered specifically for soil, and contains no unnecessary ingredients. The lack of unnecessary ingredients in FloraMax's base line-up renders a final harvest with a much cleaner taste, better flavors, and enhanced aromas. The simplicity of their base nutrients cannot be stressed enough. FloraMax Soil A+B requires no pH adjustment or complex mixing and will not clog drip emitters. No fiddling with pH adjustments, spending less time mixing and dosing, and not having to deal with clogged emitters are benefits that provide much more than just convenience. All of these benefits save time and money, which, at the end of the day, leads to a larger return on investment. Soil A+B provides all of the nutritional needs in both the vegetative and flowering cycles to lay the foundation for consistent, prolific harvests.
Hydro A+B
Hydro A+B is a professional, Dutch-style, two-part nutrient specific for hydroponic applications. Hydro A+B is designed to be used throughout both the vegetative and flowering cycles without the need for any complex mixing procedures. Most impressively, the pH stability of Hydro A+B will only require minimal pH adjustment. Unlike other hydroponic nutrients, where the grower is constantly adjusting the pH, a grower who uses Hydro A+B by FloraMax is able to concentrate his or her efforts on other important aspects of gardening. Arguably the two most critical factors of a hydroponic nutrient regimen are that it provides strong pH stability and will not cause blockage or build up in the hydroponic system. Hydro A+B addresses both of these critical factors and, again, saves the horticulturist's time and money.
Core Additives
In keeping with the theme of effective ease of use, FloraMax has packed multipurpose functionality into just 4 core additives. In combination with the nutrient base, these additives assist a crop to achieve its full potential. Notably, the additive suite satisfies more growth criteria than other nutrient line-ups over twice the size. FloraMax's core additives include Root-XS, Flowering Enhancer, Resin-XS, and OrganaBud.
Root-XS
Root-XS is designed to promote explosive root development which accelerates plant growth and helps achieve faster crop rotations. Root-XS promotes root "hairs" that are strong and healthy. This ensures maximum nutrient uptake throughout all stages of growth. With the addition of Root-XS to a fertilizer regimen, plants can be pushed harder, leading to faster crop rotations. Root-XS helps negate stress, especially at times of transplant or transition to new stages of growth. Like all FloraMax products, Root-XS does not contain any PGRs (plant growth regulators). Using Root-XS will help gardeners grow plants with greener, healthier foliage that exhibit less signs of stress. Root-XS can be used as both a root drench and/or a foliar spray.
Flowering Enhancer
Flowering Enhancer is a core additive that promotes strong and healthy floral blooms. The carefully balanced combination of potassium and phosphorus, along with supplemented calcium and iron chelate, helps strengthen plant structure during the heavy fruiting/flowering stage. One of the biggest problems growers have during the flowering stage is a fluctuation in pH which negatively impacts flower density and overall yield. Flowering Enhancer by FloraMax actually locks the pH below 6.5 in coco coir and soil and minimizes the need for pH adjustments in hydroponic systems. The pH locking power of Flowering Enhancer prevents a multitude of problems commonly associated with other bloom enhancers, including leaf curl, stunted growth, and withered fruit-set. Many of the popular flowering additives cause the pH to rise well above 6.5, regardless of water quality. FloraMax Flowering Enhancer allows a gardener to rest assured that his or her pH will not rise above the desired range and cause unwanted effects. Instead, Flowering Enhancer will stabilize pH levels and give the plants the extra boost they need in the flowering stage to produce enormous fruits and flowers.
Resin-XS
Resin-XS is a specialized flowering additive that is used in conjunction with "PK" additives. Resin-XS aids in photosynthesis to improve sugar content which, in turn, increases flavors and fruit/flower weight. In addition to improving the plant's ability to absorb water and other nutrients, Resin-XS increases essential oil production. Over the two years of final testing and commissioning, there was no other additive capable of competing with Resin-XS. The ingredients found in Resin-XS have been proven to be uniquely stable, which means growers can rely on consistent results at every harvest. FloraMax test studies indicate over 30% improvement in trichome population and independent labs have verified significantly higher concentrations of essential and total oils than other leading products. Furthermore, Resin-XS will not induce foul odours or bio-films in the reservoir and for consumer protection contains no PGRs.
OrganaBud
OrganaBud is a 100% organic additive created to improve the root zone environment. It contains a carefully stabilized solution of Ascophyllum Nodosum sea kelp, fulvic acid, humics, vitamins and other stimulants. Most
brands will pack these ingredients across multiple bottles, however, FloraMax's trademark stability has been used to deliver a fully soluble product that runs so clean that it is both suitable for aeroponic applications and has a shelf-life in excess of 3 years.
The organic ingredients in OrganaBud were extracted with the latest technologies. These technologies utilize effective, yet gentle, techniques to ensure the beneficial organic compounds are not compromised. Because of the careful extraction processes, OrganaBud provides a natural source of amino acids, gibberellins, cytokinins, auxins, and betaines. In other words, it is chock-full of valuable plant hormones and other beneficial plant stimulants. The fulvic acid contained in OrganaBud is sourced from leonardite and provides the most bio-active plant-derived version of fulvic acid. Fulvic acid acts as a chelator to aid nutrient uptake and also increases the caution exchange capacity (CEC) of the medium. OrganaBud's aim is to improve overall plant health and vitality, help stimulate and promote fruits/flowers, and enhance the plant's resistance to pest insects and diseases.
More Products from FloraMax
In addition to its core additives, FloraMax offers growers additional additives to further enhance their nutrition regimens. Although most fertilizer manufacturers do not supply all of the specialized additives, FloraMax is a one-stop shop for everything a plant needs for optimal nutrition. Their other additives include a 'potassium silicate' based silica formula that possesses an indefinite shelf-life, a clone spray with a balanced combination of macro and trace elements that contains a built-in wetting agent, a Ca-Mg-Fe formula that cures/prevents plant nutrient deficiency issues by "bulletproofing" secondary trace element nutrient presence even if pH rises above 9, and a cloning gel for cuttings that has indefinite shelf-life – even after been opened and used countless times. FloraMax also has a System Maintenance formulation that prevents bio-films and blockages, and is 100% organic and compatible with beneficial bacteria, live systems and enzymes.
Growers who wish to receive the most from a nutrition regimen and, at the same time, wish to simplify their grow operations, need to look no further than FloraMax; after selecting one of the core nutrition base formulas (depending on the medium), a grower can follow the simple dosage instructions. The pH buffers will not only free up the grower's time, but will also provide an environment where plants can more efficiently and effectively absorb nutrients. In addition to the nutrient base formula, growers can achieve even better results by incorporating FloraMax core additives. Simple and straightforward has never been so productive. The science behind every container of FloraMax's products ensures consistency and professional results. It's no wonder FloraMax's tagline is "Your harvest is our priority".
For more information, visit FloraMax.com, Email [email protected] or call 888.224.4667.

Creating a Cottagecore Garden is Easier than You Think: Here's How
Picture this – An English-style country cottage adorned with roses against the backdrop of a clear mid-morning sky and a field of sun-kissed flowers. The door is striking and welcoming, leading up to a cabinet of vintage china pieces and rooms decked with antique furniture, neutral linens, reclaimed wood works, woven wicker baskets, and flowers of all possible kinds and colors.
Does this look like a place you're nostalgic for; but have given up all hopes of finding? Thankfully, such idyllic scenes are not just reserved for your grandmother's "life on the farm" anecdotes. The Cottagecore aesthetic, as dubbed by modern folks, is making a serious comeback to offset the despair of urban living.
Described as a "homage to a simple life," Cottagecore interior design and gardening aesthetic are based on rural self-sufficiency and everything picturesque. Since Cottagecore gardens are slightly different in layout from their traditional counterparts, modern homeowners shy away from incorporating them into their home scheme. Some believe such a garden aesthetic is only suitable for those with large patios and yards.
The Discover Britain Magazine debunks these myths, stating that Cottagecore-themed gardens were popular among poor cottage dwellers and aristocratic property owners. Meaning, anyone can introduce this theme's whimsical elements into their garden. This article provides insight into how you can create a Cottagecore garden akin to the famous English folklore.
What Can You Plant in a Cottagecore-themed Garden?
Cottagecore gardening was not started just for the aesthetics (at least not for the poor cottage dwellers). The aristocrats used these gardens to display botanical ornateness, but the rest of the English countryside grew vegetation for sustenance, along with wildflowers, grasses, and trees. The primary aim was to not disturb nature or tame it. So, you can grow the following in your Cottagecore garden –
Lots and lots of flowers – Most English cottage gardens were a melting pot of colors and textures, often rendered by flowers. Perennial shrubs were the most common, followed by wildflowers and vines.
Aromatic Herbs – If you can't grow proper vegetables due to space crunch, try planting flavorful herbs like thyme, cilantro, rosemary, lemongrass, or sage. These will add a lovely touch to homecooked meals and align well with the sustenance aspect of the Cottagecore garden.
Fruit Trees – If your garden space allows the square footage, and you have the patience of a saint, consider planting fruit trees like apples, mangoes, guavas, and oranges.
Bushes and Ornamental Grasses – Need something interesting to fill visual gaps and spark four-season interest? Consider wispy bushes and ornamental grasses that add unparalleled texture. These include feather reed grass, fountain grass, little bluestem, switch grass, and blue oat grass.
Setting up a Cottagecore Garden Layout
While traditional landscaping leans towards taming the shrubs and trees, sometimes even towards fanciful topiary, English countryside Cottagecore gardens are all about allowing nature to run its course. You can call the shots through a concrete garden plan, but the rest is left to the whims of the planted foliage. Here's how to go about it –
1. Start by Mapping out Your Garden
The first step in setting up a Cottagecore-themed garden is to walk outside and envision the final look (as far as possible). This should help you answer some important questions –
Do you wish to see more flowers or just greenery?
Will there be a single pathway or multiple, interconnected ones?
Would you like a separate relaxation spot, and will there be space for one?
Will the roadmap offer easy access to garden maintenance?
Maybe take a sketchbook and pencil along to make your plans visual and concrete. If you wish to introduce pathways, line them with pebbles or add stepping stones that bring out the Cottagecore theme in a vivid manner.
2. Decide Which Flowers and Plants Will Go Where
Once the basic layout is ready, the next step is to decide which plants and flowers you want and where. The best way to exude a charming Cottagecore feel is to have a juxtaposition of greens and flowers.
As for the varieties, you can stick to the plants and flowers that are native to your area. However, if possible, include popular English foliage, such as poppies, delphiniums, and foxgloves. Other vibrant flower choices include bellflowers, daisies, geraniums, irises, lavenders, and peonies.
3. Get Your Supplies and Review it All
Once the planning part is over, next is the execution. For this, you will need proper gardening tools and supplies. Make a list of the flowers, plants, tools, planters, potting mix, and manure that you will need.
Both for indoor and outdoor gardening, the scope is limitless as you can choose among garden beds, permaculture, rock systems, and traditional pots. Crescent Garden believes that a mix of small, large, and different shapes of pots will enhance the whimsical appeal of the garden. You can even choose self-watering pots for moisture-loving plants.
Once you've purchased and reviewed all supplies, place the flowers and plants in the desired alignment to check whether you like the layout. Allow sufficient space between plants, but also fill visual gaps using succulents and phlox.
4. Take Advantage of Mulching
If you consider the soil to be a cake, mulch is the icing or topping. Mulching is the process of adding a protective layer of organic material, dried leaves, or wood chips to prevent soil erosion and encourage moisture retention.
It will prevent weeding and protect your plants from drying out in summer and freezing in winter.
Décor Ideas for Wholesome Country Vibes
Do you crave the 'Anne of the Green Gables Meets Bucolic Dreamland' aesthetics for your garden, but are not sure how to achieve it? Well, the elements are simple and when brought together, will seamlessly exude a folksy mystic vibe.
1. Install a Summer House
Ah! Just imagine the feeling of walking into a shabby-chic wooden summerhouse humbly sitting in the midst of your English garden where you can allocate time to yourself. With plenty of rustic windows, the natural light invites you to bask in its glory or try your hand at hobbies like art, music, and reading.
The perfect vintage summerhouse would feature antique furniture, natural materials, wooden armchairs, a hammock (if you please), and lots of antique trinkets that transport you to the bygone era.
2. Hang Macramé Plants
The macramé trend, or the art of knotting rope to create fanciful hanging decorations, is not a newfound idea. In fact, it has resurrected from the 1970s as homeowners are creating stunning macramé pots to hang from the ceilings.
The use of ropes gives this look a Cottagecore vibe. You can hang these in your living room, kitchen, bedroom, and even the patio or the summerhouse. The best botanical beauties for macramé pots include the Boston fern, satin pothos, button fern, and tradescantia.  
3. Consider Having a Fanciful Trellis
Is the English Cottagecore aesthetic ever complete without a trail, arch, or lattice of flowers? Thankfully, it's super easy to create one without breaking the bank. While you can opt for a basic wire mesh display, the Cottagecore vibe comes out best through a wooden pergola.
The most common yet appealing look is that of an archway lined with (fragrant) flowers opening up to the patio or separating the summerhouse area from the rest of the garden. Some of the top flowers for this setup include clematis, honeysuckle, sweet pea, rose, star jasmine, and wisteria.
4. Don't Forget the Signature Fountain!
Whether your patio features a detailed Cottagecore theme, a manicured one, or a pathway framed by stones and pebbles, it will stay incomplete without the signature English fountain.
The ideal model would be a tiered fountain surrounded by potted hydrangeas and other colorful flowers. Even small stone fountains can become the focal point as their cascading waters produce the calming effect needed to soften the formal symmetry.
5. Add the Touch of Wrought-Iron Benches
Given the Cottagecore theme, you can choose wood or stone benches that feature some carvings. But, the only design that is truly transportive is the ornate, antique cast-iron benches still resting in some Victorian parks today.
These benches are easy-to-install and weatherproof; plus, sitting on one of them while gazing at the birds flocking to drink from the fountain will have you enjoying your personal 'Bridgerton' moment!
Time to Gild the Lily?
Is your current garden or patio brimming with life already, but you're just looking to switch to the English Cottagecore era? Even if you're not starting from scratch, the above-mentioned tips and décor ideas will work for you.
The only difference might be in terms of the plants and flower arrangement. In case you're already happy with the setup, there's no need to change the placement right away. You can do that when it's time to change the plants' soil (which may be sooner for some than others).
Simply try to create room for whimsical elements that breathe 'cottagecore' into the aesthetic theme. Finally, plant a whole lot more flowers; after all, can one ever have too many flowers, especially in the gardens of the English countryside?