Garden & Greenhouse Cover Story – FloraMax Nutrients & Additives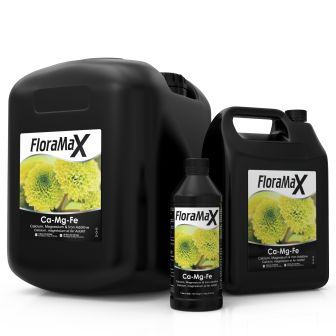 Horticulturists are always on the lookout for the ultimate feeding regimen. In order to maximize plant performance, many growers opt to mix and match various manufacturer's products until they find the perfect blend of nutrients. One company in particular has developed a complete line of nutrients designed to take the guesswork out of growing and to provide growers with the ultimate solution for nutrition. That company is FloraMax. Their product development capabilities are backed by over 50 years of experience as analytical chemists in horticulture, 25 years as nutrient chemists and rigorous crop trials and feedback from over 50 industry professionals.
Their product line-up provides a complete growing solution for gardeners and includes essential products often missing from other nutrient lines, such as resin enhancers, silica, clone sprays, pathogen control, and calcium and magnesium supplementation.  With the use of the highest grade ingredients available, FloraMax contains a sophisticated blend of both organic and inorganic ingredients.
One of their biggest achievements is ensuring that the full line-up works cohesively to unlock the true genetic expression of the plant, resulting in a clean, uncontaminated final product. When a plant is flowered by FloraMax, you are experiencing the genetic profile of the plant, not the nutrient inputs. This feature could only be achieved through strict, unbiased and extensive field testing – over many years.
FloraMax's long history in the hydroponic industry has bred a product design mandate combining simplicity and effectiveness. In order to truly be effective, a nutrient regiment has to be consistent, foolproof and repeatable across a range of conditions and users. The FloraMax regiment eliminates tedious dosing procedures in that there is no waiting; simply measure, pour then stir. The resulting pH stability is over 500% more than the most highly buffered brands available. As an example, when growing in recirculating systems, growers will typically use about 5 times 'less' pH Down than normal. This adds considerable ease-of-use and eliminates potentially costly mistakes, a particularly critical factor for both hobbyists and large commercial operations.
All batches of FloraMax are manufactured by an in-house chemist and then quality tested. This is especially beneficial for growers. Due to the consistent manufacturing methods and quality assurance testing, they can rely on these products to demonstrate uniform results harvest after harvest. FloraMax's core base nutrient product line consists of media-specific base formulas, including Coco A+B, Soil A+B, and Hydro A+B.
Coco A+B
FloraMax Coco A+B is a professional, Dutch-style, two-part nutrient that is used throughout both the vegetative and flowering cycles. The Coco A+B formula provides seed-to-harvest nutrition. This means there is not a separate A+B solution for vegetative and bloom like other manufacturer's products. Simply put, the Coco A+B formula is less confusing and more convenient than other products on the market. In addition to a single formula for both veg and bloom, Coco A+B by is balanced, pH buffered specifically for coco, and contains no unnecessary ingredients. This formula will not clog drip emitters and, perhaps most importantly, requires no pH adjustment.
Soil A+B
Like the Coco A+B formula, Soil A+B is a professional, Dutch-style, two-part nutrient designed to be used
during both the vegetative and flowering cycles. Soil A+B is balanced, pH buffered specifically for soil, and contains no unnecessary ingredients. The lack of unnecessary ingredients in FloraMax's base line-up renders a final harvest with a much cleaner taste, better flavors, and enhanced aromas. The simplicity of their base nutrients cannot be stressed enough. FloraMax Soil A+B requires no pH adjustment or complex mixing and will not clog drip emitters. No fiddling with pH adjustments, spending less time mixing and dosing, and not having to deal with clogged emitters are benefits that provide much more than just convenience. All of these benefits save time and money, which, at the end of the day, leads to a larger return on investment. Soil A+B provides all of the nutritional needs in both the vegetative and flowering cycles to lay the foundation for consistent, prolific harvests.
Hydro A+B
Hydro A+B is a professional, Dutch-style, two-part nutrient specific for hydroponic applications. Hydro A+B is designed to be used throughout both the vegetative and flowering cycles without the need for any complex mixing procedures. Most impressively, the pH stability of Hydro A+B will only require minimal pH adjustment. Unlike other hydroponic nutrients, where the grower is constantly adjusting the pH, a grower who uses Hydro A+B by FloraMax is able to concentrate his or her efforts on other important aspects of gardening. Arguably the two most critical factors of a hydroponic nutrient regimen are that it provides strong pH stability and will not cause blockage or build up in the hydroponic system. Hydro A+B addresses both of these critical factors and, again, saves the horticulturist's time and money.
Core Additives
In keeping with the theme of effective ease of use, FloraMax has packed multipurpose functionality into just 4 core additives. In combination with the nutrient base, these additives assist a crop to achieve its full potential. Notably, the additive suite satisfies more growth criteria than other nutrient line-ups over twice the size. FloraMax's core additives include Root-XS, Flowering Enhancer, Resin-XS, and OrganaBud.
Root-XS
Root-XS is designed to promote explosive root development which accelerates plant growth and helps achieve faster crop rotations. Root-XS promotes root "hairs" that are strong and healthy. This ensures maximum nutrient uptake throughout all stages of growth. With the addition of Root-XS to a fertilizer regimen, plants can be pushed harder, leading to faster crop rotations. Root-XS helps negate stress, especially at times of transplant or transition to new stages of growth. Like all FloraMax products, Root-XS does not contain any PGRs (plant growth regulators). Using Root-XS will help gardeners grow plants with greener, healthier foliage that exhibit less signs of stress. Root-XS can be used as both a root drench and/or a foliar spray.
Flowering Enhancer
Flowering Enhancer is a core additive that promotes strong and healthy floral blooms. The carefully balanced combination of potassium and phosphorus, along with supplemented calcium and iron chelate, helps strengthen plant structure during the heavy fruiting/flowering stage. One of the biggest problems growers have during the flowering stage is a fluctuation in pH which negatively impacts flower density and overall yield. Flowering Enhancer by FloraMax actually locks the pH below 6.5 in coco coir and soil and minimizes the need for pH adjustments in hydroponic systems. The pH locking power of Flowering Enhancer prevents a multitude of problems commonly associated with other bloom enhancers, including leaf curl, stunted growth, and withered fruit-set. Many of the popular flowering additives cause the pH to rise well above 6.5, regardless of water quality. FloraMax Flowering Enhancer allows a gardener to rest assured that his or her pH will not rise above the desired range and cause unwanted effects. Instead, Flowering Enhancer will stabilize pH levels and give the plants the extra boost they need in the flowering stage to produce enormous fruits and flowers.
Resin-XS
Resin-XS is a specialized flowering additive that is used in conjunction with "PK" additives. Resin-XS aids in photosynthesis to improve sugar content which, in turn, increases flavors and fruit/flower weight. In addition to improving the plant's ability to absorb water and other nutrients, Resin-XS increases essential oil production. Over the two years of final testing and commissioning, there was no other additive capable of competing with Resin-XS. The ingredients found in Resin-XS have been proven to be uniquely stable, which means growers can rely on consistent results at every harvest. FloraMax test studies indicate over 30% improvement in trichome population and independent labs have verified significantly higher concentrations of essential and total oils than other leading products. Furthermore, Resin-XS will not induce foul odours or bio-films in the reservoir and for consumer protection contains no PGRs.
OrganaBud
OrganaBud is a 100% organic additive created to improve the root zone environment. It contains a carefully stabilized solution of Ascophyllum Nodosum sea kelp, fulvic acid, humics, vitamins and other stimulants. Most
brands will pack these ingredients across multiple bottles, however, FloraMax's trademark stability has been used to deliver a fully soluble product that runs so clean that it is both suitable for aeroponic applications and has a shelf-life in excess of 3 years.
The organic ingredients in OrganaBud were extracted with the latest technologies. These technologies utilize effective, yet gentle, techniques to ensure the beneficial organic compounds are not compromised. Because of the careful extraction processes, OrganaBud provides a natural source of amino acids, gibberellins, cytokinins, auxins, and betaines. In other words, it is chock-full of valuable plant hormones and other beneficial plant stimulants. The fulvic acid contained in OrganaBud is sourced from leonardite and provides the most bio-active plant-derived version of fulvic acid. Fulvic acid acts as a chelator to aid nutrient uptake and also increases the caution exchange capacity (CEC) of the medium. OrganaBud's aim is to improve overall plant health and vitality, help stimulate and promote fruits/flowers, and enhance the plant's resistance to pest insects and diseases.
More Products from FloraMax
In addition to its core additives, FloraMax offers growers additional additives to further enhance their nutrition regimens. Although most fertilizer manufacturers do not supply all of the specialized additives, FloraMax is a one-stop shop for everything a plant needs for optimal nutrition. Their other additives include a 'potassium silicate' based silica formula that possesses an indefinite shelf-life, a clone spray with a balanced combination of macro and trace elements that contains a built-in wetting agent, a Ca-Mg-Fe formula that cures/prevents plant nutrient deficiency issues by "bulletproofing" secondary trace element nutrient presence even if pH rises above 9, and a cloning gel for cuttings that has indefinite shelf-life – even after been opened and used countless times. FloraMax also has a System Maintenance formulation that prevents bio-films and blockages, and is 100% organic and compatible with beneficial bacteria, live systems and enzymes.
Growers who wish to receive the most from a nutrition regimen and, at the same time, wish to simplify their grow operations, need to look no further than FloraMax; after selecting one of the core nutrition base formulas (depending on the medium), a grower can follow the simple dosage instructions. The pH buffers will not only free up the grower's time, but will also provide an environment where plants can more efficiently and effectively absorb nutrients. In addition to the nutrient base formula, growers can achieve even better results by incorporating FloraMax core additives. Simple and straightforward has never been so productive. The science behind every container of FloraMax's products ensures consistency and professional results. It's no wonder FloraMax's tagline is "Your harvest is our priority".
For more information, visit FloraMax.com, Email [email protected] or call 888.224.4667.

Tips to Pet-Proof Your Garden
Cats are delightful, but they can also be destructive. If you're wondering how to keep cats away from houseplants, you're not alone. As cat owners, we love our pet's mischievous blunders—until their curiosity results in shattered glass, messy spills, or entire shelves raining down.
Since indoor plants can be toxic to cats, many pet owners find it easier to sacrifice their lively green decor. But if you have just about given up, you should know that cats and plants can coexist.
Though your cat may fight your plant, eat it, dig up its soil, or even use it as a litter box, there are ways to stop them.
We will teach you how to protect plants from cats, but first, it helps to know why your cat wants to destroy your plants in the first place.
Why Your Cat Keeps Getting Into Your Plants
There are several reasons cats get into plants, from how they taste to curing boredom. But if you can determine what motivates your cat, it will be easier to stop them from turning your next plant to shreds.
Whether your cat is fighting, eating, digging, or going to the bathroom in your plants is your first clue.
Your Cat May Like the Taste or Digestive Boost
If you're wondering why cats eat plants because your cat craves yours, there are instinctual reasons behind their behavior.
For one, cats tend to explore items by putting them in their mouth because it provides sensory data. But if that item tastes good, there is nothing to stop them from going back for more.
Another possibility is that your cat's instincts tell it to eat your plants to aid digestion. Wild cats often eat grass for the extra fiber, so your cat may be attempting to ease a stomach ache if their food or hairball isn't doing them any favors.
Important: Even if your cat doesn't eat plants, only decorate with non-toxic varieties. Some plants are poisonous to cats, and it's never worth the risk.
When you buy plants that are safe for your cat to eat, ensure that they don't eat too much, and use the tips below for keeping cats out of plants altogether. Any plant can upset your kitty's tummy if they overeat it. Contact your veterinarian immediately if your cat exhibits any of the following signs:
Sneezing
Coughing
Gagging
Vomiting
Decreased appetite
Pawing at their nose or mouth
Plants Bring Out Your Cat's Inner Hunter (or Huntress)
Cats come from a long line of ferocious hunters that fought and killed to survive, and some cats still perceive themselves that way. It's why they love to attack toys—and sometimes your toes.
To some cats, your plants look like great victims. Even the gentlest movement can be enough to encourage an attack.
Your Cat Might Be Bored
It is also possible that your cat may first get the urge to hunt or play, and your plant is the best opponent around.
Cats are considered low-maintenance compared to dogs, but they need just as much entertainment to stimulate their brains and encourage healthy behaviors. If a cat is bored, it may experience pent-up energy and frustration. Sometimes, this results in acting out or taking it out on your plants or other belongings.
Why Do Cats Dig In Plants?
Perhaps your cat is more of a digger than a fighter, and you often come home to uprooted plants and dirt scattered across the room. This behavior traces back to the fact that digging is an instinct for cats, as it is for many animals.
If your cat also uses your plants as a bathroom, the digging is instinctual to cover up their scent. In this case, the problem stems from them wanting to use your plants as a bathroom.
Your Cat Likes Your Plants More Than Their Litter Box
Litter boxes are designed to appeal to a cat's bathroom needs. Their instinct for privacy—and to dig and cover up their business—is why litter boxes look and function the way they do. However, if your cat is unsatisfied with their litter box, they will choose to do their business elsewhere.
If your cat uses your plants as their personal bathroom, start by consulting with your vet. If there isn't a medical cause, the problem is probably due to an unsatisfactory litter box situation, and you can refer to the section "Litter Box the Right Way" below.
How to Keep Cats Out of Plants
Now that you know why your cat has made enemies with your plants, you know it's not out of pure malicious intent. Still, you might be wondering how you can duel with a cat's nature.
Here's what you can do to enjoy the serenity of having houseplants and the adventure of owning a pet cat all at once.
Make Your Plants Unappealing to Your Cat
One of the best methods for keeping cats away from plants, regardless of their motivation, is to make the plants unappealing to them. If your cat hates the taste or smell of your houseplants, they are more inclined to stay away.
Smells and tastes that are repulsive to cats include citrus, certain spices, and coffee grounds.
To make your plants less appetizing, try mixing water with juice from a lime, lemon, or orange and spraying it over your plants. You can also sprinkle your plants with chili powder, cayenne, or black pepper. If you're wondering how to stop cats from digging in plants, cover the soil too.
You can also buy spray to keep cats from eating plants; these sprays are made with distasteful ingredients for furry friends.
When using this method, reapply repellents after watering plants.
Cats also naturally dislike certain plants, like rosemary and lemon thyme, but you should check with the ASPCA before buying any plant. Some articles on how to stop cats from eating plants recommend the Scaredy Cat Plant—aptly named because it repels cats—but some research reveals that this plant is sometimes called dogbane, which is poisonous to cats.
Important: Never use citrus essential oils to protect plants from cats. Although they emit a strong scent, essential oils can be toxic to cats. We also recommend checking with your vet before using any homemade or store-bought cat repellent sprays.
Place Your Plants Out of Reach
If your cat can't reach your plants, they will have a hard time getting into trouble.
One option to keep plants away from cats is to place them high up on a shelf or hang them out of reach. When employing this method, keep in mind what your cat can do. Most cats are excellent jumpers and can rebound off nearby objects when determined. You'll want to make sure that your cat has no way to access each plant.
Another option is to use a plant cover for cats. You can enclose your plants in a cage, fish tank, or terrarium, but you'll want to ensure your cat can't knock it over or paw the lid off.
★ Important: Even with plants out of reach, never buy toxic plants. It's better not to risk it if your cat is feeling extra capable one day, you forget to put the lid on your tank, or anything else happens.
Cover Plant Soil to Protect from Digging Cats
If you have a digger on your hands, one way to deter cats from plants is to cover up your plants' soil. There are several creative ways to go about this.
Covering the soil around the base of your plants with aluminum foil is a popular recommendation because cats don't like the feel of foil. Mesh is another option.
If the aesthetic of foil or mesh isn't for you, you may consider more decorative options like rocks, stones, or shells. Just be sure to use heavier stones or a thick layer to prevent your cat from knocking them out of the pot.
Train Your Cat
It's possible to train pet cats just like you would a dog, but it takes time and patience. For this option to work, you need to be consistent and fast. Speed is essential so that your cat can connect their actions and the reward or punishment.
If you are home a lot and willing to commit to their training, you can teach your pet to leave plants alone or engage in a different activity when they want to play with them.
Bonus: Knowing what motivates your cat helps. For instance, treats or pets make a better reward based on whether your fur baby is food or affection motivated. The same goes for punishment; some cats are more deterred by a spray bottle, while others have a stronger dislike for loud noises.
Give Your Pet Their Own Plant
The whole point is to protect indoor plants from cats, so why should you willingly give them a plant to play with? Giving your cat their own plant may satisfy their plant-related instincts, so they aren't as desperate to mess with yours.
To effectively use this strategy, you will want to train them to play with their plant any time they try to get into yours.
Cat grass is a popular choice for this strategy because it's non-toxic, has all the plant traits that call to a cat's instincts, and can even aid your cat's digestion while providing extra niacin and B vitamins.
Although cat grass is non-toxic, it's still important to monitor your cat's consumption of any plant and talk with your vet first.
Catnip also comes from a plant, but your cat may love catnip a bit too much for it to be a great choice.
Bonus: If your vet approves of this method, plant your pet's new friend in an unbreakable plastic pot. You don't want to have to clean up shattered pieces or risk an injury when your cat gets too excited.
Litter Box the Right Way
There are three factors to consider when it comes to providing the right litter box situation for your cats:
Cleanliness
Availability
Size
In terms of cleanliness, cats need their litter box cleaned once a day. If it occasionally slips your mind, you can set a reminder on your phone.
Availability is about how easy it is for your cat to access their litter box at any given time, and it's important to note that cats don't like to share. The Pet Health Network recommends always having one more litter box than you have cats (# of cats + 1). Therefore, if you have one cat, you should have two litter boxes; if you have two cats, you should have three litter boxes.
If you have a multi-story house, it can also help to provide a litter box on each story, especially when there are plants around.
Lastly, your litter boxes should be large enough for your biggest cat to use the bathroom comfortably. Get a box as long as your cat, measured from the tip of their nose to the tip of their tail when fully extended.
If any one of these three factors isn't up to par, your cat may claim a potted houseplant as their preferred place to go.
Protect Your Cat From Boredom
If your cat attacks your plants out of boredom, the best way to stop them is to tackle the problem at the source.
Begin by creating a playful environment that stimulates your cat so they have something to do even when you're not home. Interactive toys and cat trees are a great place to start.
As a bonus, providing your cat with mental and physical activities is also great for their health.
Your Fallback: Keep a Cat-Free Plant-Haven
Have you tried all the methods above, and nothing is enough to stop your little troublemaker? If plants bring you happiness, you have an option to fall back on: the cat-free plant room.
Creating this room is as simple as putting all your plants in one room and keeping the door shut to keep cats out. Consider picking a room with a decent amount of natural lighting. You may even have other items that could benefit from a cat-free zone.
Talk With Your Vet Before Changing Your Cat's Lifestyle
Before trying the tips in this article, we advise talking with your vet about the changes you're considering. If your cat is exhibiting behavioral issues or begins to, there's a chance they may have a stomach bug or other medical issue to prioritize.
Once your methods are vet-approved, only bring cat-friendly plants into your home. Even when keeping plants away from cats, it's best to play it safe when it comes to the smaller members of your family.