Kelp Extracts for Orchids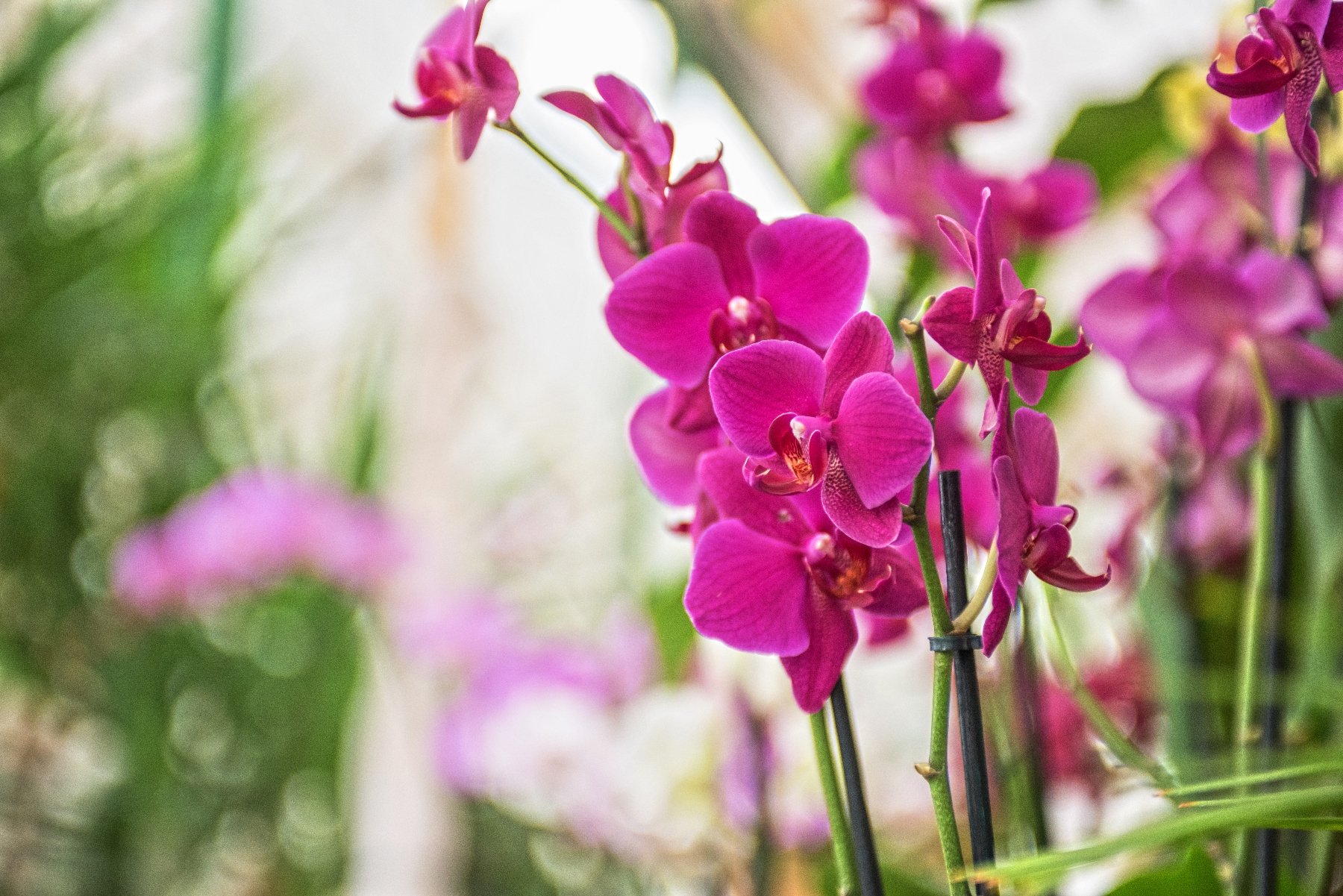 The benefits of the use of kelp in horticulture has been known for a very long time. In addition to fish, the Native Americans taught the Pilgrims to till kelp into the soil for better crop growth.
A few decades ago, when kelp products were first offered to the grower, very little was known of their modes of action and many claims were made, some unjustified as well as based on incorrect assumptions. One clear finding was that when applied at specific times and in specific ways, some products triggered physiological responses in crops. Back then, kelp products suffered from a poor reputation due to their inconsistency and confusing claims. As the decades passed new products were developed and greater science was applied to unlocking the truth behind their applications.
It is now known that the effects of kelp products can be explained by the presence of groups of plant hormones, namely auxins, cytokinins and gibberellins. Some will tell you of the theory of the "illicitor effect" in which the kelp application triggers responses on a cellular level, for example stimulating enzyme production or certain defense mechanisms. It is now known that not only is the mere presence of these hormones important, but also that differences in the ratios of the various groups will affect the response. For example, a product with high auxin content and high cytokinin content might cause an auxin-like response in one crop but cytokinin response in another. If on the other hand the ratio of auxin to cytokinin is high – even if their overall levels are low – an auxin-like response will be triggered in almost all plants.
Seaweed-based products are quite variable, depending upon the species of kelp used, how they are harvested, and how the active ingredients are extracted from them. Among all kelps, as many as eight natural auxins and 16 natural cytokinins have been identified. Gibberellins are also often present, but are so unstable that they degrade rapidly no matter how the materials are handled.
Structurally, kelp is made up of very tough cell walls that are resistant to rupture. In order to achieve breakdown of the cells to collect their contents most manufacturers use chemical or heat digestive processes, which leads to rapid degradation of the auxins, resulting in commercial products high in cytokinins. Many of the internal biological processes of plants – just like us – are controlled by hormones. Two of the more important classes of those are auxins and cytokinins.
Auxins are naturally produced at the apical meristem of a plant, that is, the "growth tip". Those auxins flow down into the plant, where they play a role in:
gravitropism
root elongation
promoting the formation of more lateral (branching) roots, and root hairs as applicable
enlarging the thickness and length of roots
increasing the uptake area and uptake activity of the roots
increasing the number of root tips
cambium activity – increasing segment thickness and the creation of more vascular bundles, allowing easier transfer of nutrients and fuels throughout the plant.
leaf expansion, and the angle at which they are held
differentiation of vascular tissue – enhances movement of chemicals on-board
stem cell elongation
phototropism
It is that expansion of the root system that is of most interest, as it is the newly-growing root tips that produce cytokinins, and as they travel upward through the plant:
they induce cell division and elongation
increase of nitrate reductase vitality promoting nitrogen uptake
slow leaf senescence
affects the emergence of lateral bud and flower development
enlarges leaf area
play a role in the osmotic pressure in roots, thereby promoting greater water uptake and transport throughout the plant.
induction of cell division and growing tips promotes younger shoots to grow big and strong more quickly
That last item, the stimulation of the growth tips, in turn releases more auxins and the process recycles. Each phase starts slow, builds to a peak and then begins to fade, like a series of overlapping bell curves. In most plants, a cycle takes about 14-21 days.
By the use of high-auxin kelp extracts, we "cut into" that natural cycle, pushing the plant into a "higher gear" if you will, accelerating all of those processes, giving us healthier and faster growing plants.
Ray Barkalow has been growing orchids for over 45 years, and owns First Rays, which offers horticultural products to the hobby grower. He may be contacted at raybark@firstrays.com and you can visit his website at FirstRays.com.
Read More Articles
Light Reflections & Reflectors for Orchids
The Importance of Flushing Orchid Potting Media
Understanding the Dry Line in Semi-Hydroponics for Orchids

A Dream: Retiring in Canada
Introduction
The prime of a person's life is represented by the golden years. If you've put in a lifetime of hard work, responsibility, and adhering to a strict work schedule, you can finally retire to your "cape" and relax in your own home, which need not be in the city where you currently reside. If you have made the decision to relocate for your retirement, you may be looking for the best Canadian city to retire to spend your time in.
Even if you already have a list of preferences for where you want to retire, this list can be a great resource. The adoption of a pragmatic and practical approach when selecting a retirement city can help you enjoy a happy and financially secure retirement.
Everyone has their own set of preferences, priorities, likes, and dislikes when it comes to just about anything and everything. This includes everything from minor details such as a favorite cup of coffee to major decisions such as choosing the right career path. As a result, it is understandable that each individual would have their own ideas about how and where to spend their retirement years.
Fredericton, NB
The city of Fredericton serves as the provincial capital of the province of New Brunswick. Although it is a small city in terms of population for a capital, it is a fortunate mix for retirees. In spite of the fact that the city is not particularly crowded, its status as the regional capital means that it has many amenities that a city of its size does not typically have (though public transportation is not available on Sundays). Real estate prices are low enough that you can afford a home if you have enough savings, which is especially true if you are looking to purchase a condominium.
In addition, the rent is significantly less expensive. It has a humid continental climate and is located on the banks of the river. So, if you like to fish, it could be a fantastic place to settle down in. For a city of its size, the city has a large number of historical buildings and museums, as well as parks and gardens. It also hosts a large number of festivals. The city's largest hospital, which has more than 300 beds and several specialists, as well as a level 3 trauma center.
It's possible that Fredericton will be the perfect place for you if you're looking for a nice, affordable blend of nature and a moderately large city.
Kingston, Ontario
When it comes to living in a city where half of the population is made up of young students rather than old retirees like yourself, Kingston might be the best Canadian city to retire to. Because of its strategic location, it has a long and illustrious history, particularly in the military sphere.
As a retiree, you'd appreciate Kingston's laid-back atmosphere and easygoing pace of life. Almost half of the year, the city is bathed in sunshine. Transport in the local area is efficient, quick, and reasonably priced. One of Kingston's most significant assets, however, may be its world-class medical facilities. Kingston General Hospital is one of the largest hospitals in the province of Ontario and is located in Kingston. Many wonderful places to visit or spend your retirement time in the city, such as Lake Ontario Park and the Museum of Healthcare, which is the only museum of its kind in the country, are available to you. Many outdoor activities are available to you in the city as well, including sailing, fishing, golf, and hiking, among many others.
Burlington, Ontario
There are 115 parks in the small community of Burlington, so getting some exercise and fresh air will not be a problem. Given that it's only about 40 minutes away from Toronto, it's possible that you'll enjoy living in this charming little town if you have family in the city. It has a vibrant creative community as well as a sufficient number of art venues, especially given the size of the city. In addition, the city is very bicycle-friendly.
Even though there is a major hospital in the town, you may need to travel to Hamilton, which is not far away, if you have a serious medical problem. The high cost of living in Burlington is a chink in the city's armor. Even if you decide to rent a place in the city, you may find it to be an expensive place to live. However, if you can find a way to avoid this expense (by living in a co-op or a small house, for example), the city will appear to be quite affordable. Alternatively, you can choose one of the city's retirement homes. In addition, the city offers a diverse range of retirement living options, including active retirement living, assisted living, and home care.
Kelowna, BC
When it happens to come to retirement homes, Kelowna is a bit of a cliche, to say the least. Until the most recent census, retirees accounted for more than 18 percent of the population, which is significantly higher than the national average. This city experiences all four seasons, although housing can be expensive (especially if you try to live near the lake). If you are an oenophile (a fancy way of saying wine enthusiast), Kelowna is the place to be. It's the perfect combination of nature, peace, and the big-city hustle and bustle (especially in tourist season).
If you don't mind living a little outside of the city for cheaper housing, if you enjoy driving and taking part in outdoor recreational activities such as picnics by the lake, you might find Kelowna to be a reasonable price. The primary medical facility, for example, is quite large, with over 700 beds, and the number of doctors per capita is sufficient given the city's population density. The dry weather is a major draw for many retirees who come to this city to enjoy their golden years.