New Search App Offers Unbiased Results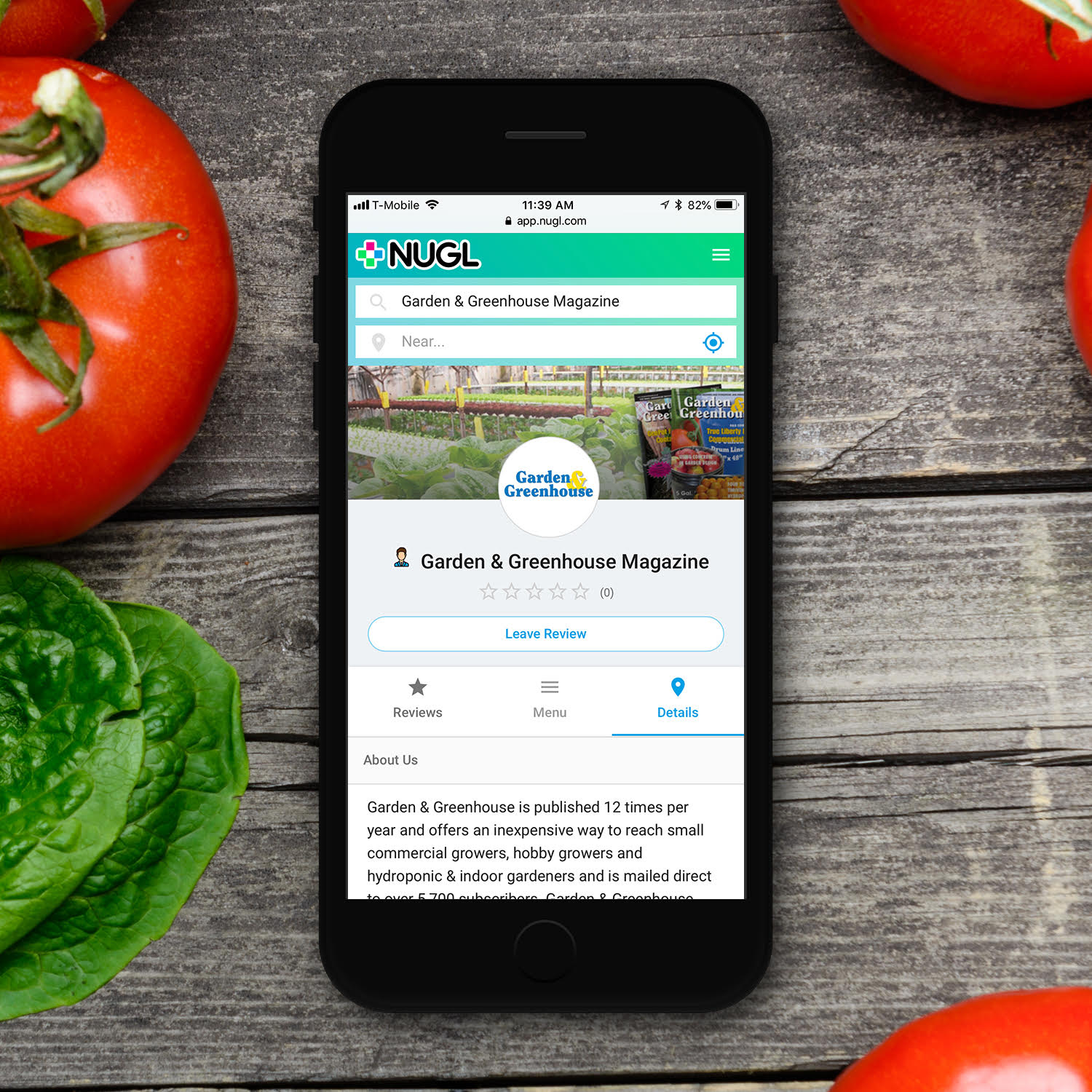 Nichols Publishing Company, the publishers of Garden & Greenhouse and NUGL have entered a partnership that offers a new technology to the greenhouse and indoor gardening industries. NUGL.com is a search app that offers unbiased search results. Acting like the LinkedIn for the greenhouse and indoor gardening industry, this new app is available in your app store – Android or Apple – allows for not simply location-based queries about the professional service providers, retail locations and potential employees to help grow your business, but also includes an unbiased user-rating system to facilitate real communication between the people actually involved in the greenhouse and indoor gardening industry.  The unique B2B app serves as a networking tool for brands and services within the cannabis industry to connect and grow their business.
This app allows users to find services, brands and tools to improve your business while making industry connections and is a social media fine-tuned for the home hobby grower, greenhouse and indoor gardening
industries.  The directory claims to have unbiased ratings and listing results with better features than other guide type apps.  NUGL creates the ideal place to communicate and build strong networks of proprietary information valuable to the home-grow community. The profile search features allow users to find specific items within the entire community, rather than simply zip-code searching for what may not be available within a certain area.
Unlike other apps NUGL's easy upload lets users post their business for all to see and rate, while letting them share vital company information without the confines of entering a zip code to find what you're looking for or to be found yourself. Its use of consumer and B2B search parameters under one umbrella creates a space that allows all levels of the cannabis industry to easily communicate about their needs, how to fill them and how to find valuable industry information.
Rather than simply inputting a location, one can query specifics like light deprivation greenhouses or hydroponic systems to review the profiles or find out where to buy the products.  Unlike any other technology, this application delivers its users the ability to interface and grow, share and converse, rate and suggest on one simple platform.
The need for professional service providers and greater inventories of crop, manpower, land and other supporting businesses and individuals has grown and will continue to grow. NUGL offers a comprehensive one-stop and convenient space for the greenhouse and indoor gardening community to find information in an easy-to-use no-nonsense platform. For more information and a free test drive visit NUGL.com. For advertising inquiries call 563.557.7571 or email Rnichols@GardenAndGreenhouse.net.
Read More Articles
Conductivity (EC) for Hydroponics
Four Tips for Thriving in Hydroponics
Innovative Hydroponics Designs Save Greenhouse Growers Money-Making Space
What To Know About Moving to Robstown, TX
Moving into a new home can be both thrilling and scary. You won't always know what to expect, but there are ways to make the move with more ease.
If you are making the move to Robstown, aka "The Biggest Little Town in Texas," you are up for an adventure. The highly accessible town has a lot in store with a rich history and continuously growing economy. For one, Robstown is recognized as the home of Texas hold 'em. Beyond this, there are many exciting things to discover about the city.
A major move can be daunting, but the challenges and worries can be easily alleviated with preparedness. There are several things to keep in mind when moving to Robstown, TX.
Robstown Has an Interesting Past
According to history, Robstown's name actually came from Rob's Store, a small store established by Robert Driscoll, Jr., who was among the early entrepreneurs to settle in the area. Rob's Store became Rob's Town; thus, Robstown is called as it is today.
Beyond just the name, Robstown, TX, has a rich history as a civilization. It is located in the Gulf Coast region, where the early inhabitants were Native American. Therefore, you can expect traces of various native tribes in the area.
Robstown was established in 1906 and received township status in 1907. It was eventually incorporated into a city in 1912. The economic growth in the city of Robstown was brought about by railroad construction that connected it to the entire Gulf Coast and South Texas regions. The railroads paved the way for retail, agriculture, and business opportunities, which later helped make Robstown the "crossroads of opportunity" and "The Biggest Little Town in Texas."
You can visit many historical sites and museums in the city, including Hotel Brendle, the train station, sites where Native Americans lived, and the Robstown Area Historical Museum.
Prepare For the Weather: It's Hot Here, So Keep Your Cool
With its humid subtropical climate, Robstown's average weather is projected to be hot and humid during the summer, while winter will be cool and windy, though it often does not last long. It is also mostly cloudy throughout the year.
It is important to make sure your new home is well ventilated during the hot season. Also, you should consider a good heating system for the winter. Preparing the proper clothing is also necessary to make sure you'll get through different weather conditions comfortably.
There is also a risk of hurricanes and flooding in Texas, especially in the southeast region, which borders the ocean. Familiarize yourself with hurricane preparedness and write down important websites and emergency contact details that you can reach out to in case of calamities, especially in the city of Robstown. Securing home and vehicle insurance can also be very helpful in preparedness and recovery.
Get Ready to Handle the Local Pests
With its high humidity and hot weather, there are common pests in Robstown, including mice/rats, wasps, ants, and mosquitos. There is also a chance you may find silverfish in your home. These nocturnal insects seek shelter in dark, moist, and humid areas, just like mosquitos. Inspect your basement, ceiling, attic, and other corners of your home, and make sure to clean those areas using proper chemical treatments to avoid infestations.
Keep your home clean and maintained to prevent any kind of pests from coming in and infesting your space. If you notice that pests are setting about, try to control them as early as possible.
If you feel overwhelmed or unsure how to handle a pest problem, don't hesitate to get expert help and search for Robstown pest control services near you. You actually save more money, time, and stress by avoiding severe damage to your property and furniture.
Making Robstown, TX, Your Home
Robstown, TX, has the right amenities and is home to an array of museums, restaurants, nightlife, and events, as well as a booming business district. Located in Nueces County and as a western suburb of Corpus Christi, Robstown is also near some well-known educational institutions like the Texas A&M University-Kingsville, Texas A&M University-Corpus Christi, and Del Mar College.
As most of the year is cloudy to sunny in Robstown, there are many outdoor activities. Go shopping, find community groups within the neighborhood, or start a new one. Make new friends and nurture life. Make the city work for you.
Enjoy the Warmth of Robstown
It is warm in Robstown, especially in the summer, but the warmth you should anticipate more is in your new home as you start your new life in it. Getting familiar with the city is important. But it is also worth mentioning that getting to know and see it by immersing yourself in its authentic culture and people will be a whole new experience. Be sure to prepare everything you need ahead of the moving day so you can enjoy your new adventure.