Biochar is simply the carbonization of biomass, essentially charcoal.  Heating biomass from vegetable and animal waste with little or no oxygen at a suitable temperature produces Biochar.
When used as a soil amendment, Biochar improves soil function by holding carbon, making soils more fertile, and providing a permanent habitat for soil microorganisms. Biochar holds carbon and other nutrients because of its unique structure, full of pores and surface area. It is an excellent habitat for beneficial bacteria and beneficial fungi. This nutrient holding property of Biochar is particularly useful in areas that flood often or farm lands that have been over farmed.
Further, because of this unique holding property, Biochar has the ability to attracting and hold moisture, nutrients, and important chemicals, specifically nitrogen and phosphorous. As every farmer knows, nitrogen is one of the most important chemicals but it tends to run-off regular soils potentially upsetting the ecosystem balance in nearby streams and ponds. Biochar holds gasses as well; recent research has proven that Biochar enriched soils reduce carbon dioxide (CO2) and nitrous oxide (NO2) emissions by 50-80%. Both nitrous oxide and carbon dioxide are problem greenhouse gasses.
Benefits of Biochar
The use of Biochar will increase crop yields and improve soil fertility for the long run – not just for one season. Biochar remains in the soil and a single application can provide benefits for years. Many years of research has shown that Biochar stimulates a wide variety of beneficial soil microorganisms. The pores in the Biochar provide a habitat for the microorganisms by protecting them from drying and providing them with a long-term carbon source. A carbon source is essential for bacteria and fungi to thrive and multiply.
Advantages & Disadvantages of Charged Biochar
Biochar is often charged, sometimes called activated, by using compost or compost tea. There are also a number of disadvantages to charging Biochar with compost as well.
The compost may not be of good quality or be well balanced – bad compost may do more harm than good!
Some composts do not contain all the necessary microorganisms.
Manure used to charge Biochar may contain antibiotics, insecticides, fungicides, or worse – manuremay contain pathogenic (disease causing) microorganisms.
It takes 2-4 weeks before the microorganisms in the compost colonize the Biochar. This results in unnecessary delays in applying your Biochar.
Biochar quality will vary with each application depending on the type and quality of compost.
The structure of Biochar is designed to allow microorganisms to attach and form colonies. From the beginning use of Biochar it is best to add microorganisms that are known to be beneficial.
Bill Baugh is a product manager for Custom Biologicals, Inc. a manufacturer and distributor of innovative microbial products. You can visit their website at Living-Soils.com and he can be contacted at 561.797.3008 or [email protected].
Related Articles
Biochar an Ancient and New Technology
Five Ways to Make Help Nature Make Topsoil
Going Beyond Soil and Exploring Grow Media
Using Soil Amendments in Soil Management Practices

Why Should You Consider Planting Spring-Planted Bulbs in Your Garden?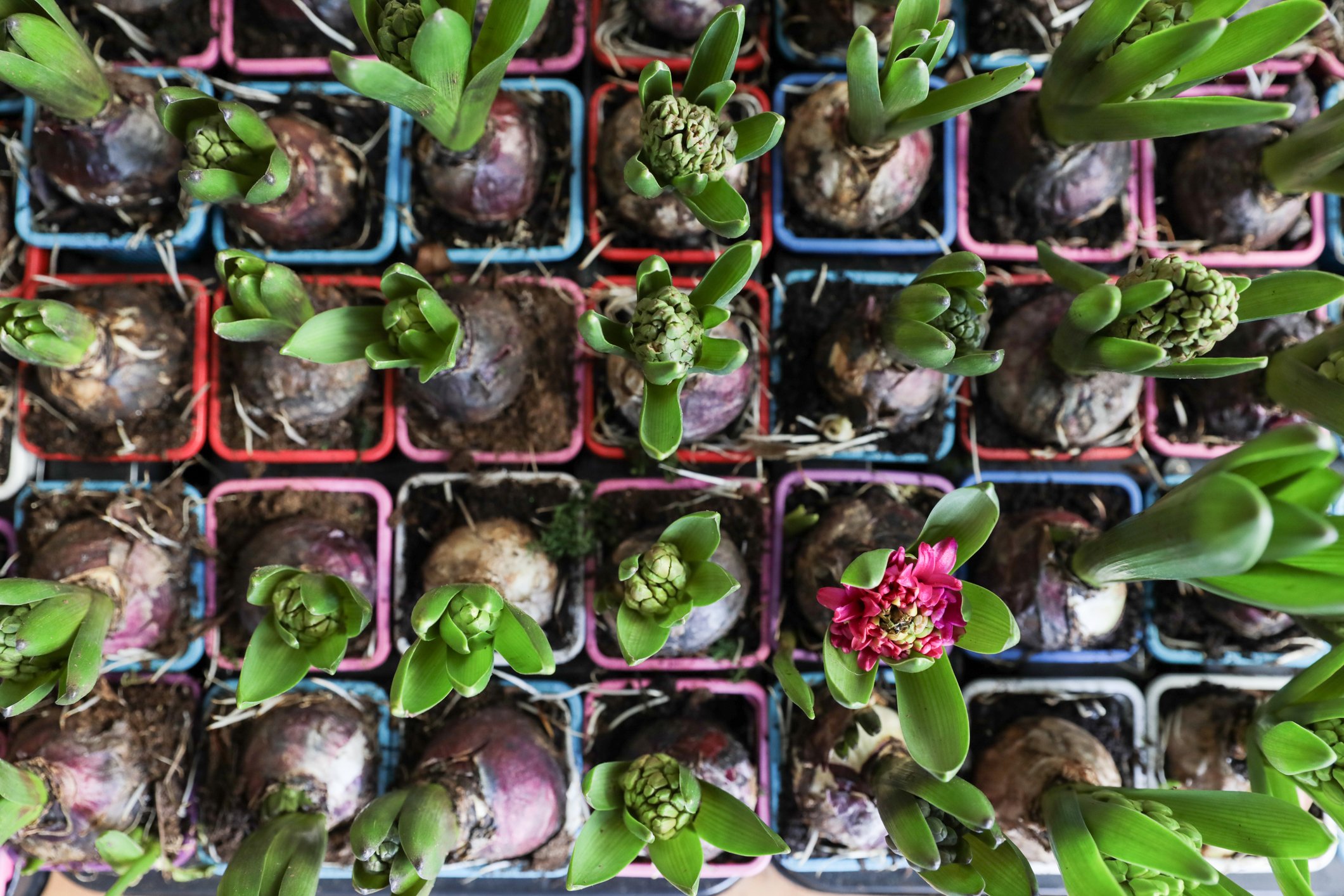 Spring is a great time to plant bulbs in your garden! Not only do they add a pop of color, but they also provide a number of benefits. In this blog post, we'll outline the benefits of planting spring planted bulbs in your garden. We'll discuss what bulbs are, what flowers come from bulbs, how to plant them, when to plant them, and how to care for them. So, go ahead and plant some spring-planted bulbs in your garden this spring!
What Are Spring Bulbs?
Do you love the beauty and colors of springtime? If so, then you should consider planting spring bulbs in your garden. Spring bulbs are a popular type of flower that is planted in the springtime. They come in many different colors and are known for their beautiful blooms. Not only do they add beauty to your garden, but they are also easy to care for.
When selecting spring bulbs for your garden, it's important to choose ones that look good together and have a variety of colors. Some of the most popular types of spring bulbs include tulips (a yellow bulb), daffodils (a blue or purple bulb), crocuses (a white or multicolored bulb), and hyacinths (an orange or yellow flower). When selecting which ones to plant, it's best to choose a mixture so that your garden looks colorful throughout the year.
What Flowers Come from Spring-Planted Bulbs?
There's no better way to add color and brightness to your garden than by planting bulbs. Not only are they easy to care for, but they also come back year after year. When choosing which bulbs to plant in your garden, it's important to consider what flowers you want them to produce. Some common bulbs you can plant include tulips, daffodils, hyacinths, and crocuses. All these bulbs will produce beautiful flowers that will add a touch of color and brightness to your garden. You can also choose to plant other types of bulbs, such as grape hyacinths or lily-of-the-valley bulbs. These plants produce smaller flowers but are very fragrant.
The Advantages of Planting Spring-Planted Bulbs
Do you love the look of brightly colored flowers in your garden, but you don't have the time or energy to tend to them? Planting spring-planted bulbs is a great way to add color and interest to your garden without any of the work. Bulbs are easy to care for and require very little maintenance—all you need is some water and sunshine. Plus, bulbs can be planted in a wide variety of locations, including in pots and containers. This makes them perfect for adding interest to any area of your garden.
Another advantage of planting bulbs is that they are relatively inexpensive. You can buy a large container of bulbs for just a few dollars, and they will last for many years with proper care. Plus, bulb plants are relatively easy to transplant if you ever want to move them somewhere else in your garden. Last but not least, planting bulbs is a great way to add color and brightness to your garden all year long!
How to Plant Spring Bulbs?
Color is one of the most important factors when it comes to garden design, and spring-planted bulbs are a great way to add some extra color to your landscape. Not only are they beautiful on their own, but they also provide a wonderful contrast against the cooler colors that will be in season during the summer. Spring-planted bulbs are easy to plant and care for, and there are a variety of different varieties available that will perfectly complement your garden.
When Should You Plant Spring Bulbs?
With the arrival of spring, it's time to start thinking about planting bulbs in your garden. There are a variety of beautiful bulbs that can be planted in the spring, and they're easy to care for, making them a great choice for someone who wants to add color and interest to their yard without much effort.
Consider the season when deciding which bulb to plant in your garden. Spring-planted bulbs will typically bloom earlier than bulbs planted in the fall, so make sure you choose the right one for your garden. There are a variety of different types of spring-planted bulbs to choose from, so find one that will fit well into your landscaping. With a little planning and effort, you can have a beautiful garden that blooms all year.
How to Care for Spring-Planted Bulbs?
Spring is a wonderful time to plant bulbs in your garden. Here are a few tips on how to get started:
First, be sure to research which types of bulbs work best for your garden and climate. Some popular choices include tulips, daffodils, hyacinths, and crocuses. Once you've selected the bulbs you want to buy, purchase them in advance so that you have plenty of time to plant them in the ground or in pots.
Once you have your bulbs home, it's time to take care of them! Make sure that their soil is moist but not soggy – this is crucial for bulb growth. Water them regularly during dry weather, and be sure not to overwater them, as this can damage their roots. When the flowers start blooming, cut the stems close to the ground so that the bulb will continue flowering indoors. After the flowers fade away (usually around mid-March), allow the foliage (orchids tend not to shed their leaves) to die back naturally. Enjoy your beautiful spring-planted bulbs!
In Short
Spring bulbs are a great way to add color and life to your garden. Planting these bulbs will provide you with beautiful flowers throughout the spring and summer. Bulbs are easy to care for and can be planted in almost any type of soil. Be sure to plant your bulbs in the fall so that they have time to establish themselves before the first frost. With a little love and care, your spring bulbs will thrive and bring you enjoyment for years to come.