Making Sunlight – We're Trying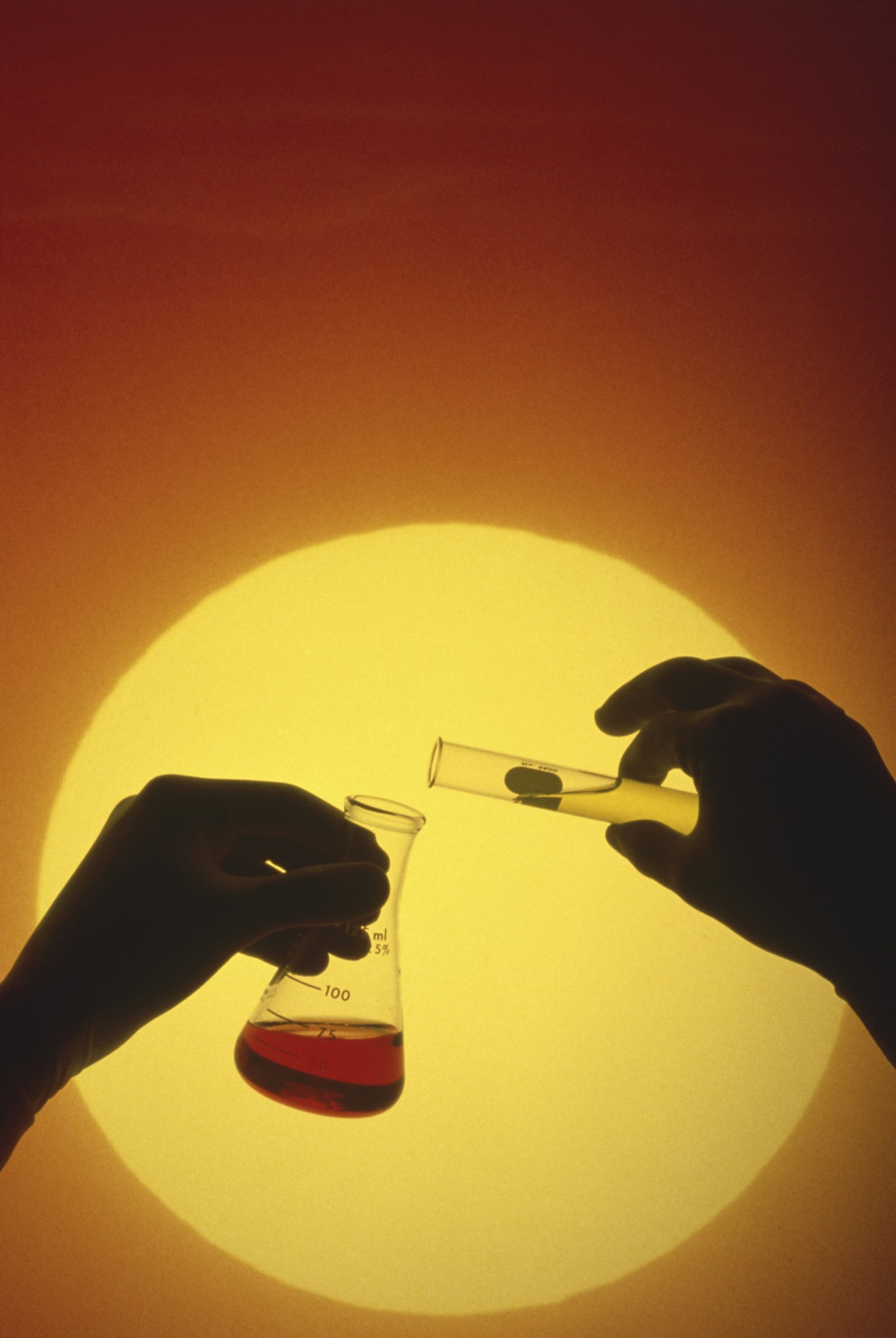 In a preceding article I discussed what I had learned about the impact that sunlight, its filtering and shading, had on plant growth and fruiting. Now, let's consider what happens when plants are grown under generated light. As a graduate student, and then as a young Assistant Professor beginning his academic career, I conducted plant nutrition studies in growth chambers under generated light. The growth chamber was used so that the environment surrounding the plants could be controlled, and therefore the treatment effects obtained would not be the result of interacting influences that exist in an uncontrollable environment, such as that which occurs in either a greenhouse or outdoors. Day length, air temperature, relative humidity, etc. can be controlled in a growth chamber. But, the question that was always a concern – "was that observed in my plants an artifact of the light conditions since the generated light did not duplicate sunlight in terms of ether intensity or wavelength composition?"  I never was able to satisfactorily answer that question.
Interestingly, many plants will grow very well under a wide range of generated light that varies in both intensity and wavelength composition. Significant advancements have been and continue to be made in light-generating device design, so that today growers have a variety of light- generating sources to choose from that will provide adequate light conditions for good plant growth. As with so many things today, it is not the lack of sources and lamps, it is the overload of information on light-generating devices and sources that can make selection challenging. On the internet, there are 68.8 million websites dealing with this subject!
There are two primary applications for the use of artificially-generated light: the supplementation of normal sunlight or as the only source of light. For light supplementation, its primary use is to extend the sunlight period, rather than adding additional light during the normal sunlight period. The possible exception would be when during sunlight hours, there is a significant reduction in sunlight intensity due to dense cloud conditions.
Initially, most of the artificial light sources were lamps that generated light within specific wavelength ranges. In the growth chambers I used mentioned above, two types of lights were installed, fluorescent lamps generating light in the shorter wavelengths of the spectrum, and interspaced were incandescent light bulbs that generated light in the longer wavelengths. Today, most of the lamps available have a fairly wide wavelength spectrum of generated light, or have a specific wavelength range in order to affect a particular plant characteristic, such a foliage color, physical shape or flowering habit.
When selecting a particular light generating device, light intensity and wavelength range characteristics are the primary factors for consideration. In addition, initial and operating costs, life span, as well as heat generation are additional factors that can influence a selection.
Light measurement can be complicated since it involves two factors, light intensity at a point in time and light accumulation over a period of time. Using a light measuring device, such as a PAR meter, light intensity is measured at a moment in time. Plants respond to both factors, light intensity at a moment of time, as well as light accumulated over a period of time. If light accumulation is a factor, why not grow plants in continuous light when light intensity is low? Good question. Unfortunately, plants do not grow well in continuous light. One researcher thought he could get around this factor by exposing plants to continuous flashing light. He obtained some interesting plant responses, but these same plants grew better when there was at least an equal light and dark period.
Foot candles is one of the units for expressing light intensity, although researchers prefer micomoles per square meter per second of Photosynthetically Active Radiation, known by its acronym PAR, that portion of the spectrum that activates photosynthesis in green plants. To convert foot candles of sunlight to micomoles of PAR, multiply by 0.20. Total sunlight accumulated during the course of a day is called the "daily light integral," expressed as moles/day. To convert from an average 1,000 foot-candles of sunlight to moles/day over 12 hours, multiply 1,000 x 0.00071 x 12 hours = 8.5 moles/day.
There are 4 types of light-generating lamps that one can choose: metal halide (MH) [referred to also as high intensity discharge lamps (HID) whose color index can be changed depending on the halide used], high pressure sodium (NPS), fluorescent, and Light Emitting Diode (LED). Each has its unique characteristics in terms of spectrum coverage, energy efficiency, and suitability for a particular plant-influencing factor. In addition, distance above the plant canopy, plant canopy coverage under the lamp, and the need for reflectors are equally important considerations. Some lamps also require a ballast system for their operation.
The energy emitted by these light-generating devices is measured in terms of its color temperature, expressed in degrees Kelvin (oK), with those generating light mostly at the lower end of the temperature spectrum at 1500oK are considered "cool" and those at the upper end of the spectrum at 6000oK as being "hot." The Color Rendering Index (CRI) is a rating scale (0-100) that indicates the accuracy of the colors that can be perceived under a light source. Most light generating devices have a CRI that ranges between 60 and 80, with natural sunlight having a CRI of 100.
In order to provide a balance among these various characteristics, it is not uncommon to place a mix of lamps over a crop, usually placing fluorescent and/or incandescent lamps in with either HID or HPS lamps.
For comparison with sunlight energy, total light generated in moles/day by HID lamps, the multiplier is 0.00054 and for HPS lamps, 0.00047, in the equation given above instead of 0.0071 which demonstrates that the total foot-candles of energy generated by these lamps are considerably less than that for sunlight. So, there is a way to go to make a lighting-generating device that duplicates sunlight!
J. Benton Jones, Jr. has a PhD in Agronomy and is the author of several books including Hydropopnics: A Practical Guide for the Soilless Grower and Tomato Plant Culture. Dr. Jones has written extensively on hydroponic growing and has been outdoor vegetable gardening employing sub-irrigation hydroponic growing systems, GroSystems.com and using domestic water for making his nutrient solution.

Preventing Pest Infestations in a Greenhouse
The spring season brings new beginnings for plant growth. The landscape becomes green again and multitudes of colors and fragrances fill the air as flowers break through the ground's surface. The new life brought on by spring is rejuvenating for horticulturists. It is not just plants and flowers that "come alive" during this time of year. Just as new plant life emerges all around us in spring, new life for pest insects is also resurrected. As temperatures rise and the summer months approach, more and more insects leave dormancy and begin new life cycles. This is why it is so important for greenhouse gardeners to be aware of and take counter measures against pest insects during the spring and early summer seasons. In many cases, a few simple preventative steps can reduce the likelihood of a devastating pest insect attack.
Sanitation
Sanitation is the number one defense against pest insect infestations. Keeping the greenhouse and the plants clean and tidy can do wonders in preventing pest insects and pathogens. Periodically wiping down the surface of the greenhouse and removing dead or dying vegetation will greatly reduce the possibility of pest insects. Plants should be closely monitored for pest insects on a weekly basis (at the very least).
It is a good idea to set up a quarantine area in the greenhouse. Whenever a new plant is purchased or gifted, it should be quarantined immediately for a week or two to ensure it does not harbor pest insects. After the quarantine period is over and the plant has received a clean bill of health, it may join the other plants in the greenhouse. Bringing new plants into a greenhouse is the most common way a greenhouse gardener will introduce pest insects into his or her own garden. If pest insects are observed on any new plant, it should be thoroughly treated before being introduced to the other plants in the greenhouse.
Monitoring for Pests
As previously mentioned, it is important for greenhouse growers to monitor their gardens for any signs of pest insects. Yellow sticky traps are great tools for monitoring a greenhouse. Yellow sticky traps are similar to fly paper in that they "catch" flying insects in a glue-like substance. By closely examining the yellow sticky trap, a gardener can see if and what types of pest insects are present in the garden. Yellow sticky traps allow a horticulturist to identify potential problems before they get out of hand.
Identifying the Pest Insect
Identifying the pest insect early and accurately is vital to stopping a few pest insects from becoming an infestation. When monitoring the plants, there are some tell-tale signs that will indicate which pest insect a gardener may be dealing with.
Spider Mites
The first sign of a spider mite problem usually shows up in the form of yellow speckling on the surface of the leaves, which is caused by the insects sucking nutrients from the underside of the plant leaves. The speckling from spider mite damage will resemble light yellow spray paint misted on the leaves. Closer examination of the bottom of the leaves will reveal clusters of very tiny red mites and their eggs. A magnifying glass may be necessary to see them. In more extreme infestations, webbing may be found in-between or on the tips of branches and leaves. This webbing looks very much like a spider web and is how these nasty bugs received their name. Spider mites are difficult to get rid of and require a miticide for treatment.
Mealybugs
The first sign of mealybugs is normally cotton-like, fluffy masses found in the crotches or joints of the plant, typically near young tender growth. These tiny "cotton balls" are actually clusters of the slow moving mealybugs. These bugs can reproduce and lay eggs every seven days, so they should be treated immediately to reduce any possible contaminations. It's difficult to kill the eggs, often in the soil, so it's important to treat for live mealy bugs every five to seven days for three to four weeks to terminate all adults before they become mature enough to lay eggs.
Fungus Gnats
The first sign of a fungus gnat problem is typically the small, mosquito-like, black or gray insects that fly around aimlessly. They are most prevalent right after a watering or when the soil is disturbed. Fungus gnat larvae look like tiny, light-colored worms that wiggle around in the top layer of soil. They can sometimes be seen "dancing" in standing water after a feeding.
Thrips
The first sign of a thrip issue is usually "shiny streaks" that show up on the surface of the leaves. The shiny trails are actually the areas of the leaf where the thrip larvae have been feeding. Gardeners may also notice tiny black specs on the leaf surface; this is actually the larvae's fecal matter. To the naked eye, thrip larvae resemble fast moving grains of rice. The larvae can be many different colors, but are usually yellowish-green.
Scale
The first sign of scale is usually a protective covering or bumps on the stems and stalks of the plants. The females lay eggs underneath the protective covering, which will hatch in one to three weeks. The newly hatched nymphs leave the protective covering as tiny white specs and move around the plant to feed. Nymphs insert their piercing mouthparts into the plant and begin to feed, gradually developing their own protective covering as they turn into immobile adults. Scale do not pupate and may have several overlapping generations in one season. A scale infestation is difficult to eliminate and requires a systemic insecticide.
Treatment and Control
Early detection and treatment diligence are the keys to eradicating pest insects. A gardener can start treatment with an organic or all-natural insecticide that is designed for the particular pest insect he or she is battling. Yellow sticky traps are effective in capturing most flying insects, such as fungus gnats and white flies. Denatured alcohol is highly effective as a combatant against mealy bugs and scale by wiping it on the infected areas with a cotton swab or small paint brush. Pyrethrum is an organic derivative of the chrysanthemum plant and is extremely effective against many greenhouse pest insects. Pyrethrum is the primary ingredient in several commercial spray products commonly available at most garden centers. In some cases, a pest insect (scale and mites), cannot be controlled with an organic or all-natural approach.
When this occurs, the gardener may need to implement a systemic chemical control. Systemic pesticides, such as Orthene, are effective against pest insects because they enter the plant's tissue and kill the bugs as they feed on the plant tissue. Regardless of the treatment program, horticulturists should always use caution and be sure to read the manufacturer's directions for application.
For more information visit ArcadiaGlasshouse.com