Winterizing the Greenhouse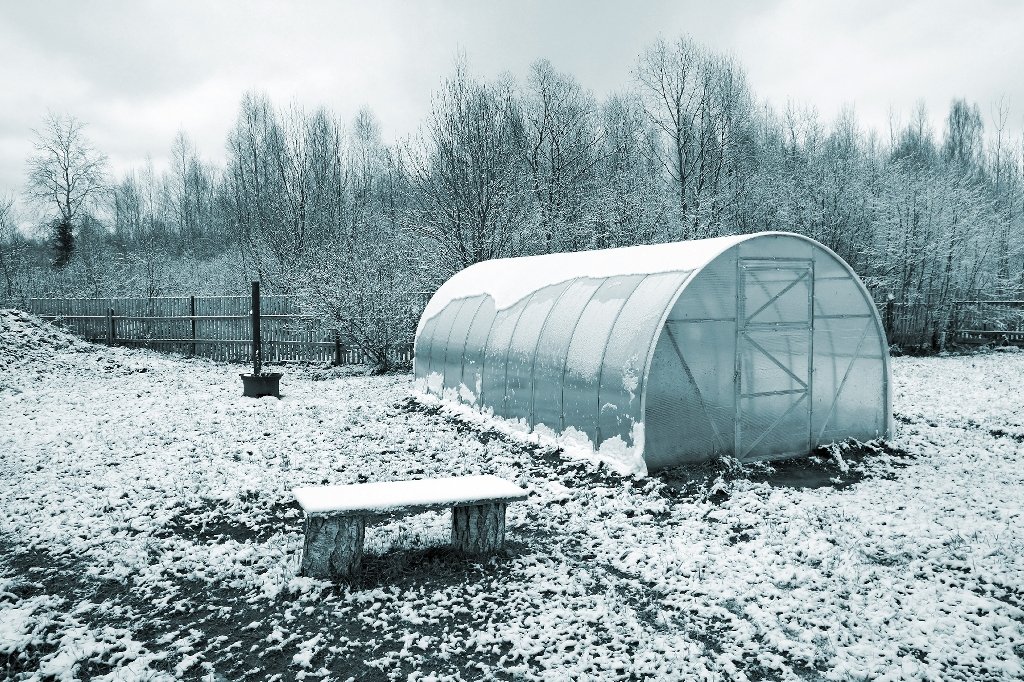 Whether your greenhouse will be filled with plants during the coldest months of the year or soon after, there are things you can do to better prepare your greenhouse for the cold months.
Greenhouse Cover
Check the greenhouse film for torn or loosened areas. Tears should be repaired with greenhouse tape, and loose sections secured. If the film is past its guarantee and is tearing in several places, it may need replacing. When the greenhouse will be used through the winter, make sure the film is strong enough to withstand winter storms and early spring winds. If an empty greenhouse will be filled early in the spring, the film can be checked a few weeks before the greenhouse will be used and replaced then, if necessary.
Sanitation
At least once a year, the greenhouse should be thoroughly cleaned and sanitized. Doing it as a part of the winterizing process, is the easiest for me. When the greenhouse is empty in January, cleaning can be done just before planting begins. I remove everything from the greenhouse, sweep or vacuum the ground cover, and spray the entire greenhouse with a sanitizing solution. For information on sanitizing solutions, download "Cleaning and Disinfecting the Greenhouse" at umass.edu/umext/floriculture. Under "Fact sheets," select "Greenhouse Management," then click on "Cleaning and Disinfecting the Greenhouse."
When I plant a winter crop the cleaning is done in August or September, just before planting begins. Because I still have plants growing in sections of the greenhouse, the cleaning needs to be done section by section, but it is still important to clean and sanitize each area of the greenhouse at least once a year. Since I replace winter crops with spring crops as they are harvested, sometimes plant-by-plant, there is no chance for me to sanitize at that time.
Heating System
Check the equipment, provide regular maintenance, and stock parts that may be needed for routine service through the winter. Do you have a back up system for heat, in case the main system stops working? Kerosene heaters work well as a back up to other small greenhouse heating systems. I use kerosene heaters for my regular heating system. They need to be cleaned and extra wicks stocked, which need to be replaced occasionally during the heating season. I also have an extra heater in case one malfunctions or the electricity goes off and I need to use one temporarily in my electrically heated germination chamber.
Ground Insulation
If you plant directly in the ground, you can install an insulating barrier under the wall of the greenhouse when it is built or add it later. That will allow the ground to stay warmer in the winter providing more heat for plants at night. That is especially important if you want to germinate seeds directly in the soil or want plants in the soil to continue to grow through the coldest part of the winter.
In my area the ground freezes to a depth of about 24 inches, maximum. Two-foot wide pieces of Dow Blue rigid foam can be used as a barrier against the cold. It comes in ½", ¾", 1″, 1½", and 2″ thicknesses and will last indefinitely. Its R-value ranges from R-3 to R-10. If that brand is not available, be sure you use a closed-cell type, not the cellular/pebble or Styrofoam-type, which breaks up easily.
A dark ground cover used around the outside of the greenhouse for weed control or landscaping will also absorb the sun's heat warming the ground underneath. The ground rarely freezes under my ground covers, so the soil next to the greenhouse stays warmer. A minimum width of 3 feet should be used. It is less expensive and easier to install than the rigid foam, but is less permanent and less effective unless wider widths are used.
My wooden owner-built greenhouse has small spaces between some of the bottom boards and the ground. I always need to check for cracks and fill them to prevent cold air from blowing into the greenhouse. It is also important to fill cracks around doors and air vents to prevent loss of heat.
Double and Triple Covers
By covering plants with additional layers of greenhouse film or insulating blankets, cold hardy plants can be raised, or at least harvested in most of the continental United States, throughout the winter, without the use of additional heat. Supports can be constructed over sections of the greenhouse floor using wire, wood, or other materials you have available. Supports should be sturdy enough to hold covers and withstand the covering and uncovering of plants/beds on a regular basis. These covers should be ready to use when the first cold night arrives.
Wire supports should be constructed of good quality wire, 12 gauge or stronger. Galvanized is the least expensive of these, but aluminized, aluminum clad, and stainless steel wire is also available. You can buy hoops, but buying the wire allows you to make any size you need and saves you money.
Since the closed greenhouse will get hot during sunny winter days, covers made from greenhouse film, plastic, or other nonporous materials, will need to be removed every sunny day to prevent plants from overheating. Covers that do not allow enough light through for adequate growth will also need to be removed.
Insulating blankets that allow excess heat to escape can be left on during the day, but they restrict light and slow growth to varying degrees. Atmore Industries makes a UV-stabilized row cover, Gro-Guard UV, that increases soil and air temperature during daylight hours and slows heat loss at night. It can be used inside the greenhouse to provide additional protection during the coldest months of the year and then used again outside to provide crops earlier in the spring. The heaviest can protect plants to temperatures as low as 18º F, but it transmits only 40% light and should be removed for maximum growth to continue. Gro-Guard can be purchased in four weights and several sizes.
To grow warm weather plants during the winter, double and triple covers will save on heating bills. In my larger greenhouse, I section off a smaller part to conserve heat. I use greenhouse film, polycarbonate sheets, or insulating blankets to enclose one corner of the greenhouse. Small temporary structures, used outside for early spring crops, also can be set up inside the greenhouse to save heat required for tomatoes, beans and other warm season plants.
Gini Coover is the author of The Natural Greenhouse, Growing Plants and Food for Profit. She has grown greenhouse plants and vegetables for twenty-seven years, selling retail and wholesale from her greenhouse and at the Athens (Ohio) Farmers' Market. She promotes natural greenhouse production through presentations and workshops. She can be contacted at gini@sunandshadepublications.com and the book can be ordered at Sunandshadepublications.com or 740.594.4147.

A Dream: Retiring in Canada
Introduction
The prime of a person's life is represented by the golden years. If you've put in a lifetime of hard work, responsibility, and adhering to a strict work schedule, you can finally retire to your "cape" and relax in your own home, which need not be in the city where you currently reside. If you have made the decision to relocate for your retirement, you may be looking for the best Canadian city to retire to spend your time in.
Even if you already have a list of preferences for where you want to retire, this list can be a great resource. The adoption of a pragmatic and practical approach when selecting a retirement city can help you enjoy a happy and financially secure retirement.
Everyone has their own set of preferences, priorities, likes, and dislikes when it comes to just about anything and everything. This includes everything from minor details such as a favorite cup of coffee to major decisions such as choosing the right career path. As a result, it is understandable that each individual would have their own ideas about how and where to spend their retirement years.
Fredericton, NB
The city of Fredericton serves as the provincial capital of the province of New Brunswick. Although it is a small city in terms of population for a capital, it is a fortunate mix for retirees. In spite of the fact that the city is not particularly crowded, its status as the regional capital means that it has many amenities that a city of its size does not typically have (though public transportation is not available on Sundays). Real estate prices are low enough that you can afford a home if you have enough savings, which is especially true if you are looking to purchase a condominium.
In addition, the rent is significantly less expensive. It has a humid continental climate and is located on the banks of the river. So, if you like to fish, it could be a fantastic place to settle down in. For a city of its size, the city has a large number of historical buildings and museums, as well as parks and gardens. It also hosts a large number of festivals. The city's largest hospital, which has more than 300 beds and several specialists, as well as a level 3 trauma center.
It's possible that Fredericton will be the perfect place for you if you're looking for a nice, affordable blend of nature and a moderately large city.
Kingston, Ontario
When it comes to living in a city where half of the population is made up of young students rather than old retirees like yourself, Kingston might be the best Canadian city to retire to. Because of its strategic location, it has a long and illustrious history, particularly in the military sphere.
As a retiree, you'd appreciate Kingston's laid-back atmosphere and easygoing pace of life. Almost half of the year, the city is bathed in sunshine. Transport in the local area is efficient, quick, and reasonably priced. One of Kingston's most significant assets, however, may be its world-class medical facilities. Kingston General Hospital is one of the largest hospitals in the province of Ontario and is located in Kingston. Many wonderful places to visit or spend your retirement time in the city, such as Lake Ontario Park and the Museum of Healthcare, which is the only museum of its kind in the country, are available to you. Many outdoor activities are available to you in the city as well, including sailing, fishing, golf, and hiking, among many others.
Burlington, Ontario
There are 115 parks in the small community of Burlington, so getting some exercise and fresh air will not be a problem. Given that it's only about 40 minutes away from Toronto, it's possible that you'll enjoy living in this charming little town if you have family in the city. It has a vibrant creative community as well as a sufficient number of art venues, especially given the size of the city. In addition, the city is very bicycle-friendly.
Even though there is a major hospital in the town, you may need to travel to Hamilton, which is not far away, if you have a serious medical problem. The high cost of living in Burlington is a chink in the city's armor. Even if you decide to rent a place in the city, you may find it to be an expensive place to live. However, if you can find a way to avoid this expense (by living in a co-op or a small house, for example), the city will appear to be quite affordable. Alternatively, you can choose one of the city's retirement homes. In addition, the city offers a diverse range of retirement living options, including active retirement living, assisted living, and home care.
Kelowna, BC
When it happens to come to retirement homes, Kelowna is a bit of a cliche, to say the least. Until the most recent census, retirees accounted for more than 18 percent of the population, which is significantly higher than the national average. This city experiences all four seasons, although housing can be expensive (especially if you try to live near the lake). If you are an oenophile (a fancy way of saying wine enthusiast), Kelowna is the place to be. It's the perfect combination of nature, peace, and the big-city hustle and bustle (especially in tourist season).
If you don't mind living a little outside of the city for cheaper housing, if you enjoy driving and taking part in outdoor recreational activities such as picnics by the lake, you might find Kelowna to be a reasonable price. The primary medical facility, for example, is quite large, with over 700 beds, and the number of doctors per capita is sufficient given the city's population density. The dry weather is a major draw for many retirees who come to this city to enjoy their golden years.