Identifying and Dealing with Aster Yellows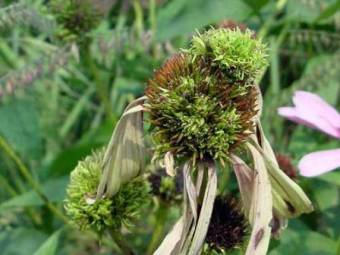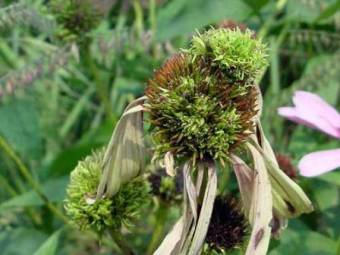 Aster yellows are a phytoplasma, which were previously considered a "mycoplasma-like organism" residing in the phloem (food-conducting tissues) of plants. The causative agent of aster yellows is Candidatus Phytoplasma asteris. Plants infected with aster yellows may exhibit a variety of symptoms including stunting, yellowing of foliage, witches'-broom (clumping of plant parts), abnormalities associated with flower parts, and greening of flower petals. Aster yellows are an insect-spread disease vectored primarily by the aster or the six-spotted leafhopper (Macrosteles fascifrons) but may also be vectored by other leafhoppers. The aster leafhopper acquires the phytoplasma when feeding on winter grain crops in the south. When the wheat or barley mature and are not a viable food source, leafhoppers leave grain fields and are carried northward by wind currents. This is how the leafhoppers are distributed throughout the Midwest, and other areas. Once the migrating leafhoppers find a suitable host plant they start feeding.
The leafhopper acquires the phytoplasma by inserting it's mouthparts into the phloem cells of infected plants. After acquiring the phytoplasma, the incubation period takes several weeks before the leafhopper can actually serve as an efficient vector when feeding on susceptible host plants. When the leafhopper feeds on an un-infected plant, the phytoplasma is injected through the mouthparts (stylet) into the phloem. Afterward, the phytoplasma becomes established and multiplies.
Infested plants typically exhibit symptoms after one to two weeks depending on temperature with symptoms being expressed sooner at temperatures between 68 and 72°F. Once a plant is infected it remains so throughout its entire life. The aster leafhopper may carry the disease over long distances as the insect migrates northward from the south, and is able to transmit the disease throughout its entire life. The disease is entirely dependent on leafhoppers for transfer to plants. A number of weeds and perennial plants may harbor aster yellows including chicory, dandelion, horseweed, thistle, and Queen Anne's lace (which is a plant we recommend for attracting beneficial insects including parasitoids and predators into landscapes and gardens). In addition, the disease may overwinter in infected host plants or perennial weeds.
A wide-variety of horticultural plants grown in landscapes and gardens are susceptible to aster yellows including Aster, Centaurea (Bachelor's-Button), Coreopsis, Delphinium, Echinacea (Purple Cone-Flower), Gladiolus, Limonium (Sea Lavender or Statice), Tagetes (Marigold), Phlox, Veronica, and Zinnia. A number of vegetable crops are also susceptible to aster yellows such as broccoli, carrot, cauliflower, celery, lettuce, spinach, and tomato. The disease does not thrive in areas where the air temperature is greater than 90°F because high temperatures may inactivate the phytoplasma in both leafhoppers and infected plants.
Management of aster yellows primarily involves the following:
Removing infected plants and weed hosts from the landscape or garden
Removing any weed hosts from within and around the landscape and garden, which will help avoid the spread of the disease from weed reservoirs
Selecting plants that are not susceptible to aster yellows
Regulating leafhopper populations
Regulating leafhopper populations with contact insecticides is difficult because they are very mobile, move in from surrounding areas and feed on a variety of plant types. Strategically placing yellow sticky cards or tape around susceptible plants may be effective in capturing adults and reducing the potential for transmission of the phytoplasma. If aster yellows is a perennial problem in your landscape or garden, than it may be best and more efficient to utilize plants that are not hosts of the phytoplasma.
Raymond A. Cloyd is a Professor and Extension Specialist in Horticultural Entomology/Integrated Pest Management in the Department of Entomology at Kansas State University. He can be contacted at rcloyd@ksu.edu or 785.532.4750.
Want more information? Read these articles:
Azadirachtin and Neem: What is the Difference?
Lime-Sulfur: A Broad-Spectrum Pesticide
Mosquitoes: How To Avoid Getting "Bitten"
Rotenone: A Botanical Insecticide
Understanding the Use of Adjuvants

Red Maeng Da Vs. Red Bali Kratom: What's The Difference?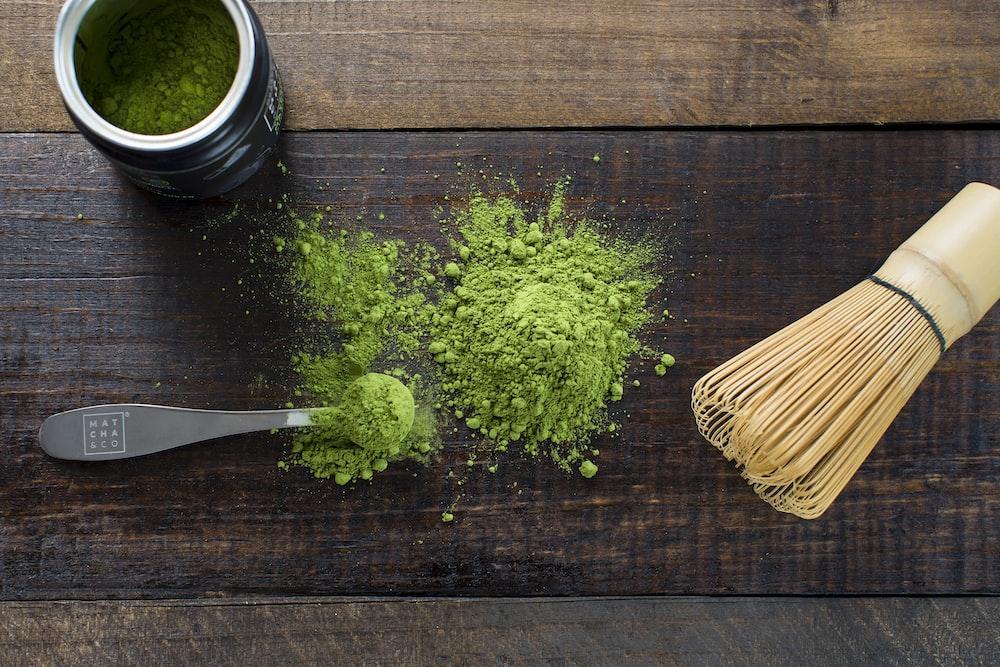 If you're interested in trying kratom, you may have seen Red Vein Maeng Da and Red Vein Bali Kratom. Both red kratom strain are popular among the world's users, but what's the difference between them?
This article will compare red maeng da vs red bali kratom, including its effects, dosage, and more. Both of these red strains are very popular and have many similarities. Though there are similarities between both strains, they do have some differences.
Keep reading to learn more about the red Maeng da and the red Bali strain, and find out which one is right for you!
Red Maeng Da Kratom Strains
Red Maeng Da Kratom strains are among the most popular strains of kratom. They are known for their high levels of alkaloids, which gives them their distinctive red color. They are also known for their powerful effects.
Red Maeng Da kratom strains are typically grown in the rainforests of Indonesia. The name "Maeng Da" actually means "pimp grade" in Thai, which is ideal given the strain's reputation for being one of the strongest kratom strains.
These strains can be found in various forms, including powder, capsules, and leaves. The most popular way to take Red Maeng Da kratom is in capsule form, allowing for more precise dosage.
It is also popular for making kratom tea, as the leaves can be steeped in hot water to make tea.
As a result, some kratom fans feel that the name Maeng Da implies excellent quality and potency. If you're one among the many kratom users looking for high quality red kratom strains or good quality kratom products, Red Maeng Da might be the way to go.
But it is essential to consult a medical professional before taking prescription medication or being affected by a serious medical condition, as it sometimes tends to have the opposite effect.
Red Bali Strains
When it comes to taking red Bali kratoms, there are some facts that you should know. Red vein strains are obtained from a method called grafting.
It is a process in which two different red vein plants are mixed to get the result of a combined characteristic.
Red Bali is one of kratom's most famous red strains. Not only is it popular, but it is also one of the high-potency strains.
Many believe that red Bali is the most muscular strain of kratom as it might help relieve pain and physical discomfort. If you're looking for a potent pain reliever, kratom experience, or mood enhancement, red Bali is the way to go.
Comparing Red Maeng Da Vs. Red Bali Kratom?
Red Maeng Da vs. Bali kratoms – They are two different essential kratom strains of the same plant.
Both strains are sold as dietary supplements and are widely used for their purported relaxing effects.
While their organic compounds share some similarities, there are also some crucial differences between these two strains.
Dosage
Their universal doses are the first comparison of red Maeng da vs. red Bali kratom. For red Maeng Da, the recommended dose is between 2-4 grams, while for red Bali, the recommended dose is between 3-5 grams. Red Bali can be quite sedating, causing you to feel tired in higher doses (5+ grams).
Color Of Veins
The following comparison between red Maeng da vs. red Bali kratoms is the color of their veins.
Red Maeng da has red veins, and red Bali has green veins. The different colors indicate different alkaloid profiles. Red Maeng da typically has a higher concentration of mitragynine, while red Bali has a higher concentration of 7-hydroxymitragynine.
Red Maeng da is more stimulating, while red Bali is more sedating. Red Maeng da is more energizing and is better for daytime use. Red Bali is better for nighttime use because it can help you relax and fall asleep.
The color of kratom veins is just one of the many factors that determine its effects. Other factors include the strain, the region it's from, the quality, and how it's prepared.
Red Kratom Strain: Mature Leaves Available
On the other hand, Red kratom is said to be the most sedating of all kratom vein colors. They're also famous for providing Chronic Pain relief and relaxation.
Green Maeng Da Vein: Middle Years Leaves
Next, Green kratom is said to be in the middle of the White and Red kratom strain. They're also famous for providing a balance of both Sedation and Stimulation.
Efficacy
Both red Maeng Da and Bali kratom are effective in providing pain relief, but red Maeng Da is more potent and has longer-lasting pain-relieving effects.
User Experience
Some kratom enthusiasts prefer red Maeng Da for its relaxing effect, while others find red Bali to be more mood-boosting. Ultimately, it comes down to personal preference.
When comparing both kratoms, it is clear that both kratoms have their unique benefits.
Red Maeng Da is more potent and has a longer-lasting effect, while red Bali is more relaxing. Ultimately, the decision of which strain to take comes from personal preferences.
Origin
Red Maeng Da originates from Thailand and gets its name from a water bug called "Maeng" Conversely, red Bali kratoms come from Indonesia.
The difference in origin can affect the user experience as each kratom can offer different benefits. For example, Red Maeng Da is more energized, while Red Bali is more relaxed.
Alkaloids
Mitragynine and 7-hydroxy mitragynine, which bind the opioid receptors, are two essential alkaloids in kratom.
Red Bali kratoms and Red Maeng Da kratom include a variety of alkaloids, including these two in particular.
Other alkaloids are also present. You will discover that the alkaloids provided by each strain will vary from one another.
Location
Red Maeng Da is domestically grown in Thailand, while red Bali is grown on the Indonesian island. Red Maeng da can be found in some countries, but you have to look for the legality in places like San Diego, Rhode Island, Sarasota county, and union county.
Daytime Energy Levels
Red Maeng Da vs. Red Bali Kratom – These kratom strains come from the same family of trees, the Mitragyna Speciosa.
The difference between the two strains lies in their potency and effects. Maeng Da is widely considered the most potent strain of kratom, while Red Bali is known for its relaxing effect.
Potency
While kratom is still in the process of getting approved by the FDA as a dietary supplement, many medical professionals believe in its potential as a supplemental dietary product.
Compared to Red vein Bali, Red Maeng Da appears to be less potent but more balanced. Red Maeng Da is often used as a pain reliever, while Red Bali is commonly used to alleviate discomfort and enhance mood.
Popularity
Red Bali is one of the most popular kratoms because it boosts mood and provides relaxation. Red Maeng Da is also a popular strain, but it is more well-known for its potent effects.
Which One Should You Try?
There is no definitive answer related to it. It ultimately comes down to personal preference. Some people prefer red maeng da for its potent effects, while others find red bali more relaxing.
Try out both strains to see which one works. Red Maeng Da and Red Bali kratom are two of the most popular strains of kratom.
Both kratoms offer a variety of benefits, including relief from pain, increased energy levels, and improved mood. Red Maeng Da is more potent, while red Bali is more relaxing.
Final Thoughts
While red Maeng Da is more potent, red Bali is more relaxing. Ultimately, the decision of which strain to take comes from one's experience of using it. It is essential to start with a low dose and increase it gradually to avoid side effects.